Adaptogens and herbal supplements. We hear about them all the time! They're in smoothies and matcha lattes (my personal favourite), and people add them to baked goods…they're taking over! But why? What's all the hype? Is this a trend? Well, not only do adaptogens promote wellness…but they promote beauty on the inside. And when you're using quality, organic products – not only on the outside but internally – your skin and body will thank you! As far as this being a trend, eh…I definitely think more people are coming onto the whole adaptogens in your smoothie and lattes deal, which I love! I think that it's awesome that more are becoming aware of the powerful healing abilities of plants! But, remember, too much of a good thing isn't always good. So, to learn more about adaptogens, read on…
WHAT'S AN ADAPTOGEN?
If you look closely at the word adaptogen, it contains "adapt" within it. Simply put: adaptogens help you adapt. They're a specific group of healing plants. Phytotherapy refers to the use of plants for their healing abilities. So essentially, adaptogens are a unique class of healing plants: balancing, restoring, and protecting the body.
"…an adaptogen doesn't have a specific action: It helps you respond to any influence or stressor, normalizing your physiological functions." -Naturopath Edward Wallace
Although they're an all-natural way to support your well-being, adaptogens should still be taken with caution. I am not a doctor, nutritionist, or anyone that can speak on behalf of what's best for your body. So, definitely chat with your naturopath or primary healthcare provider before adding adaptogens to your diet. (Especially if you are breastfeeding or pregnant.)
MY FAVOURITE ADAPTOGENS + THEIR PURPOSE
Some of my favourite adaptogens and herbal supplements (plus a slew of other amazing organic products, like incredible essential oils) can be found through
Mountain Rose Herbs
.
Here are some of my favourites:
Chlorella is a single-celled algae that some scientists believe may be among the Earth's oldest living organisms. Talk about cool!? But, it was only until the 1960's that Japanese scientists began to study chlorella as a tool for good health. Most natural health enthusiasts know chlorella well as an excellent source of general nutrition. It's known to support healthy hormonal function, promote cardiovascular health, and lower blood pressure and cholesterol. This powder can be added to drinks and smoothies, (my favourite is mixed with pineapple juice (pictured below) or a smoothie), but can also be made into capsules or extracts.
Cordyceps are a mushroom-based adaptogen. Can you believe the use of Cordyceps dates back to the 15th century!? In traditional Tibetan and Chinese medicines to be exact. Traditionally, it was prepared in Chinese medicine as a broth, however, it can be used as an extract, as a tea, or in capsules. The wild form of Cordyceps is rare and expensive, but what Mountain Rose Herbs finds is a strain isolated from the wild form – it consists of the dried mycelium that is cultivated on organic oats. This adaptogen can increase immune function, improve stamina, is a natural aphrodisiac, improves liver function, detoxes, and even has benefits on the skin.
Ashwagandha (also known as Indian Ginseng due to its similarity to ginseng in its action)…the ever so talked about and loved adaptogen. For many great reasons though! It has a wide range of benefits such as reducing inflammation, arthritis, asthma, hypertension, stress, and rheumatism. It also boosts your antioxidant supply and helps regulate the immune system. Used in Ayurveda, this is a highly revered medicinal herb. It's been praised for longevity and vitality, with herbal actions all the way from adaptogenic to sedative. Some of the tender leaves of Ashwagandha are eaten as a veggie in many Asian countries. It can be used for children, as well as the elderly.
Rhodiola promotes a healthy response to stress….and boy do I need that some days! This organic Chinese Rhodiola is wild harvested from organically certified lands. It is awesome if you're needing a boost of energy and productivity! It will boost your immune system, balance blood sugar levels and kick your 3 PM mid-day fatigue! Make sure you don't take Rhodiola at night because you'll be laying in bed staring at the ceiling…keep it for the morning or early afternoon! (Think of it like coffee…)
Eleuthero Root, also called Siberian ginseng, has been well-known in Chinese medicine for thousands of years. It's known to be a great everyday adaptogen – I love throwing this in smoothies, matcha lattes…tonics, and teas. You name it! It increases stamina, enhances brain function, is known to ease anxiety, boosts the immune system and endurance levels…it is basically amazing for promoting overall health. I'd say it's a pretty common adaptogen and can be found in most health food stores!
This strong-tasting adaptogen is great for digestion. It's also an awesome source of vitamin C. Usually found powdered or cut and is typically consumed in tea form – though it's recommended to drink it with juice or to place honey on the tongue before swallowing. Can also be used as a capsule or extract, but the powder is definitely more effective. Triphala, as a digestive aid/laxative is best taken in the evening, two hours after eating and 30 minutes before you go to sleep. No food should be eaten for 1 1/2 hours after ingestion.
Chaga is one of the most potent adaptogens known, in fact, it actually has one of the highest ORAC scores of any food (Oxygen Radical Absorbent Capacity)! Why is this a good thing? The higher the ORAC score the better a food's ability to protect the body from all kinds of issues! This also means it's super high in antioxidants! It's so great for grounding yourself with – easing anxiety, nerves, and stress. It contains numerous B vitamins, flavonoids, phenols, minerals, and enzymes. It's also one of the world's densest sources of pantothenic acid, and this vitamin is needed by the adrenal glands as well as the digestive organs.
• • • • • • • • • • • • • • • • • • • • • • • • • • • • • • • •
So there you have it! Interested in how I implement these into my every day? Well, I usually stick with two adaptogens per day…okay, maybe sometimes three. But I typically add them to my smoothies or my matcha lattes. If I had to pick my absolute favourite one, it'd have to be Ashwagandha. Yeah…I know, many love this one and pick it too. But, seriously…there's a reason! It works! It makes me feel super chill and less stressed! (WIN!)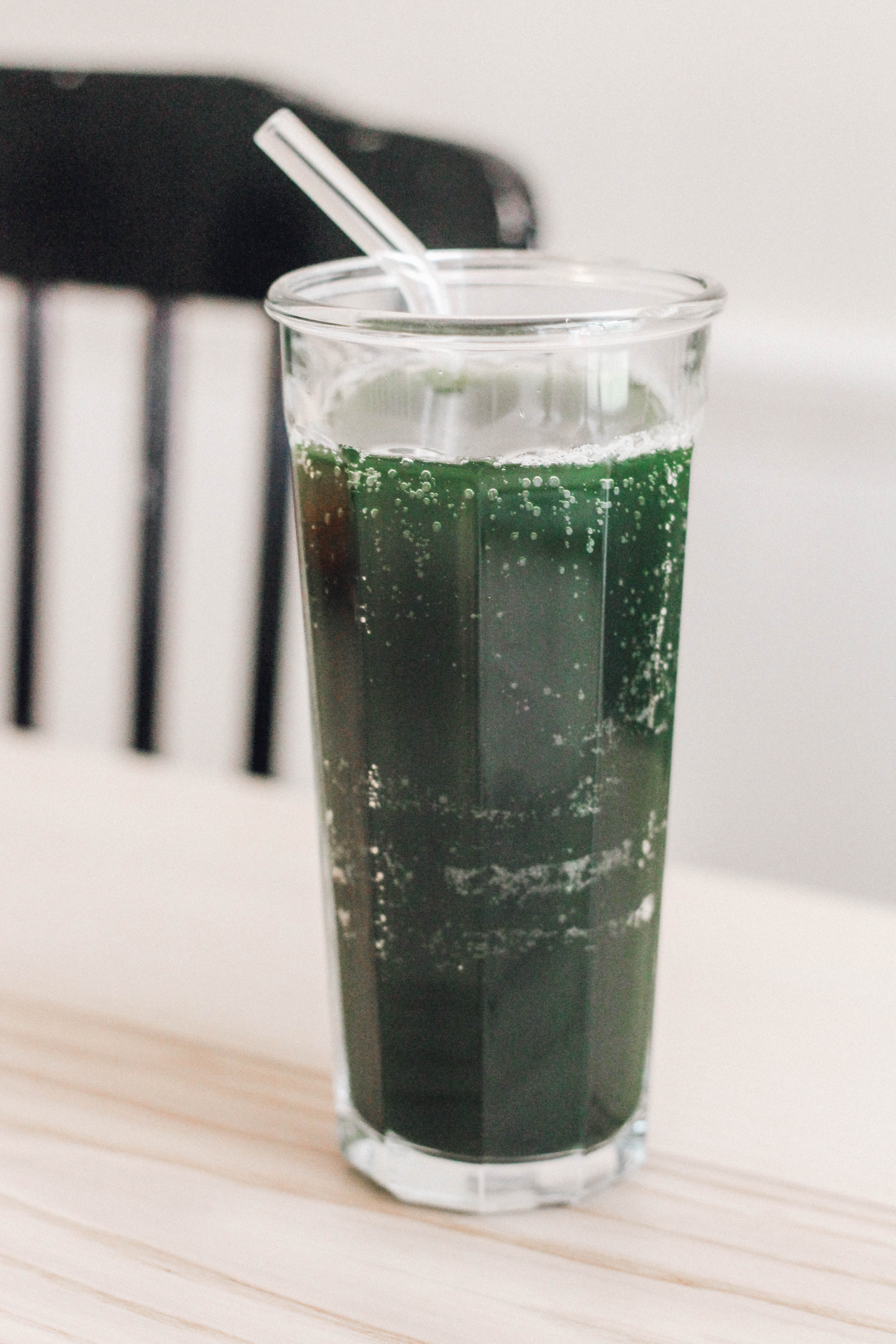 Chlorella Pineapple Green Drink:
1/2 tsp Chlorella
1/2 cup purified water
1/2 cup organic pineapple juice* (or to taste – sometimes I add a bit more for sweetness)
(Option of organic apple juice (instead of pineapple)!)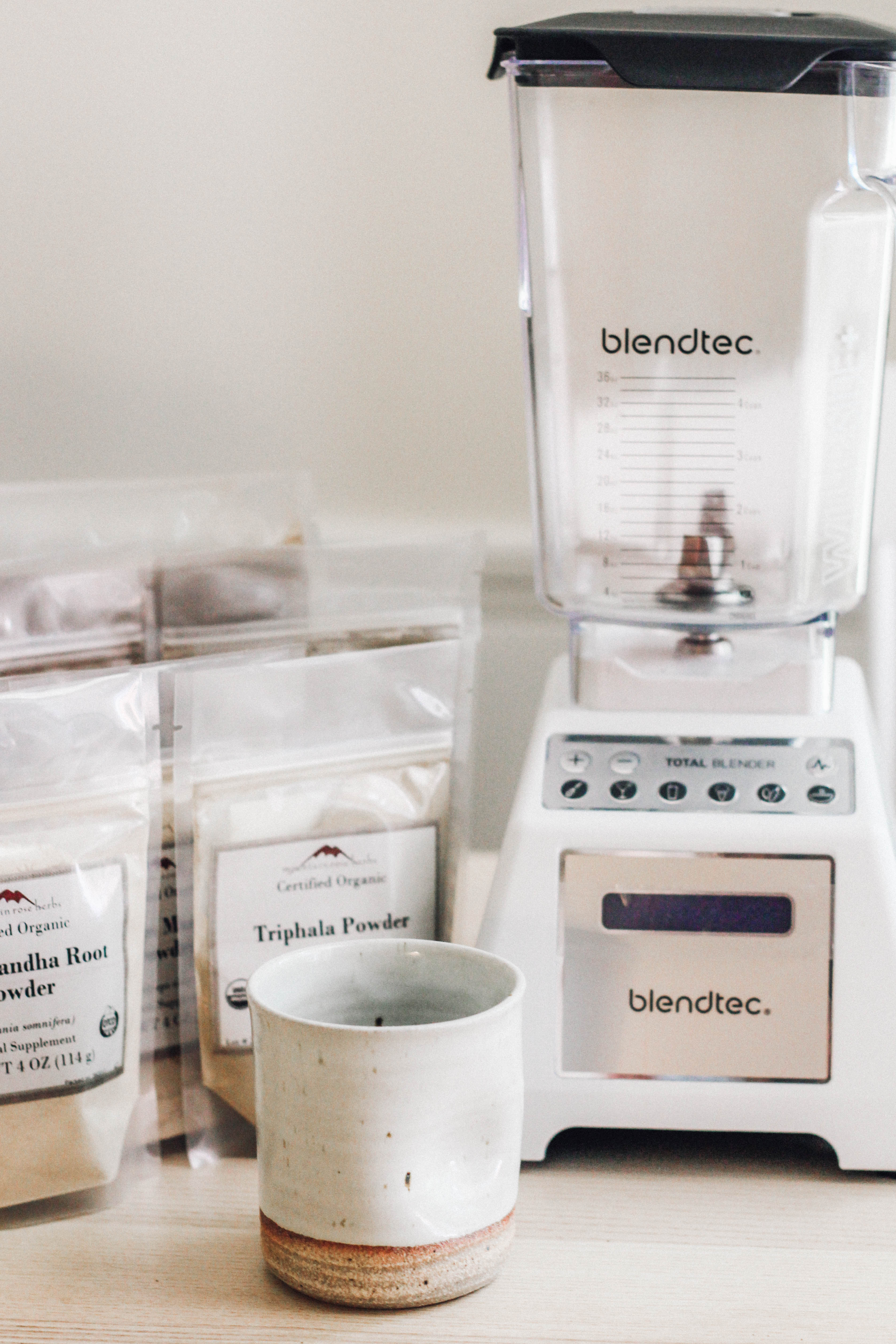 Creamy Adaptogen Matcha Latte
3 tbsp of organic coconut butter (toasted or regular)
1 tsp organic matcha of choice
1/2 tsp Ashwagandha
1/2 tsp Pine Pollen*
1/2 tsp Maca
1 heaping tbsp of Tocotrienols
2 scoops Collagen Peptides (marine or regular)
(Optional) 2 small, softened dates for sweetening
Add 16oz of hot water (170-180F so as to not burn the matcha) into your blender – I use my favourite Blendtec Total Blender (you can purchase them refurbished like we did and they work like a dream!- and blend on high for 1-2 minutes! Enjoy! x
(*Sometimes I'll switch out the Pine Pollen for Cordyceps, or Triphala…honestly, it's up to you! I usually do no more than 1/2 tsp of two to three different adaptogens at a time!)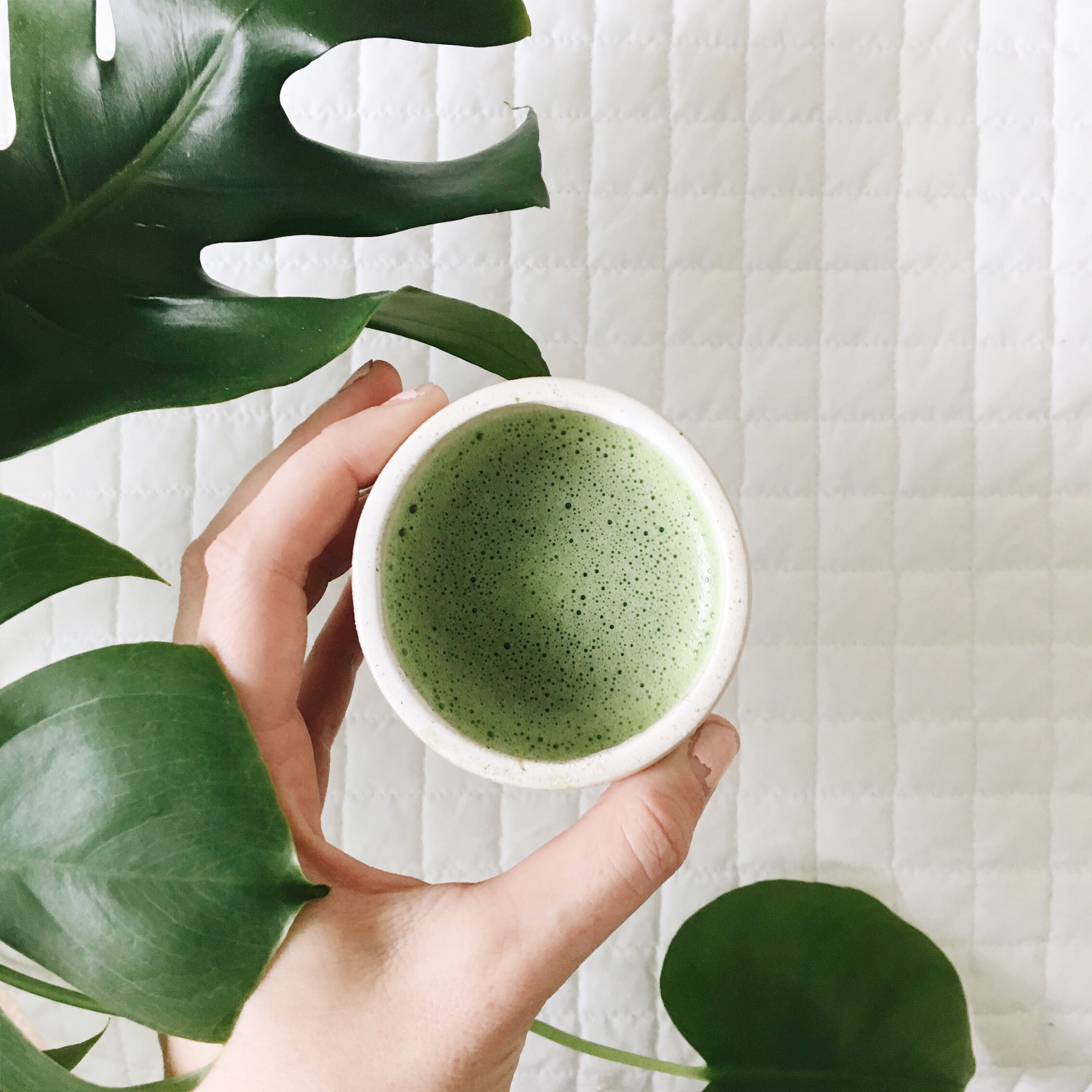 REFERENCES
https://www.mountainroseherbs.com/catalog/herbs/bulk
https://draxe.com
This post is sponsored by Mountain Rose Herbs. As always, all thoughts expressed are honest and unique to my personal experience. 

FULL DISCLOSURE HERE

.