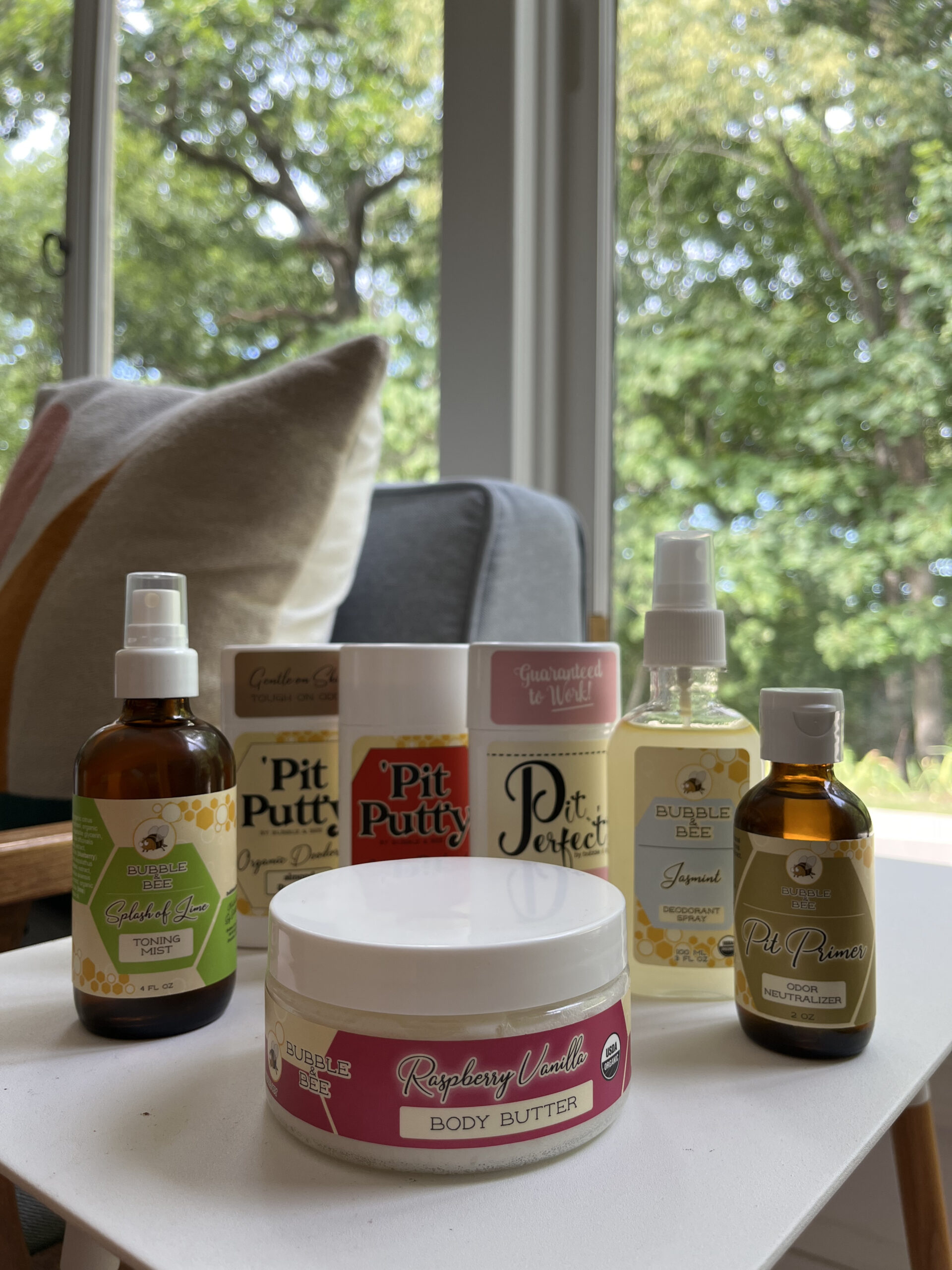 Annnnnd we're back! I know, I know it's been a while…and not without good reason cus I'm picky about what goes on my blog. So, here we are! Are you ready for an amazing Brand Highlight that totally blew me away?
You may have already heard of Bubble & Bee Organic, they've been in the green beauty space for quite some time! So how the heck am I just now using their products? I will never know. All I have to say is I'm stoked I am and you (hopefully) will be too after you check out this post!
ABOUT BUBBLE & BEE
A bit of history on Bubble & Bee – cus I know I personally love getting to know a brand and hearing how they started!
Stephanie Greenwood started Bubble & Bee Organic 15 years ago during her struggle with PCOS and adenomyosis. She learned that many environmental toxins acted like estrogen in the body, and many of these xenoestrogens were in the personal care products she was using. This messes with hormones BIG TIME.
When she found even the products at the health foods store contained suspicious chemicals, she started making her own products. After her friends and family started using and loving her products, she thought, "Hey! This could be a business! Why don't I sell these at the farmer's market on the weekends?"
In 2007 Bubble & Bee Organic was born. A short year later they landed their first wholesale account with Whole Foods and launched their website. Now, 15 years later, B&B carries more than 150 different products, many of which are USDA-certified organic. They're probably known best for their deodorants (Pit Putty, Pit Buddy, and Pit Perfect), but their facial care is also a best-seller. They also have non-toxic shampoos, hand soaps, bubble bath, organic insect repellent, organic body butters, and a lot more. They're also setting to launch a toothpaste soon too!
They make everything in their own USDA-certified organic processing facility in the Rocky Mountains of Utah. By manufacturing in-house they know exactly what's going in their products and can ship out in small, fresh batches. When you order, you can be sure that everything was made, labeled, and shipped out by a real person. A member of the "Bee Team" as they call it!
To this day, Stephanie insists on being in direct contact with her customers and always being available to answer questions about their products.
So, let's cut to the chase, the good stuff, the product reviews!
product review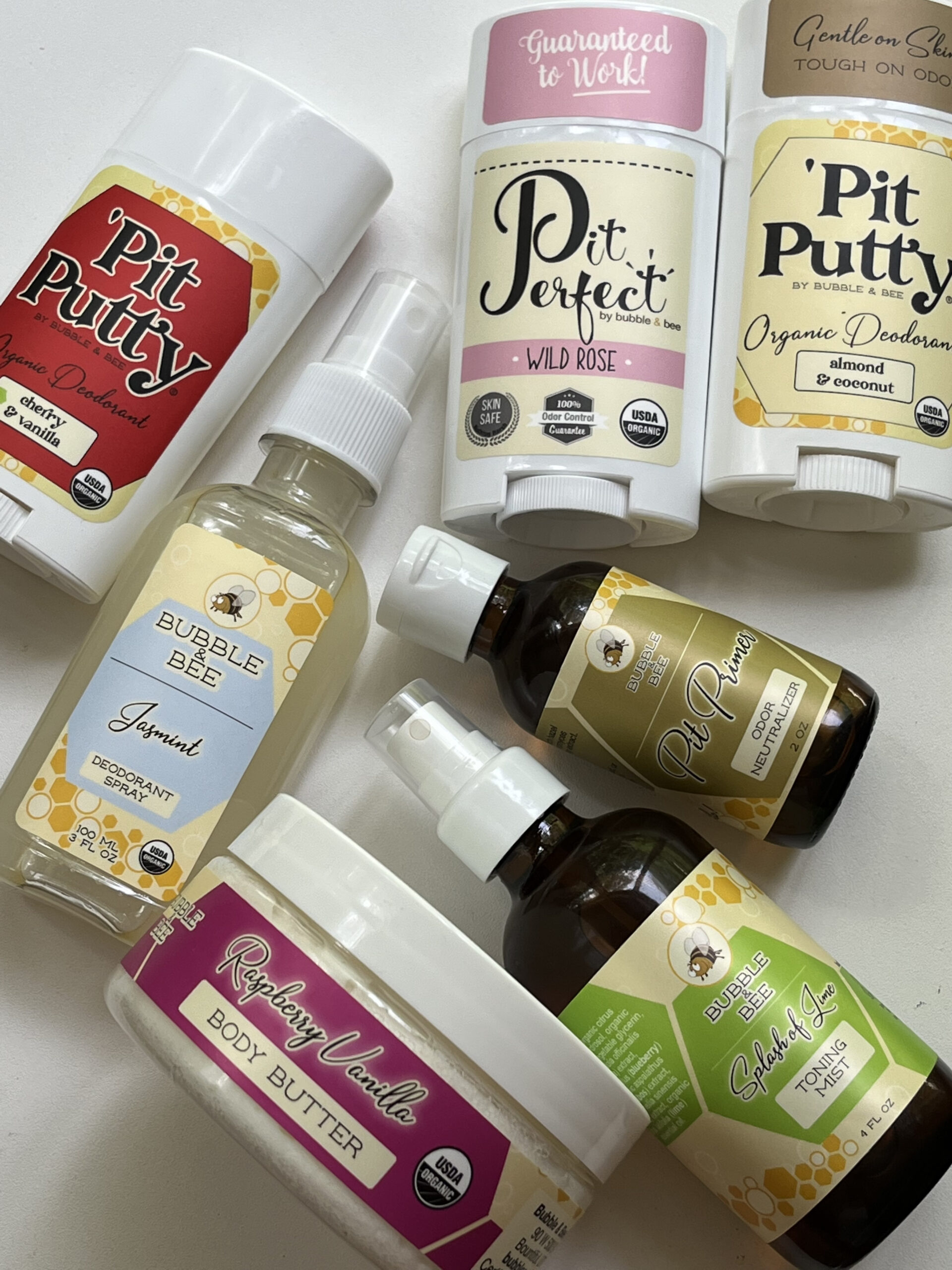 Stephanie was so kind as to send me the following products you see above: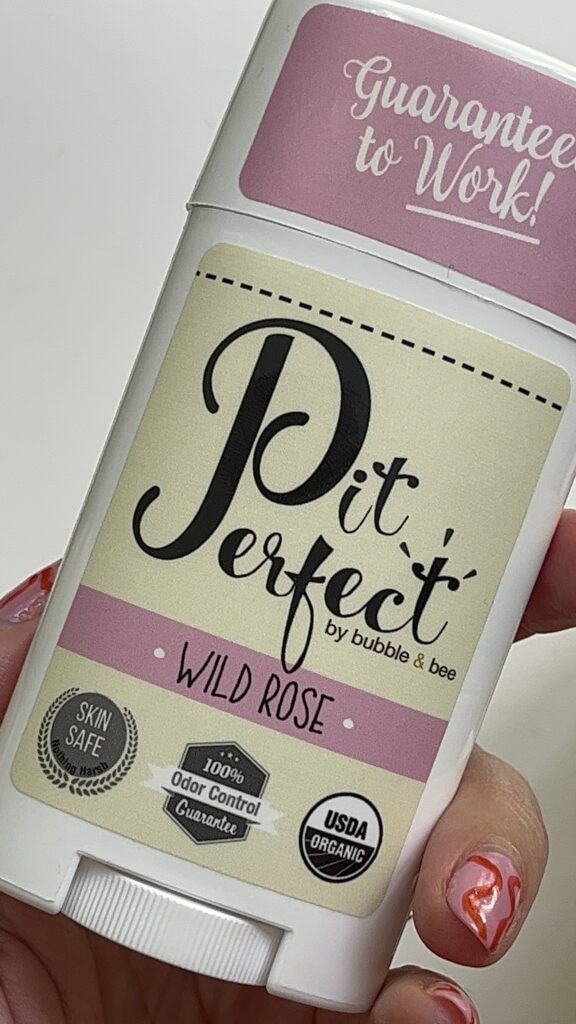 OMG. THIS. DEODORANT. I think I have a weak spot for rose-scented deodorants cus wowwww I L O V E this one! Works SO well and it makes you smell so fresh and clean! And just check out those ingredients! Only the best, simple organic ingredients that you can pronounce!
Stephanie has been perfecting and working on Pit Perfect for many years! After much testing and formulating, they've perfected a formula that's saturated with skin-friendly and wetness-absorbing arrowroot powder, but that actually holds together with no crumbles. Applies smooth and creamy, but goes on dry. Not greasy, sticky, or abrasive on skin…no lie, it's PERFECT.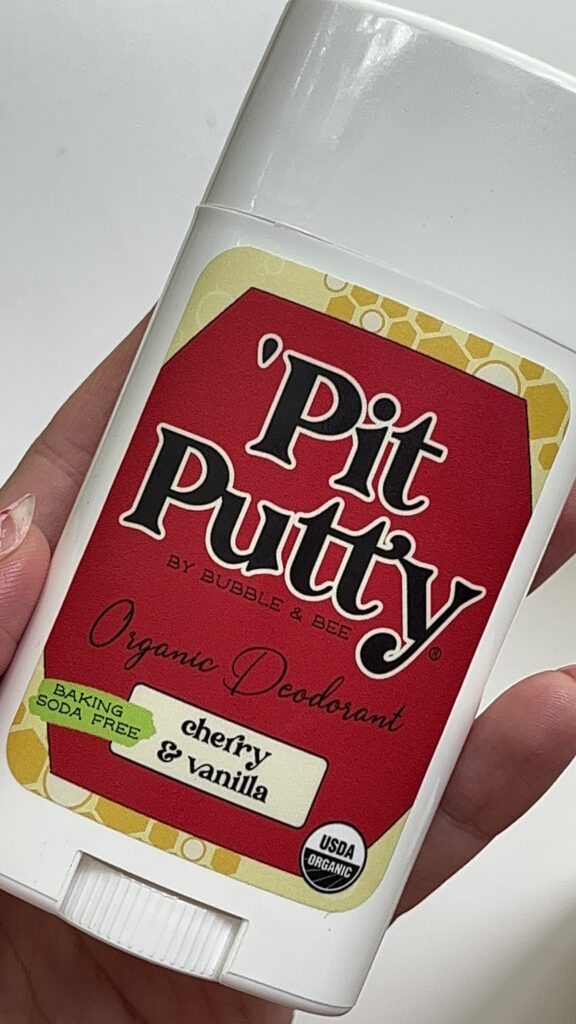 ABSOLUTELY DELICIOUS SMELLING! And it works too, trust me, it's been 100 degrees (no lie) here lately and I've laid outside for some sunshine (and to sweat my face off) and this held up! Of course, I still dripped in sweat, but I DID NOT STINK. This cherry vanilla goodness is baking soda free, so if you're more on the sensitive side, you'll love this! I can do baking soda, and I still LOVE this one.
You may even be tempted to eat it…but don't, pits only.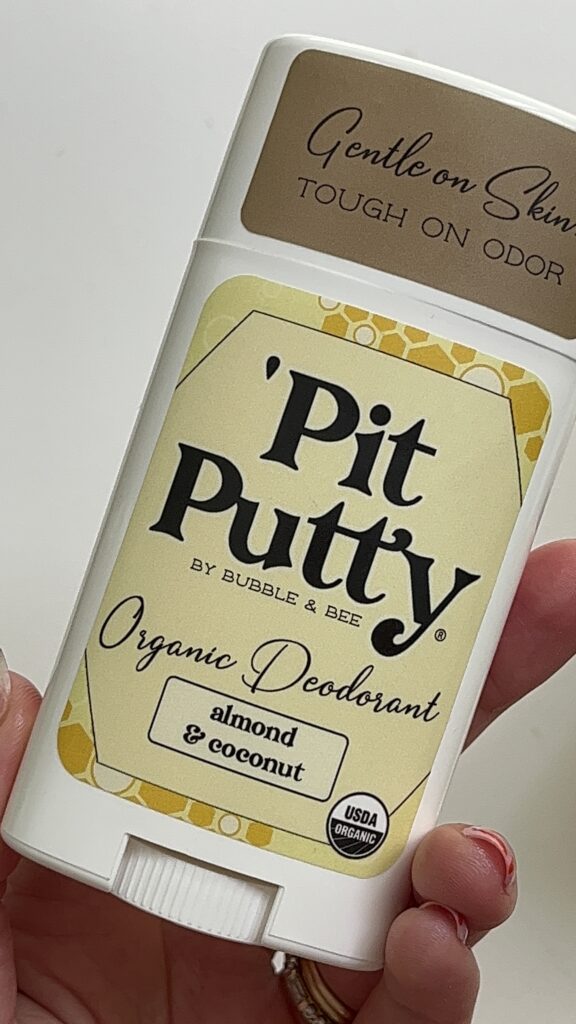 Another absolute banger of a scent! Think toasted coconuts and almonds, but under your arms.
I had no issues with the baking soda in this and it held up in the crazy summer heat too! It is however my third fave within the scent profiles. I much prefer a fresh/floral scent but this is still amazing!
Bubble & Bee has a Deodorant Guarantee – If the first deodorant you try from them doesn't work for you to control odor, they're more than happy to help you find a second or even third one that does!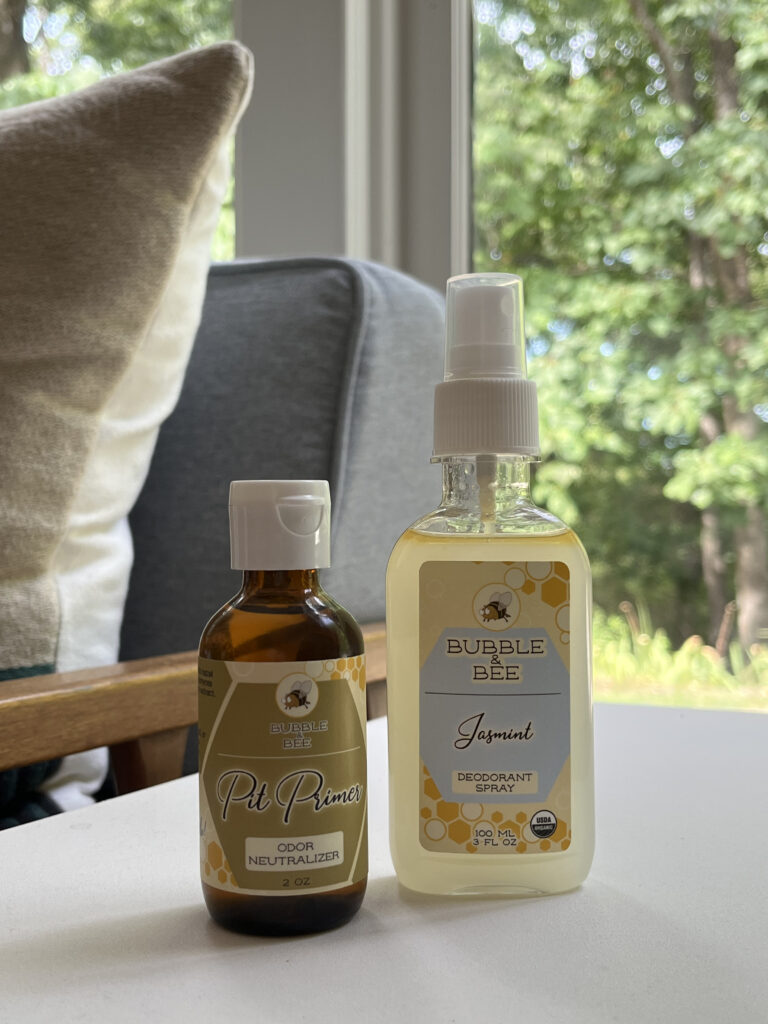 I was excited, yet hesitant about this Jasmint Deodorant Spray! Mainly because I've tried spray deodorants before and they're just fine. But this one? WOW, the scent! If there's one thing B&B does well it's their scent profile. SO FRESH, SO lovely. It's just the perfect refresher over deo, or just wear it alone…OR better yet, bring it to the gym to make you smell like a refreshing, minty jasmine queen.
The Pit Primer is amazing as well! Sometimes soap and water don't cut that underarm funk. This contains cleansing witch hazel extract and live enzymes that instantly neutralize odors. The ingredients are simple, to the point and do what they're supposed to – prime and neutralize that stink under your arms before you apply deo!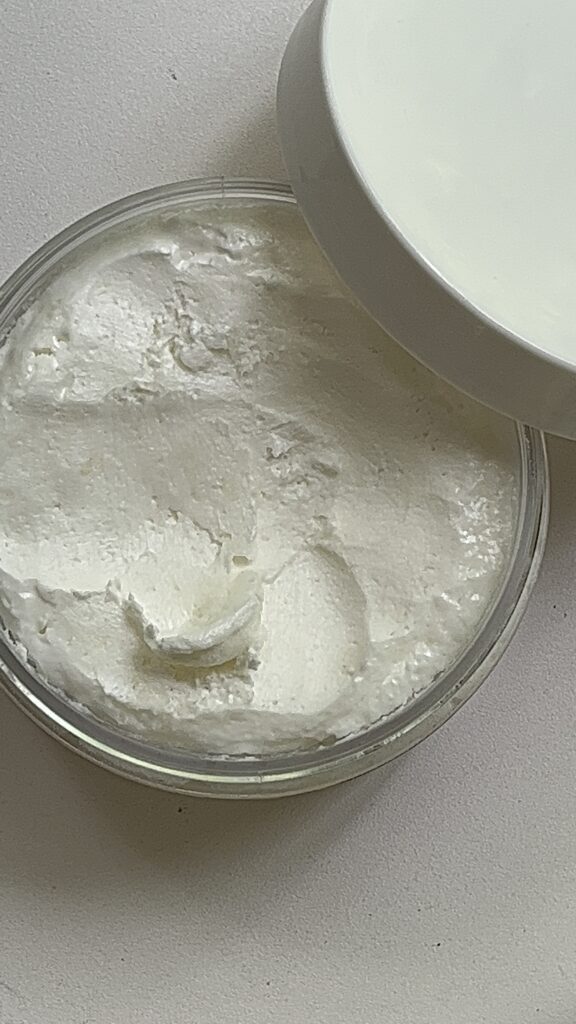 I was't ready for this. Truly wasn't ready. When I tell you this is the most decadent, luxurious, delicious smelling body butter…I KID YOU NOT. It's absolutely insane how good it smells. You'll for real want to eat it lol. (But again, don't…) I'm just saying, Raspberry & Vanilla?! A match made in heaven.
With super nourishing and hydrating ingredients such as organic shea butter, organic coconut oil, organic jojoba oil, organic sweet almond oil, organic macadamia nut oil, organic raspberry scent extract and organic vanilla extract…this body butter has become my new favourite.
Plus, a little goes a VERY long way. You will walk away feeling like a silky, soft fresh raspberry vanilla baked good. LOL, no but really, I am QUITE obsessed to say the least.
This toner is so lovely and I've been enjoying it this summer! It's super refreshing, it cools, tones and soothes my skin. Plus it optimizes skin's pH to accept and retain moisture! WE LOVE THAT.
The scent isn't overpowering at all, and it just feels so nice on the skin! 10/10!
overall thoughts + discount code
That concludes this amazing brand highlight! I am truly so impressed by all Bubble & Bee has to offer. Their ingredients are as clean as can be, their products work and they have COUNTLESS options for you! So many amazing deodorants, skincare, shampoos, body wash, bar soap and so much more! I highly suggest checking out their website and social handles which I'll input below!
Have you tried any Bubble & Bee products, and if so, which are your faves? Are there any you want to try now that you've read this?
discount code
If you'd like to shop with Bubble & Bee (I def recommend that you do, as they're super affordable and so wonderful in general), use my code "HULLOSAM" to save 15% off!
follow them here
This post is sponsored by Bubble & Bee. The products seen in photos above were sent to me to review. As always, all thoughts expressed are honest and unique to my personal experience. FULL DISCLOSURE HERE.