At this point, you've probably heard of matcha or know someone who's obsessed with it. (AKA ME!) I mean…how could you not? It's everywhere!
I haven't had a sip of coffee for almost 4 years now and I depend on Matcha for its calm energy, enhanced focus, and clarity. It also provides immune and heart health support amongst many other benefits. SO HERE FOR THAT. 
So, as a tea enthusiast myself, I've felt compelled to learn more about it…  I've been wanting to know about the matcha I drink and where it's coming from…in fact, I've been wanting to find a new brand of matcha that I trust! Because let's just say I discovered some pretty shocking things about matcha that maybe you didn't know either!
The DISTURBING Truth About Tea
It may or may not have never crossed your mind, but what if the very drink you're drinking for health could be a brew of pesticides and other toxins?
The latest research conducted by esteemed scientists in Canada revealed that tea bags are releasing billions of microplastics in your brew…yuck. This is why it's so important to make sure you research the tea you drink and if possible, drink looseleaf tea or make sure the tea company is using natural, post-consumer waste, biodegradable filter-paper tea bags rather than nylon or GMO-origin tea sachets! BONUS if they're printed with soy-based inks. But I digress…
I didn't realise this but farms in Japan (where many teas hail from) are also located very close to each other, so 'pesticide drift' is a huge problem. Chemical pesticides and herbicides used on one farm can get carried by wind to adjacent farms!
Why should this matter to YOU?
When you're drinking something for your health, you want to ensure it is pure, especially if it's a daily habit. Consuming toxins unknowingly every day can have not-so-lovely cumulative long-term health effects.
What can you do to avoid this?
Drink matcha! Unlike tea bags, which require steeping, matcha is a powder derived from ground-up tea leaves. This eliminates the risk of consuming microplastics released from tea bags. 
But hold up! Not all matcha is created equal…
It turns out, most of the highest ceremonial grade matcha is not organic, and organic matcha is rarely the highest grade. I know, it bummed me out to read this too. HOWEVER, this is why I'm STOKED (giddy, even) to share this with you: I've discovered the world's purest matcha. In fact, it might be the purest I've ever come across.
Believe me, I don't say this casually okay!? I'm A SKEPTIC about everything haha!
But alas, I've seen Pique Tea's lab results with my own eyes and this company has screened for just about every possible toxin that can be found in tea. And it's also the highest ceremonial grade matcha! Yes, you read right. TIME TO CELEBRATE! (Haha, no but really…)
Introducing: Pique's Sun Goddess Matcha
Pique's Sun Goddess Matcha is the world's PUREST Ceremonial Grade matcha. It is the FIRST matcha to Quadruple Toxin Screen for:
Heavy Metals
Fluoride
Pesticides
Toxic Mold
Radioactive Isotopes
I'm sure this was no small feat…I read it took Pique over 18 months to perfect!
After studying the matcha-making process and learning from Japanese cultivars and tea masters, Pique finally found the perfect source. Their matcha comes from a tea farm located in Kagoshima, which neighbors Okinawa, a 'Blue Zone' linked to human longevity. It is also the FURTHEST possible spot from Fukushima's radioactive and industrial pollution.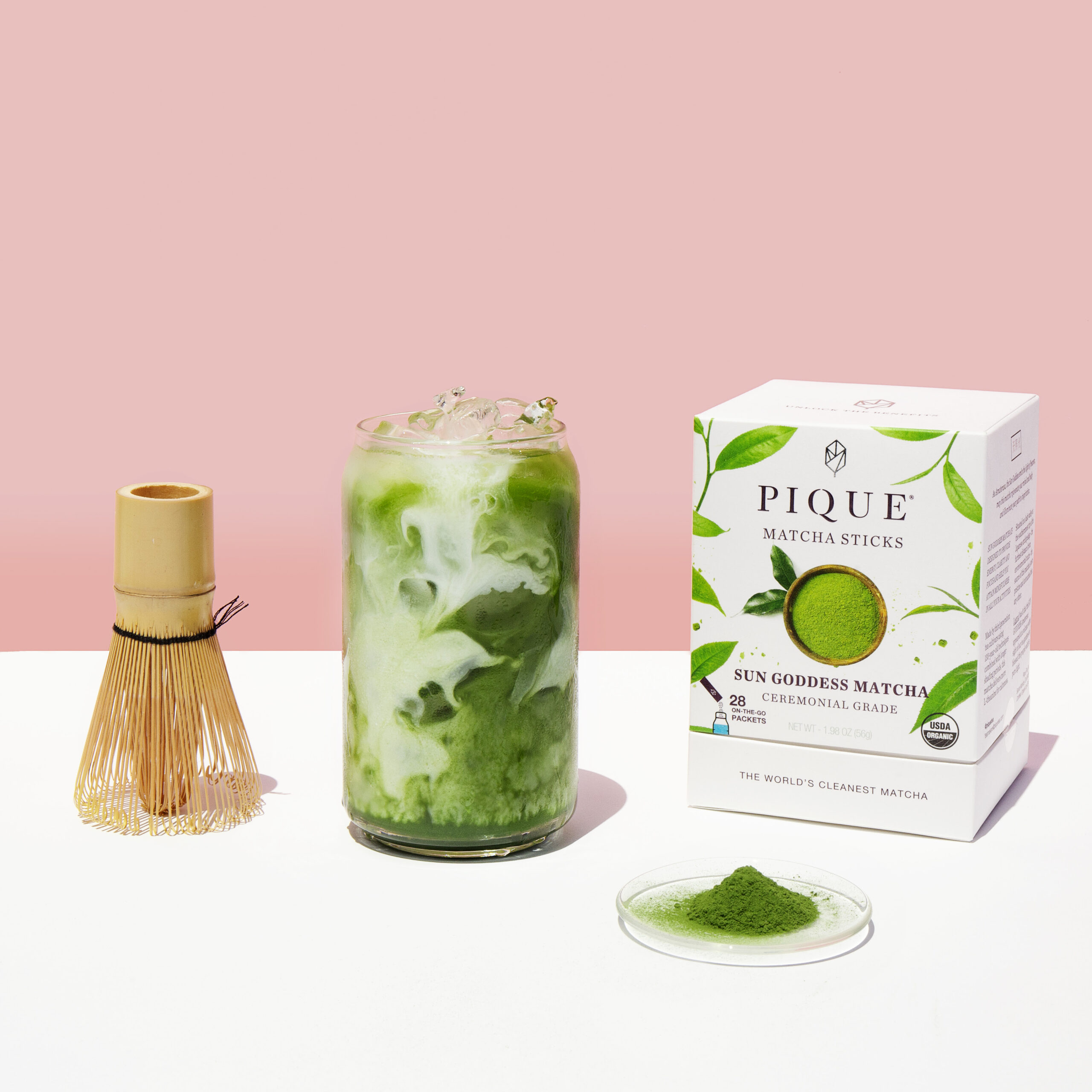 Wait–there's more.
Pique's matcha leaves are also shaded up to 35% longer than other leaves, which creates a much higher level of l-theanine, aka nature's chill pill. It's the ingredient in matcha that relaxes you while giving you calm, focused energy. (My favourite thing ever!)
Raising the level of l-theanine through shading also increases the creamy "umami" flavor of their matcha. They make for the creamiest matcha lattes! Speaking of which, here's the recipe for my favourite simple stovetop matcha latte! I also have a Creamy Adaptogen Matcha Latte recipe I've shared before HERE!
Simple (yet tasty) Stovetop Matcha Latte
So that's it friends! I'm beyond excited about this because I know I am drinking high-quality, pure, organic ceremonial grade matcha that is both beneficial to my health and body as it is my brain and workdays!
For 5 days only, we'll be giving away a free bamboo whisk with every purchase of 2+ cartons! This makes the perfect gift (of health) to friends and family, no matter what the occasion! Or just get it for you, I know I am!
All you have to do is click here and enjoy the world's purest and most delicious ceremonial grade matcha!
P.S. As always, you should already know that I'd: NEVER put a company or product on your radar that I wouldn't personally use or 100% believe in or support! This stuff is pure GOLD! Get their Sun Goddess matcha before they run out!
xo,
This post contains affiliate links, which means that I receive a percentage of commission if any products are purchased through my links. As always, these are companies I have used personally, believe in and support. Also, thank you for supporting me, hullosam through your purchases. :)