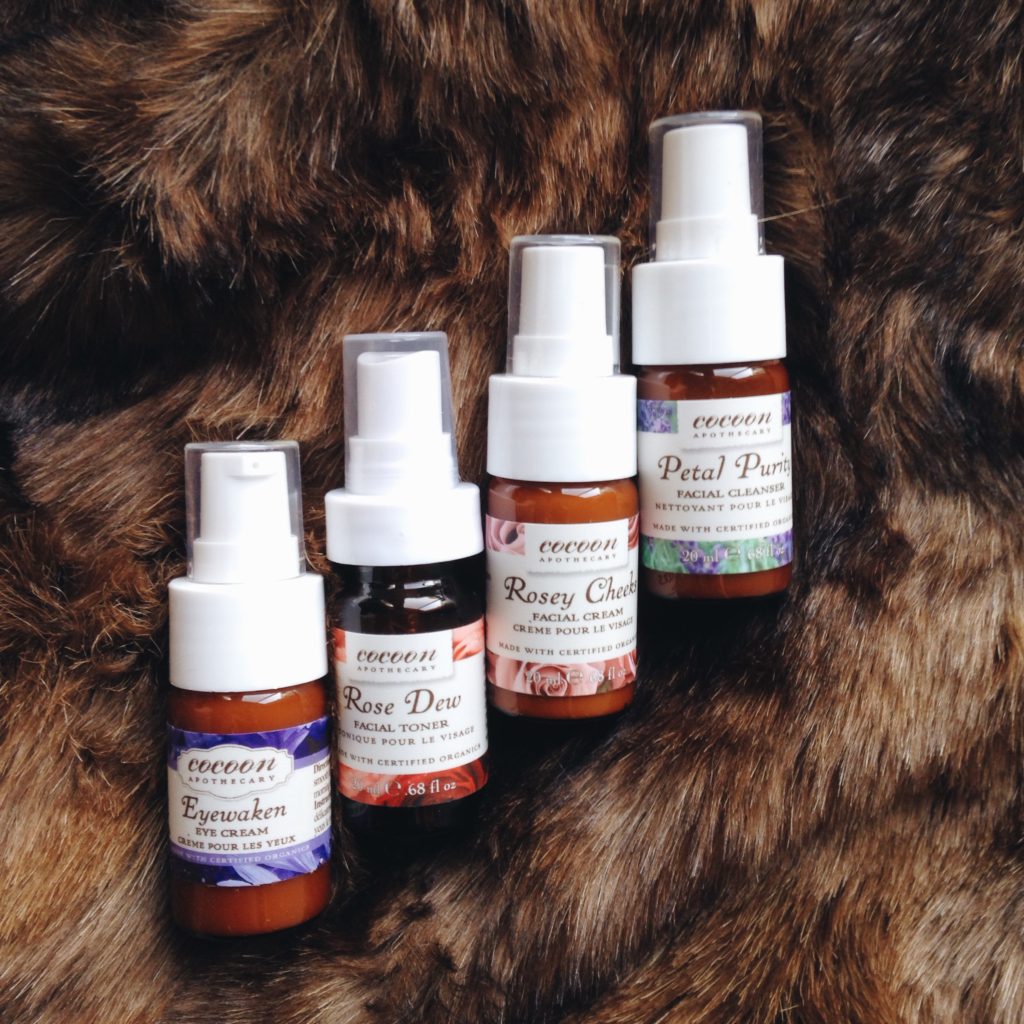 I have a lot of love for Cocoon Apothecary! A Canadian (Ontario, my birth province, at that!) organic, nontoxic, eco-friendly skincare line. Based in Kitchner, Ontario, this company is redefining artisanal skincare. They embrace the power of nature to deliver a luxurious product without compromise, making skin and body care products that are as good for your skin as they are for the Earth.
All of Cocoon Apothecary's products are:
Biodegradable
Made with certified organics
Made in Canada
Safe and non-toxic
Vegan and cruelty-free
Gluten-free
Petroleum-free
Packaged in eco-friendly glass


  

---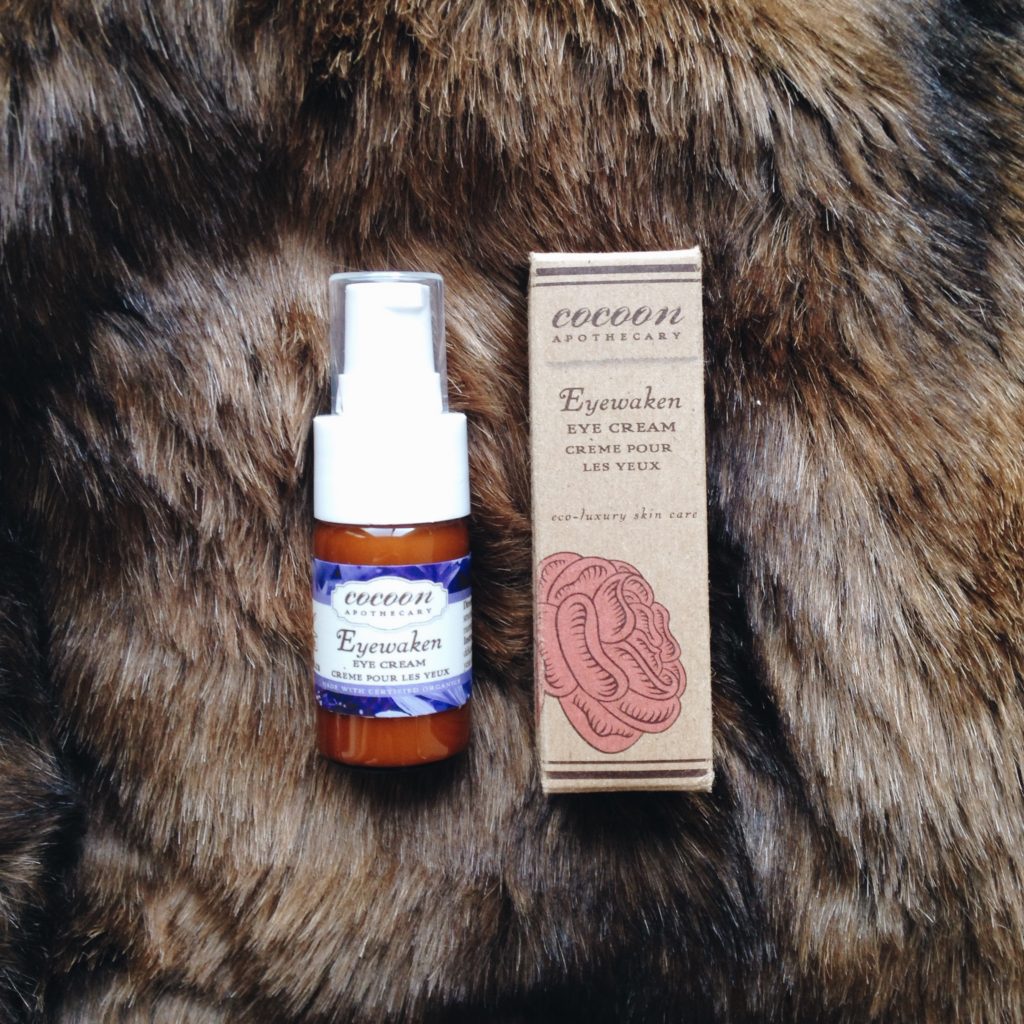 One product I would love to highlight today is their Eyewaken Eye Cream. I received this cream, along with their Skin Care Starter Kit (pictured below) and have absolutely loved it! (All of the products, but this one really stood out to me.)
The Eyewaken Eye Cream is:
"100% plant-based revitalizing eye cream that moisturizes and soothes tired eyes. Blended with the cooling, astringent hydrosols (waters) of organic rose and corn flower to reduce puffiness and hydrate skin. Organic argan and grapeseed oils moisturize with high levels of vitamin E and antioxidants to combat fine lines and wrinkles. Organic sweet almond oil helps to lighten dark circles while firming organic cocoa butter protects this delicate area. A soothing formula that's great for all skin types. Can be used both morning and night."
This eye cream is incredibly moisturizing, as much as it is game changing for my under eyes. I have noticed a vast difference with my under-eye circles and how they're not as dark, as well as the texture of my skin under my eyes being extremely supple, soft and smooth – all within a short period of time using this product. Something to celebrate, I'd say! I recommend this to anyone, any skin type – especially sensitive eyes! I was not able to use certain eye creams most of the time because they'd irritate my eyes, make them watery and red, or just itchy. This cream has no negative effects on my eyes, only great results come from this little bottle! :)
FOR All skin types
SMELLS LIKE Light herbal – no scent added
BENEFITS
Soothes tired eyes.
Combats fine lines and wrinkles.
Reduces puffiness and dark circles.
Firms and protects delicate skin.
KEY INGREDIENTS
Argan and Grapseed Oils High sources of vitamin E to fight free radical damage and diminish fine lines.
Almond Oil Helps reduce the appearance of dark circles.
Cornflower Hydrosol Revitalizes swollen eyes and reduces puffiness.
Rose Hydrosol The water that is created when extracting essential oil from the petals by steam distillation. It contains water with a soluble amount of essential oil. The therapeutic components of the hydrosol are approximately 80% phenetheyl alcohol, an antimicrobial. It is produced from the pink rose plant called Rosa Damascena, member of the rosaceae family indigenous to Europe and the Middle East. Rose hydrosol has high levels of antioxidant polyphenols to fight aging and cellular damage in the skin. It is soothing, cooling, anti-inflammatory and very astringent, making it ideal for aiding puffiness in the eye area.
INGREDIENTS
Certified organic cornflower hydrosol, certified organic rose hydrosol, certified organic argan oil, certified organic grapeseed oil, certified organic sweet almond oil, cetearyl alcohol (wax from coconut), stearic acid, certified organic cocoa butter, vegetable glycerin, sodium anisate (derived from fennel), sodium levulinate (derived from corn), sodium cetearyl sulfate (from coconut), rosemary leaf extract.
INSTRUCTIONS
Apply a dab of cream under eyes and gently spread around eye area.
---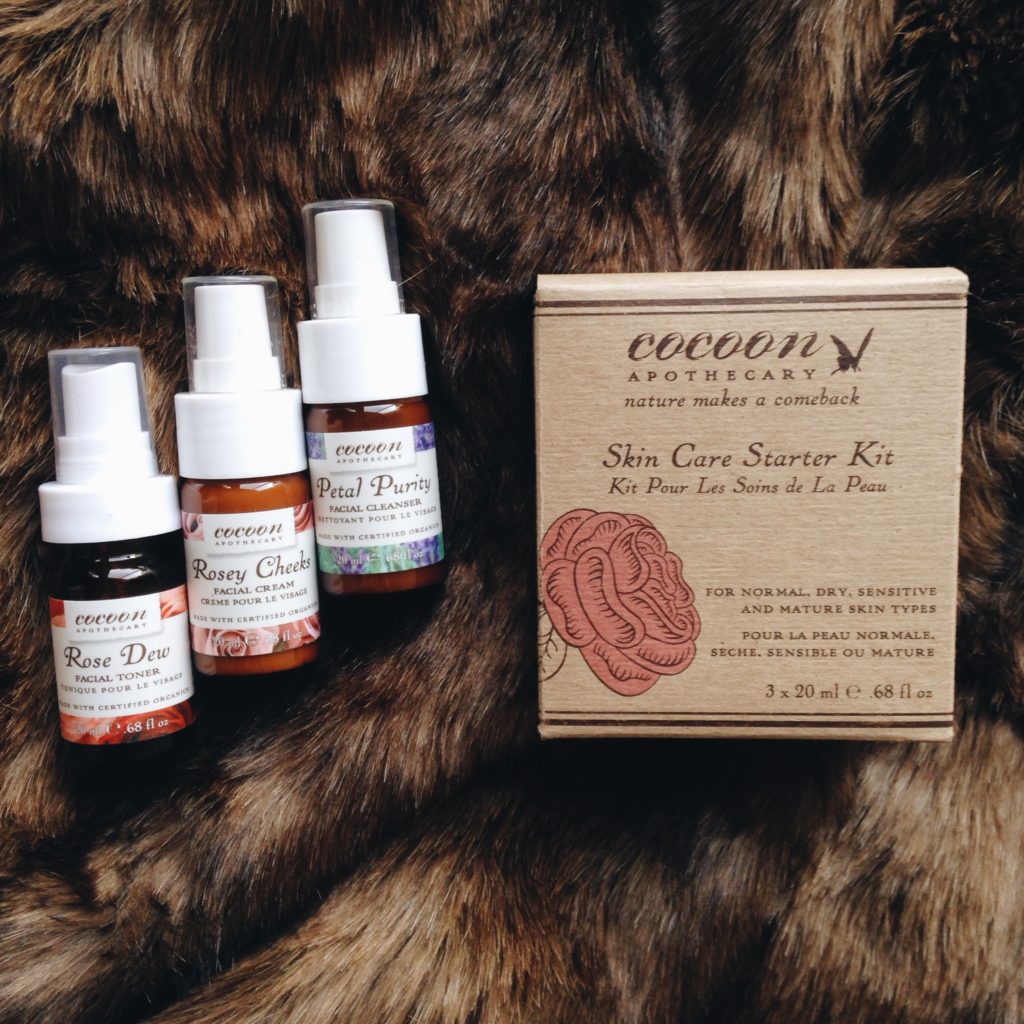 If you're looking to try out Cocoon Apothecary, but are not sure where to start – this Skin Care Starter Kit is perfect for you! The kit contains:
Travel size (20 ml) bottles of our cleanser, toner and cream for normal to dry skin and comes in a 99% post-consumer box.
1. CLEANSE
A 100% plant-based cream cleanser that removes oils, dirt and make-up without stripping skin of essential hydration. A gentle formula containing the purifying extracts of organic lavender and geranium to keep skin cleansed and balanced. The organic oils of virgin coconut and sweet almond help to remove pollutants leaving skin dewy-fresh and tingly-clean. Great for all skin types including sensitive.
INGREDIENTS Purified water, certified organic sweet almond oil, certified organic virgin coconut oil, cetearyl alcohol (wax from coconut), stearic acid (plant-based), vegetable glycerin, certified organic geranium essential oil, certified organic lavender essential oil, sodium anisate (derived from basil), sodium levulinate (derived from corn), sodium cetearyl sulfate (from coconut), rosemary leaf extract.
INSTRUCTIONS Apply to dry or damp skin and massage in circular motion to entire face. Remove with cotton ball or water.
2. TONE
A 100% organic, alcohol-free toner that delivers powerful antioxidants and astringents to tighten up pores and prepare skin for moisturizing. Certified organic rose hydrosol (water) creates a purifying formula used for centuries as a beauty tonic. Delivers botanical hydration to skin before it gets locked in by a moisturizer. Can also be used with a cotton ball to lightly clean face or remove excess debris after cleansing. Use morning and evening after cleansing and before moisturizing. Great for normal, dry and sensitive skin types.
INGREDIENTS Certified organic rose hydrosol
INSTRUCTIONS Spritz on clean, dry skin and allow to dry OR spritz on cotton ball and apply to entire face.
3. MOISTURIZE
A 100% plant-based facial cream that harnesses the therapeutic power of nature to soften, nourish, and rejuvenate skin. Made with organic oils carefully chosen for their extraordinary ability to keep skin smooth, firm and glowy. Organic rosehip oil, pressed from the seeds of the rose bush, is known for its ability to regenerate skin, minimizing fine lines, scars and reversing sun damage. Avocado penetrates deep into the layers of the skin to smooth and soften its appearance. Organic camellia oil, extracted from the tea plant, contains antioxidant polyphenols to fight free radical damage and inflammation. Organic shea butter softens and protects skin, locking in moisture to keep skin plumped up and hydrated. The pure essential oil of rose, extracted from the petals of the flower, creates a beautiful scent that delivers skin-firming antioxidants. Vegan, non-toxic and biodegradable in an eco-friendly glass bottle.
INGREDIENTS Purified water, certified organic rosehip oil, certified organic avocado oil, certified organic camellia (green tea) oil, certified organic shea butter, cetearyl alcohol (wax from coconut), stearic acid (plant-based), vegetable glycerin, sodium anisate (derived from basil), sodium levulinate (derived from corn), rose absolute, sodium cetearyl sulfate (from coconut), rosemary leaf extract.
INSTRUCTIONS Apply to clean, dry skin in the morning and evening.
---
You can find Cocoon Apothecary on:
Instagram: @cocoonapothecary
Twitter: @cocoonjessica
Facebook: https://www.facebook.com/cocoonapothecary
Pinterest: https://www.pinterest.com/cocoonjessica/

Voila! Let me know in the comments if you've ever purchased this line of skincare, or if you plan on purchasing it, and how you like it! Thanks!
xo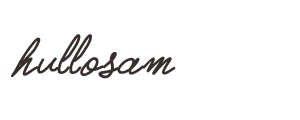 ---
Annnnnd…wasn't gonna leave ya high and dry!
Check out this beautiful love song by Secret Nation – "I'm Yours"
[soundcloud url="https://api.soundcloud.com/tracks/155650755″ params="color=ff5500&auto_play=false&hide_related=false&show_comments=true&show_user=true&show_reposts=false" width="100%" height="166″ iframe="true" /]