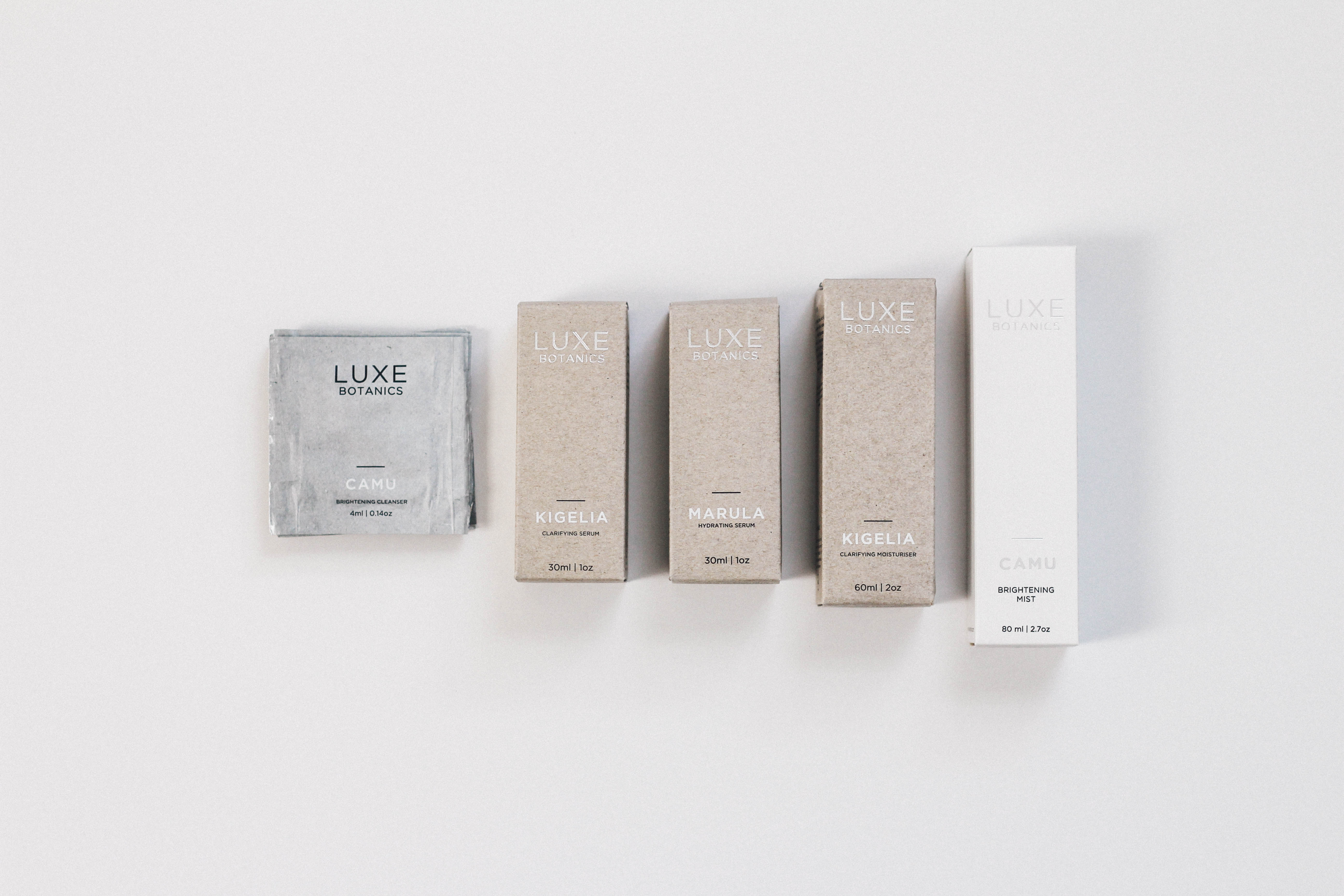 It's been awhile since I chat about skincare on here. Like, truly went in depth and shared with you why I don't typically switch up my skincare routine often, if at all. But let me say, IF and when I do add new products to my regimen, it's gotta be good. I mean, everything I talk about or promote is going to be stinkin' good – and I'm going to support it 100% – but with skincare, I'm even more specific. Not only cus it's my delicate, sensitive skin and it's basically me bathing in it…lol but also I'm implementing something new into my daily/nightly ritual and I want it to be effective and really wow me.
Enter South African skincare brand, Luxe Botanics. You can read all about the background behind them HERE and why their fabulous founder, Jené Roestorf, started creating these beautifully crafted skin care products. For me, the background and the "why" for a company starting a nontoxic skincare line is everything. From the passion behind it, the quality of what's being sourced, the balance of science and nature – it is crazy important and effects the efficacy of the products I'm using and testing out.
"For the wellness conscious women who choose to allow their skin to thrive naturally, our vision is to empower them with the ultimate Mindful Skincare Ritual – a luxurious and effective botanical line that enriches both skin health, nature and the community."
I mean, is that not super inspiring and enough to make you ooh and ahh over just the founder's passion and purpose of their skincare alone!? Well, let's get into the good stuff – you know you want to know! So, let's chat about the products I tried (and still use) and how they worked for me!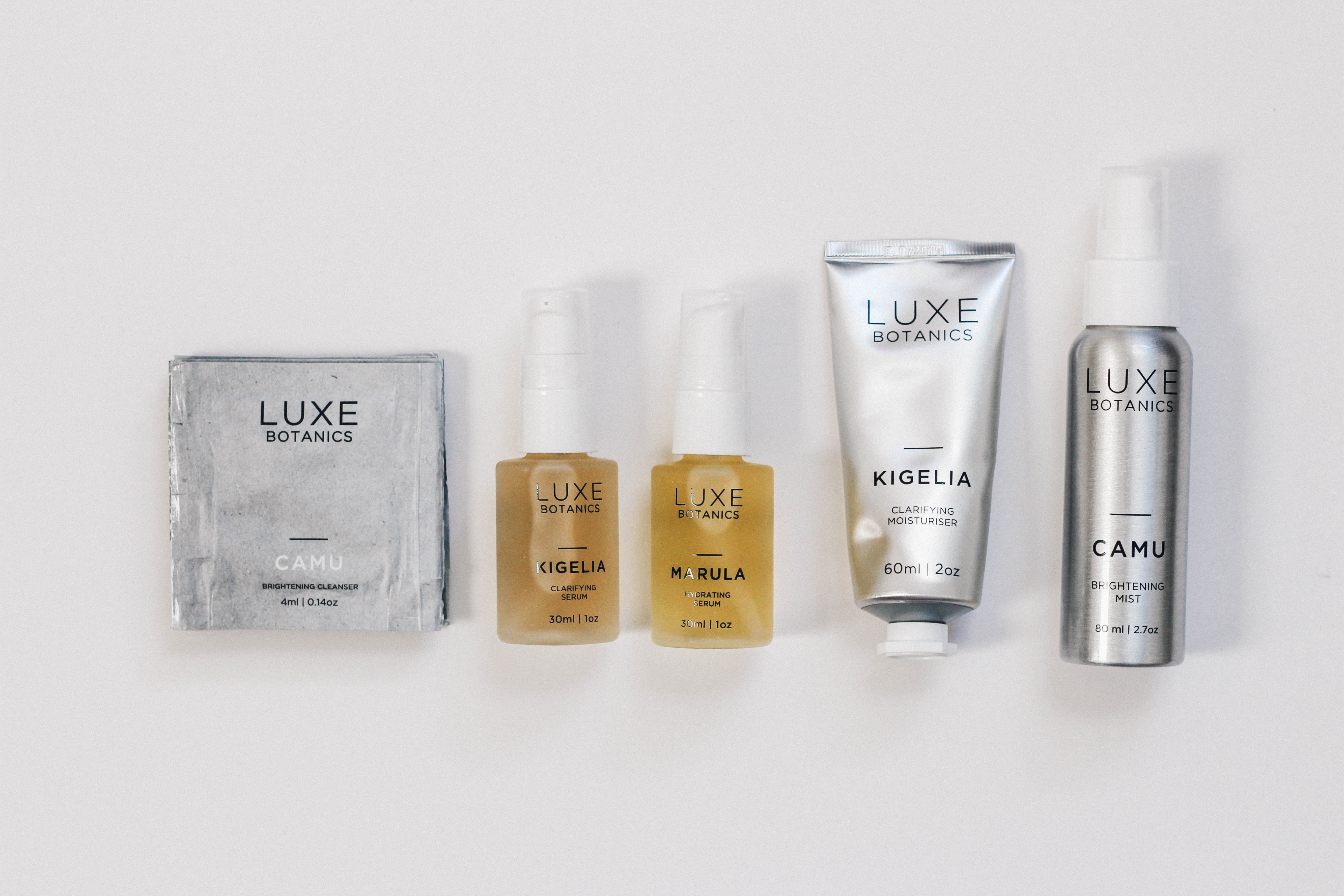 I was sent some goodies from Luxe Botanics and amongst them that really impressed and stood out for me were their Kigelia Clarifying Range – specifically the Kigelia Serum and Clarifying Moisturiser, including their Marula Hydrating Serum and Camu Brightening Mist. Allow me to explain by lending you a bit of background and information from Luxe Botanics concerning Kigelia.
KIGELIA



• Used for centuries by South African communities, the traditional wisdom's of Kigelia Africana and its remarkable natural healing powers are coming of age





• Rich in antioxidants, flavonoids, and phenolic compounds, Kigelia fights free radical damage to renew skin, while natural firming properties help to stimulate collagen, plump and minimize fine lines. Many African women have been known to rub it onto their necks and chests to give them a natural lift!





• Applied to skin directly to treat inflammations and irritations, its gentle yet potent anti-inflammatory, antibacterial and DNA repairing extracts help to calm redness, re-center and repair, taking skin back to its optimal healthy state (some clinical tests show 

Kigelia 

has similar efficacy to the antibiotic Clarithromycin - so it's amazing for soothing and protecting skin - mild enough to use post treatments) (Kigelia is also currently being tested 

in vitro 

as a potential treatment to prevent melanoma, so it has this incredible ability to help skin heal and repair itself)





• It's the ultimate defense in winter months when going from the extremes of indoor heating to a windy blizzard, helping skin to find balance again. With a cool and watery, cucumber-like consistency it's instantly refreshing to the touch. But though it's light and gel-like, don't be deceived. Kigelia is amazingly hydrating while allowing skin to breathe
READ MORE ABOUT LUXE BOTANICS CORE INGREDIENTS

HERE

AND MORE ON THEIR FORMULATION HERE.
So, now that you've got that info stored in your noggin – I will briefly tell you that Kigelia Clarifying Serum and Moisturiser are freaking BOMB. I mean, listen…when my skin is feeling troublesome, clogged and inflamed…this stuff is instant-relief. It's cooling upon contact, as it's more of a water-based moisturiser and unlike what I thought (watery moisturisers won't hydrate me as well, I'll use it in the summer more..) WRONG. It totally plumped up my skin and made it feel like a juicy peach. Okay, too far…but you get what I mean. I mix two pumps of the serum with a nice pea size amount of the moisturiser and man – this stuff goes a long way! I pat it into my face gently and also onto my neck (don't neglect the neck).
Don't worry, I haven't forgotten the Marula Hydrating Serum! Equally just as lovely as Kigelia, but it's an oil (as opposed to the more gel-like watery consistency of Kigelia) and its purpose is specific! Marula Serum is for those with combination and breakout prone skin (I have combo skin which can tend to get some hormonal breakouts around my cycle). This oil-based serum is meant to rebalance natural oils in the skin at night time (Marula also has antibacterial and anti-inflammatory properties making it a perfect accompaniment to Kigelia), so when I'm needing some rebalancing and an intense boost of hydration, Kigelia and Marula Serums (2 pumps of Kigelia and 1 pump of Marula) are a killer combo! So good.
Obviously, the Camu Brightening Mist is an instant fave…a mist…that brightens? Yes, please. I definitely have an obsession with face mists and this one is no exception. It's a big 'ole boost of Damascus Rose Water for soothing skin, Sodium Hyaluronate for plumping and hydrating and of course the magic ingredient Camu, packed with vitamin C for evening skin tone and adding a bounce in your skin's step…so to speak. ;) Below are photos of my skin after a light application of makeup…it's happy, bright and (thank goodness) hydrated! All I used was some of the Camu Brightening Mist, Kigelia Clarifying Moisturiser and then misted again! Easy, breezy beautiful…Luxe Botanics (can I do that? LOL).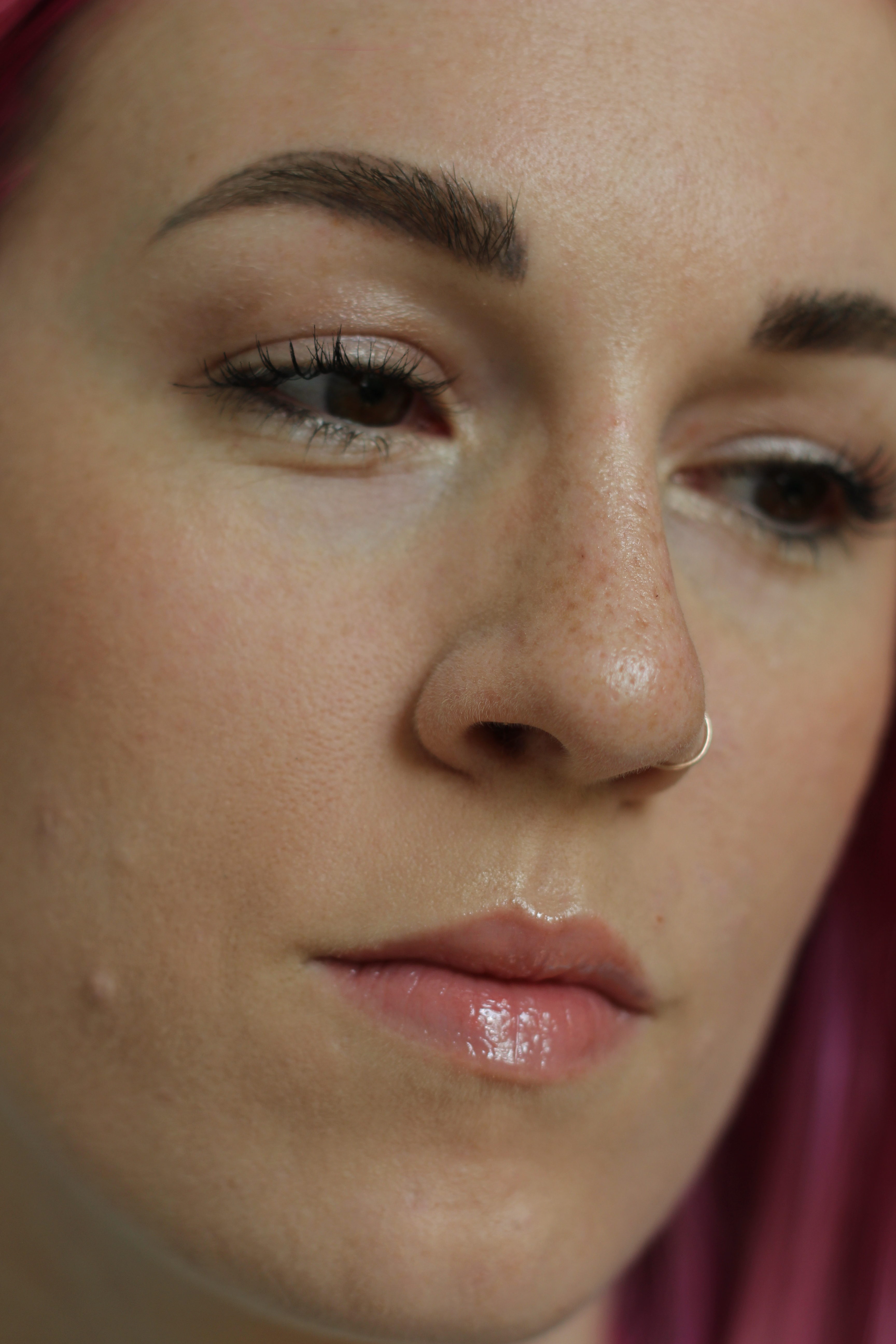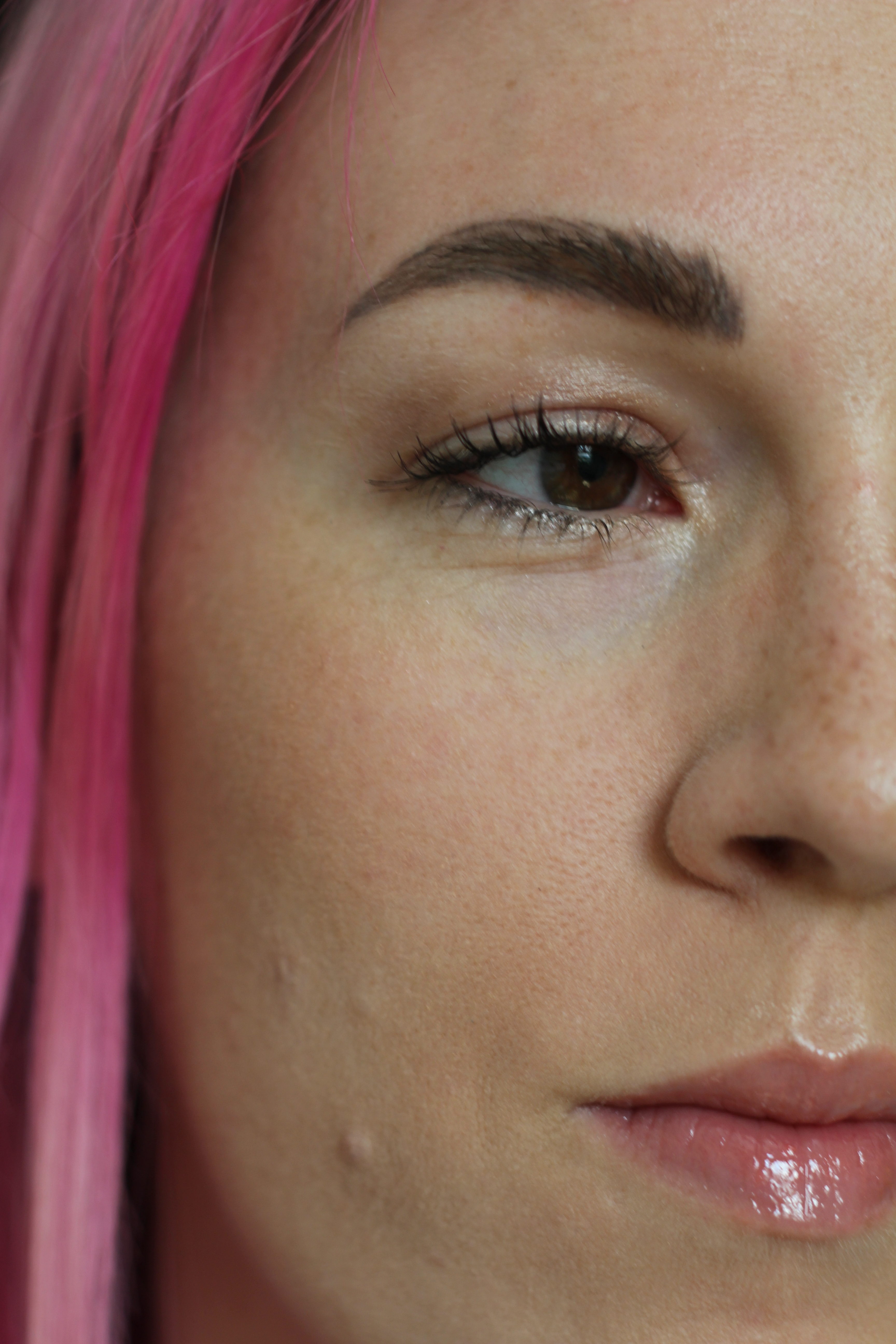 So there you have it! These products are truly unique and I really love them! Trust me, I wouldn't be here raving about them if not. I dare you…no, I DOUBLE dare you to check out this skincare line and try out 1-2 products. I have a feeling you won't be disappointed! ;)
Which products that I covered speak to you? Are you into oils or water-based moisturisers more? Talk to me! I love hearing your thoughts and experiences. Until next time! x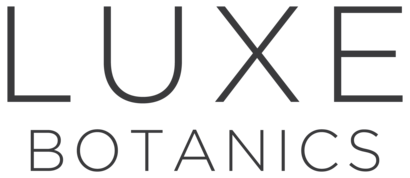 Follow Luxe Botanics:
Instagram: @luxebotanics
Facebook: https://www.facebook.com/luxebotanics
Twitter: @luxebotanics
Pinterest: https://www.pinterest.com/luxebotanics
xo

This post is sponsored. The products seen in photos above were sent to me to review through Luxe Botanics. As always, all thoughts expressed are honest and unique to my personal experience.