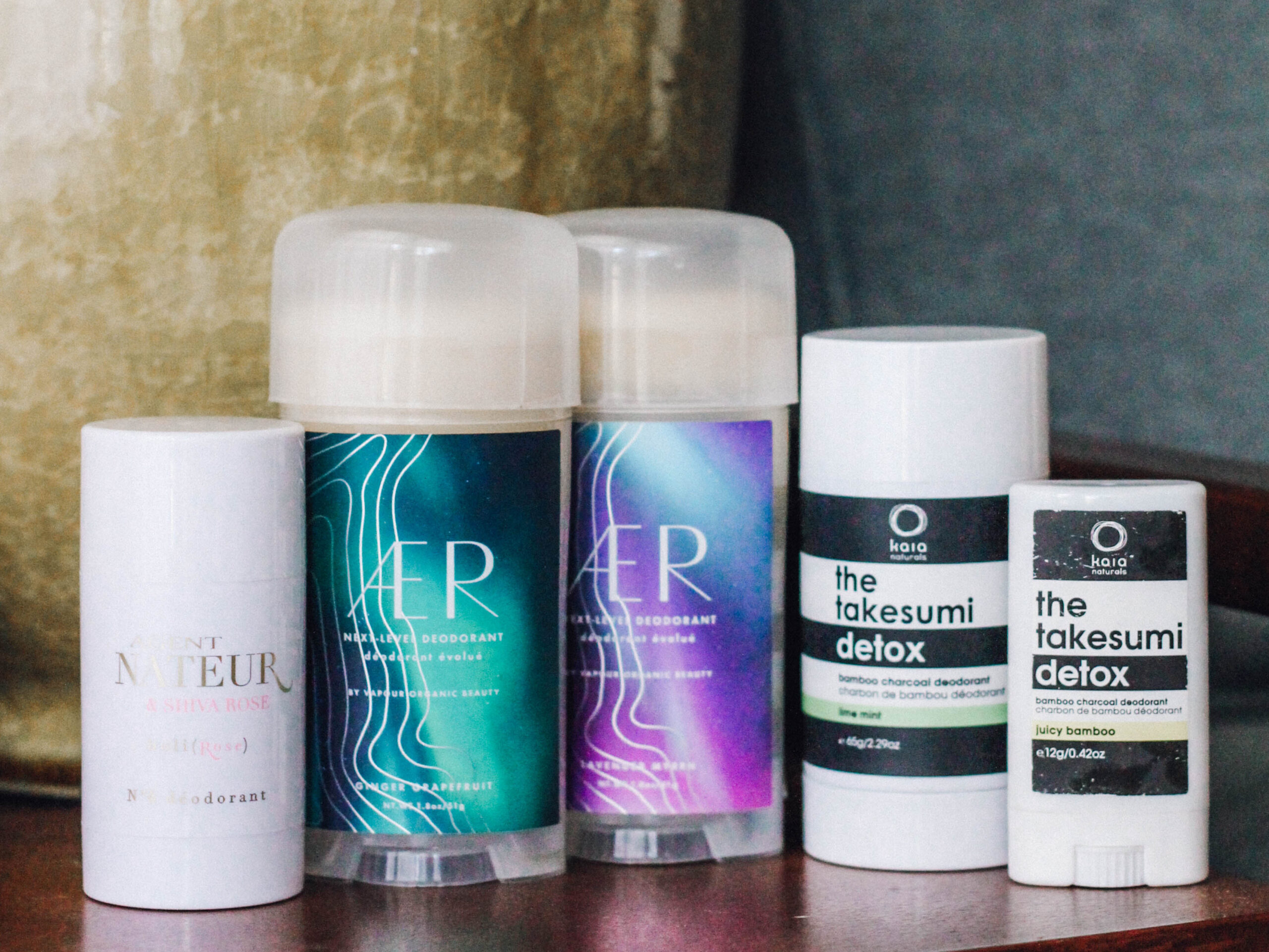 *UPDATED 10.7.2021. The updated portion of this blog post is a bit further down in the post. You'll see it! It has UPDATE before it lol.
It's been a long time comin' you guys…I never thought I'd see the day (especially in the green beauty space), where I'd say I've found my holy grail(s) of natural deodorant! AND YES THEY WORK! HALLELUJAH!
I'll be first to admit that I'm a bit high maintenance and hate any sort of stench – wait, that doesn't make me high maintenance? Oh, well, how about this? I have different deodorants for different events/seasons. See? High maintenance. ;) I don't mess around. Now, you know I've tried everything…I mean EVERYTHING to curb the stink. (It's 100% normal to sweat, and you should never use an antiperspirant or anything that will block your sweat glands, but stinking is no fun!) Especially with my line of work, I am super lucky to be able to try new brands, formulas, scents, you name it! Soooo, just know that what I'm about to share with you is sacred. LOL, okay maybe not that serious – but a natural deodorant that works is SERIOUSLY something to celebrate amirite?!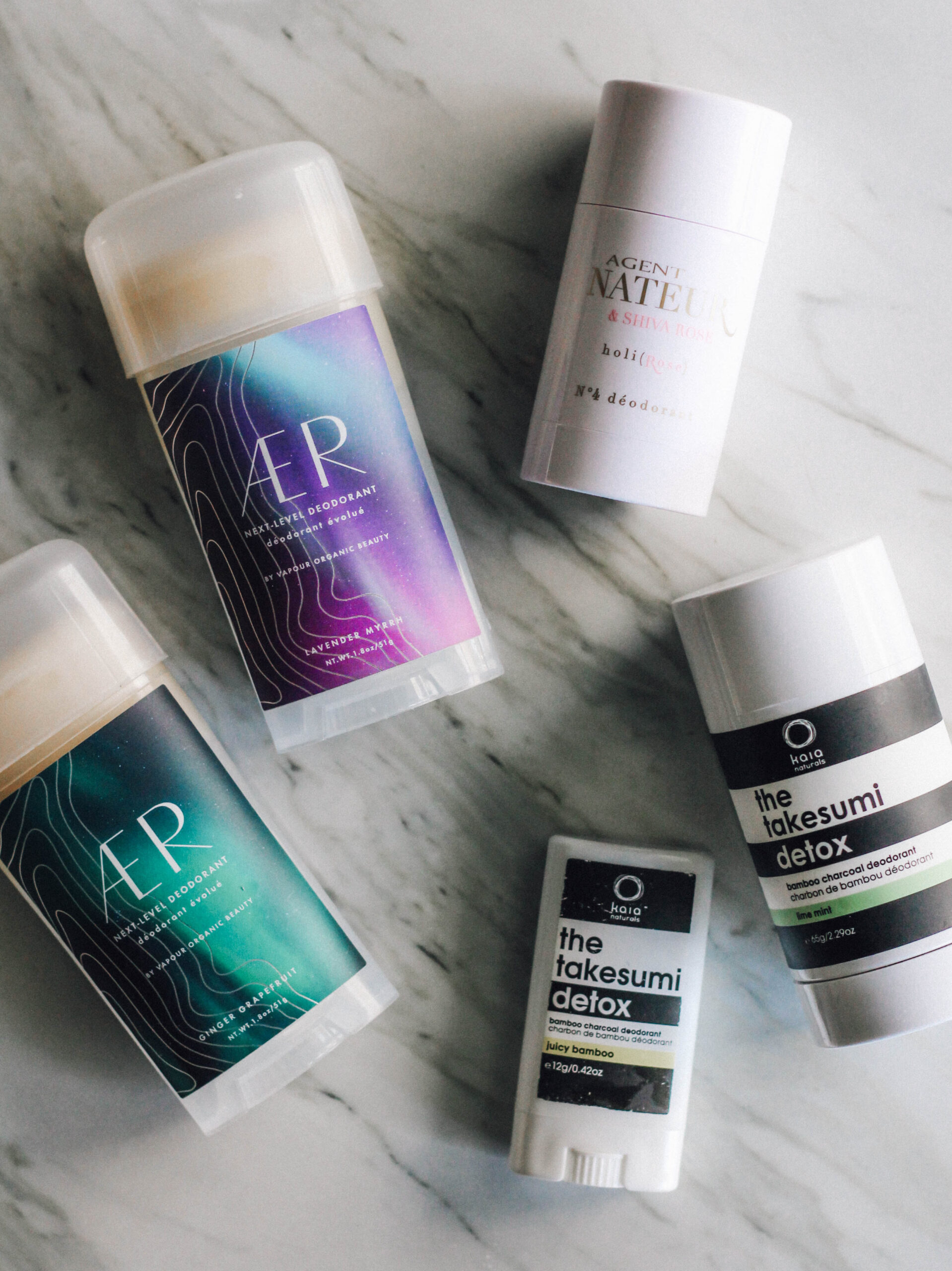 THE FOLLOWING CONTAINS PRODUCT THAT WAS GIFTED AND THANK GOD IT EXISTS IN THE WORLD BECAUSE I WOULD BE LOST WITHOUT IT.
UPDATE

! 10/6/2021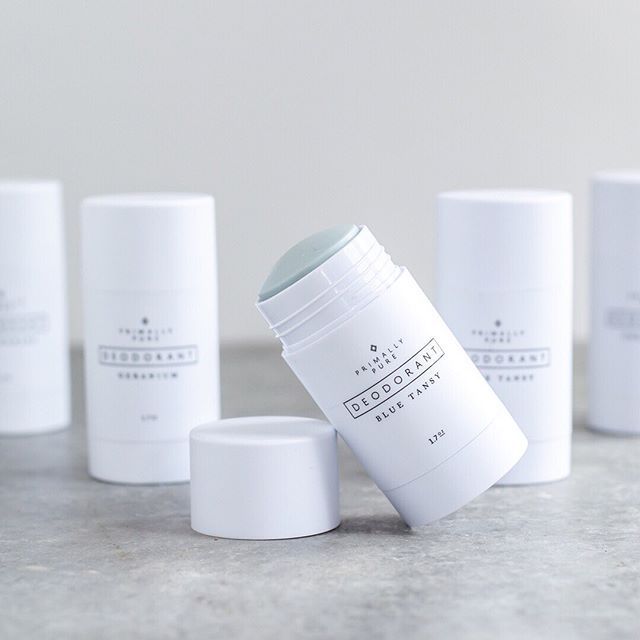 I bought this deodorant on my own last year, after hearing soooo many raving about it over the years. I was skeptical, cus ya know…deo is very individual. Some work for you, some don't!
Welppppp, THIS ONE WORKS FOR ME and continues to…to this very day! I'm quite impressed. I still switch up the deodorants I wear every now and then, but this one has been pretty consistent for me!
This natural deodorant contains a small amount of baking soda (which, I will say, I have ZERO irritation towards…even after shaving!). This obviously helps to combat odour which is needed lol! It's also fortified with kaolin clay (a powerful detoxifier) and non-nano zinc oxide (soothes irritation). It's also made with other good-for-you organic ingredients including grass-fed tallow (I thought this was so neat and I love tallow for so many reasons), fair trade coconut oil, arrowroot powder, beeswax, and essential oils. Of course, as the name suggests, Blue Tansy Essential Oil is in there and it powerfully combats inflammation, calms irritation, and is potent in skin-soothing properties. Probably why I have ZERO irritation! Plus, this deo goes on virtually clear and doesn't stain clothes.
SEE WHY I LOVE IT SO MUCH? Primally Pure has other deodorants, that are probably amazing as well, but I just can't seem to care about them as much as this Blue Tansy one lol! So it is what it is! Do let me know which is your favourite if you use another PP deo!
Use code HULLOSAM for 10% off! SHOP IT HERE!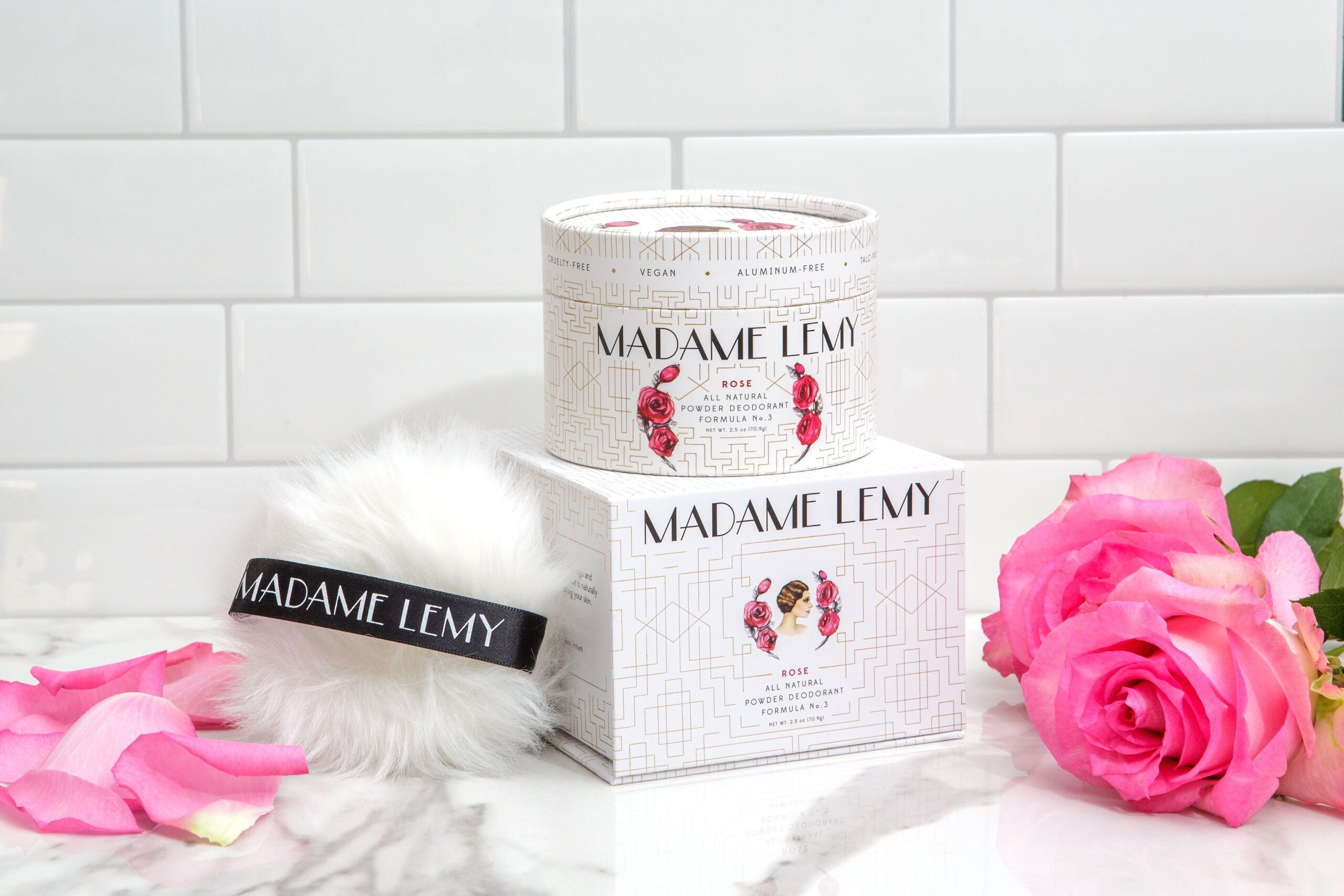 WOW…Madame Lemy has easily become my favourite brand for my natural deodorant needs. I never thought I'd find a favourite deo that's a powder! I've always used a stick deodorant that has an oil base or is more of a classic moisturizing type deo stick. (I still do love those don't get me wrong!) I wasn't sure I'd love the powder idea, or that it'd even work….wow was I ever wrong.
This natural deodorant works SO well! I own the Rose scent and it's DIVINE! It's definitely a strong rose scent, but I love it, and I find that it's needed as it wears off a bit throughout the day. But not to the point of no scent, which has really impressed me! I rarely have to touch up, maybe once if it's a hot day and I sweat. Like any natural deodorant – doesn't stop the sweating – it just controls scent and keeps excess sweating at bay by sucking up the wetness with the powder! But I've really enjoyed how dry and fresh I feel. It's a unique and refreshing experience.
The packaging and aesthetic of Madame Lemy's deodorants are all super retro/vintage-inspired. Very 1920's! (Hence the music I chose for my videos!) It comes with a powder puff applicator (not messy at all) and you can buy refills of the powder so you keep the original packaging! Love that it's sustainable! Overall, I give this 5 stars! It's my go-to right now. I highly suggest giving it a whirl! And if you've tried it, let me know what you think!
Use code SAMMIE for 10% off! SHOP IT HERE!
---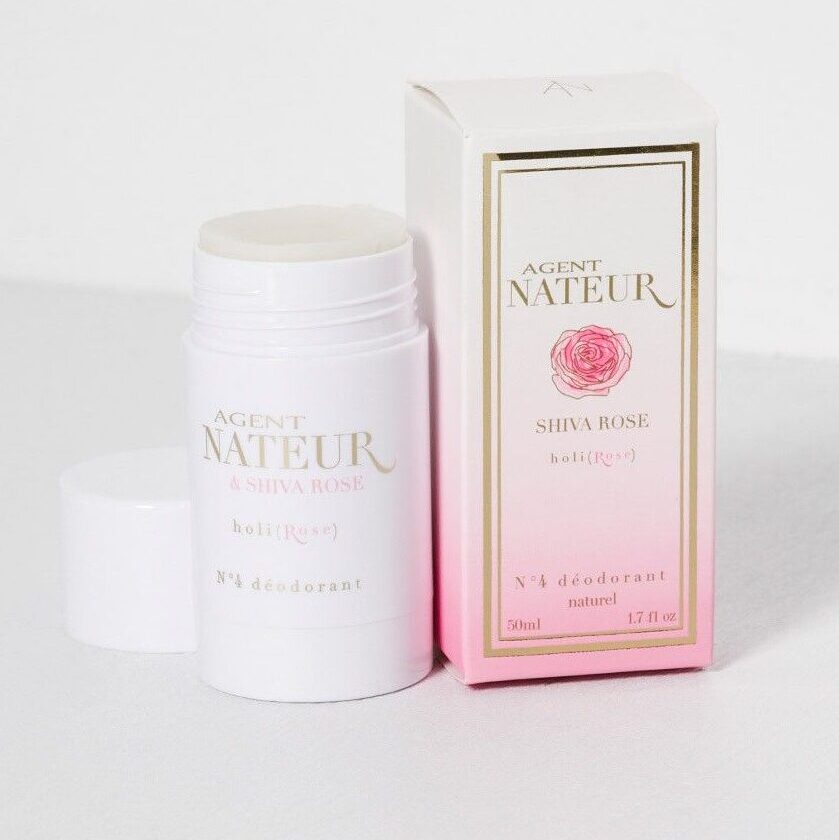 What a mouthful of prettiness! First and foremost, I'm going to just state the obvious – it smells freaaaaking intoxicating! Like honey and roses – though it boasts sandalwood as well – did you know it is a pheromone and acts as a natural deodorant?! So cool!  If Jena (founder and creator of Agent Nateur) makes a perfume of this scent, I'm first on the list to own it! It's so beautiful! But, let's talk about what matters most – IT WORKS! Whenever I was in Charleston many moons ago with my girls Janny and Molls, we put it to work! It was HOT and this baby withstood the humidity and heat of South Carolina! I mean, if it can withstand that? I'd say it's a winner! Plus, I used it the rest of the summer and I smelled heavenly. I was pleasantly surprised because this deodorant contains baking soda and I'm generally a bit sensitive – mostly after I've just shaved my pits, so I don't wear this until the next day after a fresh shave. But with ingredients like organic coconut oil, baking soda, beeswax, sunflower butter, avocado butter, castor oil, rose essential oil, sandalwood essential oil, and alllllll of the love…you need to try this! It comes highly recommended, not just by me but by many others who know what's up!
Just like all of Agent's deodorants, this all-natural, aluminum-free, rejuvenating deo is a newer addition to the line of deodorants Jena formulated! This one was created in collaboration with French aime skincare founder, Mathilde Lacombe. It's VERY gentle, it helps maintain the skin's natural bacterial balance to prevent odor and it's silky smooth upon application! Of course, it contains nourishing oil, butter, and beeswax as a base and its scent is a mesmerizing exotic infusion of grapefruit, jasmine, and neroli oils, inspired by the French Riviera. Yep…it's GOOD.
---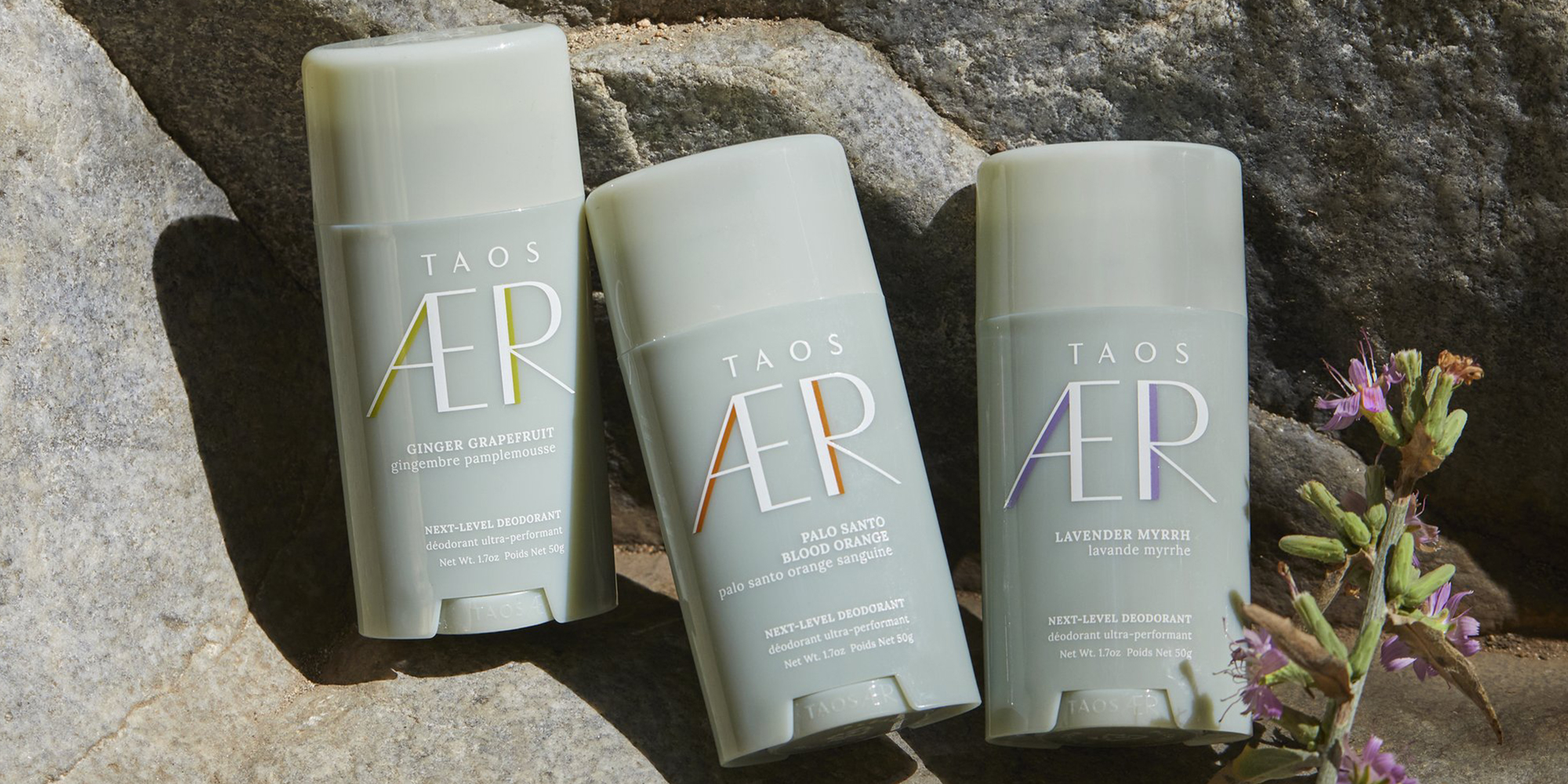 Last, but certainly not least… these amazing Taos Aer Deos! I don't know what kind of magic they used to create these deos, but holy moly they perform impeccably! Their innovative formula basically transforms from a gel to powder on your skin – and a little goes a lonnnng way! (I learned the hard way, see diagram below.)
The formula is light and silky, and when it dries, you just know it's working its magic! It's made up of AER Plant and mineral complex ingredients such as Arrowroot, baking soda, organic Tulsi, wildcrafted Myrrh, and organic Oregano (yep, I know! Crazy!) Its scent is a blend of essential oils that counteract odor and heal, soothe and provide comfort throughout the day. There are SO many options, including Extra Strength ( which are my faves!). But the two I love the most are Ginger Grapefruit: warm, bright, and refreshing, and Lavender Myrrh: clean, green, and uplifting. Seriously, do yourself a favour and either get some samples or buy one of these full-sized! I promise you won't be disappointed!
---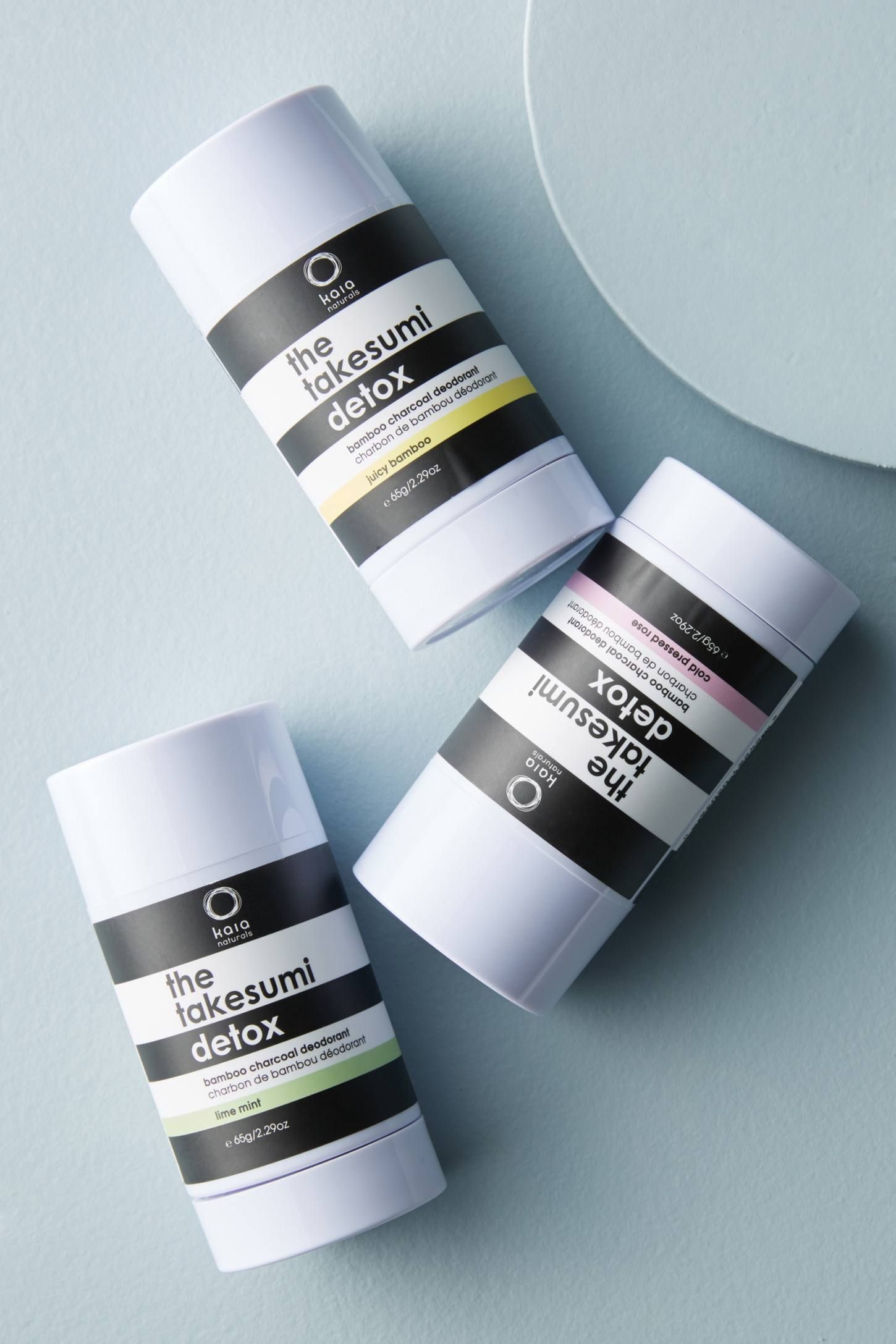 Vegan, cruelty-free, and 99% natural, this stuff is magic, you guys! Mainly because I could have literally just finished shaving and apply this deodorant with absolutely NO burning or rash! It's gentle, effective and the two scents I have (Juicy Bamboo (cute little travel-sized one that I stick in my gym bag) and Lime Mint) smell so nice! Ta-keh-su-mee, known as bamboo charcoal, is a time-honored Japanese secret for odor control and detoxification. So, with a combo of activated charcoal (which has a porous surface that acts like a magnet, which chemically binds substances, such as bacteria and toxins to draw them out.) and natural fermentation technology (which fights odor-causing bacteria, you will stay stink-free all day. (Ingredients are: Water, Propanediol, Arrowroot Powder, Glycerin, Sodium Stearate, Candelilla Wax, Saccharomyces Ferment, Rose Flower Oil, Aloe Barbadensis Leaf Juice, Salicylic Acid, Sorbic Acid, Magnesium Hydroxide, Allantoin, and Activated Charcoal.)
So, have you tried any of these deos? Which one are you loving?! Let me know in the comments below what some of your favourite, tried, tested, and true natural deodorants are!

xo
This post contains affiliate links + promo codes, which means that I receive a percentage of commission if any products are purchased through my links. As always, these are companies I have used personally, believe in and support. Also, thank you for supporting me, hullosam through your purchases. :)