Happy beginning of the week! We all know how much of a makeup lover I am, so I just couldn't let you start your week without sharing my favourite green makeup products! I adore all of these products so much and use most of them almost daily. They're staples in my personal makeup kit, so I hope you get something out of this post and check them all out – plus end up loving them too! ;)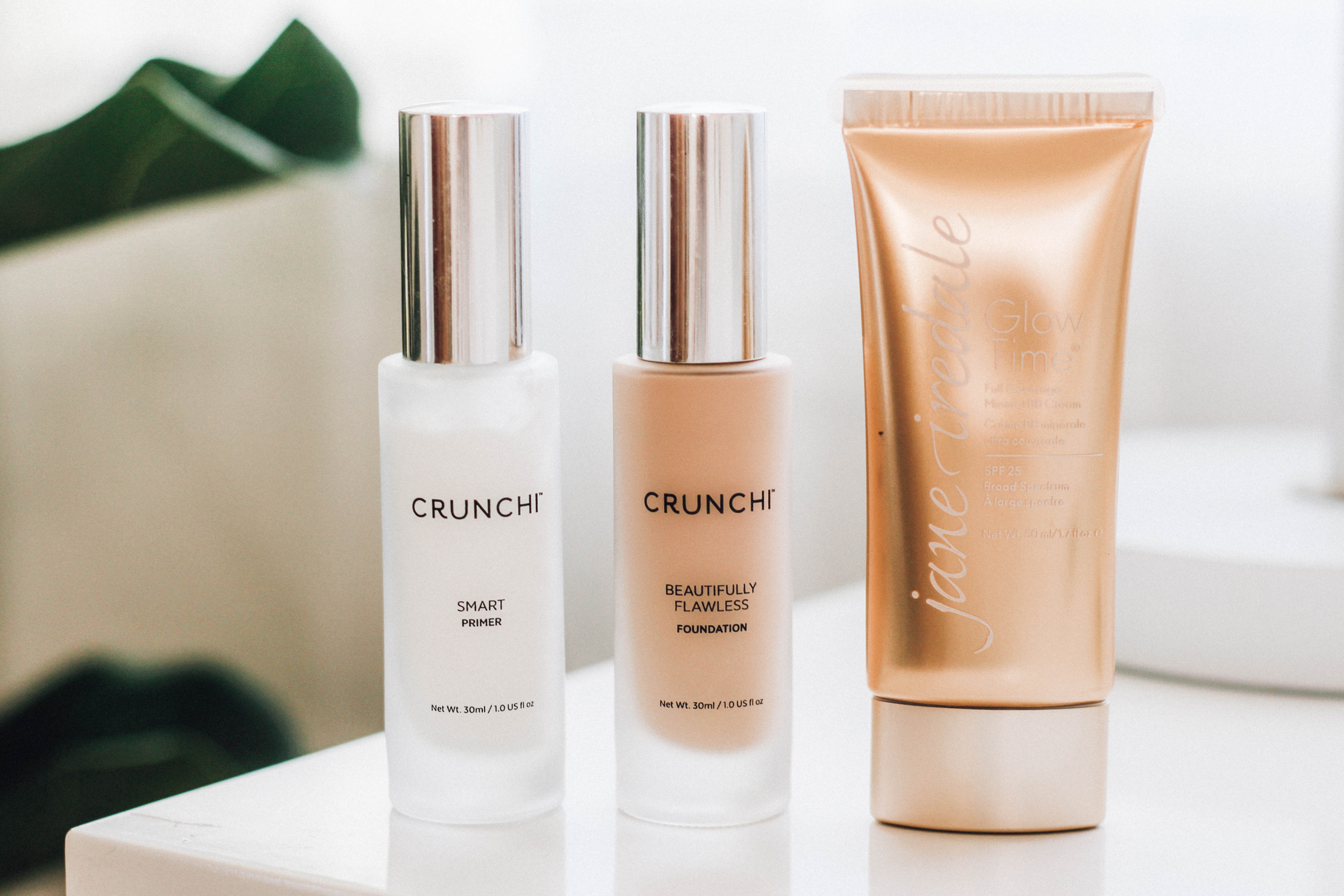 Crunchi Primer: I was never much of a primer gal, but let me tell you, this primer has changed my mind! First of all, it feels weightless and so smooth, it hydrates with Jojoba and Avocado oils and sits beautifully. Dry skin or oily skin, it's balanced enough to handle both! It's seriously a game-changer, especially with the Crunchi Foundation I'm about to mention below. ;)
Crunchi Beautiful Flawless Foundation (Light 02): When Amanda of The Organic Bunny first mentioned this foundation, I was super intrigued! I think she had mentioned it being similar to a conventional type foundation she had once liked back in the day – except super clean ingredients and it sat beautifully on her skin. So naturally, I had to try this foundation out, because DUH?! When something sounds (and looks) that awesome, you try it out haha. Well, I'm happy to say I AM HOOKED. This foundation is liquidy, but not too runny or too thick, it's just right – my Goldilocks consistency. It matches my skin perfectly, I almost couldn't believe it at first! It isn't too pink, nor too yellow (I'm Light 02) and it blends so nicely into my skin. (Even better if you use the Primer beforehand!) This foundation contains Vitamins C & E that help brighten your skin and provide antioxidant-rich coverage while soothing and lightly moisturizing your skin with Aloe Leaf. It's perfect for all skin types, smells like warm vanilla (the scent dissipates quickly), and is medium to full coverage, however, you can thin it out to light/medium with a damp beautyblender (which is how I apply it), or if you mix some moisturizer or serum with it. I really dig how this foundation looks on my skin! It's barely even noticeable and I don't feel like I am wearing anything. Plus, doesn't that glass packaging just lure you in?!
Jane Iredale Glow Time BB Cream (BB3)*: Ah, my trusty BB Cream…which is more of a full-coverage foundation than it is a BB Cream – but that's beside the point! This product is amazing for those days where you just want to really polish up your skin and look dewy, healthy, and flawless. It's a thicker, creamy consistency and it really does wonders for your complexion! Some of the benefits of this foundation? It contains 25 Broad Spectrum Sun Protection, it's water-resistant for up to 40 minutes, it smoothes and brightens the skin and it's completely non-comedogenic, hypoallergenic, sensitivity tested, clinically tested, and dermatologist tested. Need I say more? I'd say the shade BB3 is a touuuuch pink for me, but it blends beautifully and I sheer it out a lot (with a damp beautyblender pure) so that it looks seamless.
*All available at Citrine Natural Beauty Bar. PROMO: use code Sam15 for 15% OFF when you spend $100 or more. Valid March 27 through March 31.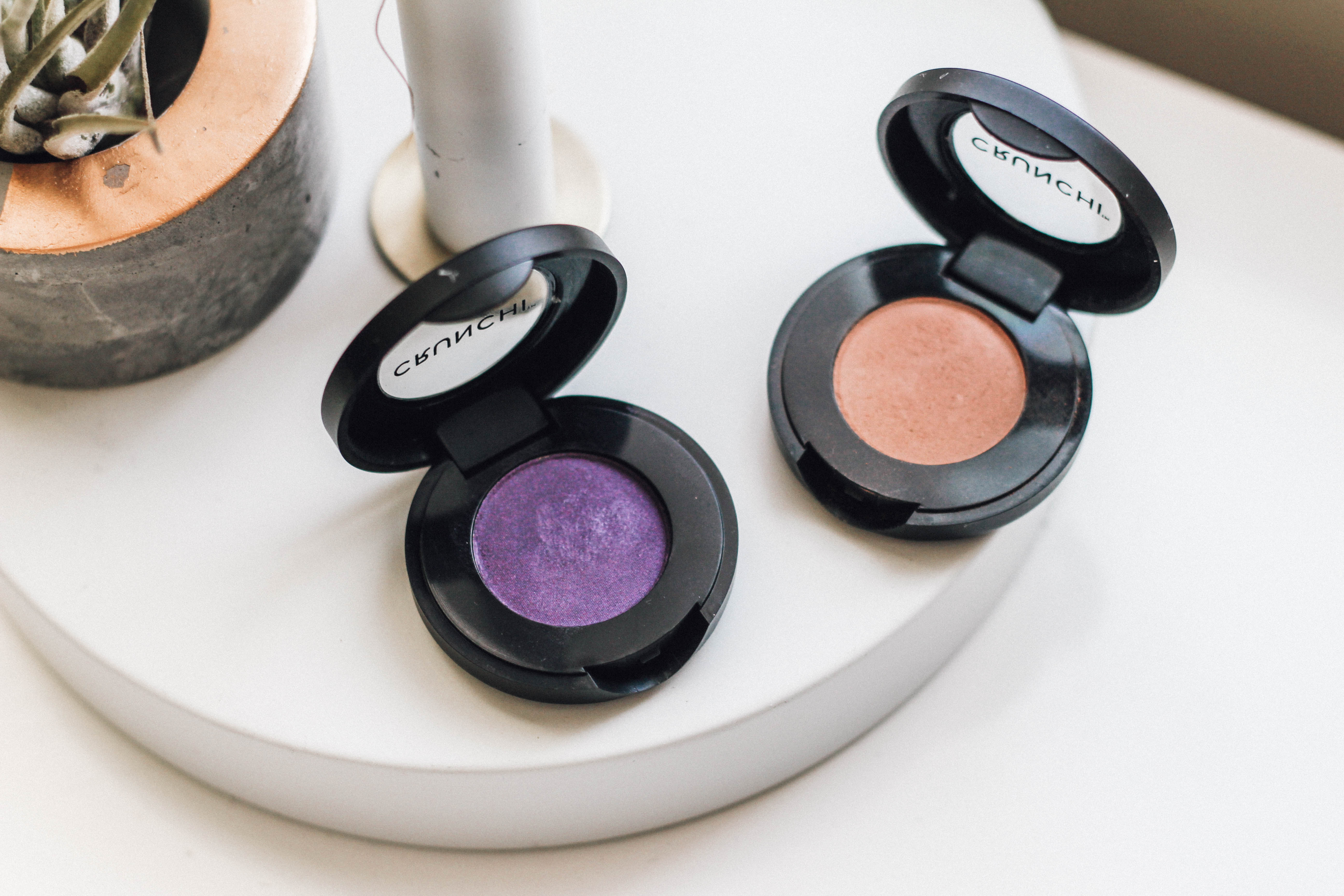 Crunchi Eyeshadow in Almost Famous: Pressed mineral eyeshadow never looked so good! I love this pretty purple/plum shade for a more vibrant makeup look. Or, I tone it down by applying just a simple wash of this shade all over my lid with a blending brush, making sure to really buff it out seamlessly. The ingredients in these eyeshadows are incredible too! Oregano, Rosemary, Thyme, Lavender extracts..your eyes will be thanking you!
Crunchi Eyeshadow in Tiki: This matte, light tan shadow is amazing as a wash all over the lid, in the crease, or to buff out a more intense shade…such as the above Almost Famous. Totally wearable and 100% clean ingredients.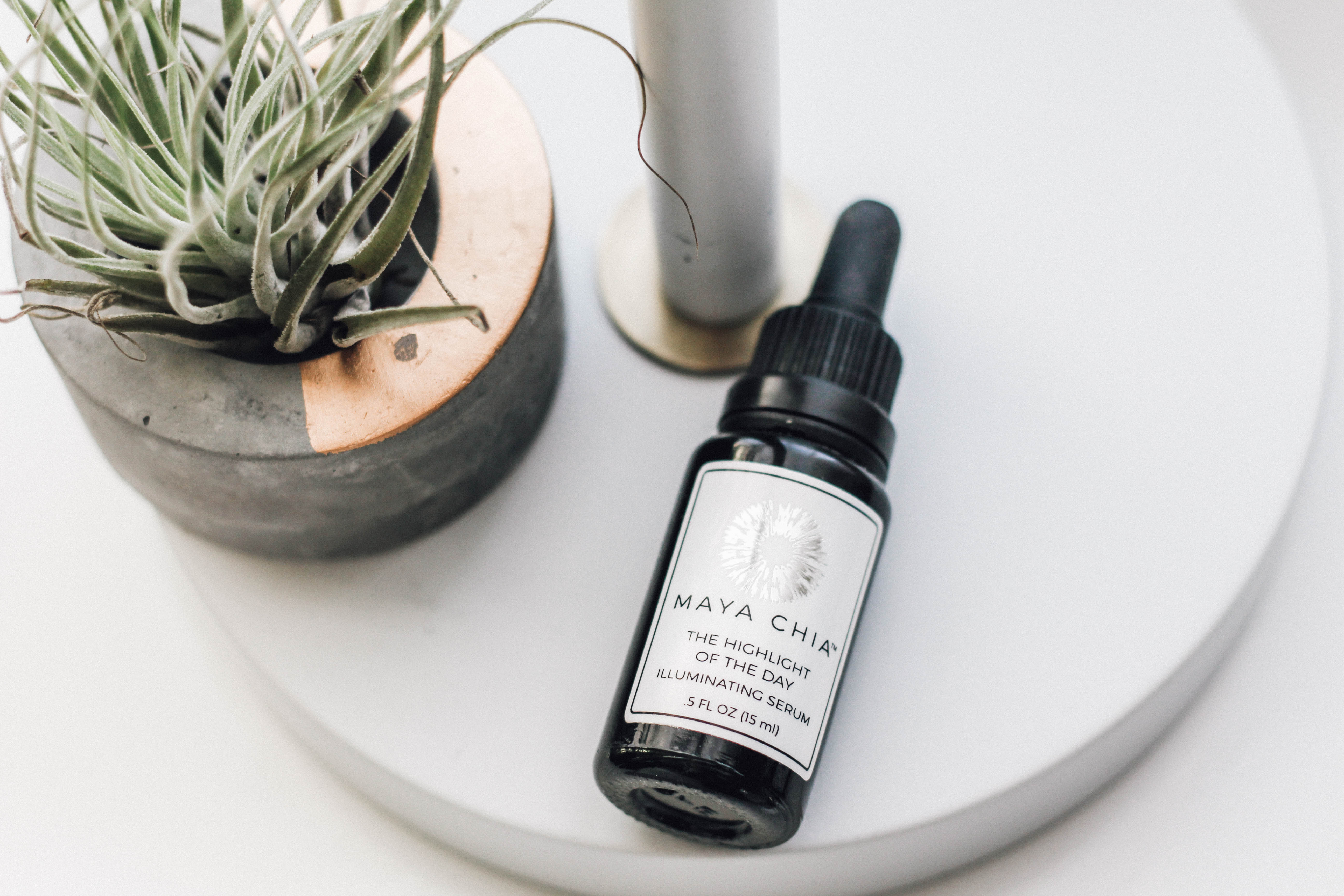 Maya Chia The Highlight of the Day – Happy Hour: I love a good highlighter. But let's be real, there are a lot to choose from and they're all so different in their own ways. But, let's chat about this product, cus oh boy, oh boy, it's good! When I got my hands on this Illuminating Serum, I was blown away by three things: 1) The formula: it's incredibly hydrating and the ingredients are amazing! Almost like skincare – actually – it is skincare, in makeup form! (Something Susanne, the sweet founder of Maya Chia specializes in, so that's no surprise!) 2) The colour of Happy Hour: a cool-toned pink radiance. It's said to impart a look of radiating joy – yes, please! The pink opalescent reflect on it is amazing! 3) The scent: Lightly and ever-so-delicately scented, this Illuminating Serum smells beautiful. With ingredients like calendula oil, Supercritical Chia Oil, and more…your face will drink this up and glow-on, happily! (Also available in Golden Hour: a warm, golden, champagne-like radiance. Incredibly flattering!)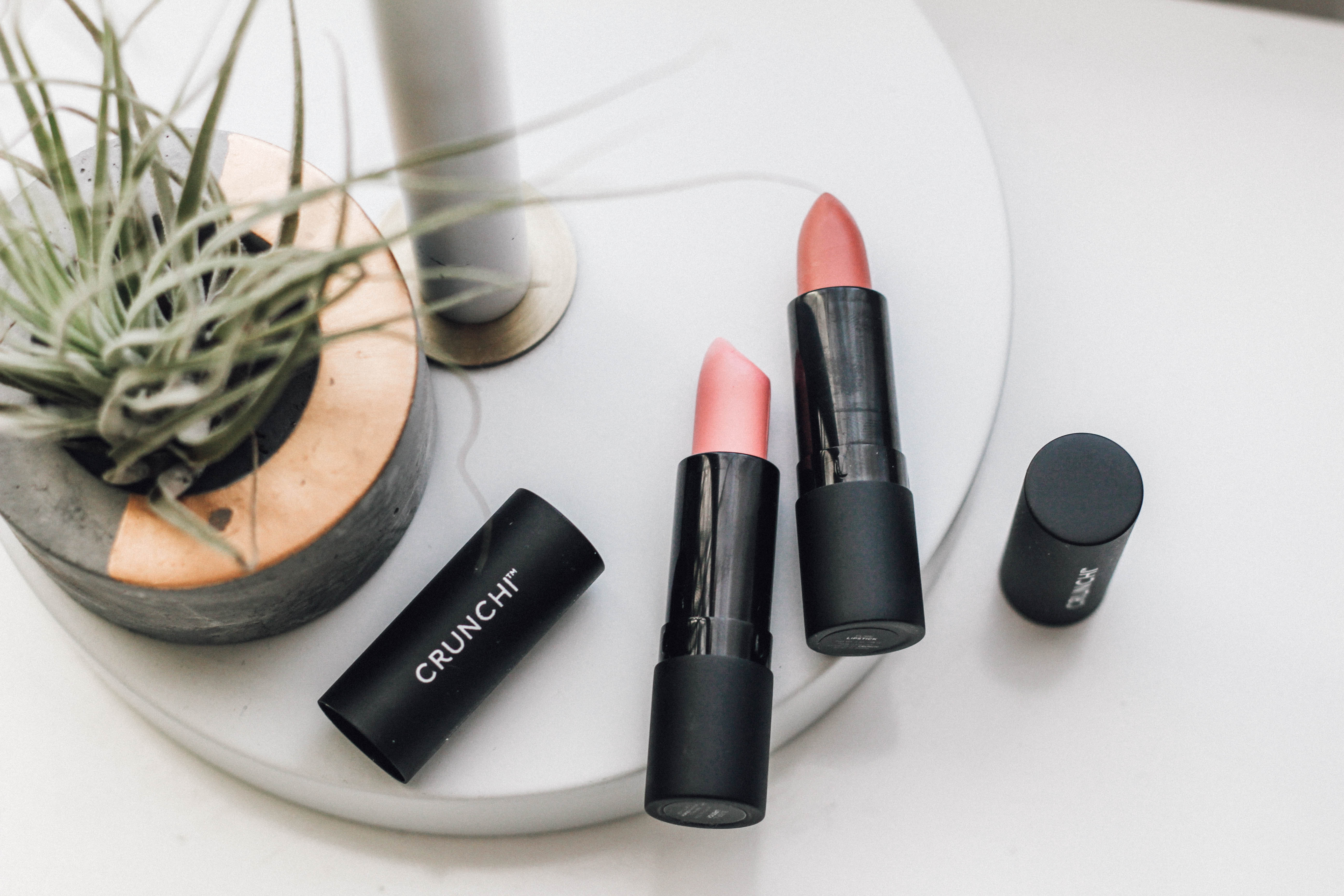 Crunchi Luxe Lipstick in Blissful: A beautiful, light pink lipstick with a perfect blend of nourishing organic ingredients like castor seed oil, shea butter, cocoa seed butter, and more! These lipsticks last and feel hydrating and smooth on my lips, which, if you know me and my love for lipsticks, is a big deal. Comfort with lipsticks is so important! Especially if I'm going to wear it all day.
Crunchi Luxe Lipstick in Pure: a gorgeous nude with the slightest hint of pink!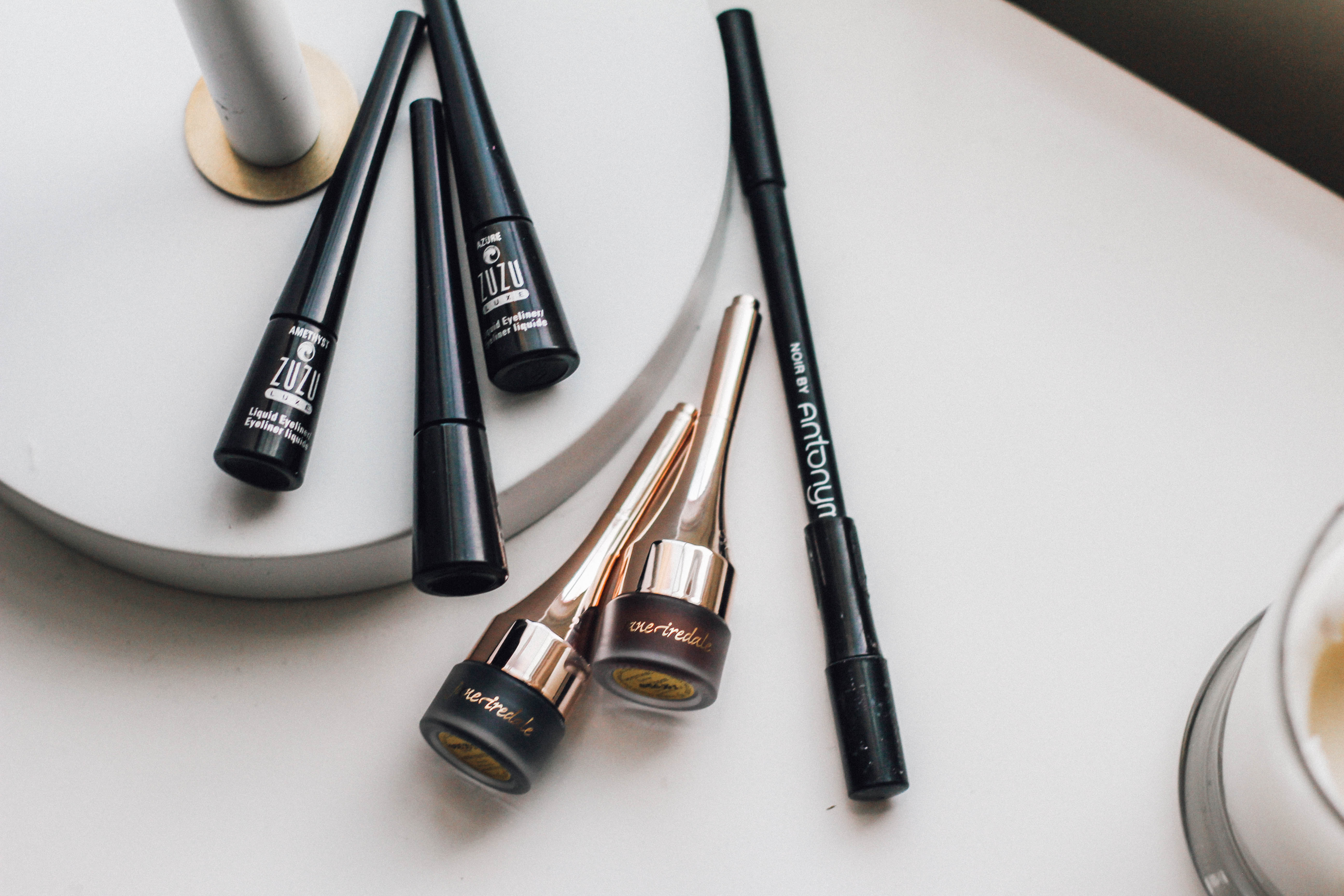 Zuzu Luxe Liquid Eyeliner in Amethyst: If you're on the hunt for a clean liquid liner that doesn't have any nasty ingredients in it and you think it doesn't exist, think again! This fine calligraphy tip eyeliner is quick-drying, water-resistant, gluten-free, and pretty dang awesome. I get ultimate precision with this bad boy and the Amethyst shade is my everyday, go-to shade. You'd think it'd be black, but I just love this purple as an alternative. Actually, a "Deep Orchid/Shimmer" is what's described for this liner, but I'd say it's a deep purple. I don't see much shimmer, and I quite like it that way. (Other shades seen above are Raven: a matte black and Azure: Ocean Blue.)
Jane Iredale Mystikol Powdered Eyeliner in Onyx + Dark Topaz*: Powdered Eyeliner you say? With staying power at that? Yes! These eyeliners are pretty neat and are water-resistant, plus they have a built-in, removable brush right in the cap! The powder/cream formula makes it easy to apply and you can line your eyes with it, or you can sweep it over the lids for a pretty eyeshadow that will barely fade, crease or smear. (I was skeptical too, trust me, they're awesome!) The Onyx shade is jet black, classic, and great for a smoky eye. The Dark Topaz is a metallic chocolate brown, and I absolutely LOVE this shade! Warm, rich, and with that metallic hue to it…a bit edgier.
Antonym Cosmetics Eye Pencil in Noir*: Hands down my favourite blackest of black pencil eyeliners. It's a certified natural waterproof eyeliner that goes on soft, smooth, and RICH. The colour payoff is incredible and it smudges so beautifully for a KILLER smokey eye. Plus, it's great for sensitive skin/eyes and totally safe for the waterline and rims of the eyes, and comes with a built-in pencil sharpener! I mean, HELLO!?
*All available at Citrine Natural Beauty Bar. PROMO: use code Sam15 for 15% OFF when you spend $100 or more. Valid March 27 through March 31.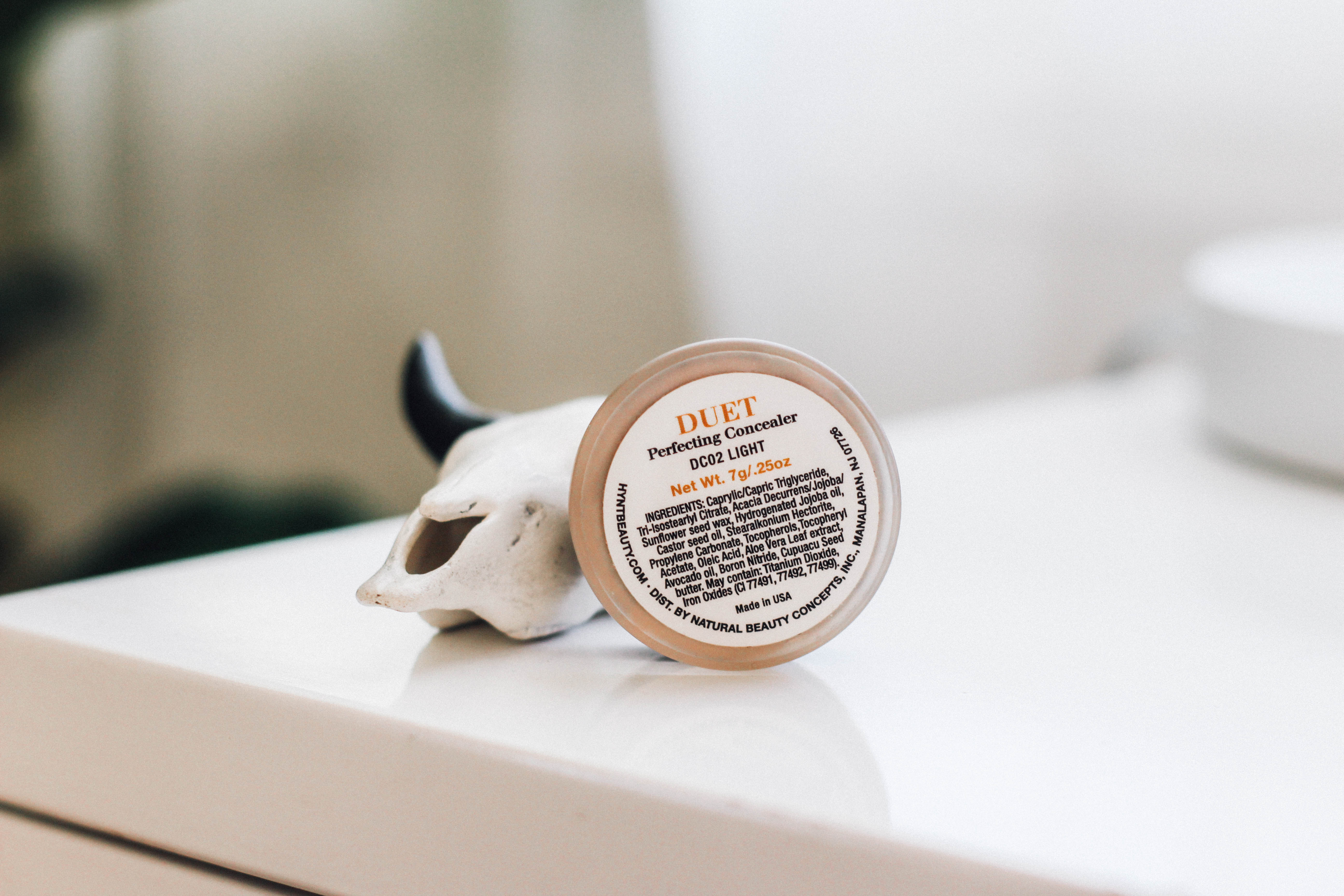 Hynt Beauty Duet Perfecting Concealer: There's no surprise why this concealer is one of their best selling products. A gentle spot treatment, DUET Perfecting Concealer is lightweight but provides colour correction and full coverage (I mean F U L L) to make sure discolourations such as acne, age spots, and dark circles literally disappear. It's non-cakey and because the formula is infused with botanical extracts (aloe vera leaf and cupuacu seed butter) and oils (avocado oil) that heal and protect the skin, it's non-drying. I kid you not, a tiny dab of this concealer goes a long way and melts into the skin for comfortable, all-day wear.
Jane Iredale Retractable Brow Pencil in Dark Brunette: Remember the Brow Wiz by Anastasia? Well, this product is basically that but with better ingredients. This Brow Pencil expertly fills and defines with an ultra-fine retractable precision tip on one end and a professional shaping/smoothing spoolie on the other. You'd think that the Dark Brunette is too dark for me, but in fact, it matches my darker brows great and the long-wearing, waterproof formula of this pencil stays put with zero smudgings. WIN!
Ecobrow Penelope*: For the days where I want to really put in some brow work, this product is key. It allows me to get those feathery, full brows that I wish I naturally had. (Blasted over-plucking in high school!) The shade is perfect for me because it's a brown that doesn't have any red tones – so it matches my brow hairs pretty spot on! I use a thin angled brow brush to apply it in hairlike strokes. It works miracles…every time.
*All available at Citrine Natural Beauty Bar. PROMO: use code Sam15 for 15% OFF when you spend $100 or more. Valid March 27 through March 31.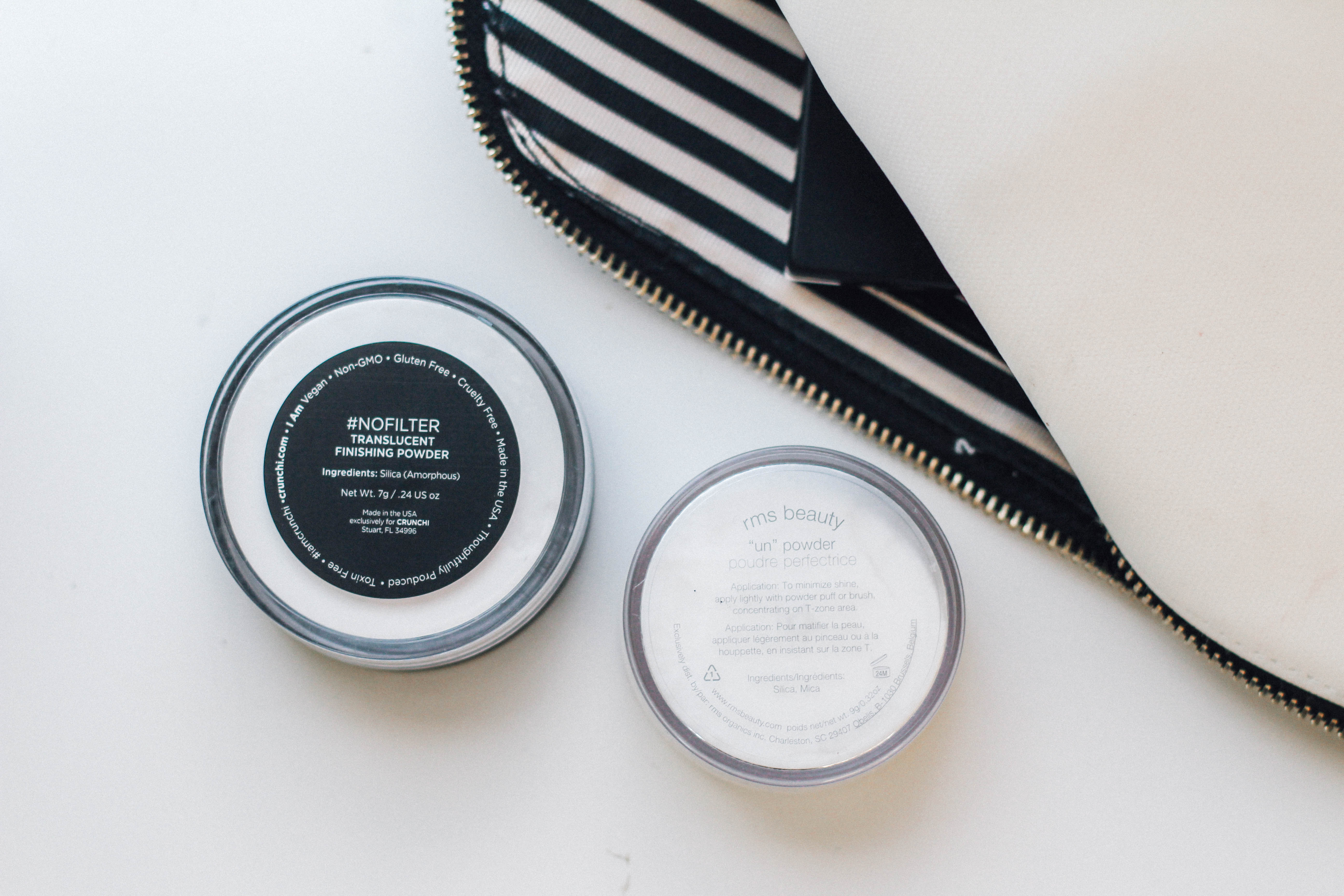 Crunchi Translucent Finishing Powder: A long-lasting finishing powder that minimizes the appearance of fine lines and pores. It's lightweight and the powder actually softens my complexion, while helping to set the foundation – specifically my Crunchi Flawless Foundation (wink)! It's also great for controlling and absorbing oil and shine.
RMS Beauty "Un" Powder: This is a best-seller, and I'll tell you why: it's one of the finest (uber-fine to be exact) setting powders I've come across. Triple milled, silky light, and incredible at minimizing the appearance of pores, absorbing oils, and softening the skin, this reflective powder is the ultimate finish to perfect looking skin. It will suit every skin tone and there is no white residue whatsoever!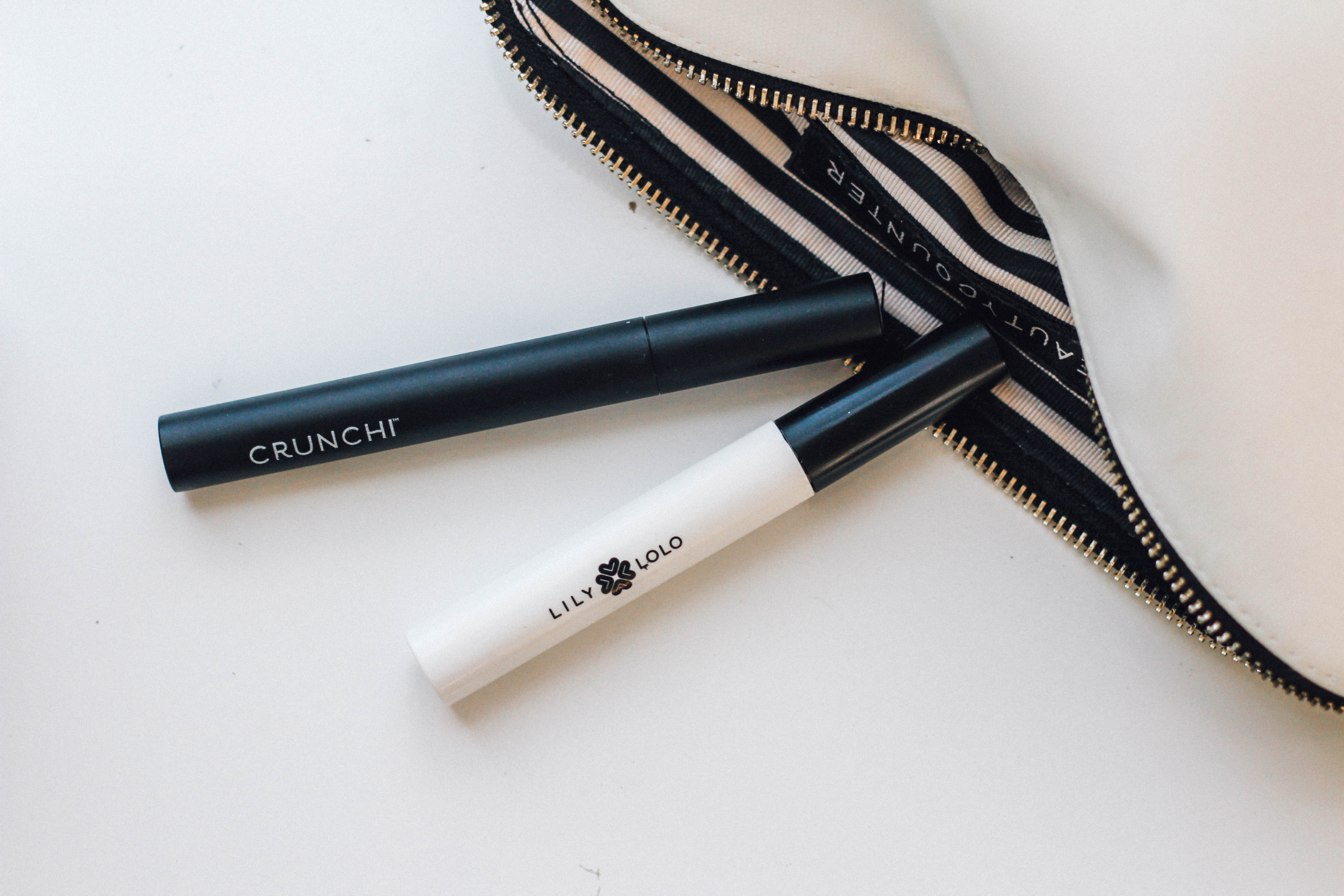 Lily Lolo Black Vegan Mascara*: Hands down my favourite mascara! I use it on the reg – daytime and night, plus everything in between! It's basically essential for incredible, long, almost false-looking lashes. Plus it's pure, natural, vegan, and easy to apply. There are no artificial ingredients, just long-lasting color with a smooth, creamy texture. The formula is 100% natural and super gentle, so it's perfect for my sensitive skin.
Crunchi Lashes For Days Mascara (now called Shattered Mascara): This mascara is great for volume and it thickens/lengthens my lashes too! With ingredients like natural green tea fibers, your lashes will be healthy and lookin' on point!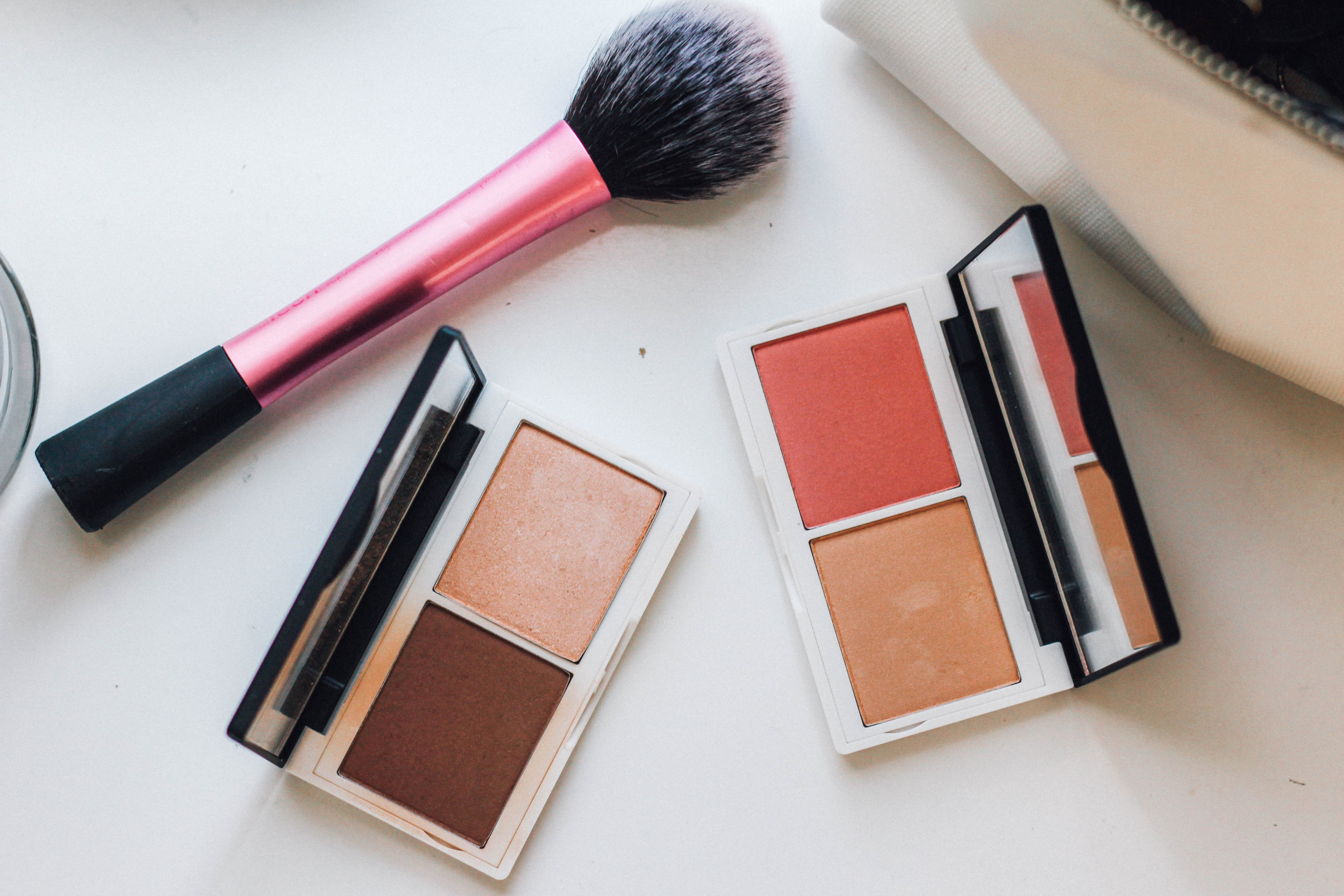 Lily Lolo Sculpt & Glow: Who wants glowing skin and naturally chiseled cheekbones!? ME! Well, unfortunately not everyone was blessed with these coveted features, so thank goodness this Sculpt & Glow Contour Duo lends nature a helping hand! This duo creates a beautifully defined and contoured canvas, blends seamlessly, and makes sure your features are lookin' fierce.
Lily Lolo Blush Duo in Coralista: A natural, healthy glow is just a swipe away with this Cheek Duo. This versatile blush compact gives you the option of a natural matte finish or a radiant healthy glow, but I personally love the natural matte finish. It's a soft, gorgeous coral that really adds a pop of colour and livens up your face! So pretty!
Crunchi Lipgloss is game-changing for me…mainly because I was never a huge lipgloss girl. I liked my balms and my lipsticks, but I couldn't get past the stickiness or just lack of hydration some glosses failed to give me. (Some, not all.) Well, these glosses are nothing like what I've used before and are definitely something to talk about! They're crafted using coconut, sunflower, and jojoba oils, and the formula is never sticky! (YES!) They also provide a healthy dose of hydration to your lips, while anti-aging vitamin E protects and preserves. Here are some of my daily faves:
Juxtaposition: Pink Shimmer Sheen
Date Night: Rich Berry  (*bestseller)
Summer Nights: Shimmery Golden Bronze
Kari Gran Lip Whip in Currant (Naughty) (discontinued): An intensely hydrating balm and a beautifully pigmented lipstick cross paths, fall in love and marry…this is the Lip Whip in Currant – a.k.a. Naughty. It's a shimmery, deep plum tone that is richly pigmented..so unless you want a super bold lip, a little goes a long way! It's formulated with a soothing combination of natural ingredients found in all of the Lip Whips. Your lips will have a beautiful and healthy hydrated shine…for hours. I love this stuff.
Kari Gran Lip Whip in Radiant: If you want hydration without too much colour, this is the perfect shade for you. As always, it's formulated with the same soothing combination of natural ingredients found in the Naked and Tinted Lip Whips, except Radiant offers a nice pink/flush burst of colour. Love this every day!
Hynt Beauty ARIA PURE Lipstick in Pinkbelle is the newest addition to Hynt Beauty's hydrating, creamy lip color line that's also free of FD&C dyes.  The bolder brighter pink with a cooler undertone is perfect for brightening up fairer to medium skin tones.  Love the little mirror and lip conditioner tucked away in the cap too!
I hope you enjoyed reading and sifting through my makeup products! Do you see any products amongst the lineup of faves you'd like to try or have tried and love too? Let me know in the comments below!
Xo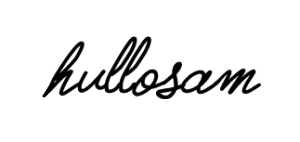 This post is partially sponsored (some brands paid for placement) and it also contains affiliate links. As always, all thoughts expressed are honest and unique to my personal experience.