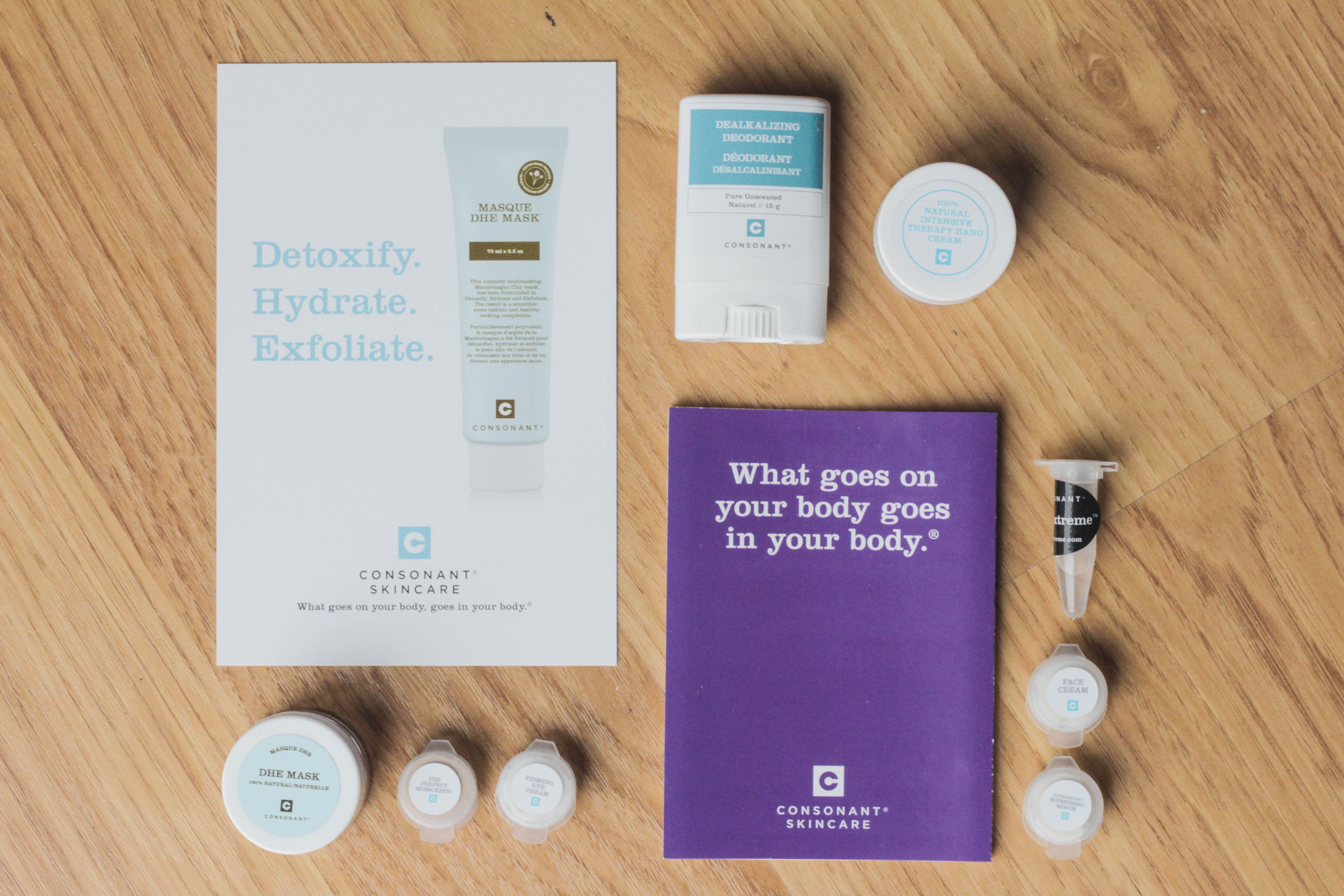 Gosh, I looooove me some Canada! Some of the best green beauty comes out of my homeland – and this one is no exception! This Toronto-based, natural skincare line, Consonant Skin+Care, is amazing! Consonant's philosophy is one of simplicity:
"What goes on your body goes in your body®"
When it comes to skincare, the conventional wisdom has been that you can't have it all.
If it feels good to use, you may not get the results you expect. To get results, you may have to endure an unhealthy formulation. And when you choose a product for its healthy formulation, it typically doesn't feel that great to use.
But, with Consonant Skin+Care, you can have it all! They're the first line of premium skincare that is as luxurious as the most expensive fashion label brand, as effective as the best-known cosmeceutical brand, and as healthy as the leading natural brand. They believe that we should not have to make any sacrifices to achieve healthy, younger-looking skin – hey, I agree, Consonant! Please, go on!
All of Consonant's products are 100% natural, and formulated with the highest possible concentration of organic botanical ingredients. But, as they state: "They are still skin care, not salad dressing: They improve the look of your skin with results you will notice immediately."
Some of the benefits of using their products are firmer, healthier, and younger skin and all without the use of synthetic ingredients. Plus, there are no parabens, no sulfates, no petroleum ingredients, and absolutely no phthalates. You will only ever find healthy, natural, and botanical ingredients that will improve the health of your skin over time, and that help to keep aging at bay. This is also a gaurantee with the company! So, if you use Consonant Skin+Care for 30 days and you're not completely satisfied for any reason, all you have to do is call or e-mail them and they'll be sure to make it right, no questions asked.
---
So now that I've completely sold you on all things Consonant, let's get right to what I'm reviewing by them today!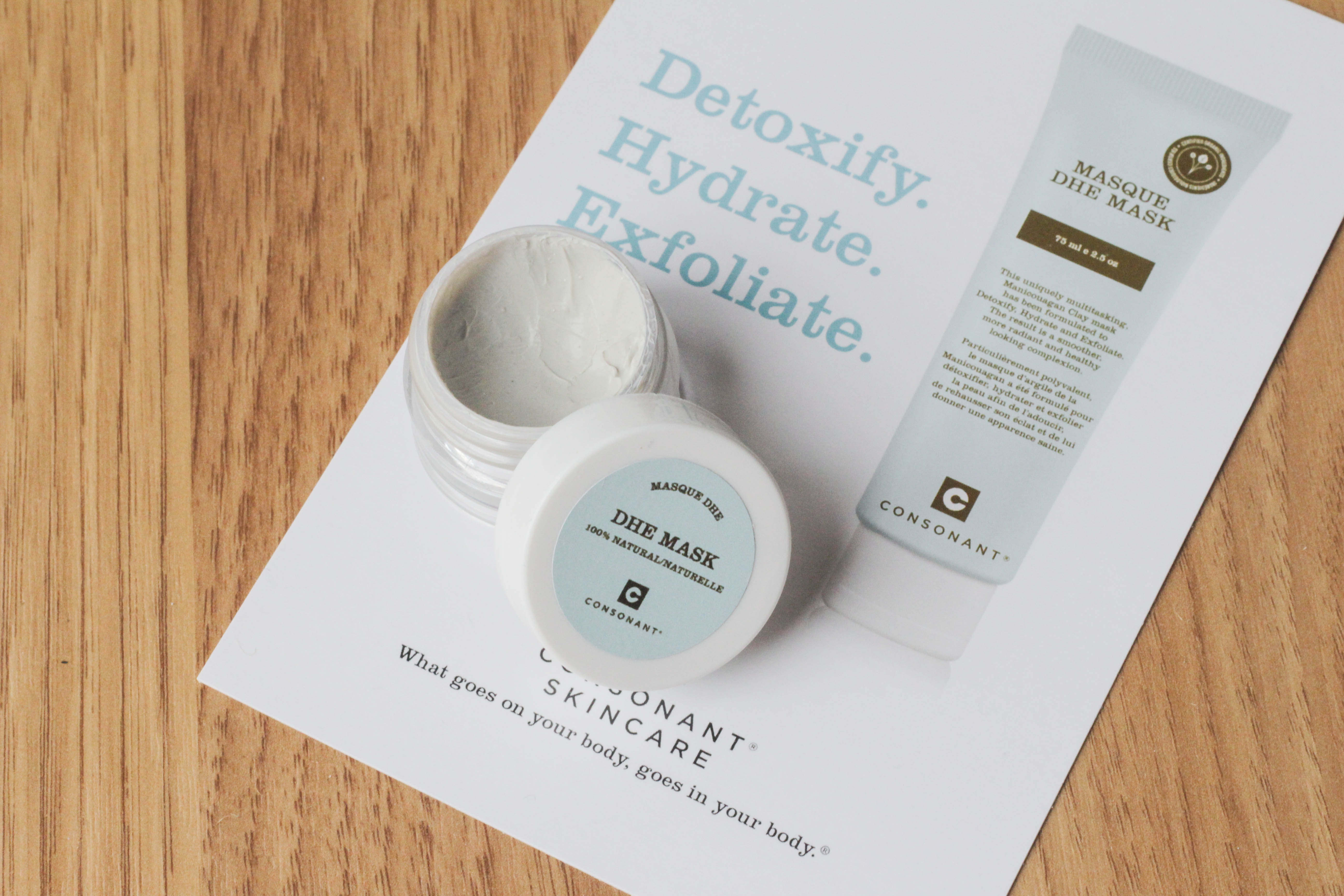 I know what you're thinking. "ANOTHER MASK? And made with clay too?!" But I can honestly tell you, this isn't just another Clay Mask, as it has (shocker) hydrating qualities! I mean, there's a reason it was a feature in Elle Canada Magazine! It easily spreads out onto your face, and it doesn't crack AT ALL. So, you won't feel like you're tight and dry, and about to fall apart like brittle. The consistency of the mask is quite creamy and you only need to apply a thin layer on your face for it to do the trick! It's also easy to rinse off and it never feels like I have leftover mask residue on my skin or in my pores. Another thing I really liked was that this mask doesn't have a terribly strong fragrance. It's quite light – faint tea tree oil scent – and not at all annoying.
This mask is a definite superhero multitasker, as it is a 100% natural mask (with some certified organic oils and extracts) that's been formulated to Detoxify, Hydrate and Exfoliate – the result is brighter, healthier, and younger-looking skin from the very first use. Yep, the very first. Gosh, don't you just love a great 3-1 product? ;)
Key Ingredients:
Mineral-rich Manicouagan Clay, extracted from the site of a 215 million-year-old asteroid crash in Quebec, detoxifies and clarifies skin with the help of Willow Bark and Tea Tree Extracts.
Potent Cassia Angustifolia, Grape Seed, and Olive Oils nourish and deliver optimal hydration making skin plump, firm, and beautifully radiant.
A unique blend of Alpha Hydroxy Acid fruit enzymes gently exfoliates, revealing a softer and smoother skin underneath.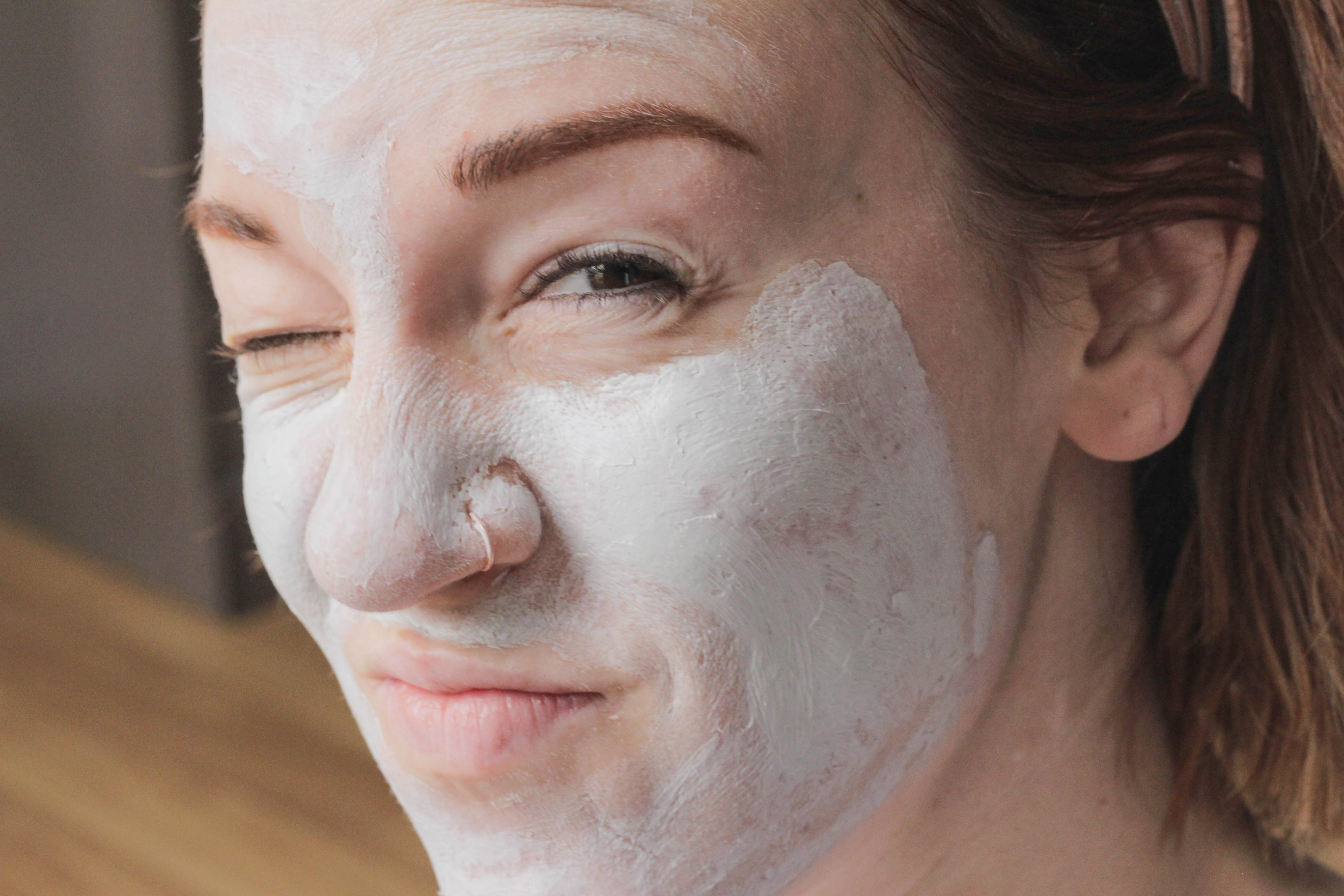 Overall, I LOVE this mask and will continue to use it faithfully. I also look forward to trying out other Consonant products in the near future!
USE CODE HULLOSAM FOR 10% OFF!
---
If you liked this review and want to follow Consonant Skin+Care, click the links below!
Instagram: @ConsonantLife
Twitter: @consonant
Facebook: https://www.facebook.com/ConsonantLife
xo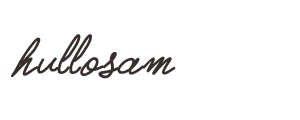 ---
I have been LOVING the new Chvrches album Every Open Eye and this song "Leave A Trace"
[soundcloud url="https://api.soundcloud.com/tracks/214956238″ params="color=ff5500&auto_play=false&hide_related=false&show_comments=true&show_user=true&show_reposts=false" width="100%" height="166″ iframe="true" /]