I hope you're as excited as I am today, to introduce to you some of my new obsessions in the skincare world! I know, I know..I say that a lot, right? "These are my all-time fave!", "I can't live without this!", and "It's my holy-grail!" – but it is possible to have a lot of specific favourites. :) These are no exception. They are truly exceptional products!
You're wondering why? Well, for one, Good Medicine Beauty Lab is a desert-born, small batch, organic skincare company. (I know, a mouth-full…but so amazing!) They refer to their products as "desert-born" because their skincare formulas are inspired by the types of plants that are able to thrive in harsh desert environments.
Good Medicine feature extracts of wildcrafted desert botanicals such as Larrea, Desert Sage and Juniper Berries. These plants grow in the wild where they are nurtured by sunlight and rain and are neither crossbred, chemically fertilized or even irrigated. They remain free of the harsh chemicals so prevalent in plant life today.
Super rad, right?
One of the first things I notice about skincare (besides their packaging) is their scent. Their products smell SO GOOD.  They have a sort of warm, somewhat masculine, herbal scent. They really are created uniquely! Their ingredients stand out from any other skincare products I've come across.
A few of their common ingredients are:
Desert sage – Powerful antioxidant, rich in Vitamin C The foliage of sagebrush is rich in Artimitin, a powerful disinfectant and antiseptic rich in Vitamin C. So rich in Vitamin C in fact, that except for rose hips, there is no greater source found anywhere in North America's deserts.Sage's antiseptic and disinfectant properties combine with the antioxidant power of Vitamin C to create a germ-free environment to reduce harmful ions and prevent free radical formation.
Juniper/berries – Reduces puffiness, purifies & smooths the skinThe berries of the Utah Juniper are best known for their antiseptic (elimination of micro-organisms), aromatic, diaphoretic, diuretic (increases cellular fluid exchange) and rubefacient (increased blood circulation) qualities.The combination of these amazing qualities removes unwanted waste and fluids from the underlying tissues when applied topically, reducing puffiness and smoothing lines and wrinkles.
Larrea – Brightens, strengthens & softens the skinLarrea (commonly known as Chaparral or Creosote) is antiviral, antibacterial, anti-fungal and anti-protozoan. It contains high levels of Nordihydroguaiaretic Acid (NDGA), a very powerful antioxidant.These potent properties eliminate acid-forming microbes that cling to the surface tissues, thus preserving the skin's natural barrier. It guards against rough patches, lesions, red areas, age spots and inflammatory breakouts.
Now that you know what amazing ingredients are put in their products, and how truly unique Good Medicine Beauty Lab is, let's take a look at the products sent to me!

Oh, this oil is sooo lovely! This indulgent oil blend is a deep cleaning, intensely hydrating, skin balancing dream. Good Medicine created this specific blend of oils to penetrate into the deepest layers of your skin to release dirt, makeup and pollutants that bind to your skins natural oils. With the perfect ability to balance any skin type (no matter if you are oily, dry or both), Rain will restore you natural skin tone, heal scaring and red spots, and make your complexion glow with perfect health. Oil washing is a beautiful thing….really, really beautiful.
Now, if you know me, you know that I love the beach. Love may even be an understatement! Sunshine, ocean breeze, salty, freckled skin, the feeling of sand between your toes. Speaking of which, ever notice how your skin feels silky smooth after a beach day? That glorious sand (that also can be a pain and get into every nook and cranny) is one of natures best exfoliants! I remember my mum telling me this when I was younger, and how most people know that sand is a great exfoliant, but few ever think to add it to their skincare regime. Well, you don't have an excuse anymore – beach or no beach!
This beautiful head-to-toe mineral polish uses the ancient cleansing powers of wildharvested yucca root, naturally rich in saponins (natural surfactant and emulsifier) to melt away dead skin cells. Its gentle but effective exfoliation actions tightens and tones, while maintaining the skin's delicate pH balance. Combined with tiny desert crystalized minerals, this vitamin-rich creamy compound reveals smooth, soft, enlivened skin without scratching or damaging cells.
This is my absolute favourite product (besides the eye cream, which I'll get to) Good Medicine has created. This face cream is silky smooth, goes on like a dream (a little goes a lonnnng way!) and it plumps up my skin, making me look well-rested and glowy – without being oily!
It's a nutrient-rich herbal cream that delivers a power boost of vitamins and minerals, free-radical fighting antioxidants and quickly restores your natural moisture barrier. Its ultra creamy texture and divine aroma quickly rejuvenates the senses while bringing balance and hydration. Anti-aging properties lift and clear the skin revealing a bright, soft and enlivened complexion.
Can a germicidal, soapless cleanser be breath-takingly beautiful. This one is! This a gentle non-soap germicidal cleaner that quickly softens and brightens the skin without altering its natural pH balance. It is pretty cool, if I do say so myself! Ashes burst and bubble as they deep clean the dirt, daily pollution and bacteria from your lovely skin. It won't strip your skin of its natural oils or disrupt its delicate pH balance. This silky soft combination of potato, Vitamin C, 50 plus trace mineral salts, citric crystals, pearls, milk and sugar cane naturally purifies the skin, tightens pores, controls excess sebum and reduces acne and hormonal breakouts. It simply brightens and clarifies for clean, smooth skin.
TIP: Use it with your favorite shampoo to revitalize, heal and nourish your scalp.
This my second most favourite item that Good Medicine has created.  It does an amazing job hydrating, soothing, smoothing out fine lines and firming puffy eyes. As soon as I apply it I can feel it start to warm and tingle – which I love, cus it means it's working! (Not to mention I see results!)
It quickly brightens and hydrates the delicate skin around your eyes by boosting the production of collagen and proteins. It's packed with a healthy dose of vitamins, minerals, humectants, antioxidants and free radical scavengers. Starry Eyes repairs the skin's natural defense system to guard against environmental stress. This intense therapy formula promotes blood circulation, cell reconstruction and deep hydration. If you use it daily, it will improve skin elasticity, appearance of fine lines, puffiness and lift dark circles. Your beautiful eyes will be smoother, brighter and refreshed – who doesn't want that?!
Transform your skin in 1 minute! ONE MINUTE. You definitely have time for that! This wild desert honey mask is truly a miracle worker for dry, tired skin. Good Medicine wild desert tincture blends with age-defying essential oils, creating a hydraulic motion that quickly rebuilds moisture levels in the skin.
As Honey Bee purifies and restores balance to every skin type, it stops bacteria growth and acts as a mild alpha-hydroxyl acid to reveal a new layer of skin. This vitamin and mineral-rich formula clears and evens out skin tone, smooths fine lines, firms, hydrates and softens the delicate facial tissue restoring a healthy, youthful glow. Lovely!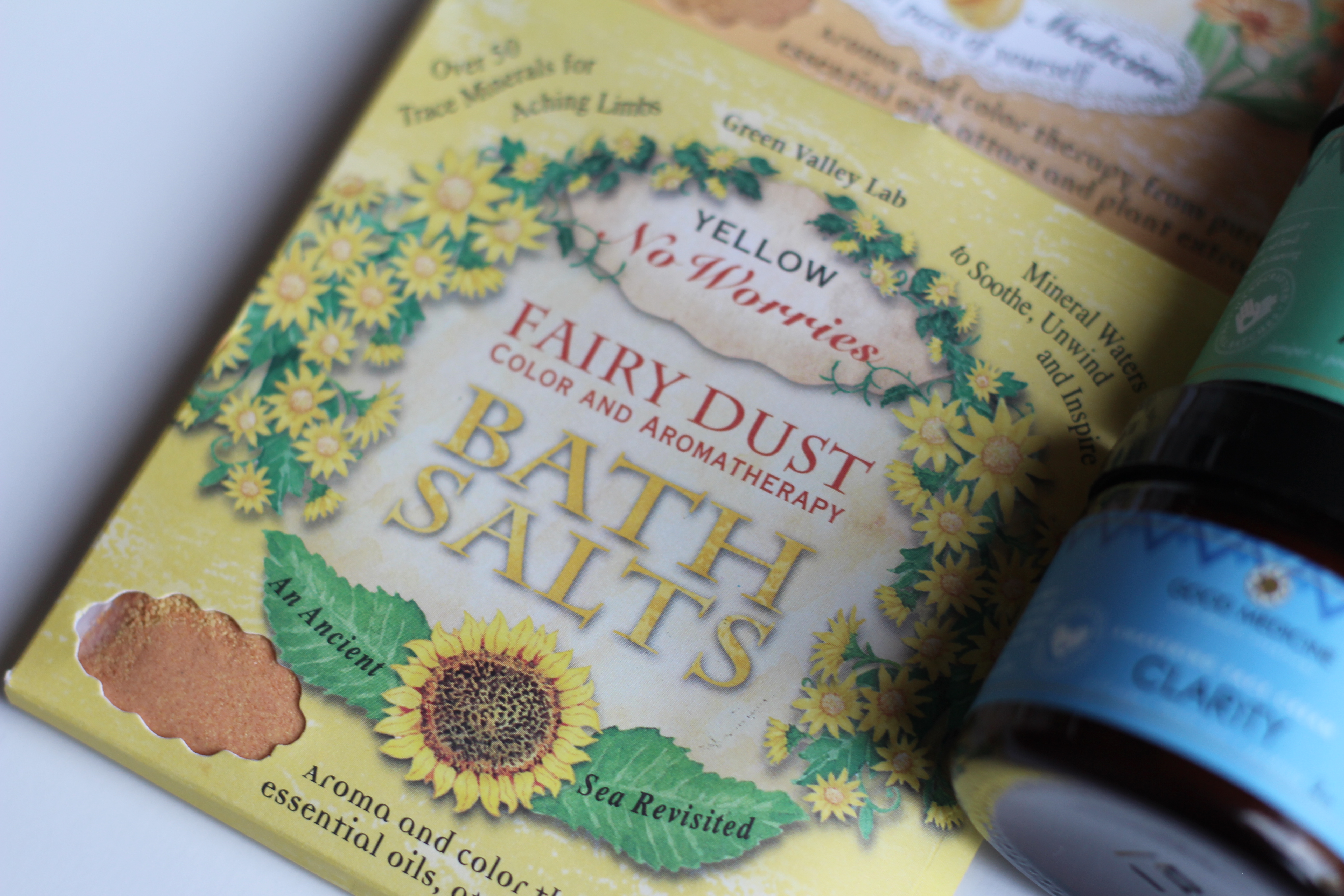 Orange / Celebration Bath Salts – ACCEPTANCE / LAUGHTER / INDIVIDUALITY
Yellow / No Worries Bath Salts – POSSIBLITES / OPTIMISM / MENTAL CLARITY
(no longer sold)
Though these salts are disguised as a simple luxury to delight the senses, they are actually much more. While working to repair and rejuvenate sore tired muscles, and dull sallow skin, the pure essential oils and color activate the olfactory and neural systems to elevate mood and enliven visual imagery. A little more time spent in our Bath Salts is all it takes to increase mobility, lighten a heavy heart, alter a dismal perspective, and discover anew hidden parts of yourself. Ten short minutes is all it takes to loosen muscles and quiet the mind. Bath Salts leave the skin resilient, smooth and receptive.
How To Indulge:  Sprinkle desired amount into a warm bath just before entering the water and watch as it bubbles and bursts around you, turning first into a frothy lather and then dissolving to a silky colored pool.
There you have it! I hope you enjoyed this (somewhat lengthy) review and now want to go out and buy all the Good Medicine Beauty Lab products! ;) Oh, and of course I have a special lil discount code for ya! 15% off anything in their store with the code "hullosam"! ENJOY! xo
To follow them on social media, check out their links below:
Instagram: @goodmedicinebeautylab
Facebook: https://www.facebook.com/goodmedicinebeautylab
Twitter: @goodmedicinelab
xo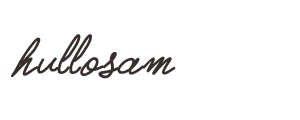 Love this band (and song) Astronauts, Etc. – Eye To Eye