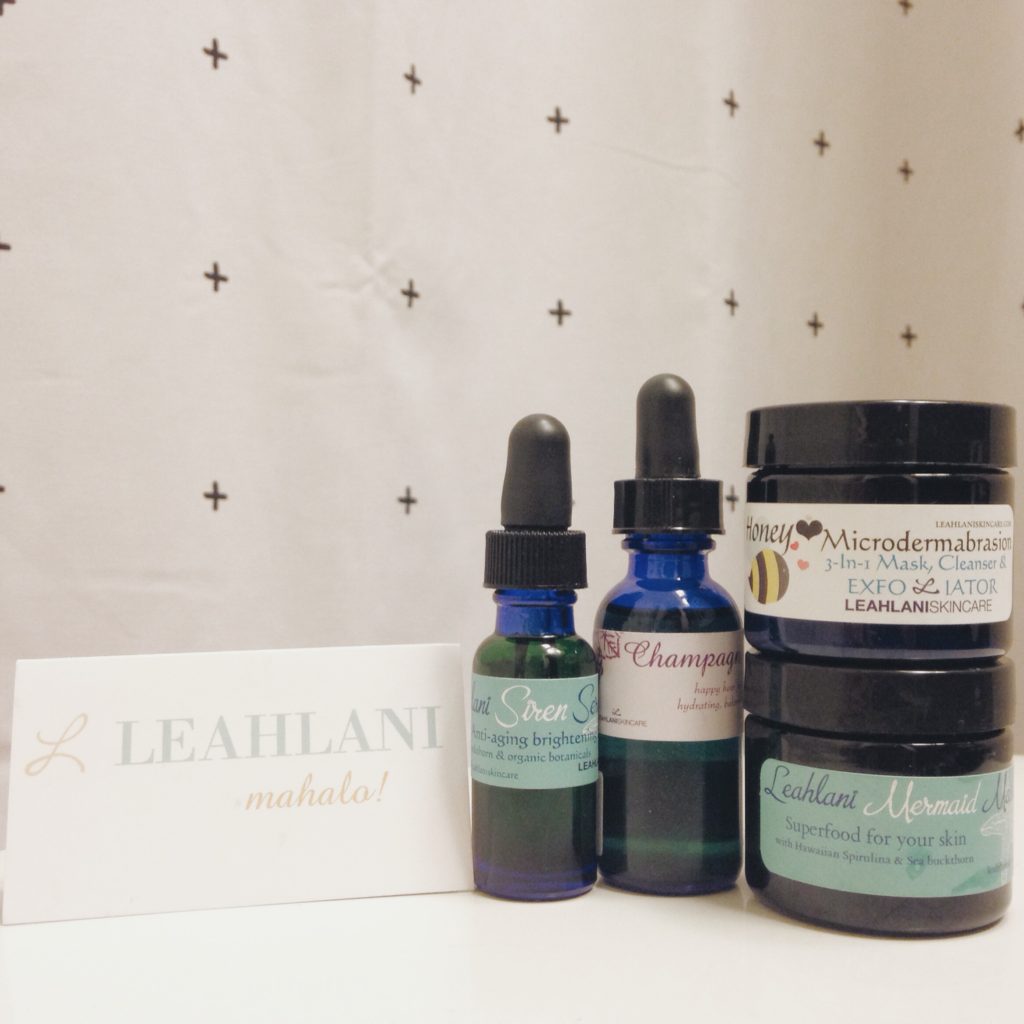 I am SO excited to share these wonderful, tropical, SUPERB skincare products today! I've heard quite a lot of great things about Leahlani Skincare products and had the opportunity over the past couple of months to really get to try and thoroughly enjoy them!
So, let's jump right in! The Siren (Brightening) Serum is described as:
" …exotic scent of pure Egyptian jasmine, organic orange, frankincense & rose and leave you with a radiant and even complexion.  Our super potent anti aging serum is loaded with vitamin C and A to help promote cellular regeneration. Pure Sea Buckthorn oil is what gives this serum it's dark orange color and is simply the most beneficial ingredient for anti aging and sun damaged skin. Organic jojoba oil is moisturizing and hydrating, jojoba is very similar to our natural sebum so it resonates lovely with all skin types. Luminess algae extract is tightening and tonifying for the skin."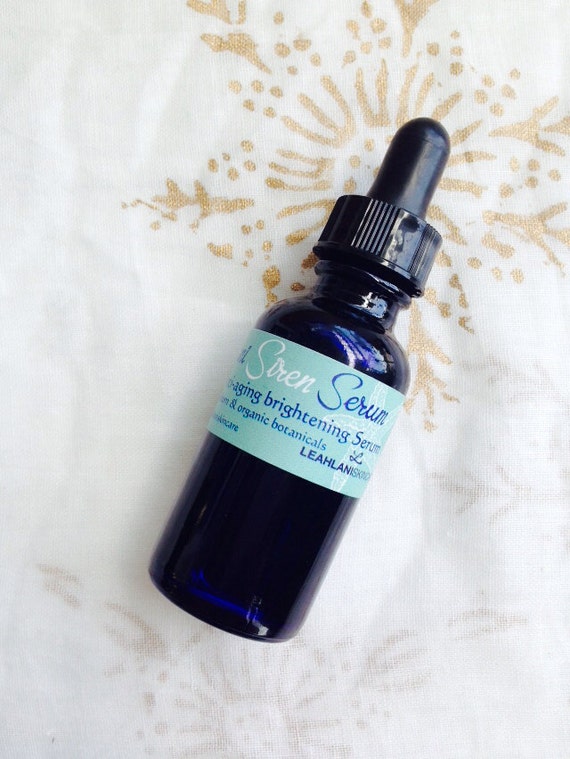 These claims are all true! The essential oils blended into this serum are all designed for tightening the skin and promoting new cell growth. It not only feels amazing, but it leaves your skin shining, radiant and gloooowy. You need only 1-3 drops of serum for your entire face, neck & décolleté – this stuff is intense (in the best way) and a little goes a long way! Some of the other ingredients found in this serum are carrot seed, frankincense, lavender, clary sage, tangerine, grapefruit, jasmine, rose, patchouli & chamomile. (AKA HEAVEN..)
•   •   •   •   •   •   •   •   •   •   •   •   •   •   •   •   •   •   •   •   •   •   •   •   •   •   •   •   •   •   •   •   •   •   •   •   •   •
The Champagne Serum is another great product that also, just like the Siren Serum, carries an incredible scent.
"Happy hour for your skin". A dime size amount is all you need to dramatically change the appearance and texture of your skin. Loaded with antioxidants, your skin will drink up this cocktail and be sure to thank you later.

Organic grapeseed oil has a very small molecular structure so it is absorbed into your skin quickly without leaving that greasy feel, it is also non comedogenic so it will not clog your pores. Grapeseed oil is also extremely high in antioxidants and is more potent then vitamin C and E.

Blended with vitamin C extracted from sweet orange oil, this power packed antioxidant blend will help the skin with the production of collagen. We also infused an antioxidant cocktail consisting of ginkgo boloba, olive leaf, roobios leaf, white and green tea which are loaded with polyphenols. These polyphenols function as free radical scavengers to inhibit oxidation that can be damaging to skin cells. These botanicals are also known to exhibit anti-inflammatory qualities. These tea extracts also contain caffeine, which can help soothe inflammation, tighten the skin, repair sun damage and help soften under eye circles."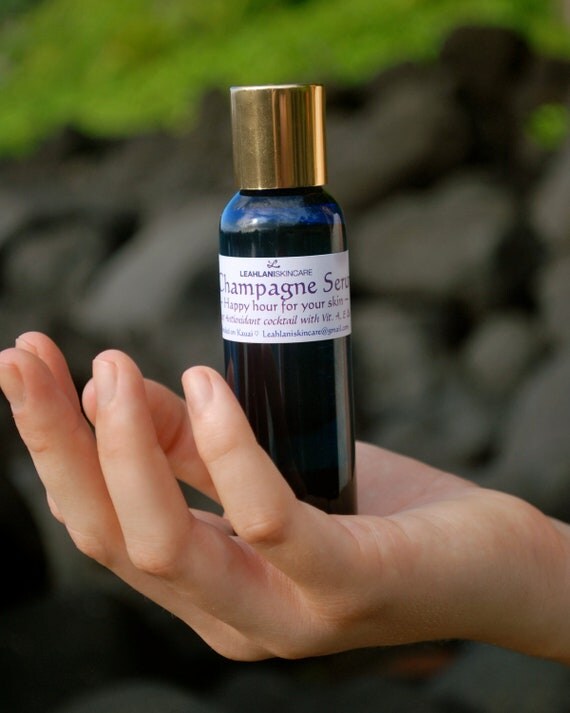 A little dab (like a dime size amount) for the whole face is sufficient, but this stuff is GOOD and sometimes I may get a bit carried away and apply it to my neck and décolleté area as well. This serum is known for its blend of "hormonally balancing essential oils" which claims to aid in balancing and calming the skin. I like, I like.
•   •   •   •   •   •   •   •   •   •   •   •   •   •   •   •   •   •   •   •   •   •   •   •   •   •   •   •   •   •   •   •   •   •   •   •   •   •
Next, we have the Honey Love Microdermabrasion 3-in-1 Cleaner.
"My blend of essential oils, vitamin C & E, organic flower powders and 100% raw and organic Hawaiian honey made from Hawaiian Island bees will transform your skin, and leave your with a soft and dewy complexion. Raw honey is a humectant, attracting and retaining moisture to your skin. Honey also contains flavonoids and antioxidants which work as antibacterial agents making it great for oily and acne prone skin!"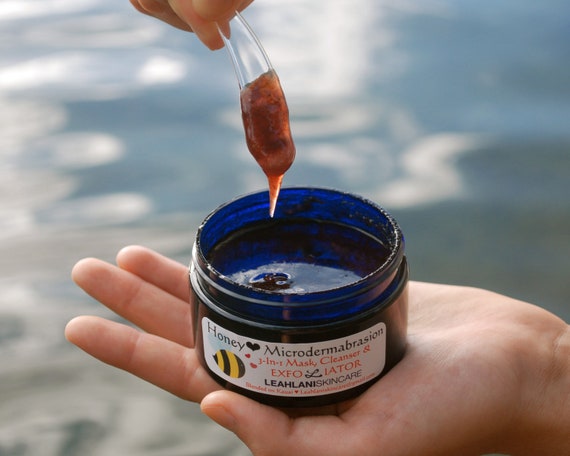 This cleanser, exfoliator, and mask work great at removing any makeup and/or dirt. All you have to do is lightly scrub the skin and you can leave it on as a mask for special treatment or just wash it off. Most of us already know that raw honey offers many benefits, such as helping attract and retain moisture in the complexion as well as having healing properties. It also contains Corundum Microdermabrasion Crystals, which give you one of the finest exfoliations. This, in turn, will help to even out your skin tone, erase fine lines and stimulate new cell growth. Also blended in, is organic hibiscus, lavender, and chamomile powder which tightens the pores and soothes and balances the skin.
I simply leave the mask on for 15-20 minutes and then rinse off to reveal bright, healthy skin and a rosy glow! Leah mentions to not fret if some of this accidentally drips in your mouth, cus it tastes great too…I know, uh…from ummmm experience ya know? ;)
•   •   •   •   •   •   •   •   •   •   •   •   •   •   •   •   •   •   •   •   •   •   •   •   •   •   •   •   •   •   •   •   •   •   •   •   •   •
Last, but CERTAINLY not least is the famous green Mermaid Mask! I have seen a lot of beauty lovers (green or not!) on Instagram posing with this green mask. I always wondered what was so special about it..and then I tried it myself!  If this mask was a smoothie – which, truly is a superfood for your skin – I would drink it every day! I mean, check out these amazing ingredients: Hawaiian raw honey, Hawaiian spirulina, Chlorella, sea buckthorn, luminous algae, and 15 botanicals. Powerful!
Leah confidently states that:
"Your face will drink this up and radiate from within"
I will not argue with that! Like all of her wonderful products, this mask has the most incredible scent thanks to the ylang-ylang, white lotus, Roman chamomile, lavender, rose, geranium, orange, and coriander blended in. To apply, give the jar a good stir to activate all the ingredients and mix them together. In cooler climates the honey may crystallize a bit, so make sure to give it a good stir to soften the formula. (This will allow for a smooth application. You can also mix a wee bit of water into the bit you're going to apply.) Apply all over the face and leave for 5-15 minutes. I tend to leave mine on for 30…I just don't want it to ever end! Plus, the mask will not dry on your face. Gently rinse with lukewarm water and pat dry! Voila!
I'll just leave it at that. It's by far my favourite mask I've EVER used and I can't seem to get enough of it! So, yes! The hype is REAL. :)
•   •   •   •   •   •   •   •   •   •   •   •   •   •   •   •   •   •   •   •   •   •   •   •   •   •   •   •   •   •   •   •   •   •   •   •   •   •
If you'd like to know more about Leahlani Skincare and follow her on social media, you can do so below:
Instagram: @leahlaniskincare
Facebook: https://www.facebook.com/leahlaniskincare
Twitter: @leahlaniskin
Pinterest: https://www.pinterest.com/LeahlaniSkin/
xo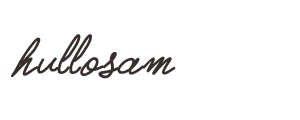 LOVE this song right now by MaLuca – Holding On To Everything
[soundcloud url="https://api.soundcloud.com/tracks/214728554″ params="color=ff5500&auto_play=false&hide_related=false&show_comments=true&show_user=true&show_reposts=false" width="100%" height="166″ iframe="true" /]
This post contains affiliate links. As always, all thoughts expressed are honest and unique to my personal experience.