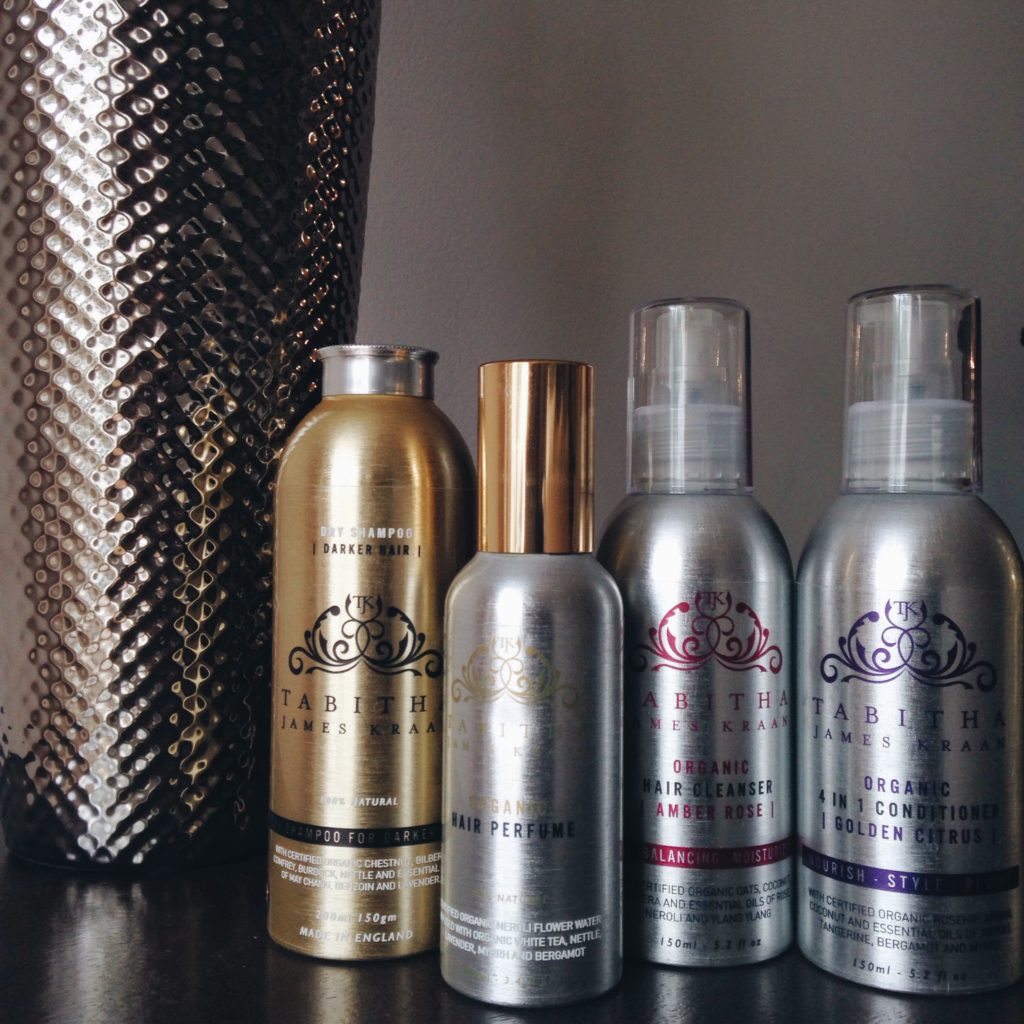 I think haircare is one of the more tricky things to get right when it comes to green beauty. I've always known that these organic, toxic-free formulas of shampoo/conditioner and other haircare products were better for my hair, I just wasn't impressed with the results. I depended on my toxic go-to's because they appeared to be giving me the effects/look/feel I wanted. So, when I started hearing about a new natural and organic haircare line – in which the word was starting spread like wildfire, I just had to check it out for myself!
Tabitha James Kraan has changed the organic haircare game, in the most luxurious way. Her products are gorgeous, natural and organic, completely free from harmful chemicals. The packaging is elegant, polished and the aluminum (I'm assuming) stands out against anything else I've seen, making this line instantly cool, luxurious and recognizable. The products were developed by organic hair guru Tabitha James Kraan who has an internationally renowned hair salon in the Cotswolds, in England. It had always been a vision of Tabitha's to create her own collection of organic products, and for the last three years, her dream has gradually taken on reality as she's worked with her lab, pushing the boundaries of hair alchemy, to create a range of products that meets her exacting standards.
---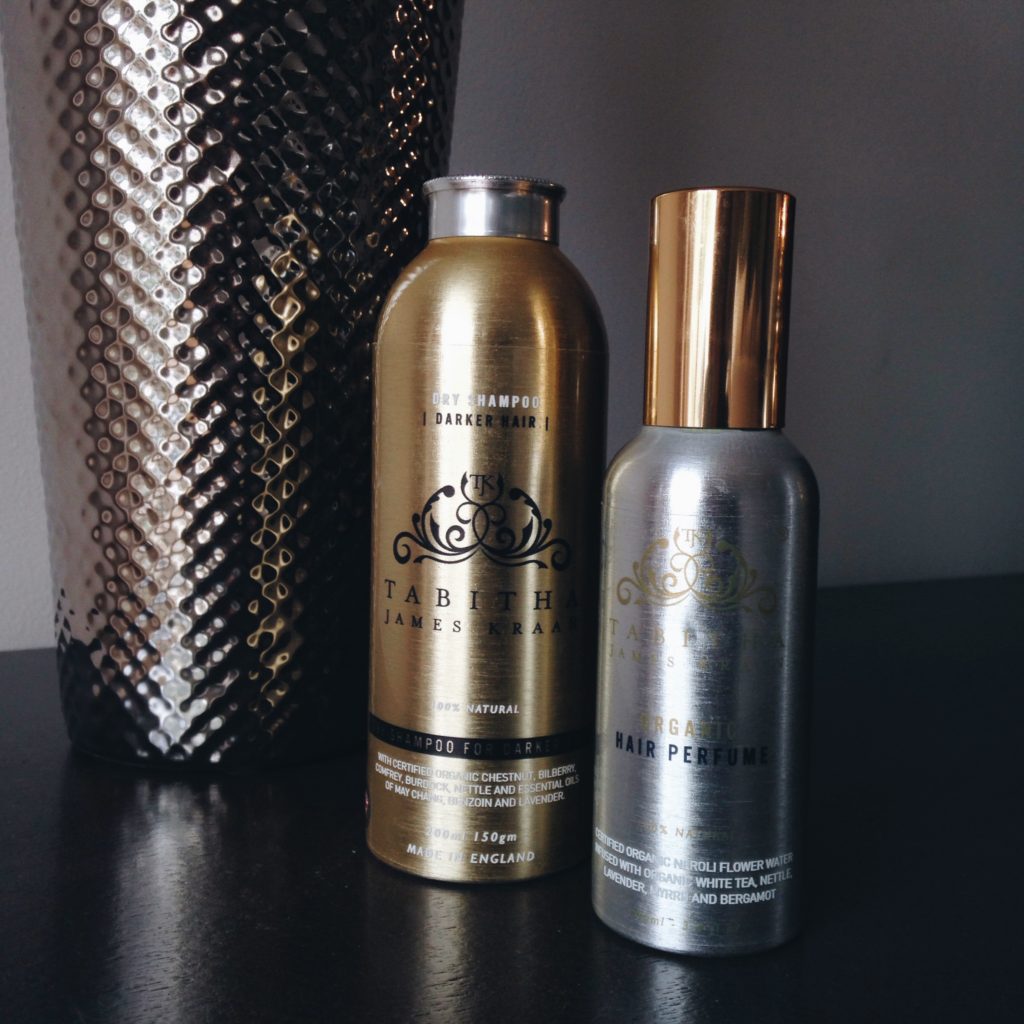 These products are unlike any other luxury haircare products – in fact, I can't remember the last time I found organic haircare products this luxurious! I also can't get over the scent of these products! They have the most exquisite aromas. Especially the two pictured above!
Organic Dry Shampoo for Darker Hair – I love me some dry shampoo! I mean, I probably have like a sixth sense for that word…I perk up like "Dry Shampoo?! I need to try it!"  Typically, I stray away from the loose powder version of dry shampoos, buttttt, having read amazing reviews about this one, I decided why not!? Plus, the ingredients are 90% organic! So, that was comforting, and appealing to me.
This dry shampoo does exactly what you'd want it to do, with a really pretty, subtle scent.  I have to say, it creates great texture, however it can get a bit sandy-like after a few uses. Nothing terrible, just a bit more gritty than your usual dry shampoo. I can deal. There are so many other pros that outweigh that one tiny con! Oh, and the bottle will probably last you forever (it's 6.7 fl.oz) depending how much you use it – which you really don't need a ton to get the job done.
Organic Hair Perfume – So, if you haven't noticed by now, TJK products aren't the cheapest. I suppose that comes with the territory of luxury haircare, with organic, amazing, high quality ingredients. This Hair Perfume is (oddly) the most expensive product in the line at £49 (about $76 USD). Essentially, this perfume is a mixture of floral waters…how the heck was this supposed to impress me – or work!? Well, just as I've discovered with all of TJK's products, it works, really well…annnnd this has to be one of my favourite products!
You know those days where you know you need to wash your hair, but just end up putting it up in a bun? Or, in my case (short hair), a low pony-tail or messy pinned back hairdo? This perfume works WONDERS. Not only does it leave my hair smelling divine (seriously, unreal smelling) A few spritzes of this all over, followed by a gentle brush brings life to my hair! The packaging of this product is awesome, it has a spritzer which is perrrrrfect. It disperses a fine mist (which in turn makes you feel like you're covering most of your head equally) rather than squirting the product out and feeling like you're wasting precious drops of (very expensive) hair perfume. I recently learned that spraying normal perfume in your hair can damage it due to the alcohol content, (don't worry – there's NONE in this!) so a specialized hair perfume – such as this one – full of amazing organic oils is a much better option.
---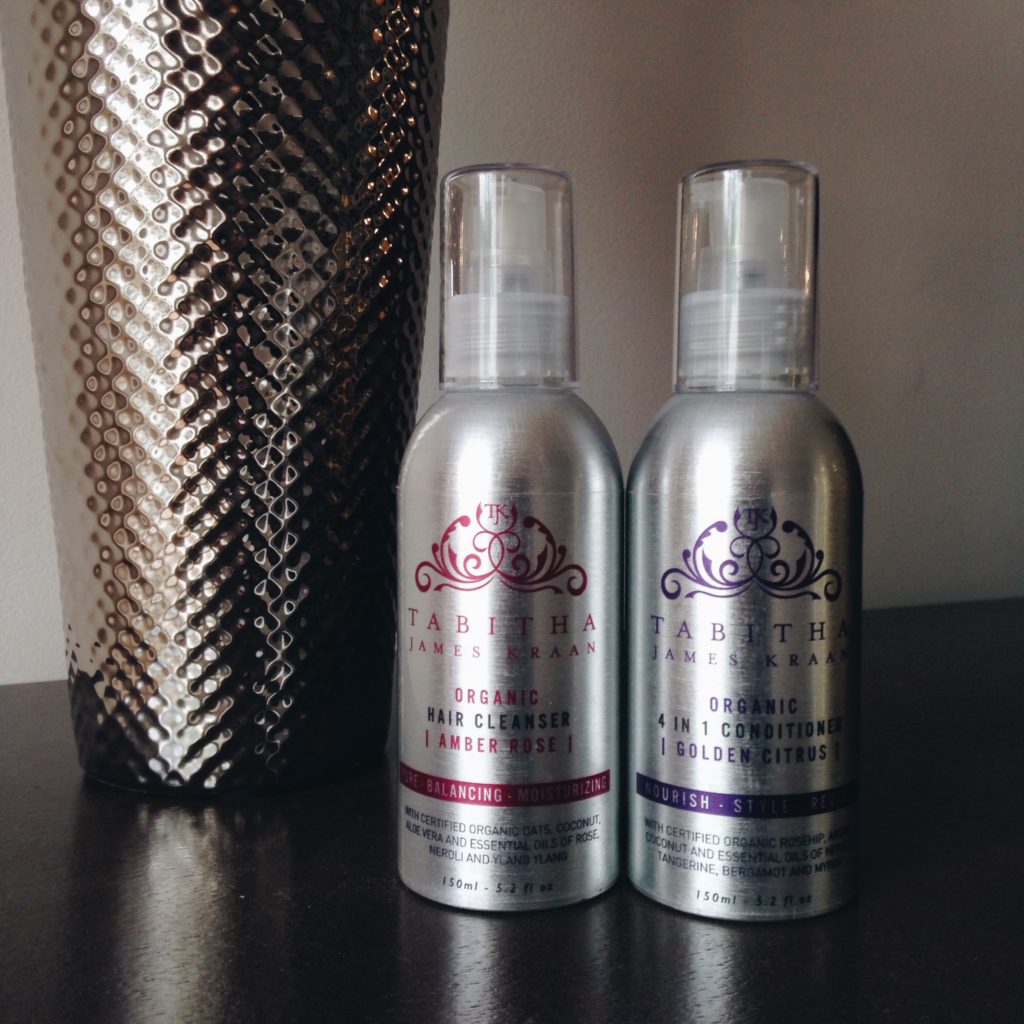 Amber Rose Hair Cleanser – Correct cleansing is the foundation to any good hair care routine. I mean, duh..that's what we're essentially wanting right? Clean hair. Well, the TJK Amber Rose Hair Cleanser will not only clean your hair, but it'll restore it, AND revive your scalp so it's healthy and nourished. This wonderful, certified organic formulation of aloe vera, oatmilk, argan oil, coconut oil, rosehip oil, essential oils of rose, patchouli, neroli, chamomile and ylang ylang, will nourish and protect your hair while giving you incredible shine and body.
4-In-1 Conditioner – My second favourite product from TJK! This is a multi-usage 'miracle' conditioner which can be used traditionally, as a leave-in treatment, a nourishing scalp cream and a texturise & curl styling cream. I know…amazing, right? Who wouldn't want a 4-in-1 product that does all of these things?! Keeps it simple.
This 4-in-1 Conditioner moisturizes perfectly without being heavy. That is one of my biggest pet peeves, a conditioner that (even after it's rinsed out) feels heavy, greasy and in turn leaves your hair looking and feeling dirty. I love that its lightness makes it appropriate as a leave-in treatment – something I'd NEVER do before because of those above-mentioned reasons. I love the ingredients it contains! A beautiful blend of certified organic rosehip oil, argan oil, coconut oil and essential oils of neroli, tangerine, bergamot and myrrh. Ooh, la la!
---
If you'd like to follow Tabitha James Kraan, check the links below:
Twitter: @TabithaJK
Instagram: @tabithajk
Pinterest: https://www.pinterest.com/tabithajk/
Thanks for dropping by! See you again soon!!
xo