Calling all clean beauty lovers! I've got a new found platform to discover natural and non-toxic beauty for ya, and it's called NAVAGO! Okay, I'll be honest, I literally had no idea who or what this was until a fellow PR pal mentioned it to me! But, it's quickly becoming a destination to discover eco-conscious, cruelty-free, natural-based beauty & wellness brands that are all up & coming. The founders of the companies that are invited to join Navago, share in the philosophy that products should be gentle and healthy for your skin, your body and for the environment, too. Already diggin' it, right? There's more!
I was already familiar with a few of the companies Navago carries, like AILA Cosmetics and KISS ME HONEY, but I was surprised to find that there were so many clean beauty brands that I'd never heard of that looked pretty amazing! Plus, there's more where that came from – you can find over 60 brands! I was fortunate enough to be able to try some of these newer brands and I wanted to share them with you! So, without further adieu, here are a handful of items that I've had the chance to try!
BONUS: You get 15% OFF your first item when you sign up for their newsletters.
• • • • • •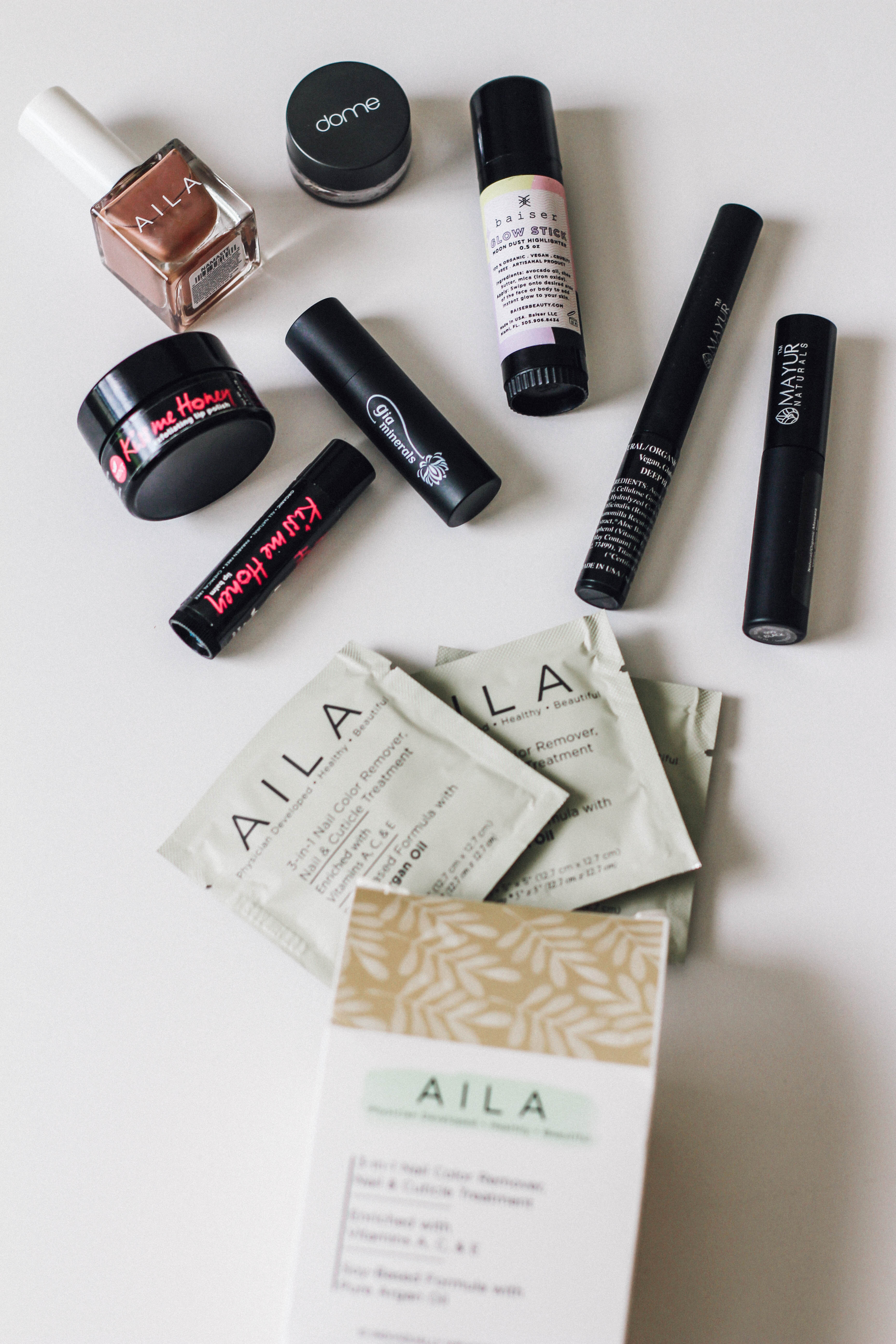 AILA Cosmetics – Nail Polish ($14), Better Than Gel Top Coat ($17) or Nail Polish Remover Wipes ($9)
You already know I'm a fan of AILA Cosmetics and Cary's (the founder) wonderful selection of eight-free, on-trend shades! The names are all witty and fun, and the nail formula and shades…well, they're even better! They also create a Top Coat Better Than Gel which is incredible and a Nail Polish Remover Wipes that is so easy to use – perfect for traveling! Below are some beautiful shades!
"NAMASTE" (Soft Mocha with a Glimmer) represents a gesture of love and respect. We all know how important that is living in this crazy world! We all need some of that!
"MY 2 JEFFS" (Deep Navy with Soulful Luster) Cary's ex-husband's name is Jeff. Her new boyfriend's name is also Jeff. Not sure this shade name requires any further explanation…lol.
"BLESS YOUR HEART" (Subtle, Sarcastic Raspberry) If I had a dollar for every time I heard someone say this…I'd be swimmin' in dollar bills! This is a true classic southern snark and having lived in the south now for quite some time, I know it well. It's the sugary sweet way of saying, "God help you." It's the original "Bye, Felicia." Anyways…now you can rock it on your nails.
• • • • • •
dome Beauty – Eye Jewels ($31)
dome BEAUTY was created to provide products and tools which are ingredient conscious and environmentally responsible, to make you feel beautiful every day. dome delivers on its commitment to creating universally appealing, next-generation products designed to respond to the needs of the on-the-go lifestyle of the "modern woman" across every age-group and ethnicity. Pretty awesome!
Metallics are so in right now and there's no better way to get that metallic shimmer look (New Year's Eve Party?!) than with dome's Eye Jewels Radiant Mousse Shadow. It's such a cool formula too! A mousse-like formula that's highly pigmented (although you can tone it down or up for day or night) and once it's on, it stays put! These Eye Jewels come in 24K Gold, Platinum, Chocolate Diamond and Ruby Red (my personal fave).
• • • • • •
Baiser Beauty – Glow Stick Moon Dust Highlighter ($25)
Created by two lovely women, Baiser Beauty is an all natural, organic, vegan and artisanal line of cosmetics. The line ranges from Men's shaving essentials to an all-natural fragrance with a rose quartz that use original recipes from their ancestors to not only beautify but remind us to relax and take care of our face and body, too. Their line also gives back to the Love You More Foundation, dedicated to creating consciousness about respecting our planet and all its living creatures.
This Glow Stick Moon Dust Highlighter is incredibly beautiful and gives your complexion that translucent glow. You can apply it on your décolleté, or anywhere on your body, really. It's formulated with shea butter and avocado oil so it feels smooth and hydrating, a must if you live in cold, dry climates.
• • • • • •
Mayur Naturals – Smudge Proof Liquid Liner & Nourishing Mascara ($19.98 & $17.98 respectively)
Mayur Naturals was launched by Manjari, who started with a skincare line that integrated her family's "kitchen" beauty recipes from when she was a child growing up in India and now, she has a makeup line that is also toxin-free, natural and vegan. Everything is produced in small batches and uses natural ingredients, without harmful chemicals. Their purist philosophy is about feeding the skin and of achieving beauty from the inside out.
The Smudge Proof Liquid Liner is all natural, organic-based, vegan and gluten-free and has a felt tip to create precise lines. Formulated with ingredients like Aloe Juice and Vitamin E, this liner multi-tasks to take care of the delicate eye area. It also does a pretty great job of creating that winged/cat-eye that stays put – so it's a win for me!
The Nourishing Mascara also does the job and is made with ingredients like Chamomile Hydrosol, Sunflower Seed Oil and Vitamin E Oil to (keyword) nourish, define and lengthen lashes.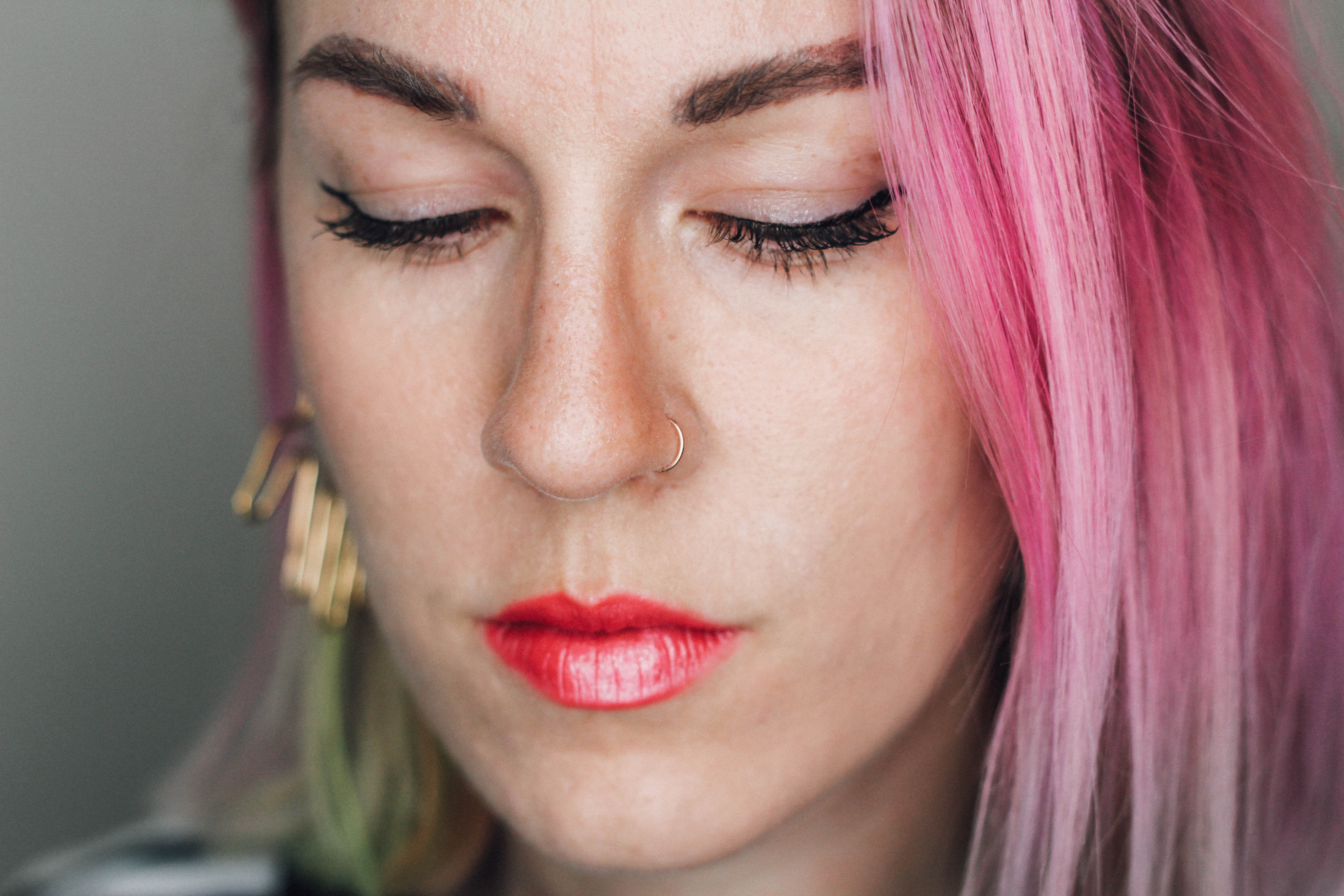 Eyes: Mayur Naturals Smudge Proof Liquid Liner + Nourishing Mascara
Lips: Prepped with Kiss Me Honey Mint Exfoliating Lip Polish + Mint Lip Balm. Then, Gia Minerals Organic Lipstick in Hi Society
Highlight: Baiser Beauty Glow Stick in Moon Dust Highlighter on the bridge of the nose, cupid's bow and inner corner of eyes.
• • • • • •
Kiss Me Honey – Lip balm ($5 each) and Exfoliating Lip Polish in Mint ($15.99 each)
Kiss Me Honey was introduced to me many moons ago…okay, about 4 years ago (lol) and was created by Kelly, a mom who wanted a lip balm safe enough for children and great enough for makeup artists. Well, she succeeded cus these balms are awesome! I've had them in my kit for a long time and use them before applying lipstick or whenever I'm getting ready in the morning! These Certified USDA Organic Lip Balms are cruelty-free and not only soothe and hydrate lips but they also have no chemicals, pesticides, additives or synthetic ingredients that could harm your body or the environment. These all-natural lip soothers contain fewer ingredients than other types of lip balm sold in stores and come in Pineapple, Mint, Coconut & Strawberry.
• • • • • •
GIA Minerals – Organic Lipstick: Moisturizing Shimmer OR Nourishing Matte ($27 each)
I had heard many great things about GIA Minerals for awhile and finally had the chance to try some product this past year! The formulator and founder Georgina Tzavaras provides clean, green beauty for the smart confident women providing healthy, ethical and modern cosmetics including skincare. Their mantra? "We don't compromise health. Our approach is to provide women a healthy but yet affordable alternative to toxic-free beauty. Where absolute purity meets performance and effectiveness as we focus on fresh hand-picked botanicals to create synergy and a holistic approach to the skin, while bringing nature's ingredients at the fingertips, using organic antioxidants, rich oils for harmony as Mother Nature intended." Every formulation of GIA Minerals products are always cruelty-free, gluten-free & mostly vegan.
It's pretty amazing and almost hard to believe, but GIA Minerals highly pigmented lipsticks are made with 98% organic ingredients and are eco-friendly! Just wait until you see the colour payoff of these lipsticks – you'll be in love!! The Moisturizing Shimmer ones provide a creamy shimmer to lips, and the Nourishing Matte line provides a creamy matte texture (never drying). Both lines are formulated with tons of botanical oils and extracts like Coconut Oil, Jojoba Seed Oil, Shea Butter, Sunflower Seed Oil, Grapefruit Seed Extract, Lavender Flower Extract to keep lips soft and moisturized!
• • • • • •
So, have you heard of NAVAGO yet? Any products stand out to you that you're diggin' and want to snag? Or have you tried any of these brands yet? Check 'em out below!
This post is sponsored. The products seen in photos above were sent to me to review through Navago. As always, all thoughts expressed are honest and unique to my personal experience.