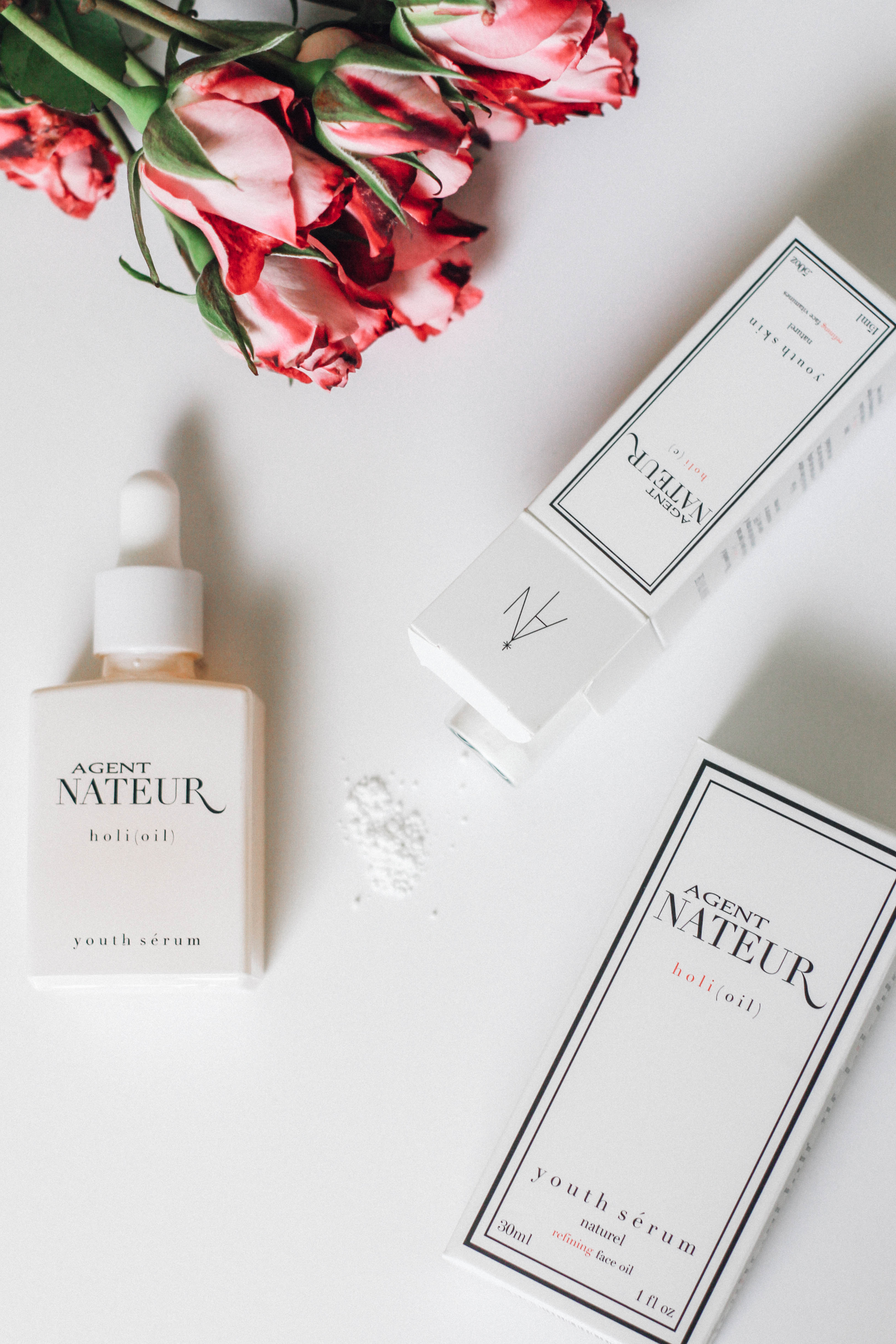 If you haven't yet heard…Agent Nateur's h o l i (o i l) and h o l i (c)* are taking the green beauty (and conventional beauty) world by storm! The hype over these two products is so real, you guys!  Rightfully so, too! Not only do I love my Agent Nateur products I already own – my ride-or-die Shiva Rose holi(rose) Deodorant and my husband's uni(sex) No 5. Deodorant – but Jena, the owner, and creator of Agent Nateur are fantastic! Full of great information, how-to's, and more! Today, I'm here to chat about this hype, and how it is so incredibly true! These products are magic in bottle form…
*These products were sent to me through my favourite Atlanta Green Beauty Shop, Fig & Flower.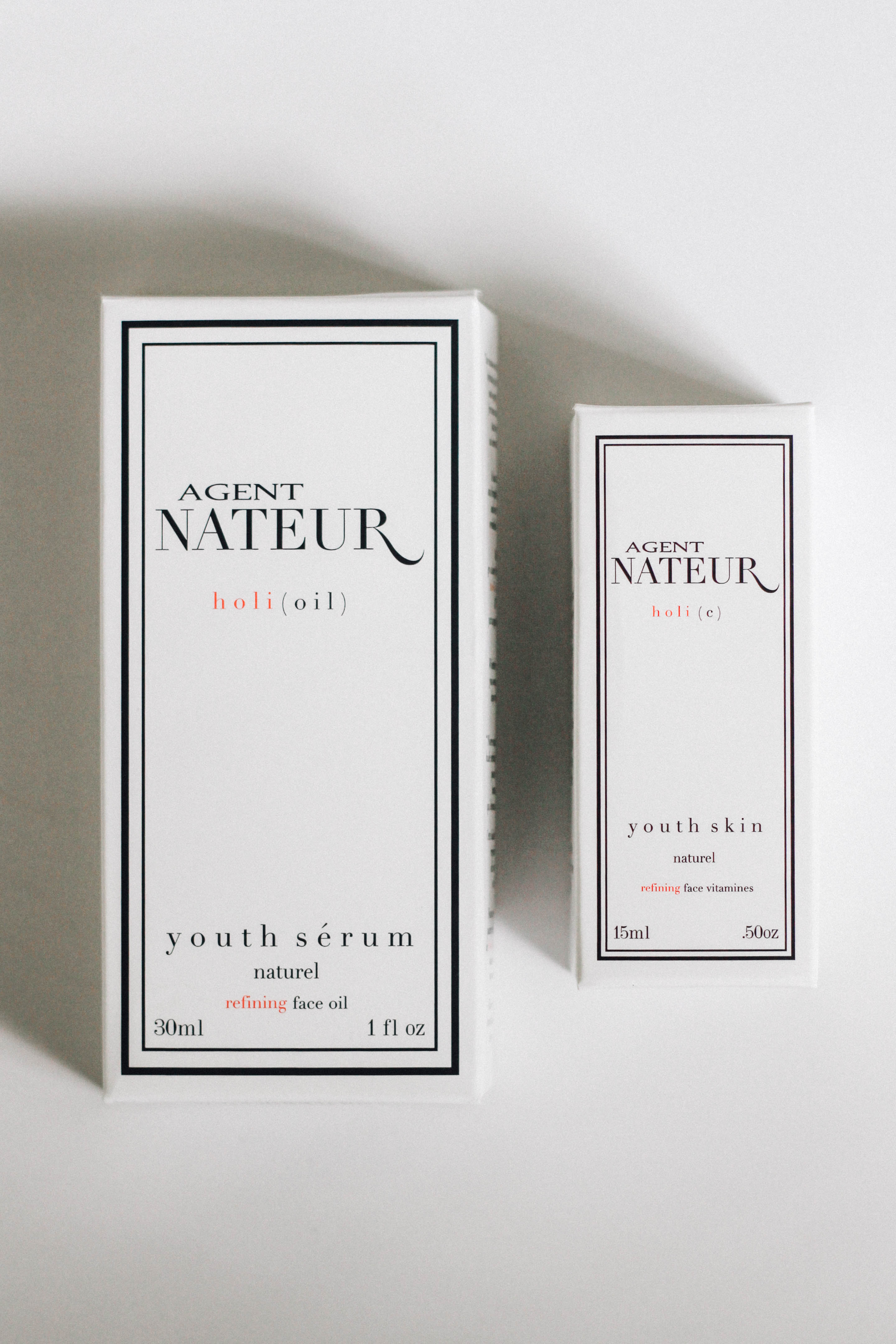 • • • • • •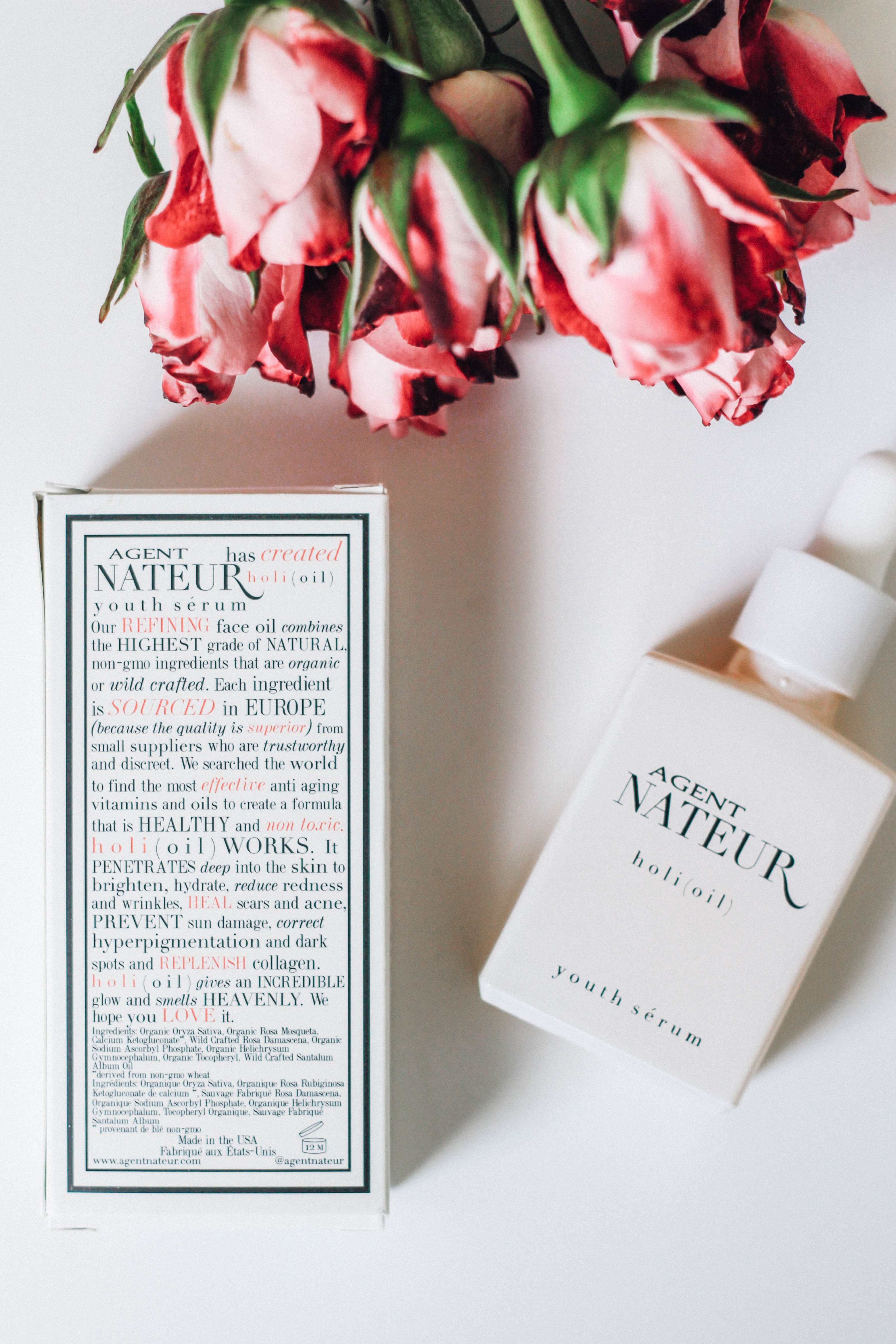 Let's start off with the incredible, insanely effective, and mesmerizingly scented holi (oil)! This Refining Face Oil is completely non-toxic and combines the highest grade of natural, non-GMO ingredients that are organic or wildcrafted. Jena has searched the world for the most effective vitamins and oils and sources each ingredient in Europe from small discreet and trustworthy suppliers. Mainly because she believes the quality is superior in Europe – I would have to agree!
HOW IT WORKS
This face oil totally sinks deep into my skin. It's not overly greasy and it feels wonderful. It is meant to brighten, hydrate, reduce redness and wrinkles, heal scars and acne, prevent sun damage, correct hyperpigmentation, dark spots, and replenish collagen. But, the real question is, does it do all of this? YES. It's quite something actually. I don't think I've ever used a face oil that has worked as effectively or as quickly as h o l i ( o i l ) Youth Serum works. I fully intend to use this oil for as long as I can! I mean, an oil that supports graceful aging by increasing the skin's elasticity with more than 100 antioxidants is a winner in my book! My skin loves it! It's glowing, happier…and a big plus, it smells INSANELY good!
HOW TO USE
h o l i ( o i l ) can be used day or evening and should be applied to clean skin before bedtime or in the morning, right after you wake up. Agent Nateur suggests using four to five drops and gently patting evenly on your face and décolletage (so important not to forget this easily overseen area, give your neck some love!) You can totally combine h o l i ( o i l ) directly with sunscreen and foundation! Just be sure to mix it well in the palm of your hand. The versatility of this serum is wonderful! You can wear it with or without makeup and if your skin is normal to oily, Agent Nateur suggests using the serum in place of moisturizer. If your skin is on the dryer side, layer it with your moisturizer.
Ingredients: Organic Oryza Sativa, (ricebran oil) Organic Rosa Mosqueta, (rosehip oil)
Calcium Ketogluconate**, Wild Crafted Rosa Damascena, (Bulgarian rose oil) Organic Sodium Ascorbyl Phosphate, (vitamin C) Organic Helichrysum Gymnocephalum, (helichrysum oil) Organic Tocopheryl, (vitamin E) Wild Crafted Santalum Album Oil (sandalwood oil)
**derived from non-GMO wheat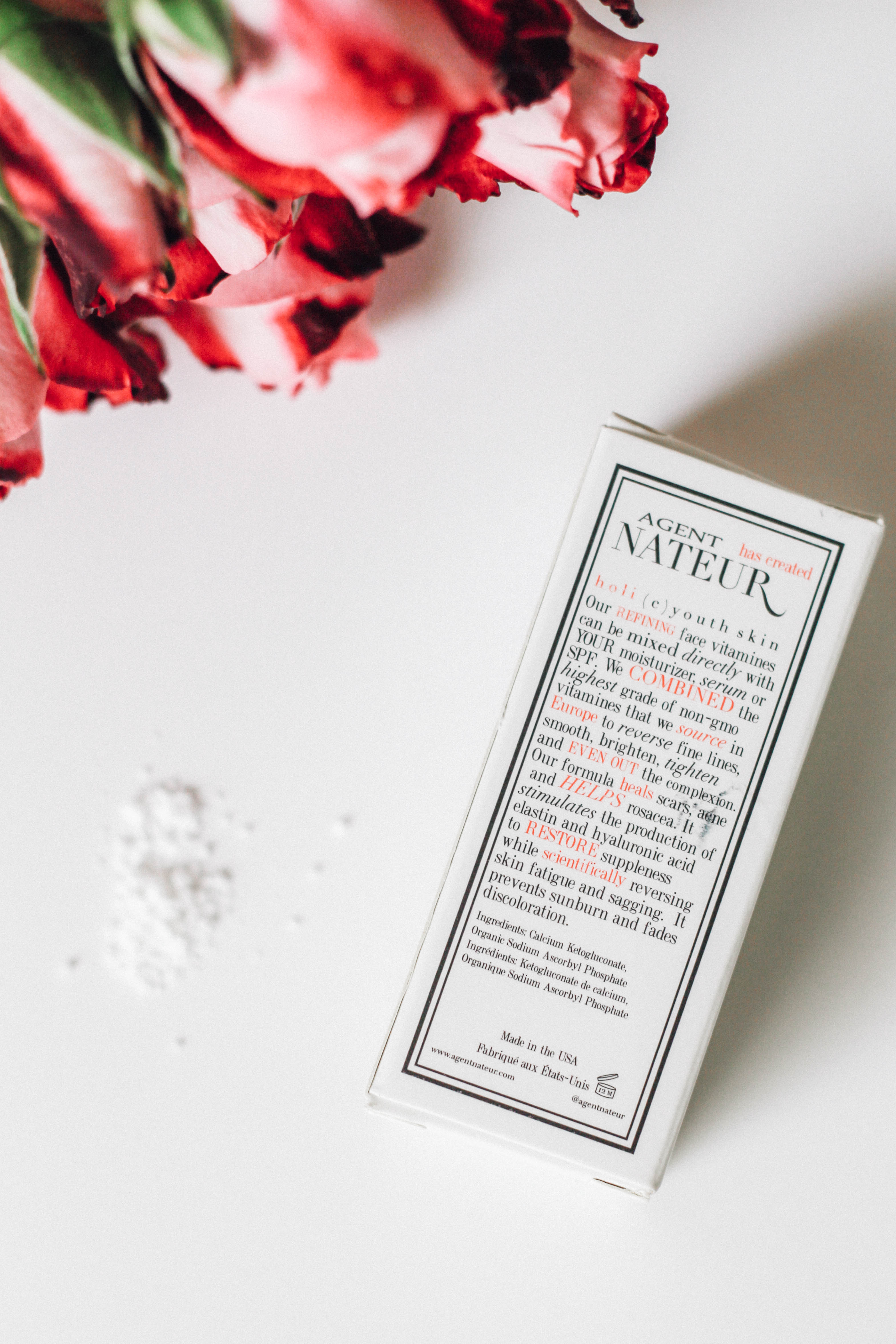 Vitamins for your face? Yep! This refining product can reverse fine lines, protect from sun damage, brighten, even out your complexion, and reinforce your skin to lift by producing more hyaluronic acid. It even helps heal scars and acne…and helps rosacea! If it couldn't get better, it just did! All ingredients are sourced in France and are non-GMO, natural, not cut with any fillers, and are completely cruelty-free.
HOW IT WORKS
h o l i (c)'s Youth Skin's refining face vitamins can be mixed directly with your moisturizer, serum, or SPF. I love mixing it with my h o l i ( o i l ) Youth Serum. The product is a combination of the highest grade of non-GMO vitamins that are sourced in Europe! It will reverse fine lines, smooth, brighten, tighten, and even out your complexion. It doesn't stop there! The formula heals scars, acne and helps rosacea. It will restore suppleness as it stimulates the production of elastin and hyaluronic acid, all while scientifically reversing skin fatigue and sagging. Got a sunburn, or were you out too long in the sun? Don't worry, it also prevents sunburn and fades discoloration. What doesn't this stuff do!? (Cook and clean…but I ain't mad lol!)
HOW TO USE
You may apply h o l i ( c ) to clean, dry skin in the morning or before you go to sleep. Use the little scooper that comes with the jar and mix a spoonful of h o l i (c) in the palm of your hand with two drops of water. Then, add your h o l i ( o i l ) Youth Serum (or other favourite serum) SPF or moisturizer. Mix all of them together really well in your hand – this is super important to get a smooth, proper application. If not mixed properly, it can become lumpy and produce a strange texture. Gently massage into our face, neck, and décolletage.
Ingredients: Calcium Ketogluconate, Organic Sodium Ascorbyl Phosphate
• • • • • •
Agent Nateur h o l i (o i l) and h o l i (c) Giveaway! (NOW CLOSED)
I'm so excited to team up with Fig & Flower to give away a full-sized h o l i (o i l) and h o l i (c)! A total value of $220! Fig & Flower is an incredible green beauty shop in Atlanta (I love visiting when I'm there) with an amazing selection of beauty products! Agent Nateur is incredible and these skincare items will not disappoint! Don't miss out on this opportunity! ;)
To enter, be sure to check out my latest Instagram post, (look for this photo to your right) and follow the steps to enter (or check them out below)!
Follow @figandfloweratl + @

hullosam

Like my Instagram photo (seen to the right)
On this blog post, comment below why you'd like to win these products
Your IG profile must be public. Private profiles will not qualify for entry.
The giveaway ends Thursday, October 12th. The winner will be announced on my Instagram post.
Open to U.S., Canada, UK, Australia, Ireland, Israel, and New Zealand!
• • • • • •
And that's that ladies and gents! What an amazing duo, right?! Have you tried any Agent Nateur products or these above-mentioned ones? Do let me know in the comments below how you like them if you have! If you have not, and you're considering buying these bad boys – I've got a special discount code for you!
xo

This post is sponsored and contains affiliate links. These products were sent to me to review through 

Fig & Flower

. As always, all thoughts expressed are honest and unique to my personal experience.