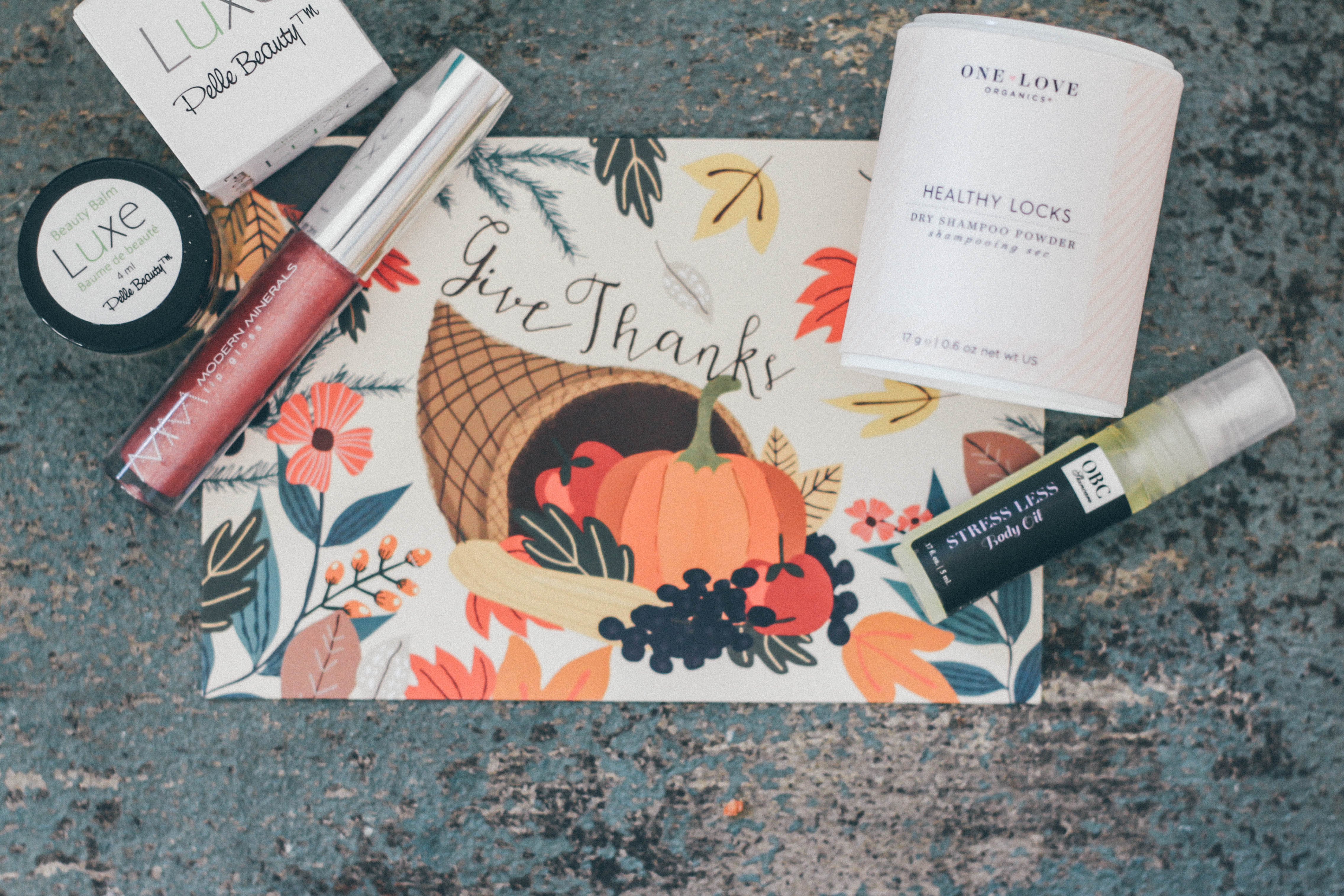 November is upon us, Thanksgiving will soon be here and not just on that day, but every day, we should we count our every blessing – little or big. One of the many little things I am thankful for? This months Petit Vour Beauty Box! It is based on "holiday travel essentials for the green beauty enthusiast" – perfect! You'll see a sweet little illustration titled "Give Thanks" on the ever so popular product description card drawn by Mia Charro – once again, she makes the cuuuutest little illustrations! Go follow her if you want to see more of her lovely creations. :) Of course, if you're not familiar with this monthly beauty box subscription – please click HERE to read my first review and thoughts on this awesome Vegan + Cruelty-Free company!
---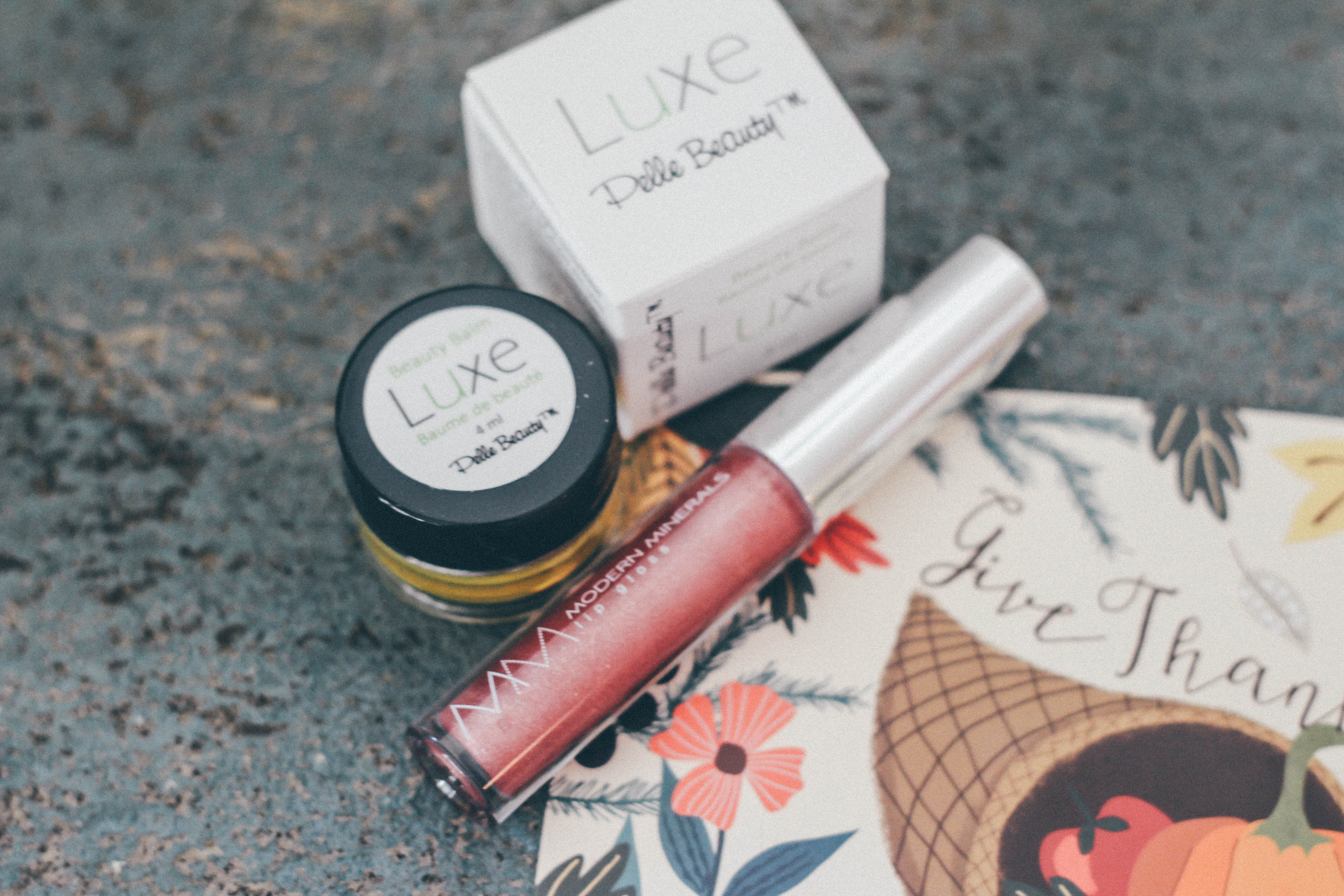 This months box included some great little goodies! A lipgloss (full size), a beauty balm, some dry shampoo by one of my favourite green companies and a lovely little oil body spray. (All standard travel size – hence the theme!)
Modern Minerals Lotus Wei Infused Emotive Lip Gloss "Violet Rose" is a "violet mauve with pink and lavender shimmer".  It is a beautiful colour, and it has such a beautiful shine without being sticky – which is one of my favourite things about the Modern Minerals lipglosses. It also smells heavenly with Lotus Wei's infused flower essences in it. Part of the MOODS collection incorporates the emotive properties of gemstone and flower essences to uplift and awaken positivity. In this lipgloss: pink camellia flowers + pink tourmaline are combined with a light floral fragrance naturally composed of lavender, chamomile, rose and neroli. Like I said, HEAVENLY.
---
Next, we have the Pelle Beauty Luxe Beauty Balm. At first, I thought this was a lip balm, but it turns out it's for your face! Now, I always shy away from super heavy balms for my face…not entirely sure why. However reading that this beauty balm is a "dreamy delicate balm", designed for "sensitive, dry & dehydrated skin types", I feel a bit safer.
Formulated with floral waxes (Tuberose, Rose & Jasmine), precious essential oils and antioxidant-rich ingredients, this super-emollient and easily absorbed beauty balm will help keep your skin soft, smooth, and protected. This beauty balm is also free from Water, Preservatives, Dyes, Fillers & Synthetic Fragrances.
---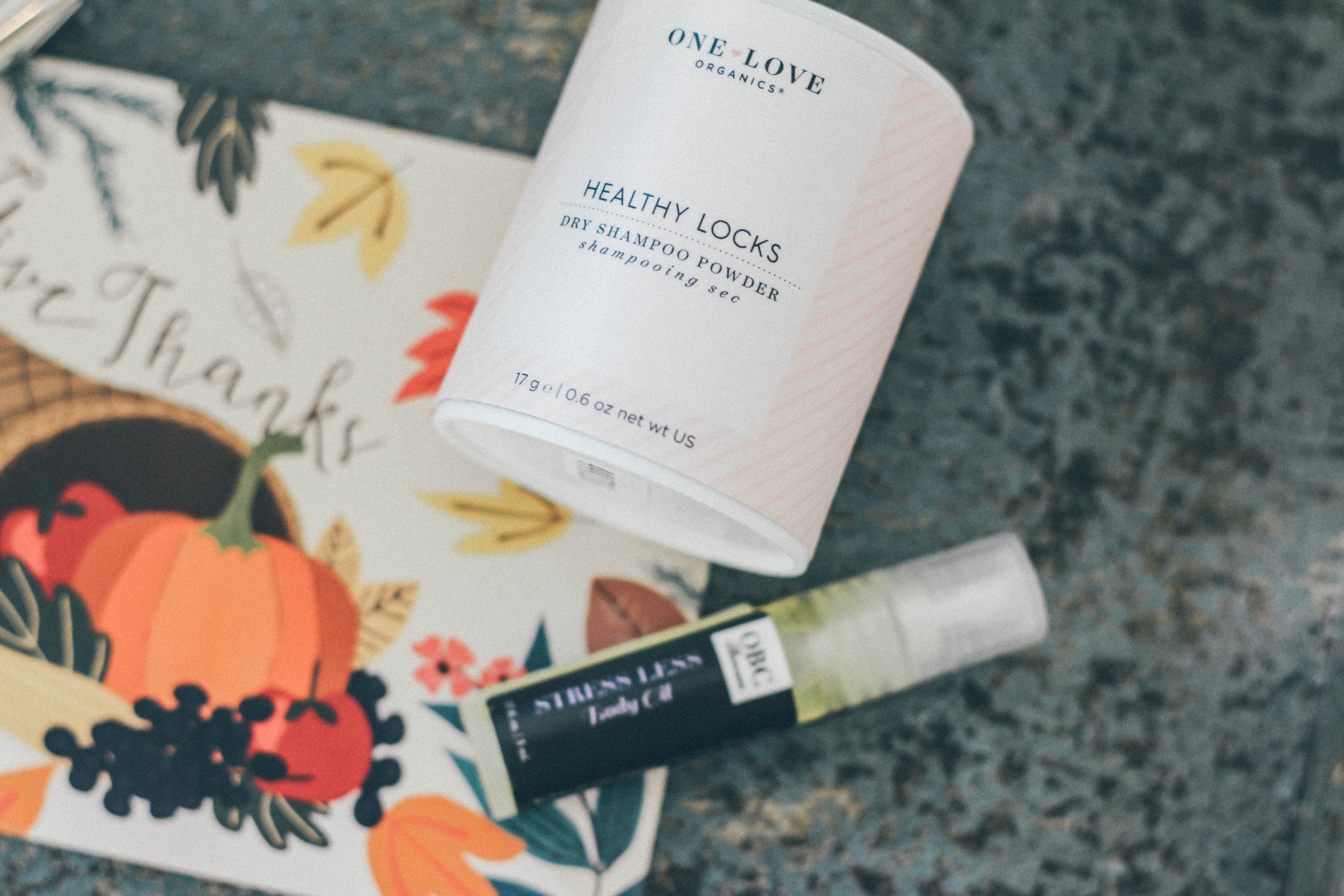 One Love Organics Healthy Locks Dry Shampoo Powder. Not only is this one of my favourite brands – their skincare line is just divine – but this dry shampoo has easily become one of my favourites! It lifts roots, smells so, so good and – gasp! – doesn't leave any residue in your hair! Its formula is a unique blend of highly absorbent Georgia Kaolin Clay, hyularonic acid, and silica rich bamboo extract. But it gets better…this stuff softens, strengthens and nourishes hair between shampoos, during travel, or for an anytime pick-me-up. Oh, and get this: use Healthy Locks before bed to absorb oil overnight and you'll wakeup with great second (or third) day hair. BRILLIANT! Basically, this dry shampoo reminds me of baby powder, but isn't messy at all and has totally clean ingredients. Thank goodness! ;)
---
Last but not least – Organic Bath Co. Stress Less Organic Body Oil! This oil is softly scented with pure Bulgarian Lavender – talk about lovely, right?  It also carries a blend of calming essential oils, while delivering lightweight moisture that absorbs instantly for dewy, healthy looking skin. To add to the wonderful essential oils, it also has Organic oils of Camellia Seed, Grapeseed, Evening Primrose, Macademia Nut, Almond, and Jojoba oil infused with antioxidant Green Tea Leaves. This helps fight free radical damage as it replenishes and hydrates.
---
I've said it before, I'll say it again! I highly recommend signing up for this monthly beauty box! For just $15.00 per month, it is one of the best subscription boxes out there!  Signing up is extremely easy to do and takes no time at all, plus you can cancel at anytime! Not to mention, you can earn PV points for shopping and get the full sized versions of your favourites! Head over to the Petit Vour website to get started!
You can find Petit Vour on:
Instagram: @petitvour
Twitter: @PetitVour
Facebook: https://www.facebook.com/PetitVour
Pinterest: https://www.pinterest.com/petitvour
Tumblr: http://petitvour.tumblr.com
xo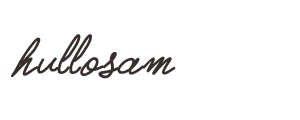 ---
Just the dreamiest lil tune. I'll always have a special place in my heart for this band. Kye Kye – Glass
[soundcloud url="https://api.soundcloud.com/tracks/133993312″ params="color=ff5500&auto_play=false&hide_related=false&show_comments=true&show_user=true&show_reposts=false" width="100%" height="166″ iframe="true" /]