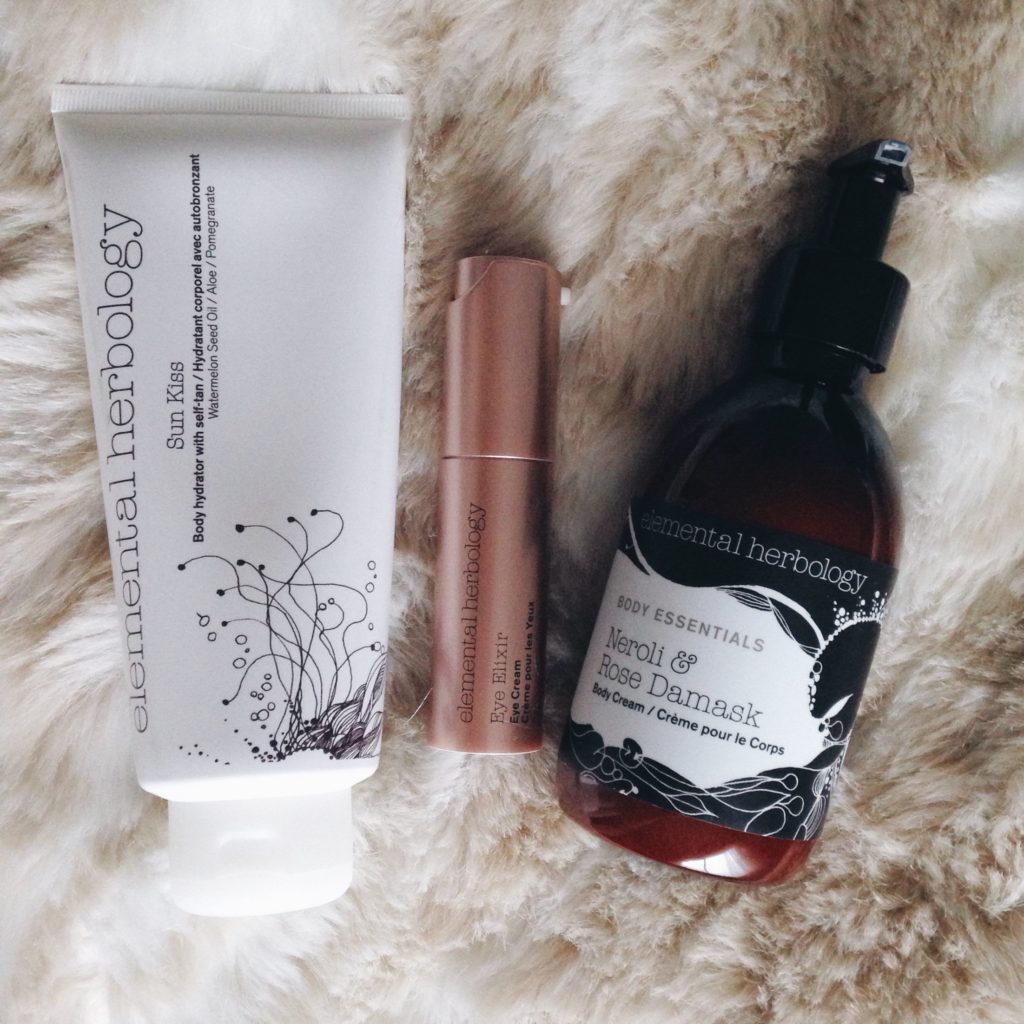 Ahhh, Elemental Herbology, where shall I start? This company was inspired by the desire to balance and harmonize; the beauty of nature and the power of herbal medicine. Kristy Cimesa, Founder of Elemental Herbology, conceived EH to offer a unique skincare range, founded on the origins of the Five Elements.
What I love most about this company is not just their mantra, but their product ingredients. Not only are they herbal, but they are responsible for harvesting and the production of all raw materials used. They ensure their products are 100% free from synthetic fragrance, artificial colour, mineral oils, sulphates, parabens and preservatives – AND they combine therapeutic levels of Plant Compounds, Herbal Extracts, Essential Fatty Acids, Botanical Oils, Vitamins, Minerals and Anti-oxidants, so they can help your skin achieve a state of optimum health and vitality. So great!
I have three wonderful products that I've been loving that I would like to share with you all today. So let's get started, shall we?
---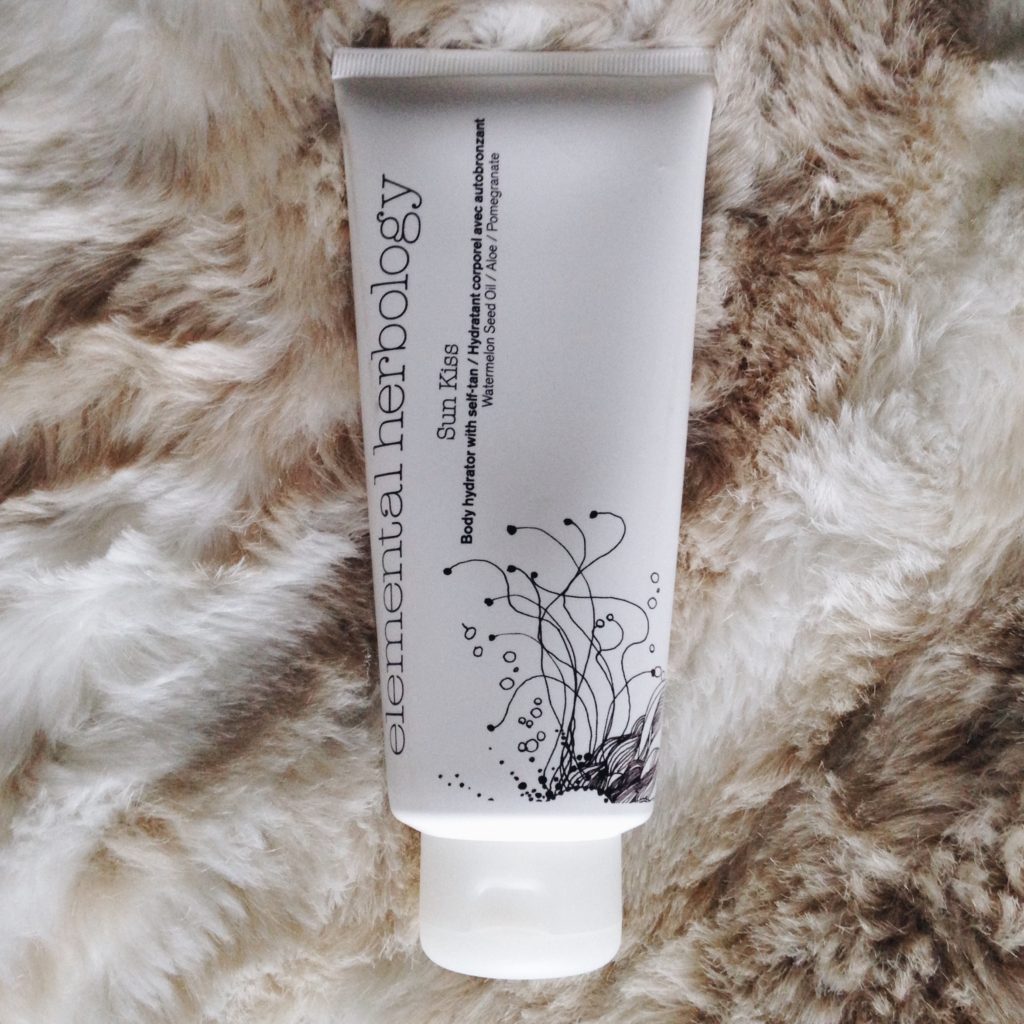 This is a great gradual (moisturizing) tanning product. However, be careful when using it because it's super liquidy, which can result in a bit of a mess! The smell is very strong, not terrible, but very strong. I don't really even know how to describe it..but, I do know that I will take it over any other (non-organic) sunless tanners. The way Elemental Herbology describes it is:
This daily body hydrator contains subtle levels of an eco-certified botanical self-tanning agent with ultra-nourishing, skin-softening oils to create a beautifully hydrated, natural and healthy glow whilst also helping to prolong the life of your tan. Its light texture allows the skin to breathe, whilst protecting the skin by boosting antioxidant activity and cooling, calming and nourishing over-exposed skin.
Here are some of the key ingredients:
Watermelon Seed Oil, also known as Kalahari Oil it is extracted from the seed of a watermelon which is prized for its high nutritive benefits, its light texture and intensive moisturizing capabilities. While ultra nourishing it is an ideal product for use during the summer months as it allows the skin 'to breathe'.
Macadamia Oil contains the richest known source of Omega 7 Palmitoleic acid which helps replenish the skins naturally occurring lipids so that optimum hydration levels can be maintained.
Olive Oil rich in polyphenols, amino acid derivatives and powerful anti-oxidants it helps protect against environmental extremes and nourish and hydrate parched skin.
Pomegranate contains powerful antioxidants which help protect the skin against oxidative damage.
Fig extract rich in anti-oxidants is the 'secret of Mediterranean women' and helps fight against the damaging effects of the sun and environmental extremes. Rich in mucilages and more particularly sugars with softening and moisturizing activities. It helps comfort stressed skin, firms the tissues and intensively boosts hydration levels by preserving the cutaneous water balance.
Aloe Vera helps protect against oxidative damage making it highly beneficial for dry, cracked and parched skin. It is also helps cool and soothe the skin.
Lavender harmonizes sebum production, soothes sensitive skin and has an anti-bacterial effect.
I'd say that it's pretty accurate in description. It really does work quickly, and will give you an overall natural looking tan. (No orange-fake-tan-look either) I have found myself applying it at night, and then in the morning I'll take a shower to get rid of the smell. (Again, not terrible…just not my favourite scent!)
---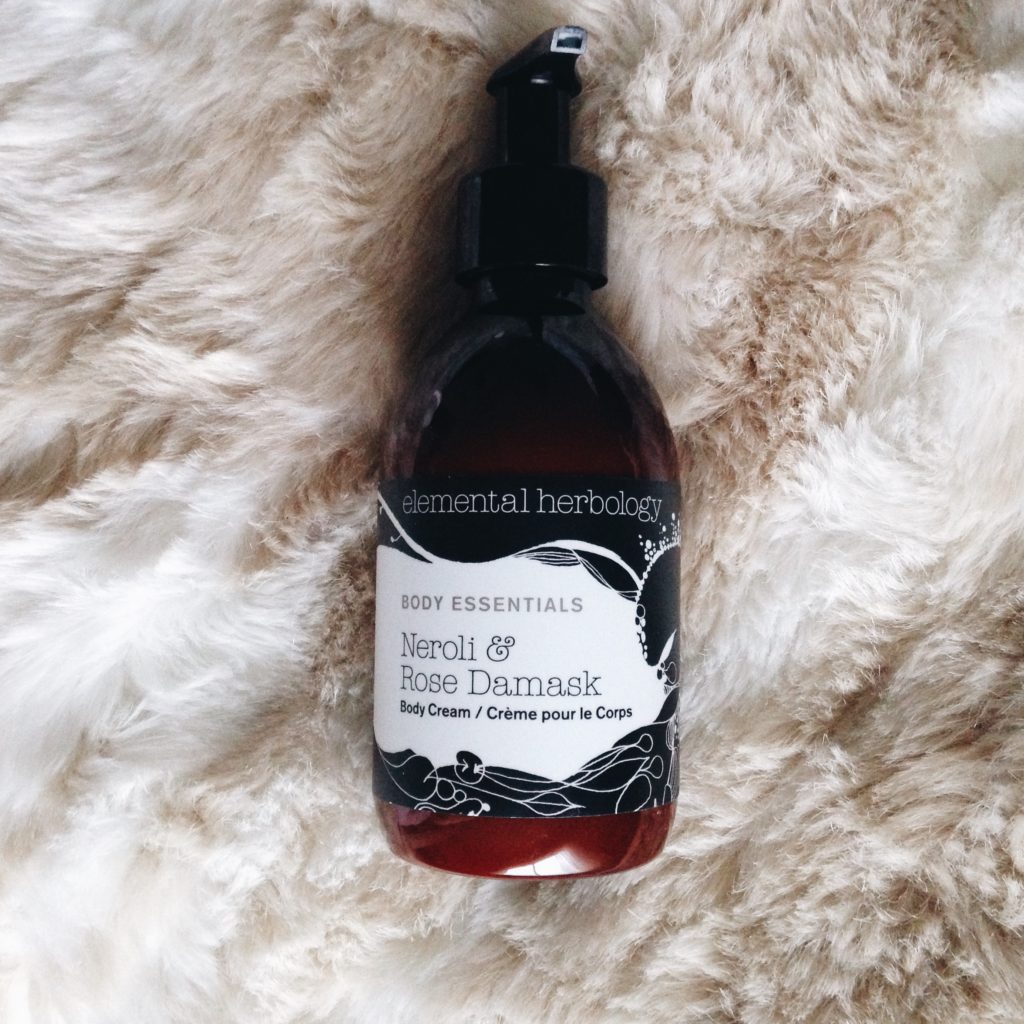 Elemental Herbology's Neroli & Rose Damask body cream. This is really, really moisturizing and very luxurious. It doesn't immediately absorb into your skin, but I rather enjoy that because I can pop on my pj's, get into bed and it feels as if I am having an overnight treatment mask for my body! The body cream is subtly fragranced with natural Orange Flower Water and Neroli aromas, which I enjoy very much!
Here are some of the key ingredients:
Mango Butter– intensely moisturizes
Organic Aloe– helps to soothe the skin
Magnolia, Lotus, and Soya help to improve the texture of skin.
Pure Rose Damask Water and ultra-nourishing botanicals restore optimum moisture and soothe sensitive skin.
Argan Oil, Rose Hip Oil and Ubuntu Ximenia help to restore hydration and improve the barrier function of the skin.
If you want a luxurious, pampering body cream, this one is well worth it!
---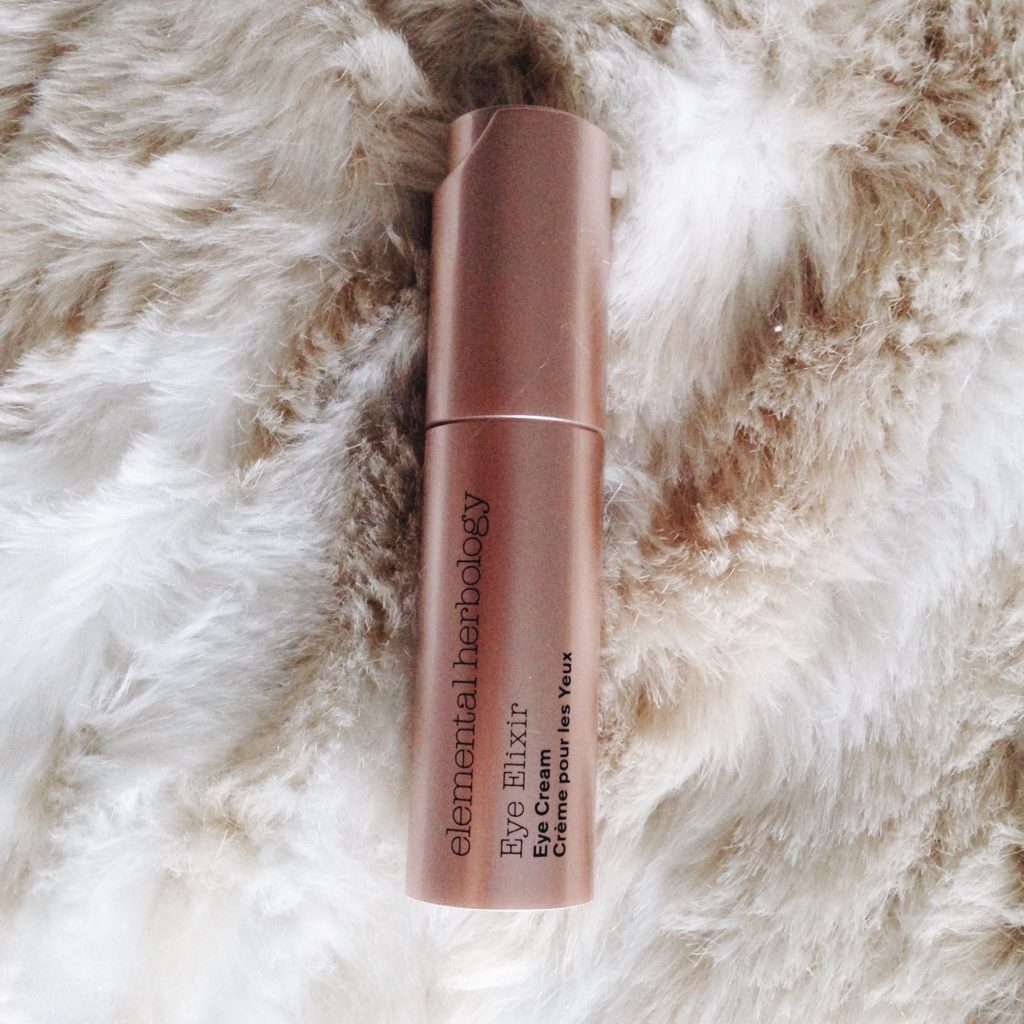 This Eye Elixir is somethin' else! I would recommended for anybody who is concerned about ageing, city dwellers, frequent flyers (great to use while flying) and for everybody with puffy and weary eyes. I find it also works really well to soothe my allergies (when my eyes get kind of red and itchy). Especially if you stick it in the fridge to get cold! It tingles around your eyes, but in a good way. It's DIVINE!
EH describes this eye cream as:
Our triple-action, advanced eye-serum helps to reduce fine lines and wrinkles, puffiness and dark circles. Combining innovative cosmetic technology with active botanical ingredients, it will help to firm, tighten, lift and nourish the delicate eye region to transform weary, parched or weathered eyes.
Here are some of the key ingredients:
Patents
LANABLUE® (Blue Green Algae) helps stimulates collagen synthesis and repair.
EYELISS™ helps increase lymphatic circulation and improve firmness and elasticity.
Kombuchka™ improves radiance.
Actives
Hematite helps increase collagen synthesis to firm and tone the skin.
Rose Water hydrates and soothes; Plant Peptides help to plump fine lines and wrinkles.
Bio-Oils
Macadamia Nut, Grapeseed and Lavender Oils help to nourish, soothe and soften the skin.
Aphanizomenon Flos Aquae, a Blue Green Algae, helps smooth and re-densify the epidermis.
Powerful Peptides combine to help prevent and fight "bags" under the eyes by decreasing the capillary permeability, increasing lymphatic circulation and improving firmness and elasticity.
A natural vegetable astringent obtained from Oak Apple gently firms the skin and strengthens cell structure resulting in the texture of the skin being visibly improved.
A plant based anti-ageing ingredient derived from Wheat Amino-Acids and Palmitic Acid helps create a natural 'botox like effect', combating the two main sources of wrinkles to smooth out lines and re-densify deep wrinkles.
Hematite and Kombuchka helps restore the radiance and tone of the skin.
L-Ascorbic Acid stimulates collagen growth to help reduce wrinkles and protect the skin against UVB and UVA damage.
Macadamia Nut Oil, Aloe Vera, Yerba Santa, Rose Water and Lavender Oil nourish, soften and soothe the delicate eye region.
Overall, this is an awesome eye crea-uhh-elixir… ;) So if you're tired of all of the typical eye creams not doing their job, and just causing irritation – then this one is for you!
---
If you'd like to know more about Elemental Herbology, or simply would like to follow them on their social medias, here are some links for ya to check out:
Facebook: https://www.facebook.com/pages/Elemental-Herbology-US/245014875588819
Twitter: @ElementalHerbUS
Instagram: @elementalherbology
Pinterest: https://www.pinterest.com/elementalherb
Youtube: https://www.youtube.com/user/Elementalherbology
xo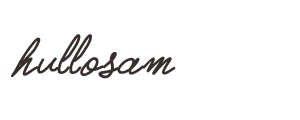 Kid Astray – "Back To The Ordinary"
[soundcloud url="https://api.soundcloud.com/tracks/174394507″ params="color=ff5500&auto_play=false&hide_related=false&show_comments=true&show_user=true&show_reposts=false" width="100%" height="166″ iframe="true" /]