Who wants a clean home!? (Raises both hands) Who wants a clean home with GREEN products!? (Raises arms and legs) Ladies and gents, I am the QUEEN of clean. Seriously, ask anyone who knows me super well…aka my husband. It isn't just neat-and-tidy-Sammie, it's neat-tidy-and-SPICK-AND-SPAN-Sammie. But really, a clean home is just the best, in my honest opinion. What's better than tidiness and a clean surface?! (Okay..I'll calm down.)
Today I'm sharing my Top Green Household Products (duh, it's in the title) because let me tell you somethin', the conventional/commercial cleaning/house products marketed nowadays are loaded with toxic chemicals, synthetics and artificial fragrances and other nasties you definitely do not want to be breathing in – let alone your sweet children and family members! But what's the deal, Sammie? I'm not putting it on my skin, or ingesting it in any way…so it's not that bad, right? Not exactly. Like I said – you're breathing in (basically ingesting) these chemicals that you don't even know, let alone can even pronounce! Plus, the cost of these conventional and commercial, chemical-based products can be high – no, not price-wise, something way more important: long term health risks for your family, and crazy environmental pollution not only caused by their manufacture, but by their disposal as well! According to the U.S. National Center for Health Statistics, 1 in 3 people suffer from allergies, asthma, sinusitis or bronchitis. It's pretty simple though…treatment for these conditions should absolutely include reducing the amount of synthetic chemicals in your home environment.
This is why I'm here today! To share with you some of my favourite green household products. Most of them are 100% non-toxic and as pure as can be, while I included others that (for those that are new to this) are a bit more heavy-hitting, and yet still pretty green! (To slowly ease you in!) For many home-cleaning chores, you can actually make your own DIY cleaning products using items such as Baking Soda, Lemon, Borax (Sodium Borate), White Vinegar, Washing Soda, Isopropyl Alcohol, Cornstarch and more! You shouldn't feel intimidated or fearful of the switch, it's honestly so easy and you're doing yourself and your family a favour! Plus, these are healthier, environmentally responsible alternatives and you're promoting the growth of green businesses – which, in turn, are creating a more sustainable economy!
•      •      •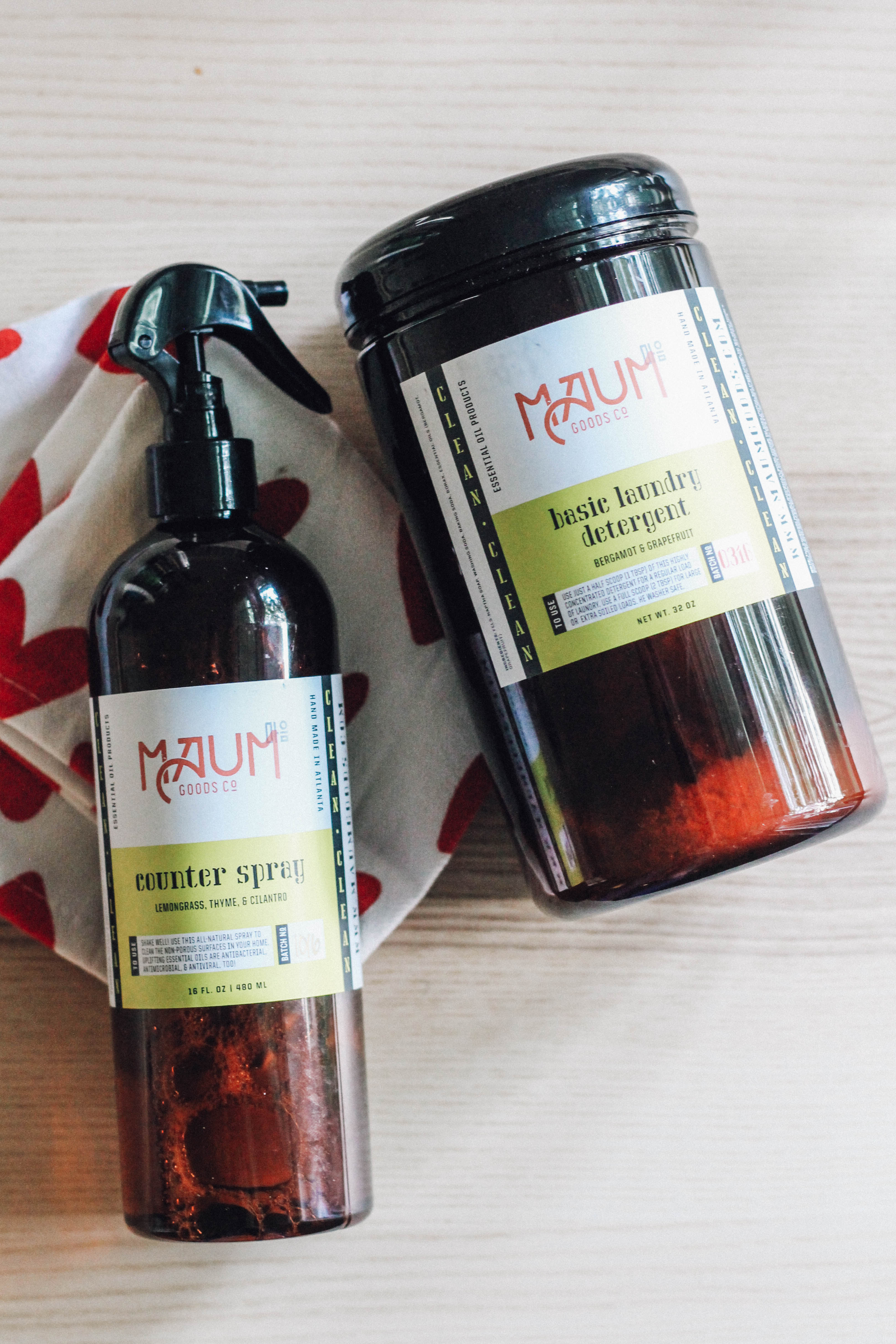 SO excited to start with this brand! It's hands down one of my new favourite lines for household cleaning products! Maum Goods Co. knows how to make amazing, non-toxic home  and personal/body care products that really get the job done – and well!
Above I've got two of my most-used and loved products:
Basic Laundry Detergent in Bergamot & Grapefruit (scented with essential oils). It contains the simplest ingredients: fels-naptha soap, washing soda, baking soda, borax, essential oils), and does a great job cleaning the clothes come laundry day! I loooove the scent of this detergent! (Bergamot is a favourite scent as is!) It doesn't linger much, but smells fresh, citrusy and clean – plus you can even purchase a Dryer Ball Refresh (Bergamot + Grapefruit) in a glass dropper. Drop it on your wool dryer balls (Maum sells those too) and it will add a little energizing aromatic zing to your freshly laundered clothes!
Counter Spray in Lemongrass, Thyme & Cilantro. An all-natural cleaner that smells as amazing as it works! Great for cleaning the non-porous surfaces in your home and get this, it's antibacterial, antimicrobial, and antiviral too!  Again, it contains the cleanest of ingredients: distilled water, organic castile soap, therapeutic-grade essential oils (lemongrass, thyme, cilantro). Side-note, how can you not LOVE the packaging and branding of this brand?! Obsessed.
Use code HULLOSAM for 10% off your entire purchase!
•      •      •
If there's any soap I want to be using on my hands it's this Kosmatology's Botanical Bliss Foaming Hand Soap. With 5 scents to choose from (I love 'em all), this Lavender Eucalyptus one is a fave! With organic ingredients like Organic Olive oil, Organic Coconut oil, Organic Palm Kernel oil, potassium hydroxide, Organic Lavender essential oil and Organic Eucalyptus oil…your hands won't be dry or rough to the touch, but rather, soft and clean. (Aka the best!) There are no parabens or phthalates, no SLS, Triclosan and absolutely no animal testing or animal derived ingredients.
Hand Sanitizers (to me, back in the day) basically were the worst thing ever. They literally left me with the most dry, cracked, angry hands. Sure, they were killing germs – but not all germs are bad. In fact, it's good to let your body build up immunities! At least I think so! Anyways, it killed germs, but it also killed my hands and the ingredients? NO GOOD. This Spritz-Trus (Orange-Lemon-Lime) Hand Sanitizer is always in my purse. Always. I just took it to Canada with me too recently, because flights and airports and touching things etc. ;)  Ingredients are on point too: Ethanol, Water, Organic Glycerin, Organic Sweet Orange essential oil, Organic Lemon essential oil, and Organic Lime Peel essential oil.
Use code HULLOSAM for 15% off your entire purchase!
•      •      •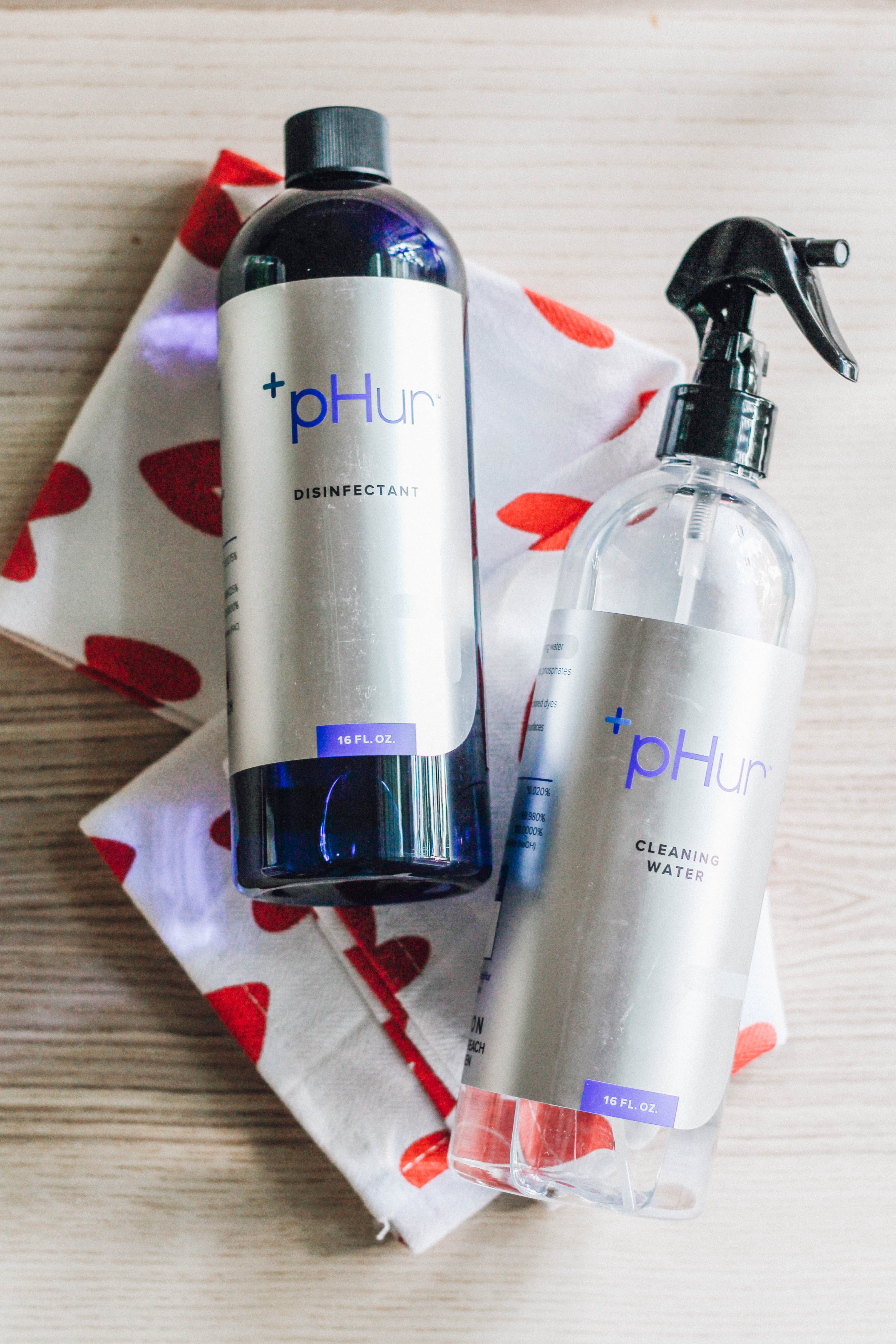 So you want clean, but you don't want a scent and you're looking for a hospital-grade clean? Well, pHur Water is gonna be your bff. Seriously, this Cleaning Water and Disinfectant can be used on kitchen tables, work desks, cutting boards, kids toys, countertops and more! I mean, we all know how dirty and grimy the things we use daily can become…so what pHur did is create a totally organic and natural solution to this. Their Disinfectant and Cleaning Water are made from just two ingredients: water and salt. Yes, you read right! But how's that work, Sammie? you may ask…allow me to explain!
pHur uses electro-oxygenating technology to transform our earth's most natural solvent–water. When at two precise pH levels, water takes on powerful (yet completely safe), cleaning and disinfecting properties. pHur's revolutionary technology stabilizes water at these levels resulting in their products (seen up above). Their Disinfecting Water is registered with the Federal and California Environmental Protection Agency and is proven effective against 99.99% of known bacteria and viruses including MRSA, C.diff, E.coli, and Salmonella. This product has been tested in labs, homes, hospitals and airports and has had a great response thus far!
These two products are used consecutively, so first, use the Cleaning Water.  Apply it to a microfiber cloth or mop pad, then agitate to clean just about anything. After step 1, proceed to use your Disinfecting Water. Unlike most disinfectants, pHur allows you to spray and go about your day! How nice is that? There's no need to wipe, dry or clean up any little pools of chemical-ridden solution. WIN! It is recommended that each batch of pHur Disinfecting Water is used within 30 days of the date marked on the back of your bottle, as it is made fresh.
Use code hullosam" for 15% off your order. Valid through: 

June 1, 2017

.
•      •      •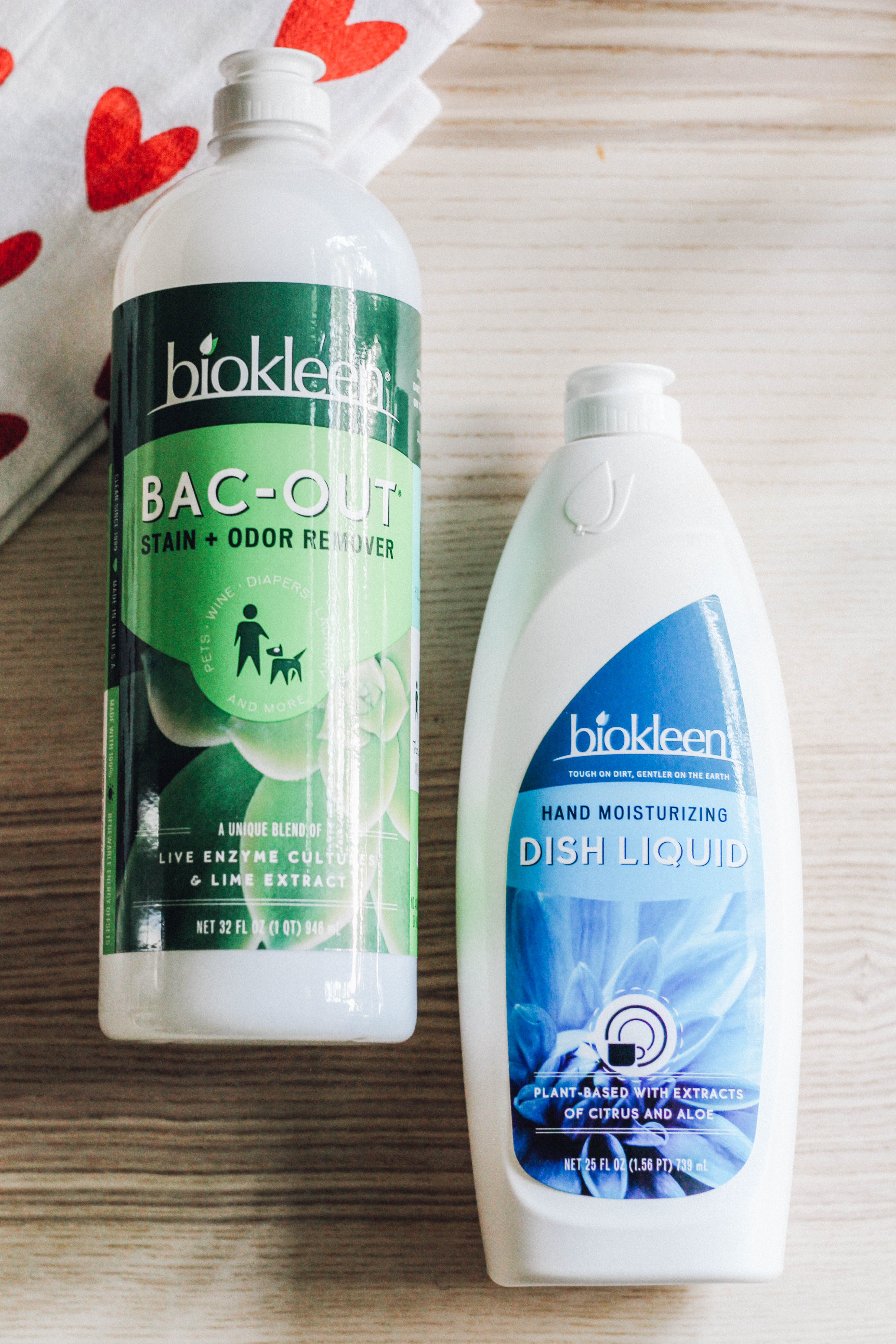 Last but certainly not least…I've had a lot of questions about stain and odor removers, and I'm pleased to say I've found one that doesn't have a heavy, synthetic scent – nor is it ridden with horrible toxic chemicals! Enter in Biokleen's Bac-Out Stain + Odor Remover! This product is unique in that it has live enzyme-producing cultures which, along with citrus extracts and plant-based surfactants, remove the toughest stains and odors – including their return. This is also great to spray over carpet when done vacuuming for a clean scent and to take away any odors in the house. (Think of it as a nontoxic Febreeze, if you will!)
Ingredients: Water (filtered), Glycerin (vegetable), Caprylyl/Capryl Glucoside (plant based surfactant), C10-16 Alkyl Glucoside (plant based), Laureth 7 (plant based surfactant), Citrus Terpenes, Dipropylene Glycol (less than .1 percent), Benzisothiazolinone (less than .05 percent), Viable Bacillus Cultures. Contains no: Chlorine, ammonia, butyl, glycol ether, SLS or SLES, DEA or EPA priority pollutants. No materials listed by the ACGIH as hazardous.
Dish soap! Ahhhh the ever-so-popular dish soap dilemma! Well, let me just say – if you want it to cut grease, have a pleasant scent (or maybe you don't want a scent at all), soft, moisturized hands and to have your soap do the foaming/sudsing thing…that can be tough in a world of commercial, highly scented dishwashing products!  Welp, I've got a solution and it covers all of these needs while being pretty good on ingredients too. (Remember, there are cleaner options out there and DIY options for this if you're not a huge fan of all of the ingredients within these specific products!)
This Biokleen Hand Moisturizing Dish Liquid is lightly scented with citrus and other plant-based extracts and totally cut through tough grease. The aloe ingredient soothes and cares for your hands and there's absolutely no artificial colours, fragrances! So, you're left with an empty sink, clean dishes and soft hands. One of the main things I love about Biokleen is that their products are safe, non-toxic for animals and humans, environmentally friendly and the packaging is recyclable.
Ingredients: Water (filtered), Cocamidopropyl Betaine (plant based surfactant), Sodium Lauryl Sulfate (plant based surfactant), Lauramine Oxide (plant based surfactant), Caprylyl/Capryl Glucoside (plant based surfactant), Glycerin (vegetable based), C10-16 Alkyl Glucoside, Sodium Chloride, Sodium Carboxymethyl Inulin (plant-based chelant),  Citrus Aurantium Dulcis (Orange) Peel Extract, Citrus Aurantium Dulcis (Orange) Oil, Aloe Barbadensis Leaf, Grapefruit (Citrus Grandis) Seed Extract, C10-16 Alcohols (plant based) Contains no: Phosphate, chlorine, ammonia, petroleum solvents, butyl, glycol ether, SLES, EDTA, DEA or EPA priority pollutants. No materials listed by the ACGIH as hazardous.
•      •      •
So, which household products seen here catch your eye? Have you tried any of them, or are there any faves? Be sure to let me know in the comments below!
xo

P.s.: I'm obsessed with this song right now by Oregon band, Flor! Enjoy, "Back Again"!
[soundcloud url="https://api.soundcloud.com/tracks/190351115″ params="color=ff5500&auto_play=false&hide_related=false&show_comments=true&show_user=true&show_reposts=false" width="100%" height="166″ iframe="true" /]
This post is partially sponsored. Product was sent by companies for photographing and review. As always, all thoughts expressed are honest and unique to my personal experience.