Spring is in the aaaair and Gabriel Cosmetics is  launching the Radiant Beauty collection in celebration of the warmer weather! (Well, per my official statement at least!) This collection includes gorgeous varieties of pink-toned 5-free nail polish (you know how much I love me some pink!), an eyeshadow palette with cool, calming tones, a matte  finishing powder and a matte soft pink blush, then finishes off with a beautiful medium toned nude lipstick!
This spring, Gabriel Cosmetics are inviting you to join their Wellness Reset by focusing on personal development, expressing the delight of feeling beautiful by embracing your unique and defining features. I love this! Their motto this season is:
"Staying young means aging well"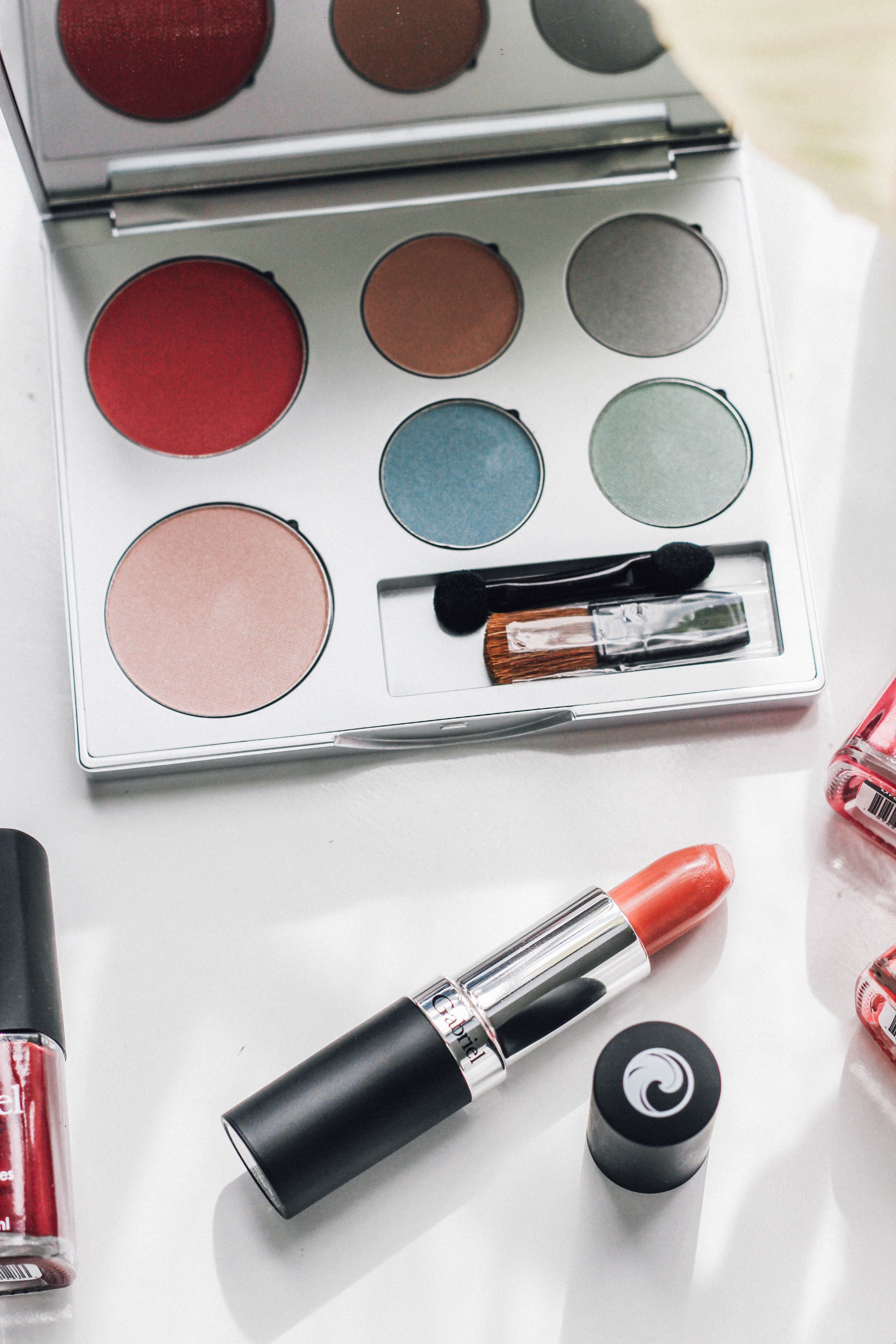 Let's focus on the Aura Palette (eyeshadow) for a minute. Mostly cool and calming, soft tones inspired by basic natural ingredients and containing clean, organic ingredients such as Jojoba Seed Oil and organic Sea Fennel Extract*.
The two larger circles to the left of the palette are the Gluten-Free Blush + Finishing Powder:
Translucent – a matte, "barely there" finishing powder
Harmony – a matte, soft natural pink
To the right, we have the four Gluten Free Eyeshadow shades:
Moonlight – a shimmery, light aquatic blue
Horizon – a shimmery, pale green-blue
Visionary* – a matte, soft beige-brown
Nimbus – a shimmery, light steel-grey
*Don't mind how the shadow and my camera somehow made it look warmer than it actually is. #annoying
Application is easy and these shadows blend lovely on my eyelids. I can't wait to play more with these shades! A mod look would be perfect with the blue or green shade! For maximum intensity, it is recommended to use a primer on the lids – which helps with creasing! Another thing I love about this shadow is it can be applied wet or dry.
Next up is their beautiful, creamy Illusion Lipstick. A medium toned nude lippy with nourishing ingredients such as jojoba oil and aloe. It's incredibly smooth, glides on like a dream, has lovely pigment and is super wearable. Amongst those qualities, it's amazing at locking in moisture and protecting your lips from the environmental aggressions that surround us daily. Apply it with a brush, or directly from the tube! If you're wanting a budge-proof, feather-resistant lip, apply it over a lip primer such as Gabriel's Lip Primer.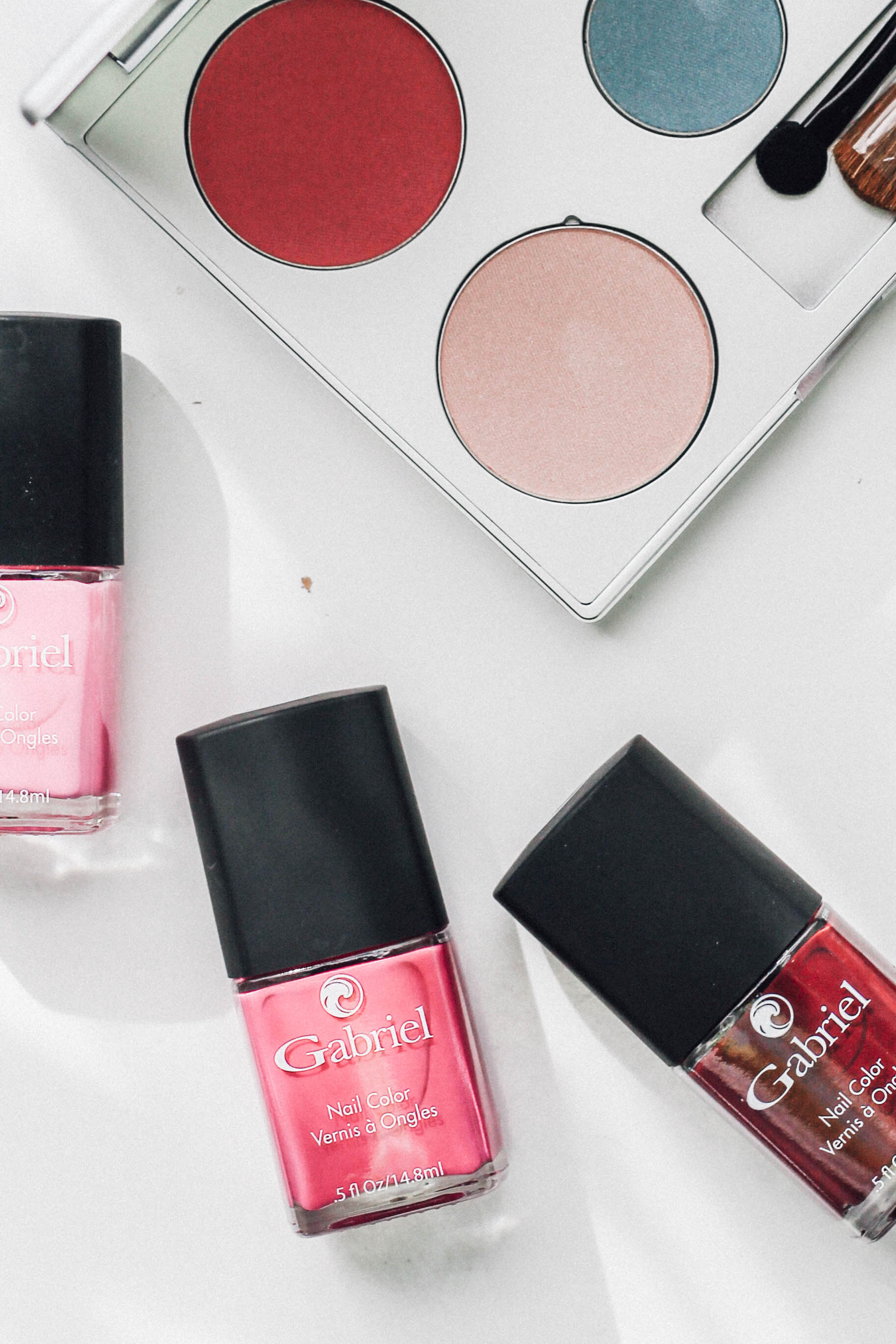 Last, but certainly not least in this lovely Radiant Beauty collection, we have Gabriel's Tropical Cool 5-free Nail Polishes!
This beautifully bright nail collection features a playful palette that mixes fun bubble gum and cotton candy pink shades!
Dragon Fruit is a vibrant fuchsia
Flamingo is a bumble gum pink
Paradise Plum is a medium to deep plum (perfect for winter to spring transitioning!)
Passion is a glossy fuchsia
Pink Lady is a cotton candy/iridescent sparkle
I can't wait to have some fun with these pretty shades!
This palette screams fresh and happy with a side of chic! It's wearable, fun and perfect for this upcoming spring/summer season! It's 100% natural, doesn't contain any synthetic chemicals, is vegan, cruelty free, and certified gluten-free! What more could you want?! ;)
xo

Broken Social Scene – Guilty Cubicles
This post is sponsored and contains affiliate links. As always, all thoughts expressed are honest and unique to my personal experience. I will never recommend products unless I have personally used and love them.