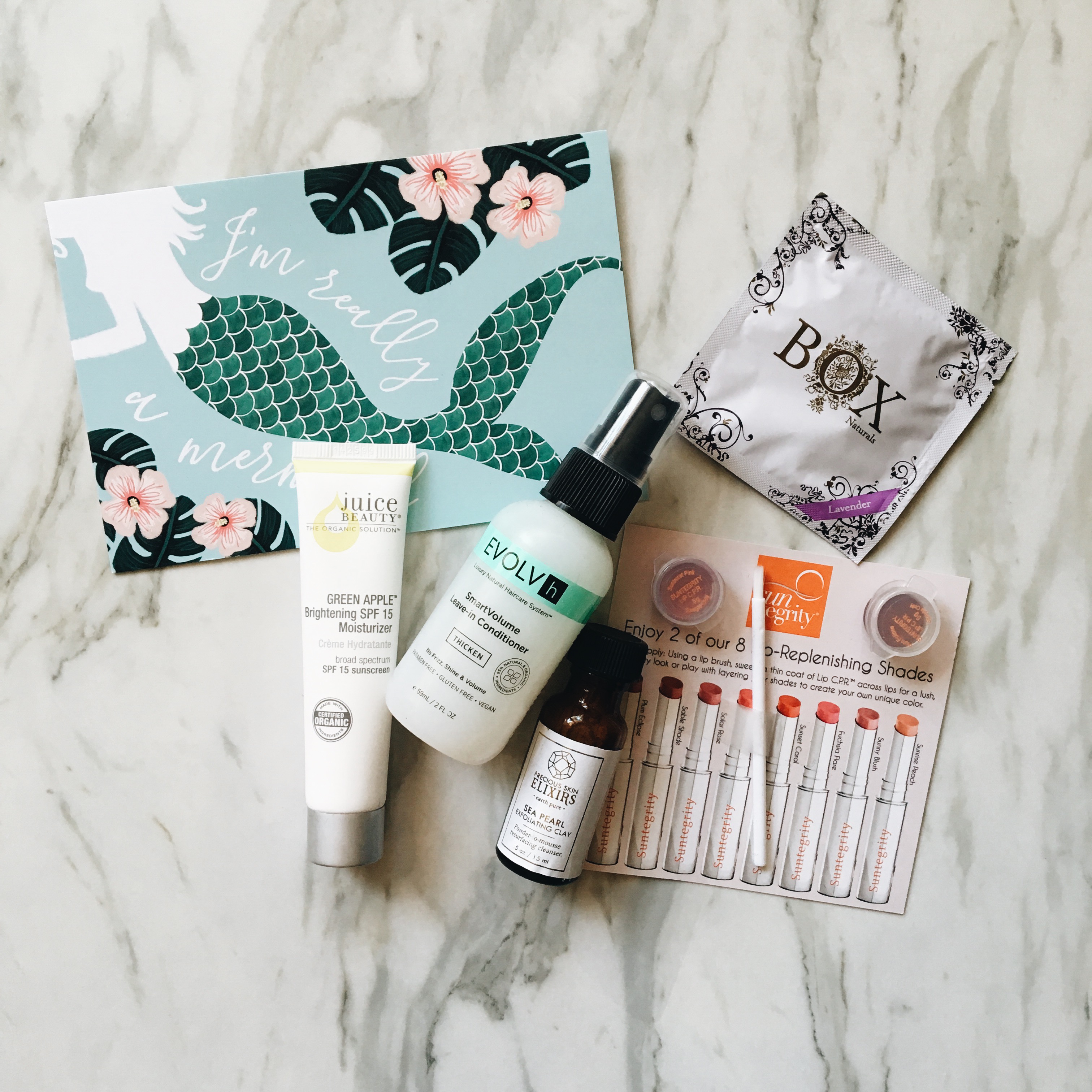 Here I am again, back at it with another Beauty Box from Petit Vour! I know, I know…I'm late…but hey, no worries because this post should give you a little taste of how awesome these monthly beauty box subscriptions truly are – then you'll just have to sign up for next months box….and the following months ahead! ;) Never heard of Petit Vour? PV is a monthly subscription box that hosts some amazing non-toxic, vegan, and cruelty-free beauty products…for only $15! Each box comes packed with four deluxe-sized (and sometimes full-sized) products – which, I think is an awesome deal. Not to mention, you'll discover some wonderful new brands that are safe for your face, body and more! Oh, and of course it comes with the cutest little description card, describing all of the products within the box – along with the perfect illustration by Mia Charro (which so happens to be an adorable mermaid print, for the month of June!) Love it! 
So now that you know what to expect…let's jump right into last months (June) box!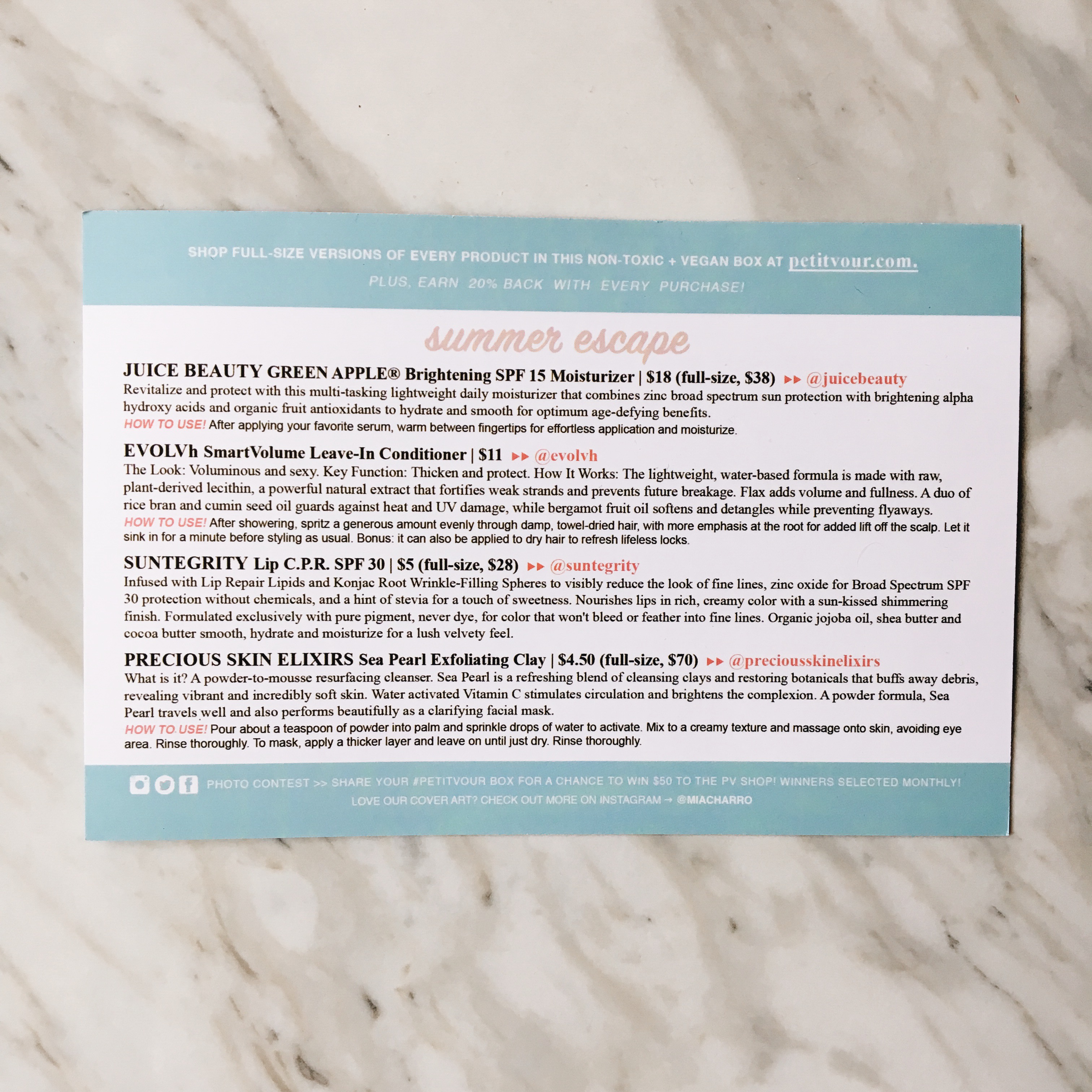 Here's the cute little description card of all the products featured in June's box! Such an awesome array of products.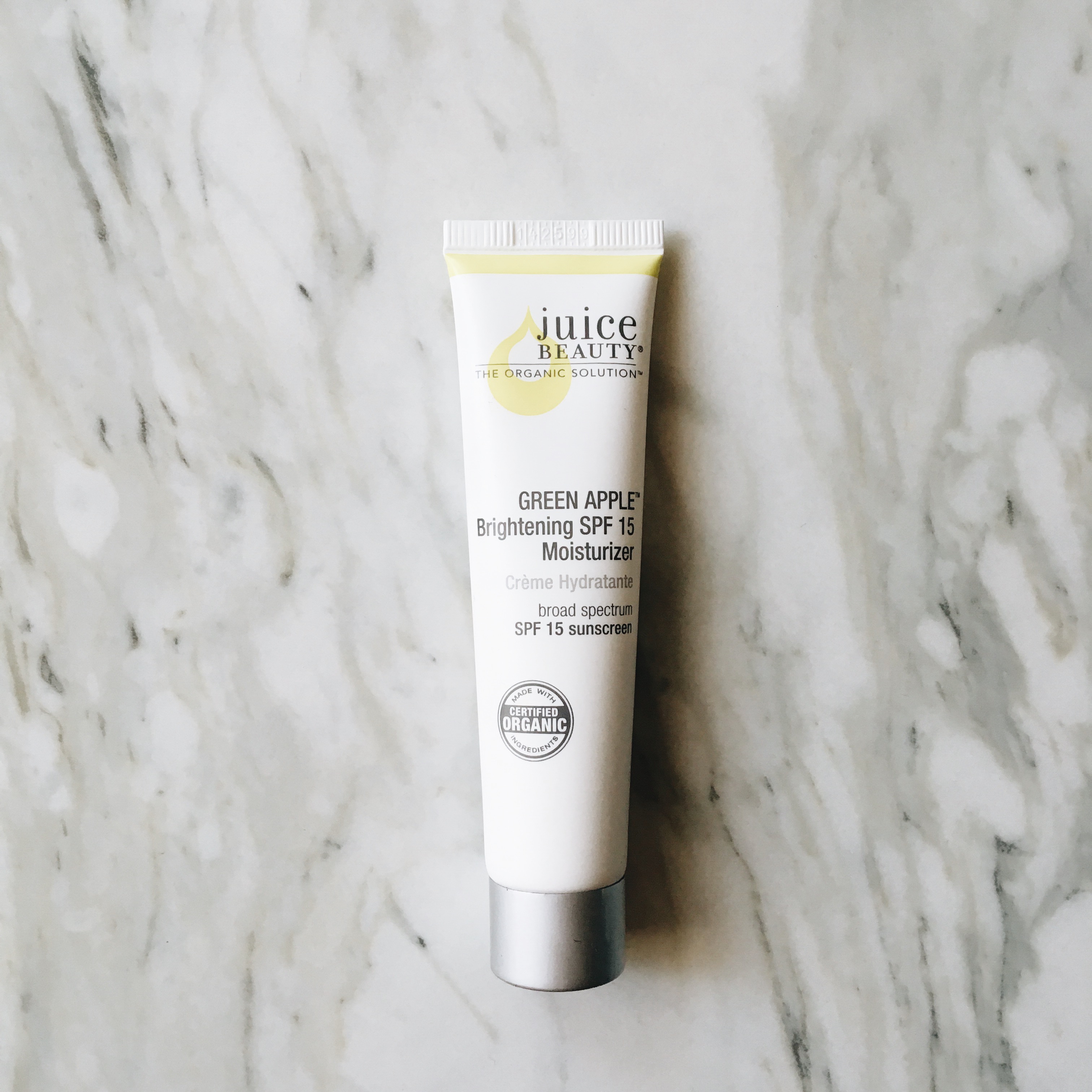 Juice Beauty Green Apple Brightening SPF 15 Moisturizer (0.5 oz) – Perfect timing for those summer days by the pool and/or beach! This product revitalizes and protects while combining zinc broad spectrum sun protection with brightening alpha hydroxy acids and organic fruit antioxidants to hydrate and smooth for optimum age-defying benefits.
It's designed for all skin types (except sensitive skin – aka my skin type…so there goes my shot trying it out haha), 20's and up and is effective for dark spots, discoloration, uneven skin tone and texture. Juice Beauty does disclaim that their Brightening Collection isn't designed for very sensitive or rosacea skin due to the alpha/beta hydroxy fruit acids.
For those of you who can wear this, here's WHAT IT DOES:
Broad spectrum sun protection with mineral based SPF 15, non-nano zinc oxide. No synthetic or chemical sunscreens.
Can even skin tone and texture with a potent dose of malic acid from organic green apples.
Smooths the appearance of fine lines with an age-defying cocktail of DMAE, alpha lipoic acid, green tea & CoQ10.
Creates a plumping effect with vegetable hyaluronic acid.
Nourishes and hydrates with rich botanicals of primrose, linseed and borage.
I sampled a bit on my arm and even though the texture of this feels like sunscreen (it's a bit thick, heavier consistency, and white), it absorbs into your skin pretty quickly and leaves behind a silky/satin-like finish.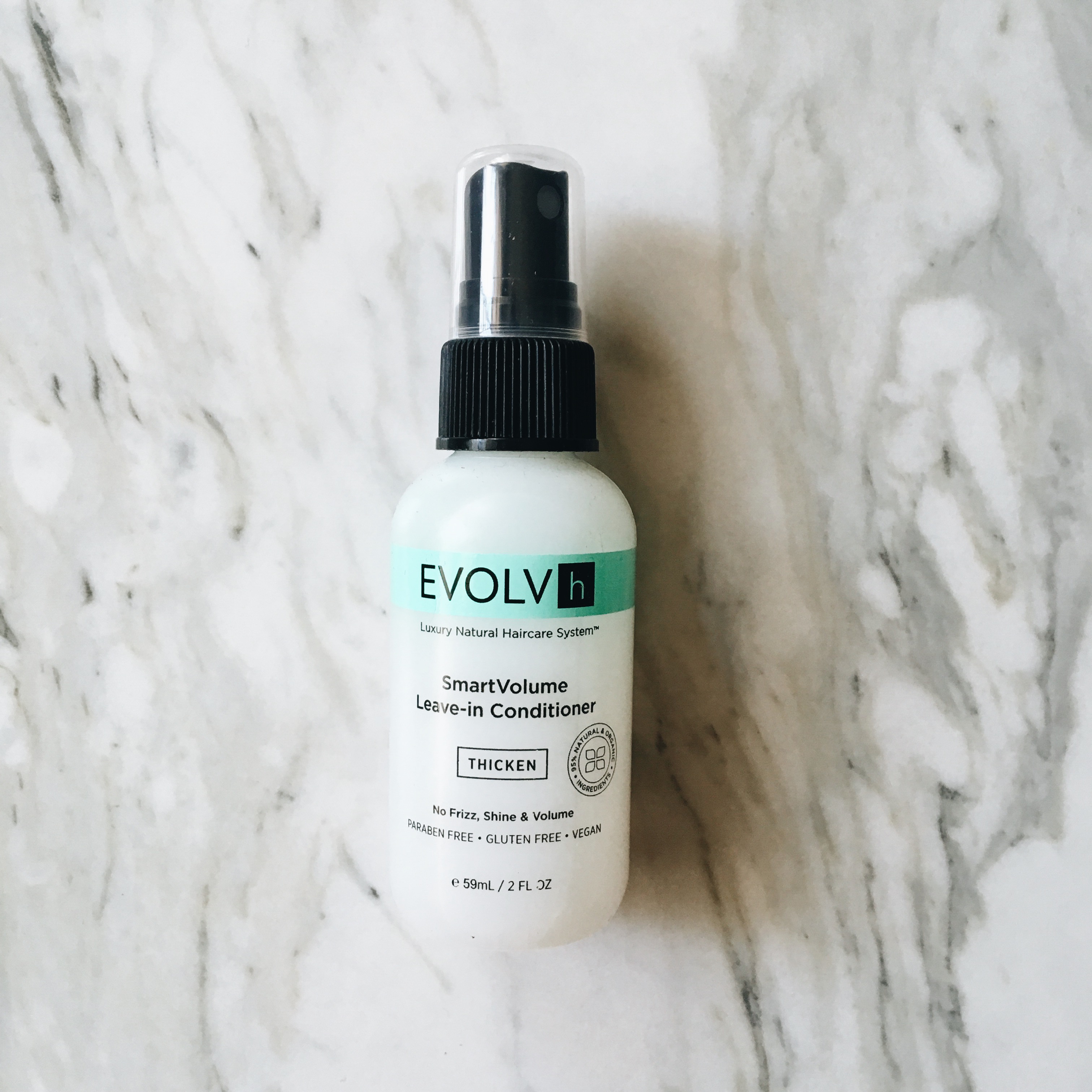 EVOLVh SmartVolume Leave-in Conditioner (2 fl. oz) – I've never really been a leave-in conditioner gal, but this makes me want to change my mind just by its refreshing, clean scent alone! This is a lightweight, water-based formula made with raw, plant-derived lecithin, a powerful natural extract that fortifies weak strands and prevents future breakage. Flax adds fullness. A duo of rice bran and cumin seed oil guards against heat and UV damage, while bergamot fruit oil softens and detangles while preventing flyaways.
HOW TO USE:
After your shower, spritz a generous amount evenly through damp, towel-dried hair. Let it sink in for a minute before styling as usual. Bonus: it can also be applied to dry hair to refresh lifeless locks.
So, let's recap: this product detangles, softens, and prevents frizz while adding shine, hydration and manageability. SCORE!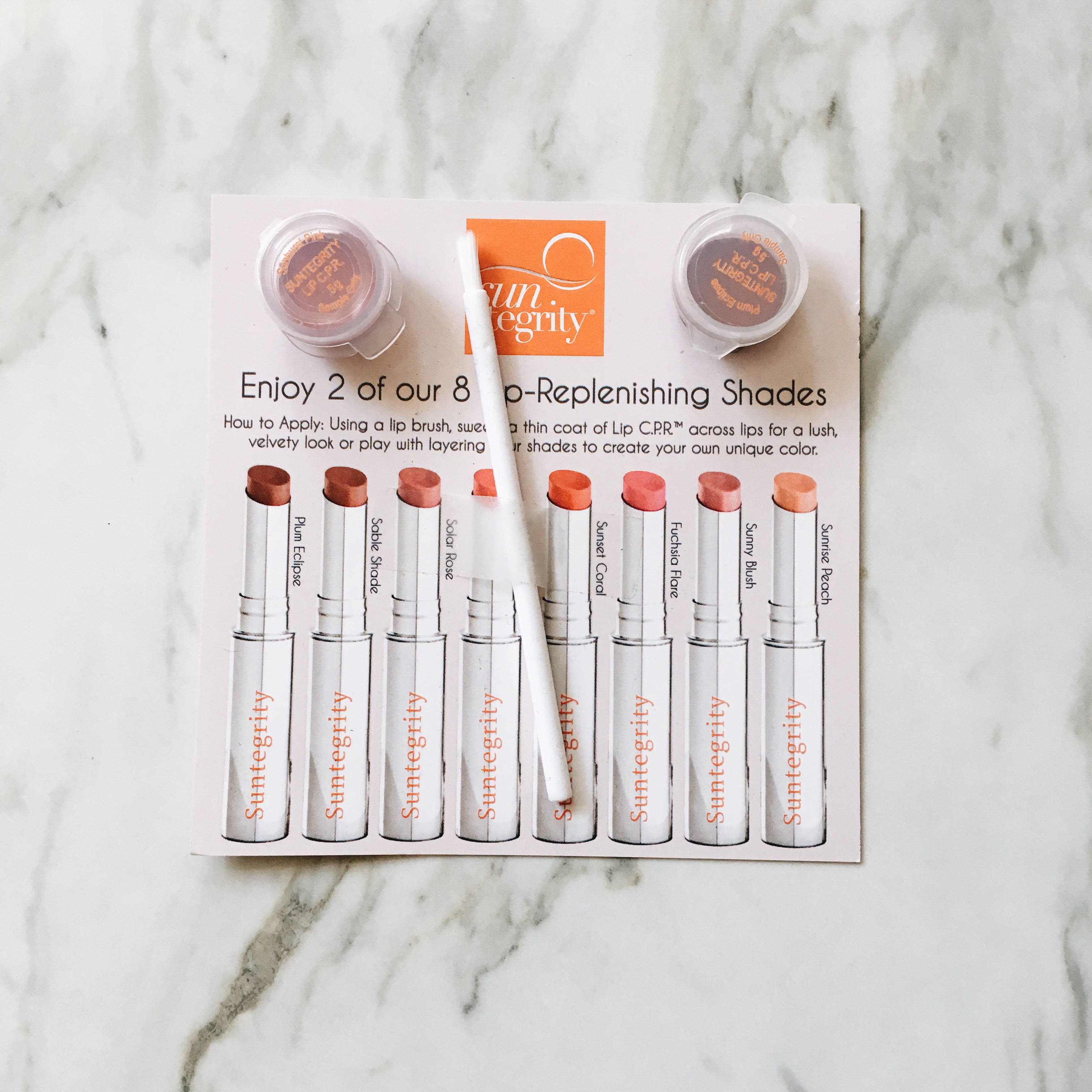 Suntegrity Lip C.P.R. SPF 30 (sample sized)–  Lipstick! Yay! You know I love me some new lip colours! These are no exception…in fact, they're not only pretty but also protect your lips from the sun. Infused with Lip Repair Lipids and Konjac Root Wrinkle-Filling Spheres to visibly reduce the look of fine lines, zinc oxide for Broad Spectrum SPF 30 protection without chemicals, and a hint of stevia for a touch of sweetness. (LOVE that by the way..)
This lipstick nourishes your lips with rich, creamy color with a sun-kissed shimmering finish. Formulated exclusively with pure pigment, never dye, for color that won't bleed or feather into fine lines. These have incredible staying power and feel amazing, with ingredients like organic jojoba oil, shea butter and cocoa butter. Your lips will be feeling velvety smooth, hydrated and moisturized
Below are swatches of the two shades I received:
'Sunset Coral' (top) and 'Plum Eclipse' (bottom)
Here are their descriptions of the shades I received:
Plum Eclipse: a sophisticated, rich, plummy-brown
Sunset Coral: a vibrant slice of crimson orange.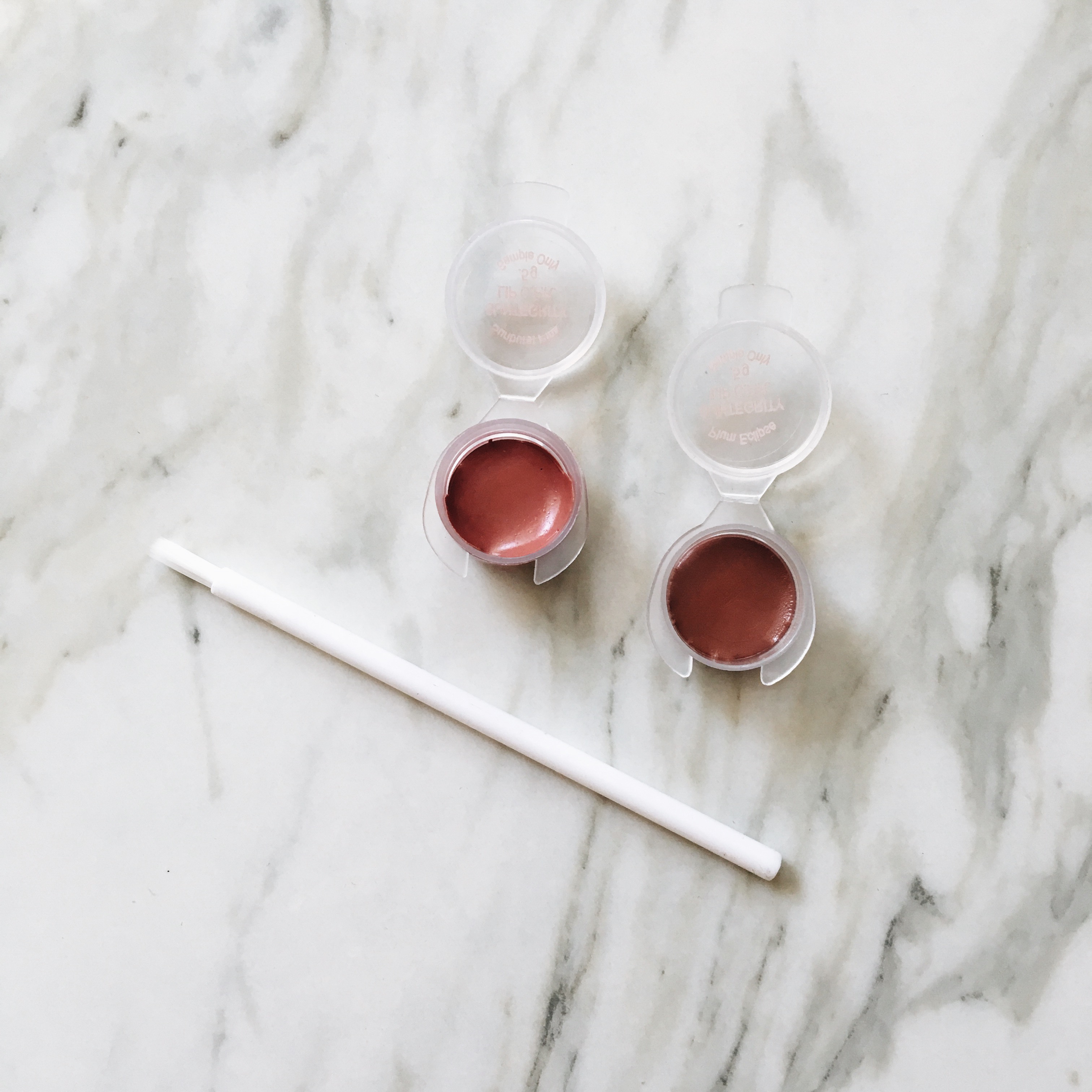 'Sunset Coral' (left) and 'Plum Eclipse' (right)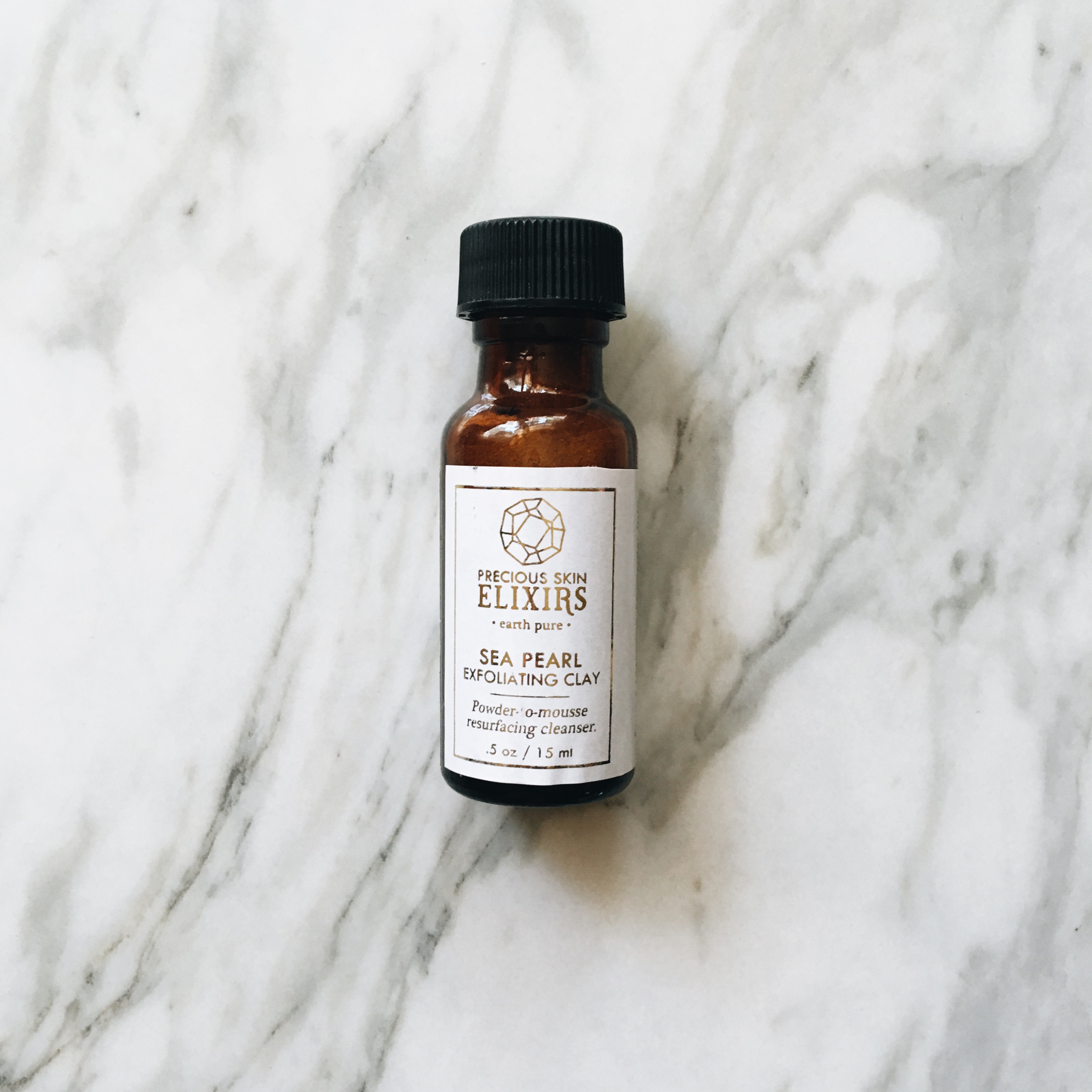 Precious Skin Elixirs Sea Pearl Exfoliating Clay (0.5 oz) – This is a restorative powder-to-mousse resurfacing cleanser. It contains detoxifying clays and herbs that buff away impurities and stimulates circulation for a clearer, more refined, incredibly soft, radiant complexion. This refreshing cleanser is activated with water, transforming into a rich mousse that relieves congestion and excess oil while replenishing skin with vital minerals and healing botanicals.
I honestly love these smaller, travel sized samples! It's great when I travel and want a mask that isn't in a full-sized bottle or tub!
HOW TO USE:
Pour about a teaspoon of powder into palm and sprinkle drops of water to activate. Mix to a rich texture and massage onto skin, avoiding delicate eye area. Rinse thoroughly. As a mask treatment, apply a slightly thicker layer and leave on until just dry. Rinse thoroughly and voila!
I don't care how many times I say this…I will always recommend this beauty box! It's one of my absolute favourites and for $15.00 per month, with a cancel at any time option…it's just too good to not try out! Plus you can earn PV points for shopping and even get full sized versions of your faves! So great! Head over to the Petit Vour website to get started! :)

You can find Petit Vour on:
Instagram: @petitvour
Twitter: @PetitVour
Facebook: https://www.facebook.com/PetitVour
Pinterest: https://www.pinterest.com/petitvour
Tumblr: http://petitvour.tumblr.com
xo