Luxurious, quality-driven, elegant…the list goes on. Just some of the many adjectives that describe this lovely California-based skincare company, True Nature Botanicals rebranded to True Botanicals. A skincare line that not only delivers superior results, but that houses no toxins and makes sure that only the highest quality ingredients are being utilized.
Now, I've heard many rave about this line. From bloggers in the green beauty community, to random Instagram pals – so, of course, it sparked a bit of curiosity. I mean, I've heard some say that they'll never use any other skincare line ever again! That this has changed their skin unlike any other line, and – of course – for the better. That's quite the statement! I'm not easy to sway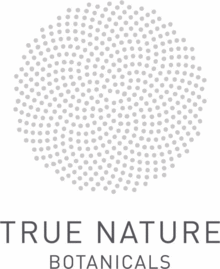 in the skincare department, not to mention I'm incredibly sensitive (which never helps). So…being the skincare-skeptic that I am, I cautiously jumped on the bandwagon, and let me tell you! I was prettttty impressed!
Hillary Peterson, CEO of TNB has a passion for beautiful smelling scents, and anti-aging skincare that actually works – thank goodness for that, am I right? ;) She also truly cares about what you put on your skin – especially since she is a thyroid cancer and melanoma survivor. So making sure that these products never compromise your safety is incredibly important to her. I love that, someone who relates and actually cares for her, and our wellbeing. Refreshing.
So all that being said, I've been testing out these products for about two months now and have had ample time to see how my skin reacts to them. My experience has been pleasant and encouraging! I have been in direct communication with Kevin Dooley, TNB's Director of Community Relations and he has been incredibly kind and helpful throughout this process. Let's start with the first product that really stood out to me:
Pacific Exfoliating Cleanser: This milky grey, beaded (from the Adzuki Bean) cleanser removes excess dead skin cells naturally, without risk of irritation, by combining a patented mushroom extract with a gentle skin polishing scrub. My experience with it was delightful, really. The cleanser felt smooth on my skin and left me with a fresh, clean face that never felt stripped of moisture. I am also prone to hormonal breakouts and this actually helped in curbing blemishes from surfacing. It is truly an effective and unique cleanser. I have never used any other quite like it!
Directions: Shake well before use. Store in a cool place. Massage gently onto wet skin, and rinse. I typically did this twice, since I love cleansing twice.
Some key ingredients that I think are important to note (just for their amazing properties) are:
Actifoliate™: This patented fungal extract combines peptides with polysaccharides derived from cell wall components of the Mucor Miehei mushroom. While each component on its own has modest exfoliating activity, when combined they act synergistically to provide an irritation-free, intense exfoliating effect that increases stratum corneum replacement rates by more than 25%.
Source: Active Organics
Adzuki bean powder: This very fine powder gently exfoliates with a scrubbing action. It's effective at loosening dead skin cells without causing the slightest irritation. In fact, it imparts a refined polish to the skin.
Chamomile powder and Manuka honey: Both included for their calming, anti-inflammatory and skin smoothing properties.
---
Pacific Mist:  This mist plumps my skin, lends a dewy, moisturized look – and feel! It is great for all skin types, especially the anti-aging type, because it replaces moisture in aging skin by delivering potent marine extracts and extra nutrients to the topmost layers of the skin.
Directions: Shake well before use. Store in a cool place. After cleansing, or any time your skin needs a moisture boost – mist onto face, neck and chest.
You may be thinking, ok…but this is just another mist. All mists are the same! WRONG. Here are some wonderful, organic ingredients which sets this mist apart from others:
Green tea/white tea extracts: Green tea is rich in antioxidants and polyphenols with astringent, toning, skin-soothing, and anti-inflammatory skin benefits. White tea is an even more powerful anti-aging agent, inhibiting enzymes that attack collagen and elastase.
Sea kelp extract: Packed with nutrients including Vitamin C and niacin, minerals, trace elements, and alginate, sea kelp extract promotes skin hydration, protects cell activity and acts as a powerful antioxidant.
Sea fennel extract: Vitamin-rich sea fennel extract is deeply hydrating because it enhances water barrier protection. Its antioxidant nutrients also aid in ongoing tissue hydration and repair.
---
Pacific Exfoliating Moisture Mask: This mask has been a lifesaver for me during these cold, winter months. It totally gives you back that bright, soft, youthful glow that we all can lose in the winter due to our dry, dull skin. This mask exfoliates, conditions and brightens your skin –  3 in 1!  It is great for all skin types, including dry, aging, wrinkled, and blemish or acne prone skin.
Directions: Massage onto clean dry skin. Depending on your skin type, leave on for 2-5 minutes. I am sensitive, but I can leave this mask on for 5 minutes with no irritation, so testing it out beforehand is always a good idea! To remove the mask, use a warm (not hot) wet washcloth. This mask should be used once or twice weekly in the evening, at most.
When it comes to exfoliants, lactic acid is the only alpha-hydroxy acid (AHA) that TNB will use. Reason being is that it's an exfoliating, moisturizing powerhouse: it removes dead skin cells with zero irritation, has humectant and skin whitening properties, and increases production of natural ceramides (found in high concentrations within the cell membrane of cells) to prevent moisture loss.
That being said, here are some important, wonderfully beneficial ingredients that stand out to me in this mask:
Lactic acid: This alpha-hydroxy acid (AHA) is an effective exfoliant that also has significant anti-aging benefits, such as stimulating production of natural ceramides and hyaluronic acid to prevent moisture loss. In addition to its humectant benefits, it also helps lighten skin by inhibiting melanin-triggering enzymes.
Avocado butter: Rich in vitamins A, B1, B2, D, E, protein, pantothenic acid, and fatty acids, avocado butter is also replete with emollient properties that ensure your skinstays soft and pliable even after a deep exfoliation treatment.
Solanum tuberosum: This potato tuber contains high amounts of catecholase, a potent skin-lightening enzyme.
---
Pacific Soothing Face Serum: This serum soothes and nourishes my sensitive skin so well! And literally on contact! Along with being great for sensitive, rosacea prone, over exfoliated, and sun exposed skin, it's great for aging skin too! With potent plant extracts to boost immunities, calm inflamed skin, reduce irritation and aid in healing. The result? Smooth, calmed skin. Yes, please!
Directions: Shake well before use and store in a dry place. Applying a thin layer of this serum is the best way to get great results. After I've cleansed, misted my face and applied any oils, I use a few drops of serum on my face, neck and chest – wherever there's irritation, basically.
The ingredients in this serum, like a lot of TNB's ingredients, are so unique and incredibly beneficial. Take plant extracts for example. Extracts from mushroom, chamomile, calendula, and plantago are highly therapeutic and healing ingredients. Here are a few of the natural ingredients that make Pacific Soothing Face Serum really stand out when it comes to treating sensitive skin:
ActiSoothe®: This patented mushroom extract regulates the synthesis of signal proteins responsible for the inflammatory response and sensitive skin. It reduces UV induced inflammation, skin sensitivity, and irritation due to chemical and physical irritants.
Calendula and Plantago extracts: Two soothing, plant based, extracts. Calendula flower has been used traditionally for its healing, cooling and soothing properties. Plantain herb has been valued by herbalists for its multitude of medicinal properties, as well as prized it for its anti-inflammatory and emollient benefits.
Pomegranate Seed CO2 extract: Pomegranate seed extract has calming properties that soothe the skin. It's nutrient-rich in unsaturated fatty acids, plant sterols, tocopherols, and squalene that help promote skin regeneration, stimulate self-repair mechanisms, improve skin elasticity, and reduce wrinkles.
---
Pacific Face Oil:  Uh oh, my least favourite words – face + oil! Haha. Let's be real, the sound of it scares us a bit right? I mean, we don't want an oily face – especially if we already have issues with that. But, fret not! This oil is going to be your best friend! It combines therapeutic seed oils and potent marine antioxidants to replenish the top layers of aging skin so it can retain moisture and keep away all that sun and wind damage. Your dry, rough skin will become soft and smooth. Your oily skin will regain its balance, while large pores shrink and wrinkles soften.
Directions:  Shake well before use and keep in a cool place. This oil is completely safe to use around your eye area. Morning: I apply a small amount to my pre-moistened skin, and then apply any other moisturizer if I feel like I need it. (That's typically when I'm extra dry!) Night: I apply again, as I would in the morning, followed by a night serum.
These seed oils are somethin' else. Extracting oils from a chia, rosehip, papaya or kiwi seed is no easy feat. But TNB still insists on using them in their Pacific Face Oil. Their reason is simple: they're extremely high in the antioxidants, vitamins and essential fatty acids. All of which your skin needs. Here are a few of the natural and organic ingredients that make this face oil really stand out:
Chia seed and kiwi seed oils: Chia seeds are the best natural source of Omega-3 fatty acids, and kiwi seeds are not far behind. Omega-3 fatty acids help strengthen cell membranes' barriers. Good barrier protective function means water and nutrients can enter the cells while toxins are kept out. When your cells are adequately nourished, skin glows.
Passion fruit oil and papaya seed oil: Passion fruit and papaya seed oils are cold-pressed from tropical fruits high in Omega 6 and 9, Vitamins A & C and Potassium. They penetrate the skin quickly, conditioning the skin with special enzymes that help dissolve excess sebum and impurities on the skin's surface.
Marine EFAs™: A proprietary blend of essential fatty acids (EFAs), providing a high concentration of the all-important Omega-3 essential fatty acid known as EPA as well as DHA. It contains one of the very few non-fish sources of these essential EFAs
---
There you have it, folks! True Nature Botanicals spare no expense when it comes to ingredients. In fact, they've been told from industry insiders that they spend at least 5 times more on their ingredients than the leading luxury skincare and perfume brands. If they need it, they get it…this quote below is indicative of that:
"If red raspberry seed oil is an effective anti-aging ingredient or Moroccan Neroli makes a perfume smell unbelievable, we use as much of it as we need."
Plug in, and follow, like, comment and share TNB on all their social media platforms:
Instagram: @truebotanicals
Twitter: @truebotanicals
Facebook: https://www.facebook.com/truebotanicals
Blog: http://tnbotanicals.com/blogs/truenaturelife
xo
---
Nils Frahm never ceases to amaze me. This track "Says" off of his 2013 live album "Spaces" is just unbelievably, mesmerizingly good. Listen with headphones if you can…and you'll be transported to another world. I know that sounds corny, but SERIOUSLY. I listened to this whole album while writing this here blog and I was in the zone. Do it! ;)
[soundcloud url="https://api.soundcloud.com/tracks/106182877″ params="color=ff5500&auto_play=false&hide_related=false&show_comments=true&show_user=true&show_reposts=false" width="100%" height="166″ iframe="true" /]