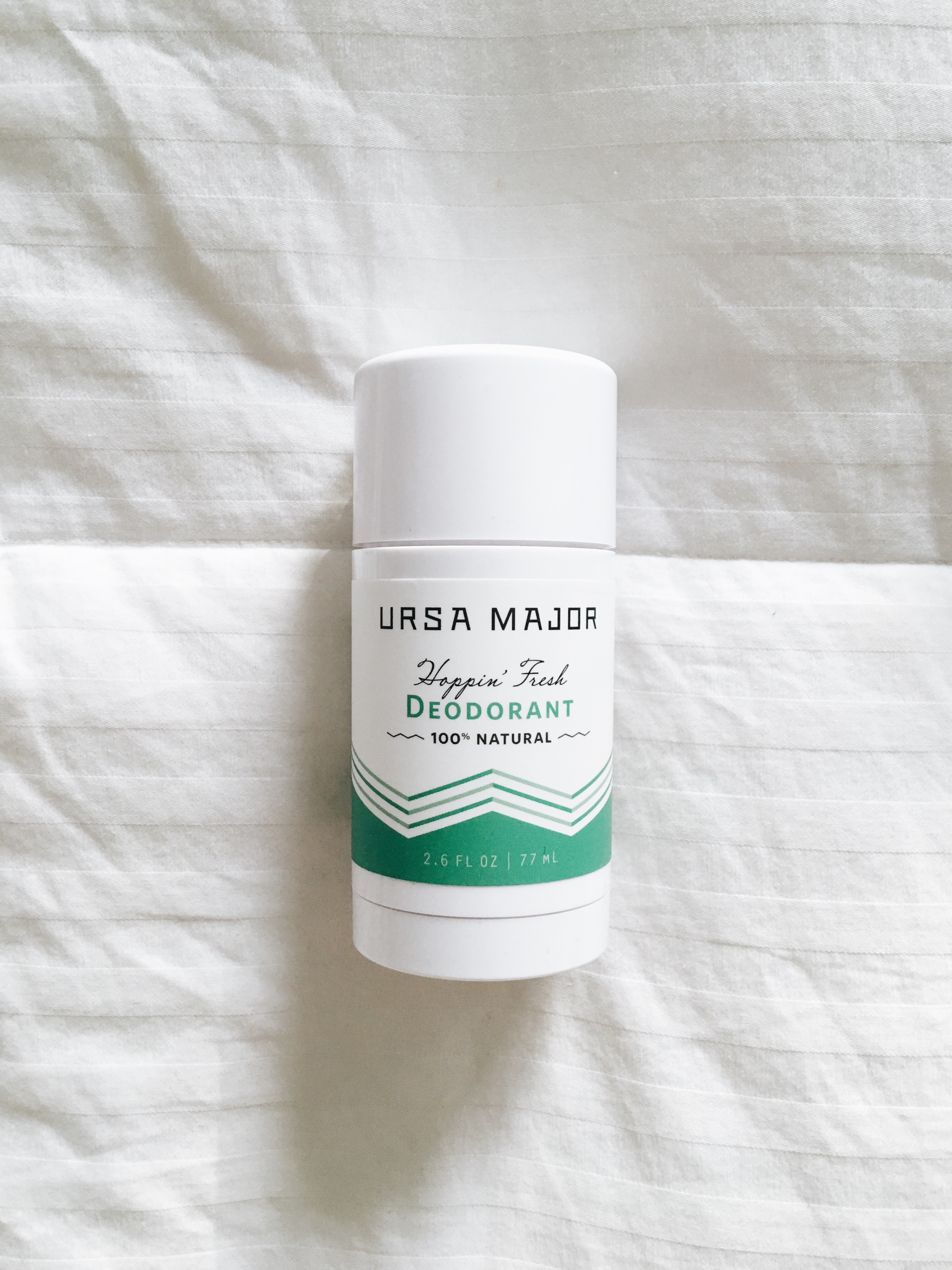 They don't want us smellin' fresh…but we're gonna do it anyways! #majorkey
Okay okay, but really, when was the last time you were able to say that an all-natural stick deodorant really worked? For me? NEVER. Now, as far as the underarm deodorant game goes..Meow Meow Tweet's Baking Soda Free Cream Deodorant is the show stopper. It works, plain and simple. However, if you're wanting to not deal with the actual scooping out of the cream and all…then Ursa Major's newest addition: Hoppin' Fresh Deodorant is where it's at!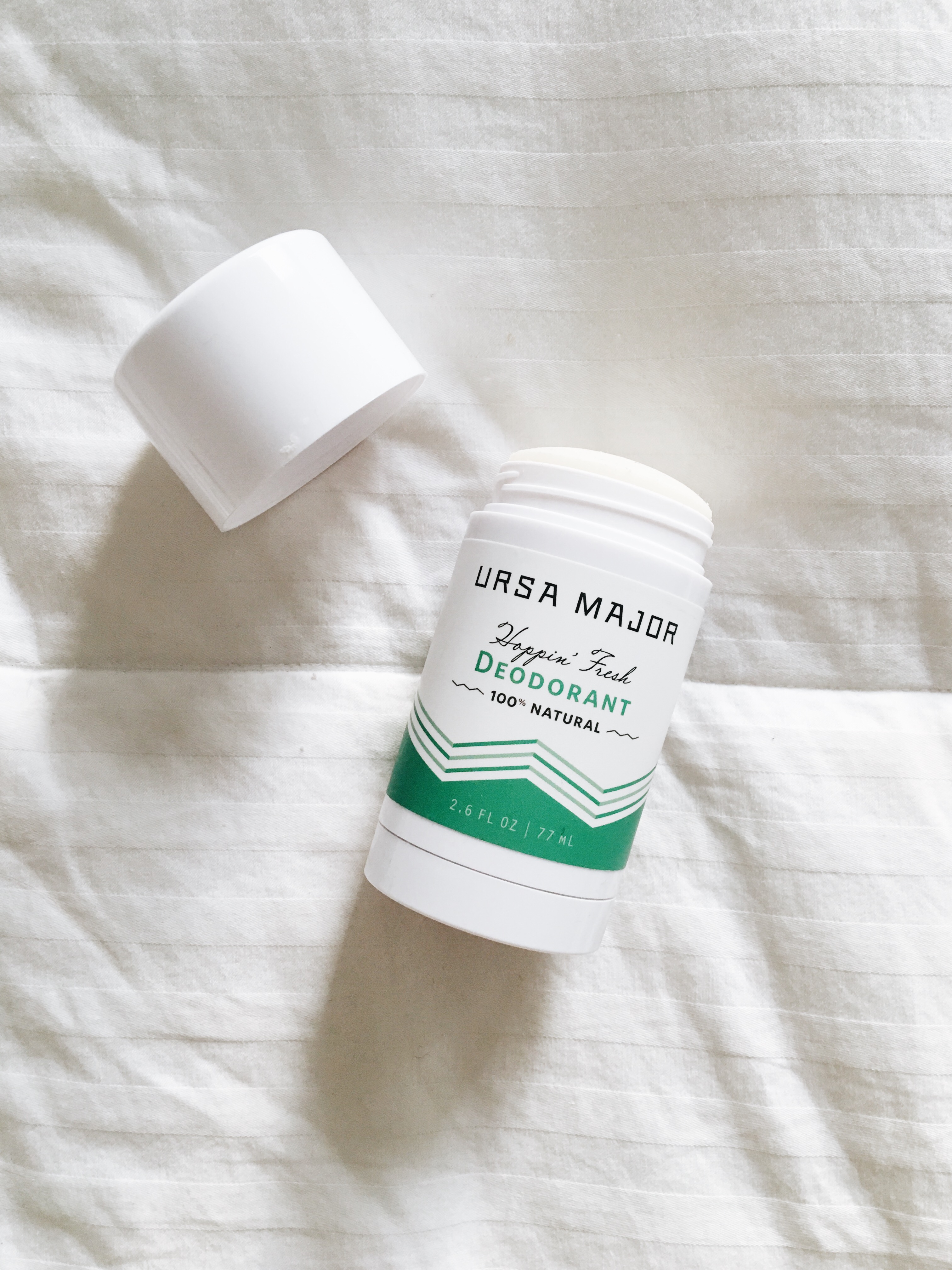 This cute, chubby little deodorant stick is (as you can see above) 100% natural and 100% effective. It eliminates underarm odor while absorbing excess moisture and soothing sensitive skin – it doesn't stop sweat, that's not healthy you guys – it just deodorizes aka helps us not to smell stinky. ;)
Going into this new deodorant adventure with Ursa Major, I was a bit concerned. I read that the deodorant contained (a very small amount of) baking soda in it – and if you know about me and baking soda…we're not pals. It irritates me and can sting, itch, cause rashes and all that fun stuff. However, Zoe, with the Ursa Major team assured me that the concentration of sodium bicarbonate in the deodorant stick was pretty small and I should be fine. She was right! Truth be told, I even shaved my underarms and applied the deodorant just to see if any extra irritation would occur and nothing happened! SCORE!
Alright, so let's chat about the scent of this stick. The first time I smelled this deodorant, I was a bit taken back by the scent of it. It wasn't a strong, bad smell…it just kind of smelled medicinal. I mean, that would be due to the fact that it contains a blend of eucalyptus, ginger, rosemary, grapefruit, chamomile and lemon. Reminding me of some vapour rubs and herbal teas I've had when I'm sick. Nothing wrong with that though! I eventually came to love the scent, and it's all smooth sailing now! Keep in mind, the scent will not last all day, it eventually fades. This is because Ursa Major doesn't believe in masking body odor with strong fake fragrance. Instead, their deodorant formula is designed to eliminate bacteria and give you 24-hour unscented protection. Fair enough!
The stick, when applied, has a cooling/tingling effect (this comes from the peppermint and eucalyptus) – which will be very pleasant under the arms, once it begins to warm up in the next few months. Heck, it's pleasant even now in the cooler months – even if it has been a strange winter of 65-75 degree days. ¯\_(ツ)_/¯
A couple of things I particularly love about this deodorant is that it 1) doesn't contain aluminum, and 2) it has zero coconut oil. So, no worrying about staining or having to wait 10 minutes for your pits to dry! It's completely clear and yep…like I said, it lasts all day! Woohoo!
Some key ingredients in this deodorant that make it so effective are:
Hops – fights odor (anti-microbial and anti-bacterial)
Kaolin clay – absorbs moisture & helps neutralize odors
Eucalyptus – fights odor-causing bacteria
Aloe – soothes sensitive skin
Ursa Major only uses the highest-grade natural ingredients, sourced wherever possible from family-owned, sustainable growers. You will never find any petrochemicals, sulfates, parabens, synthetic fragrance or color, glycols, silicones or PEGs – and this product is gluten-free & cruelty-free
I recommend this deodorant to all women and men alike! It truly works and isn't too sticky, or soft, or anything annoying really..it glides on smooth, smells fresh and works all day. So, whatcha waiting for? Check it out!
I'd also love to know your favourite stick or cream deodorants in the comments below!
And of course, check out and follow Ursa Major's social media accounts below so you're up to date on all of the goodies they put out!
Instagram: @ursamajorvt
Twitter: @ursamajorvt
Facebook: https://www.facebook.com/ursamajorvt
Pinterest: https://www.pinterest.com/UrsaMajorVT
xo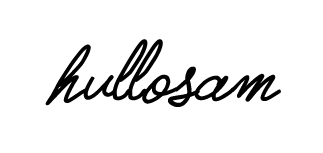 ---
Love this song, super beautiful vocals…ethereal. Mari Hajem – "Nebula"
[soundcloud url="https://api.soundcloud.com/tracks/178013952″ params="color=ff5500&auto_play=false&hide_related=false&show_comments=true&show_user=true&show_reposts=false" width="100%" height="166″ iframe="true" /]