Introducing Violet Skin Boutique: Fresh, Natural, and Handmade skincare from the finest ingredients…and I mean, the finest! Her standout product, the Peony Body Oil has completely blown me away and I can't wait to share more about it – but first, a little background on the Boutique and Violet herself! :)
Violet Mkhitaryan is a professional in natural skincare in the New England area, and has been for quite some time. She's a master facialist and skin care expert and is world-renowned for her groundbreaking skin care regimens and all natural product creations. Her products are made in-house, handmade and fresh every week, with amazing natural ingredients such as honey, rose oil, jojoba oils, grape seed oil and more. So great, right? Hand. Made! You're getting some quality products, made with so much love and care.
Violet was inspired by her childhood in Armenia, where as a young girl, she concocted her own skin care with all natural ingredients found in – where else? – her family's fridge!
"Armenia is a small country, so the chemicals industry was not developed there. Our grandmas were teaching us to use all-natural products on our skin, the same ones we consumed in our foods," Mkhitaryan explains."
Throughout this process of creating, she learned that fresh properties from foods, oils and herbs were actually living, and therefore more effective in improving her skin's appearance. Interestingly enough, the Armenian culture takes facials very seriously. They are considered a necessity, rather than a luxury. So, her holistic approach to well being stems from that specifically.
Violet, while in school, earned an advanced degree in biochemistry and soon became Armenia's leading educator in the field of aesthetics and beauty. She holds 35 years of experience owning and operating spas in Armenia, Moscow, and now has two locations, in Boston, Massachusetts.
Violet Skin Boutique firmly believes in the healing power of Aromatherapy and use it in almost all of our products. One thing that I thought was unique about Violet's skin care, is that she makes her own oil blends using pure essential oils or plant-based fragrance oils. But don't let the "fragrance" word scare you off! I've done my research, kids. I actually chat with Roussana, who is Violet's daughter (she handles all social media marketing for the company) and she went on to assure me that all of their fragrance oils are derived solely from natural, raw botanical sources. In addition to pure natural essential oils and extracts, they also contain naturally-derived aromatic isolates such as limonene, geraniol and vanillin that are isolated from natural, raw botanical ingredients like lemons, roses and vanilla beans. So, the result is AMAZINGLY scented (natural, but you almost are like WHAT?! HOW?!) skin care, body oils and other amazing products.
---
This all being said, here's the star of the show! The Violet Peony Body Oil. This. Oil. Smells. DIVINE! I can't say enough great things about it. It's just to die for, truly! My sweet green beauty gal-pal, Amanda from Organic Bunny (you may know of her…haha) put me onto this stuff. She mentioned it once on a Periscope, and was raving about it. So, I had to find out for myself…and I'm SO glad I did!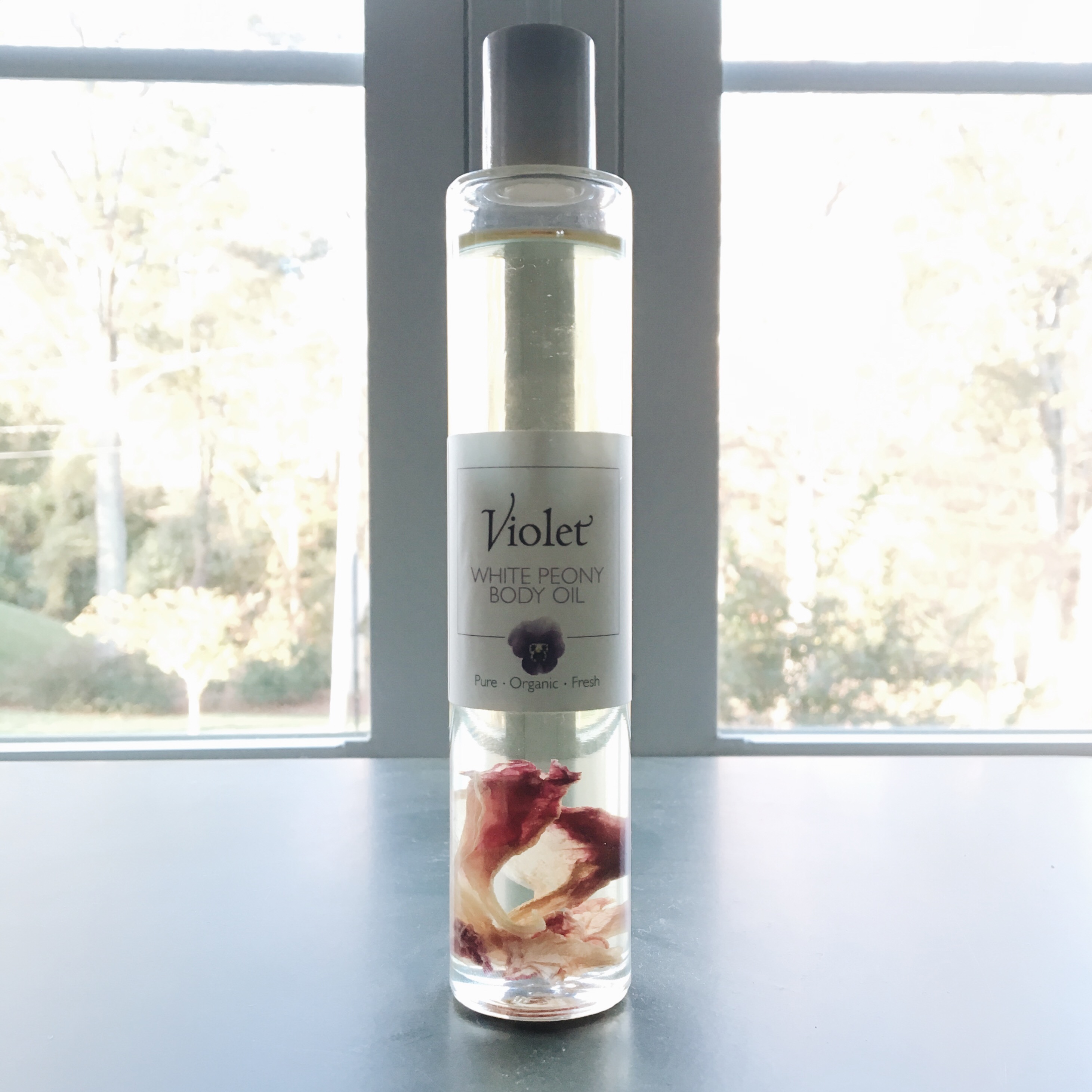 Violet creates the most luxurious Ultra-Moisture Body Oils that instantly replenish your skin, locking moisture in, causing it to feel supple, radiant and smooth. A combination of organic oils restores moisture for insanely soft and smooth skin, that retains a youthful tone and texture. Oh, but it gets better…this oil is super lightweight, and perfect for daily use. I typically love to apply it after a shower, or in the morning whenever I get ready for the day. The scent lingers stunningly, it is tantelizing…(yep) and literally haunts me once it wears off – aka I want more.
Violet created four different Body Oils:  Coconut, Herbal, Rose and Peony Body Oil. The Peony is the one I own and cannot get enough of! Some of its main ingredients: organic apricot kernel oil, organic grapeseed oil, organic jojoba oil, organic white peony extract ( paeonia lactiflora), peony fragrance oil, coconut essential oil, green tea extract, chlorophyll, bulgarian rose oil, dry peony flower petals. DELISH, no? ;)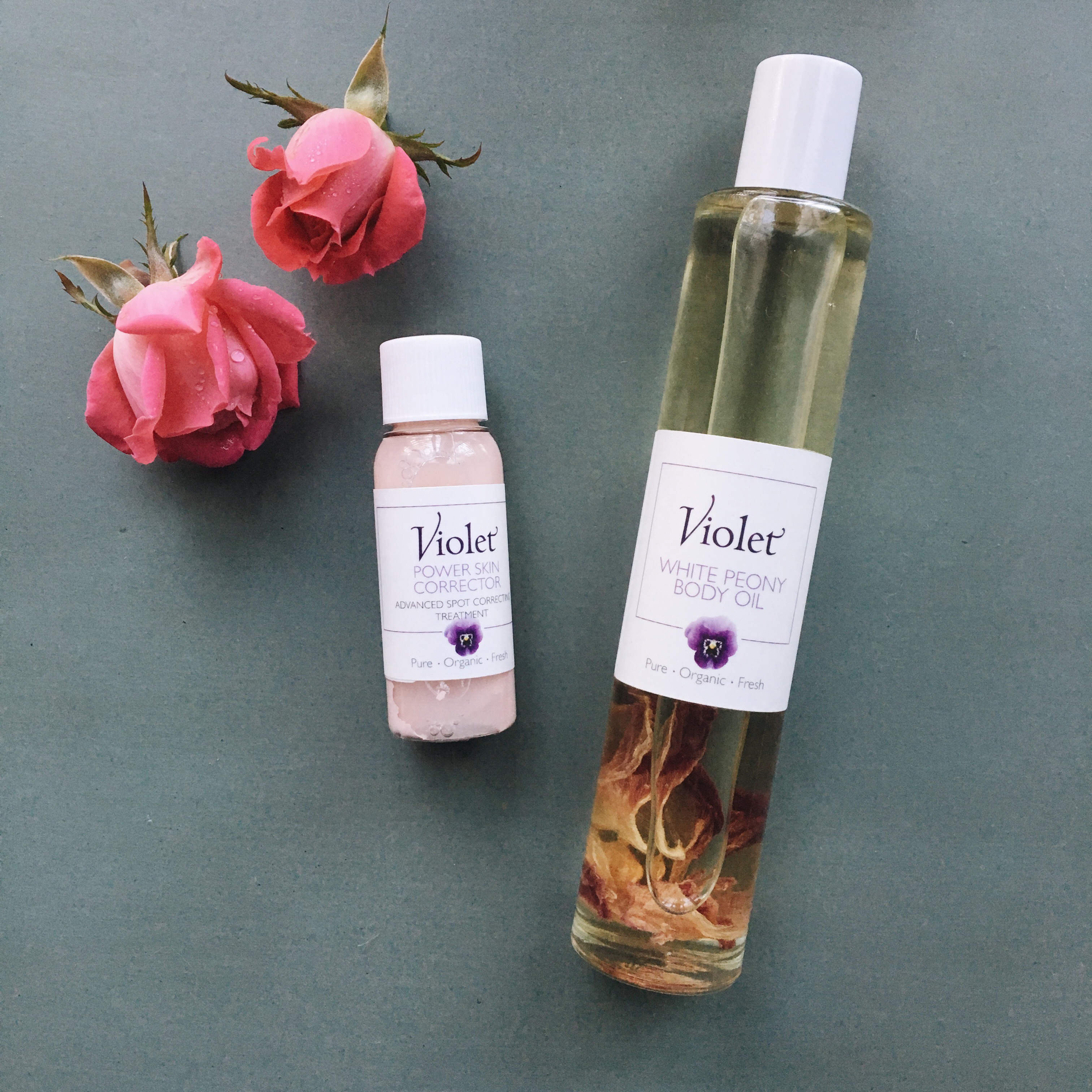 Another shout out to Violet's awesome little product, Power Skin Corrector! This little bottle of product packs a powerful punch with a potent, yet gentle formula which reduces the appearance of breakouts while supporting natural healing with anti-inflammatory ingredients to soothe and reduce redness. It's highly concentrated and fast acting liquid formula starts working immediately to reduce the appearance of acne and scars. Carbolic acid is used as an antiseptic, along with antibacterial properties, while calamine calms the skin and makes this Skin Corrector a miracle-in-a-bottle for reducing spots and scars, as well as healing acne and breakouts.
The application is simple! Just apply it to your blemish and let it dry. Watch as your spots and pimples instantly reduce in swelling and redness, and by the next day…shrink by quite a bit! You can also use this treatment for insect bites, and it can be used as an overnight treatment as well!
---
If you'd like to find out more on Violet, her products, and her cute little Boutique – check out these links below:
Instagram: @violetspa
Facebook: https://www.facebook.com/Violet-Skin-Boutique-59252249213
Twitter: @VioletSpa
Pinterest: https://www.pinterest.com/srgevondi/violet-spa
xo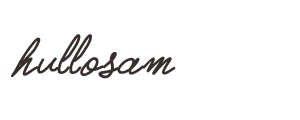 ---
Kye Kye – Dreams (2am)
[soundcloud url="https://api.soundcloud.com/tracks/139121475″ params="color=ff5500&auto_play=false&hide_related=false&show_comments=true&show_user=true&show_reposts=false" width="100%" height="166″ iframe="true" /]