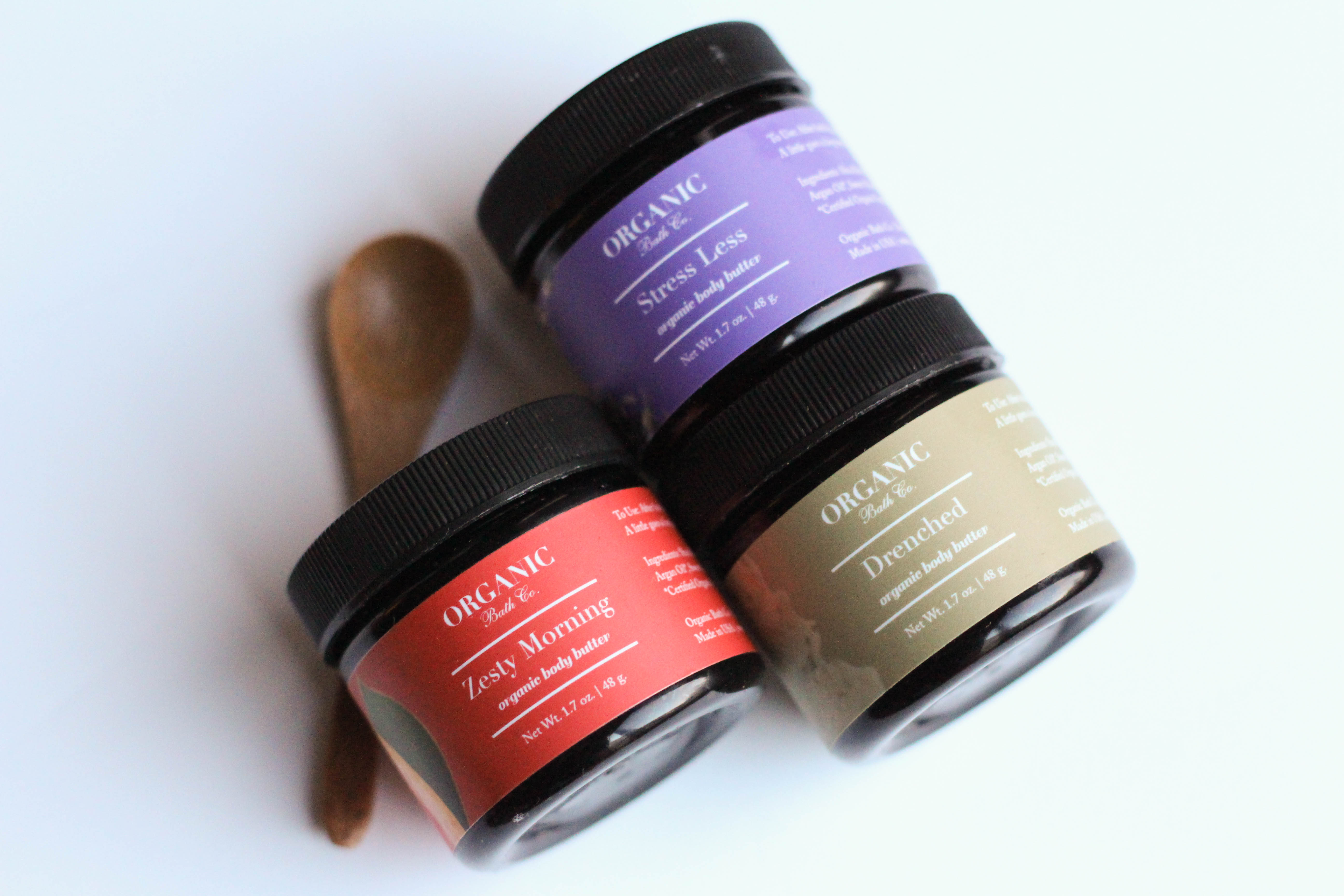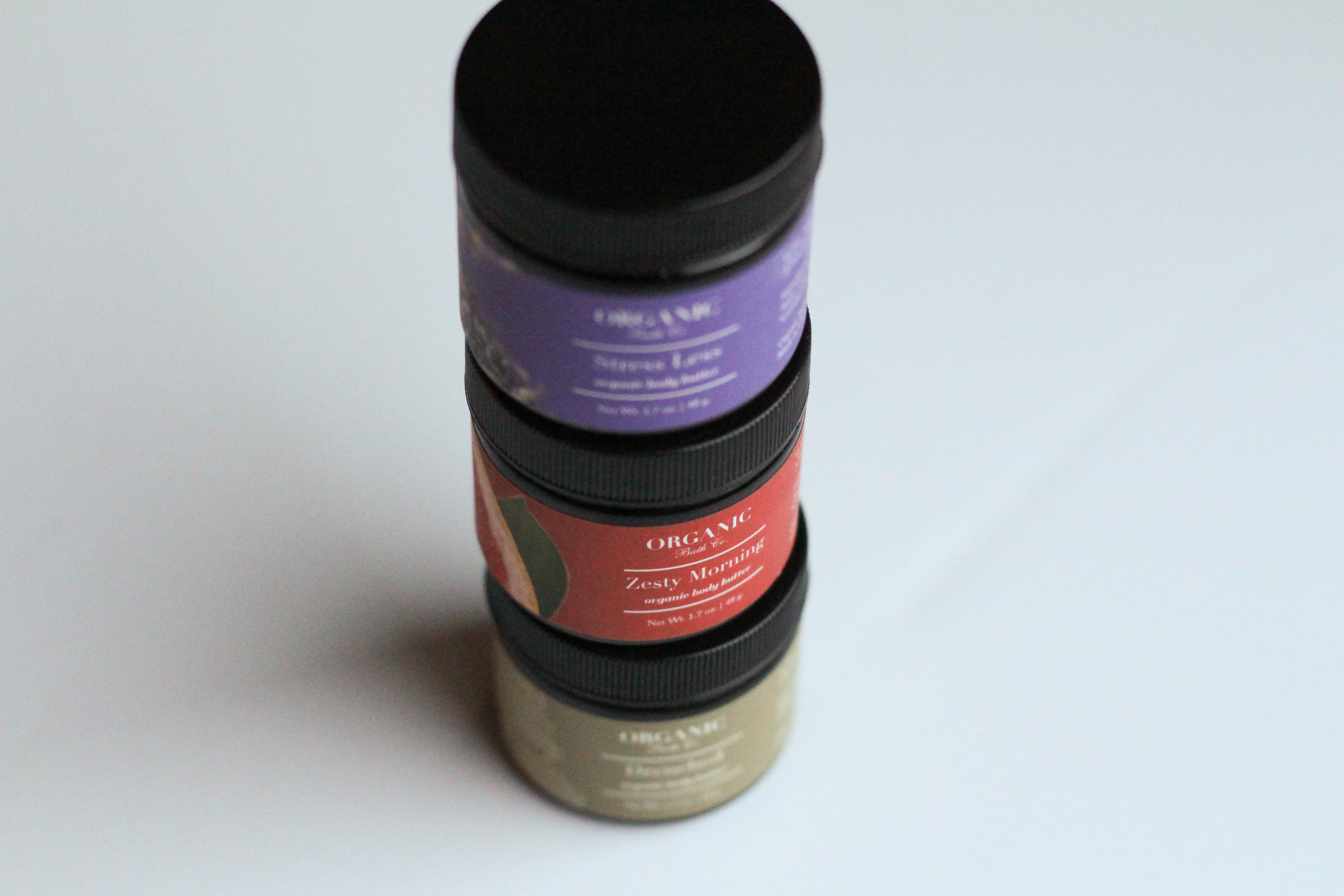 When Gianne and Jay founded Organic Bath Co., they were inspired by brands who used their cache to make the world better through charitable donation. They knew that giving back would be a huge part of their brand's ethos.
In the past near decade, they have found a groundswell of conscious consumerism: Customers care about what they're buying, how it's sourced and where their money is going. I agree with them, especially as a green beauty consumer. I want to know what I'm putting on me, where it's being sourced, and so on and so forth. Gianne and Jay want their customers to know that they're not only getting incredibly luxurious, safe products that are as gentle for them as they are for the environment, but they're helping to improve the lives of others with every purchase. I think that is so admirable.
So, for every Organic Bath Co. product sold, they donate to 1% For the Planet and the Global Soap Project. Haven't heard of this project? It's pretty neat. The Global Soap Project recycles old soap bars and redistributes them in developing countries to help eradicate preventable disease. Read more HERE. With a tagline that reads, "True Beauty Begins With Giving Back," Organic Bath Co. is deeply committed to ensuring others benefit from their success. Inspiring!
---
Below are a few of their wonderful products, and a little bit of what they do, and what I think of them!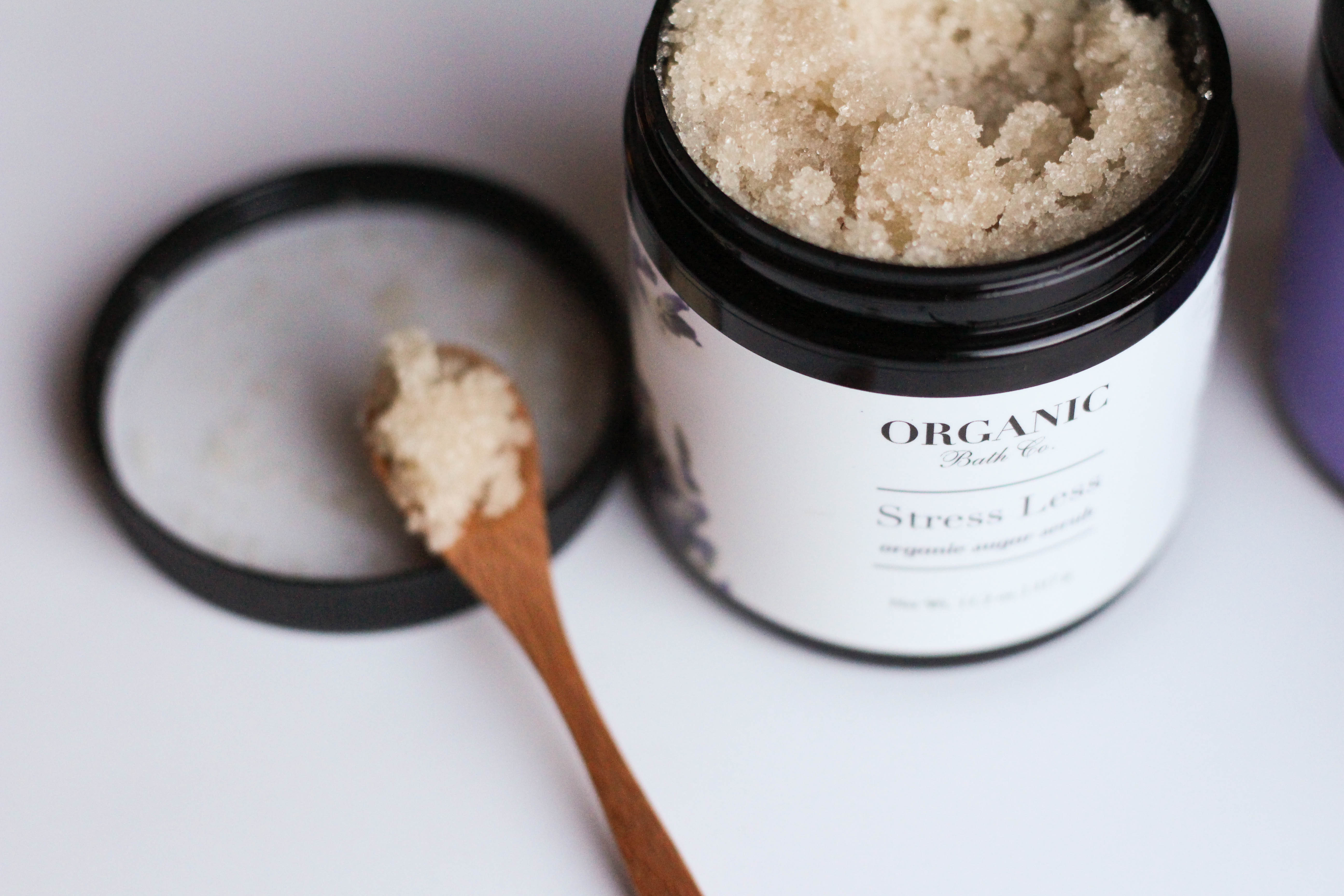 Stress Less Organic Body Scrub: You know when you're just so pushed over the limit with work, time…life? More frazzled than dazzled? Yeah, me too. Thank goodness there's the Stress Less line! This luxurious, 100% organic sugar scrub is made from Fair Trade Certified Sugar and what Organic Bath Co. likes to call their "shhhh-don't-tell blend" of incredibly moisturizing almond, apricot, sunflower and calming lavender oils. This scrub exfoliates while it hydrates, removing dirt and dead skin, while the soothing organic oils leave you softer than silk and feeling less stressed and looooovely.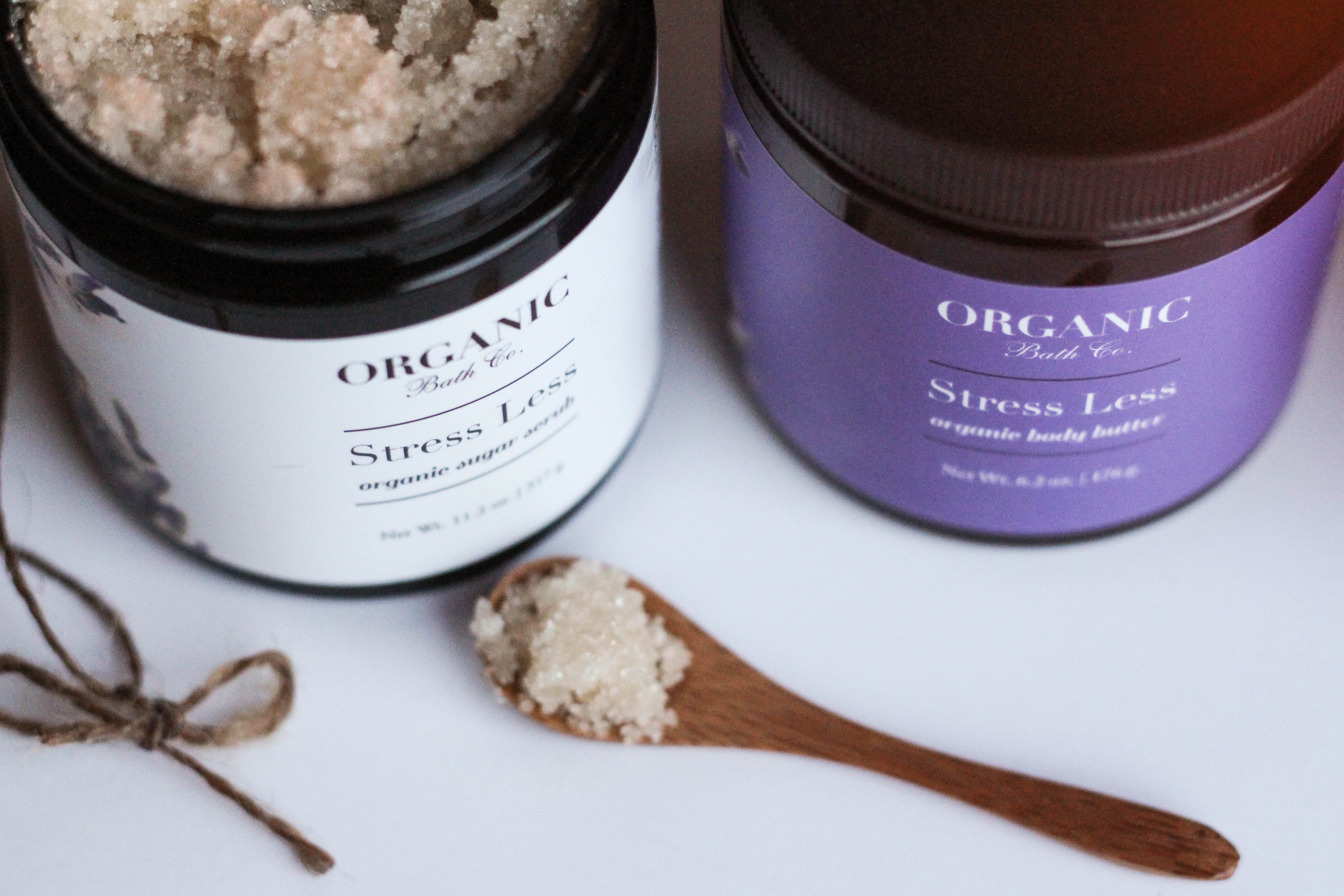 Right (literally) next to this wonderful scrub, we've got this luxurious, hand crafted and Zen-like 100% organic Stress Less Body Butter. It's a calming experience all on its own and has everything your skin needs to become soft, moisturized and luminous – just like you've always wanted it. This Body Butter was inspired by Organic Bath Co's best-selling Drenched formula. Stress Less features that dreamy Lavender Essential Oil that will transport your mind to a state of relaxation. It's an extravagant blend of exotic Moroccan Argan, Jojoba and Sunflower Oils, which deeply hydrate your skin, leaving it supple and smooth. Irritated skin? No worries! Shea Butter heals and shields your dry irritated skin from dehydration, leaving skin drenched in all day moisture. The best thing about this emollient body butter? You don't need a ton – a little goes a long way…and your skin will thank you for days to come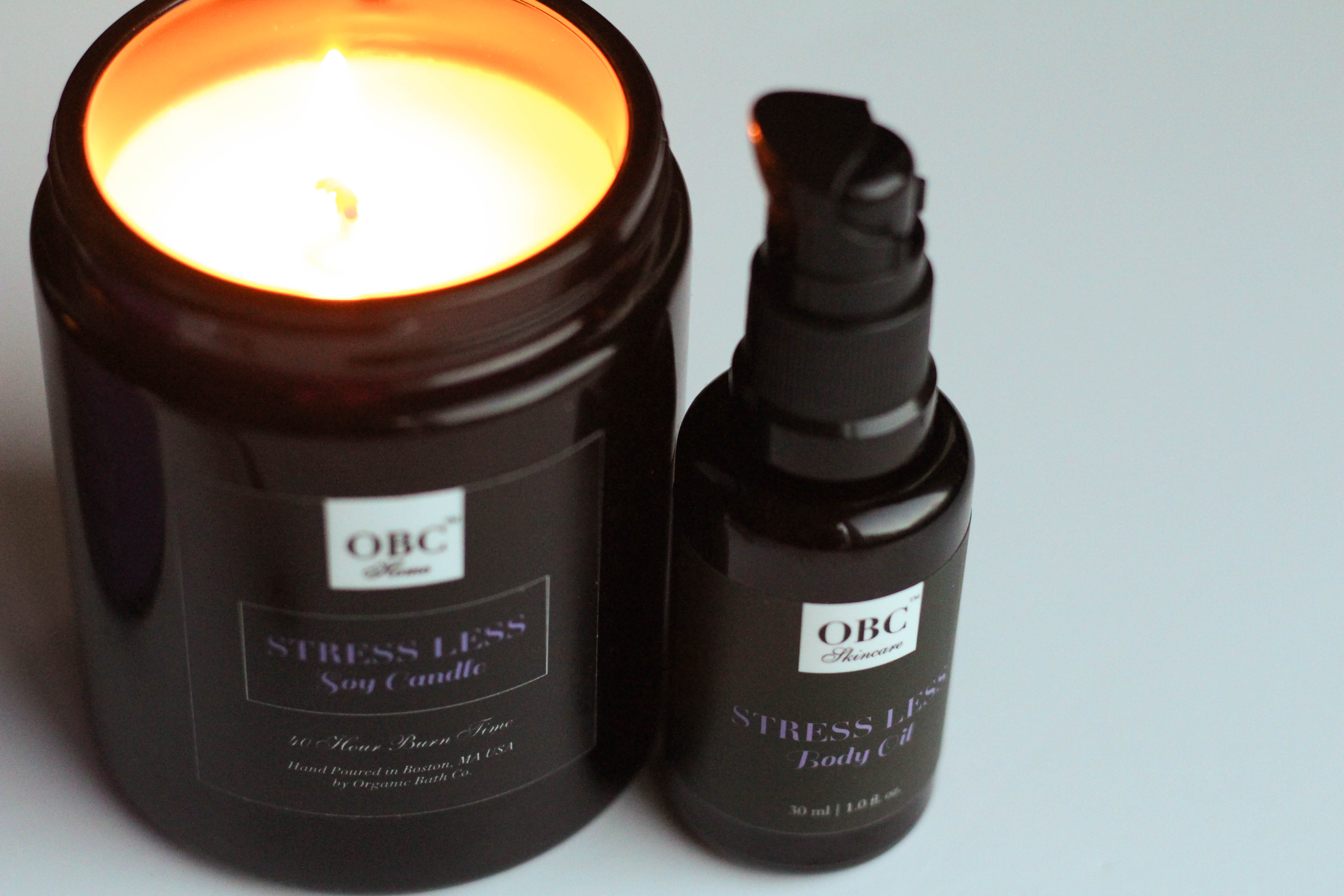 As if a Body Butter and Scrub wasn't enough, there's also a Stress Less Candle! A luxurious 100% soy candle infused with that calming blend of Bulgarian Lavender that is present in all the Stress Less product. Each candle is housed in a sleek Miron glass jar with a lid for a modern feel. Organic Bath Co. mentioned that they love to use this candle as part of the Self Care Sunday ritual (complete with a bubble bath and a glass of wine!) to center your mind and renew our spirit. How perfect?!
Made it this far? Here's a special code for ya to receive 25% off any Organic Bath Co. product! Type code HULLOSAM. Enjoy! xx
---
You can find Organic Bath Co. on the following social media platforms:
Instagram: @organicbath
Twitter: @organicbath
Facebook: https://www.facebook.com/organicbath
Pinterest: https://www.pinterest.com/organicbath