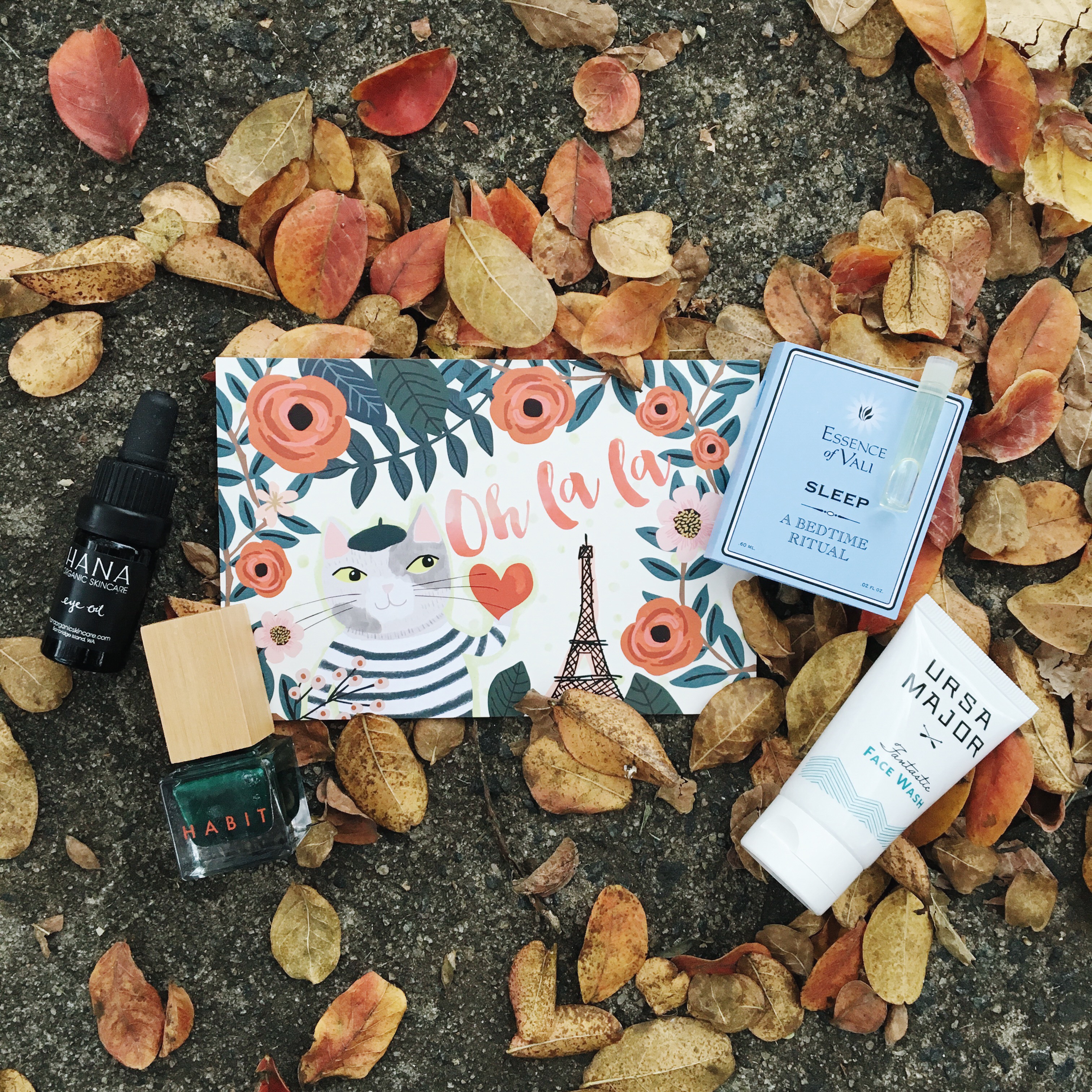 Happy Wednesday! I'm back with some more Petit Vour Beauty Box for this month! Per usual, if you're not sure who Petit Vour is, or what they do – please click HERE to read my first review and thoughts on this awesome Vegan + Cruelty-Free company!
"Oh la la!" This months box is quite the treat! And isn't that drawing by Mia Charro just the cutest?! Never a surprise though, as Petit Vour does such an amazing job at giving you the best products they can get their hands on! So let's get to it! 
Habit Cosmetics Nail Polish in #29 Scarab

This polish is beautiful deep, metallic beetle-green! Yes, beetle! The only beetle I'll ever have on me… Haha, it totally reminds me of that, with its metallic sheen. It's so pretty on, and a great, deep green for this fall season too!
I love that Habit Cosmetics Nail Polishes are all natural, stregnthening polishes made with myrrh extract. They're 5-free from toluene, formaldehyde, formaldehyde resin, dibutyl phthalate and camphor. They are also vegan, cruelty-free, and gluten-free!
---
Hana Organic Skincare Eye Oil 
I am already loving this product! I use it every night and my delicate eye area happily soaks in the gentle, soothing and smoothing properties of this nourishing eye oil. All you need is one or two drops around the outer eye area – making sure you shake well before each use.
The ingredients are lovely: Certified organic jojoba & Rosehip seed oils; Vitamin E and rose essential oil.
---
Ursa Major VT Fantastic Face Wash
I can't say enough good about Ursa Major. I've worked with them in the past and they're absolutely wonderful! From their team, to their products, to their mantra
"We believe anything's possible in life when you look and feel your best."
This amazing foaming gel cleanser has a natural brightening complex and feels just amazing on the skin. Not to mention it SMELLS unreal! It's a fusion of premium, whole essential oils including cedar, spearmint, lime, lemon, rosemary, black spruce, owyhee (Essential oil with anti-inflammatory properties and a slightly peachy scent), vetiver and lavender. Face wash has never smelled so good!
I've recently been using it every night to remove my everyday makeup and it's foaming properties help leave my skin feeling clean, but not stripped whatsoever. Some of this cleansers key attributes are it:
Thoroughly cleanses
Brightens and clarifies your complexion
Removes oil and grime
Dissolves dead surface skin
Soothes irritated skin (high % of aloe)
No dryness (sulfate-free) *best for normal/combination/oily skin types
---
Essence of Vali Sleep – Bedtime Ritual
I had not heard of this brand before, so thanks PV for the introduction! From my research, 100% Natural, and 100% Vegan..Sleep is Essence of Vali's most popular blend, as it eases people into a peaceful sleep and comforts them during times of stress. (HELLO! I needed this! Wedding planning is no joke!) The concentrate is the most potent of the sleep collection – a drop is all it takes. All you do is tip the bottle to release a drop onto the corner of your pillowcase. You can also put a drop on a tissue or cotton ball and tuck it into the corner of your pillowcase. I like to dab it on my wrists/pulse points and breathe it in before I go to bed. It's floral, herbal, amd woodsy scent is SUPER dreamy and relaxing.
---
As always, I highly recommend signing up for this monthly beauty box! For just $15.00 per month, it is easily one of my favorite subscription boxes!  It's extremely easy to do and takes no time at all, and you can cancel at anytime! Not to mention, you can earn PV points for shopping and get the full sized versions of your favourites! Head over to the Petit Vour website to get started!
You can find Petit Vour on:
Instagram: @petitvour
Twitter: @PetitVour
Facebook: https://www.facebook.com/PetitVour
Pinterest: https://www.pinterest.com/petitvour/
Tumblr: http://petitvour.tumblr.com/
xo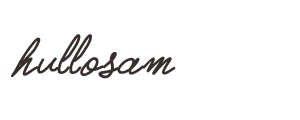 ---
A sweet little Josh Garrels tune for your ears. :)
[soundcloud url="https://api.soundcloud.com/tracks/190650693″ params="color=ff5500&auto_play=false&hide_related=false&show_comments=true&show_user=true&show_reposts=false" width="100%" height="166″ iframe="true" /]