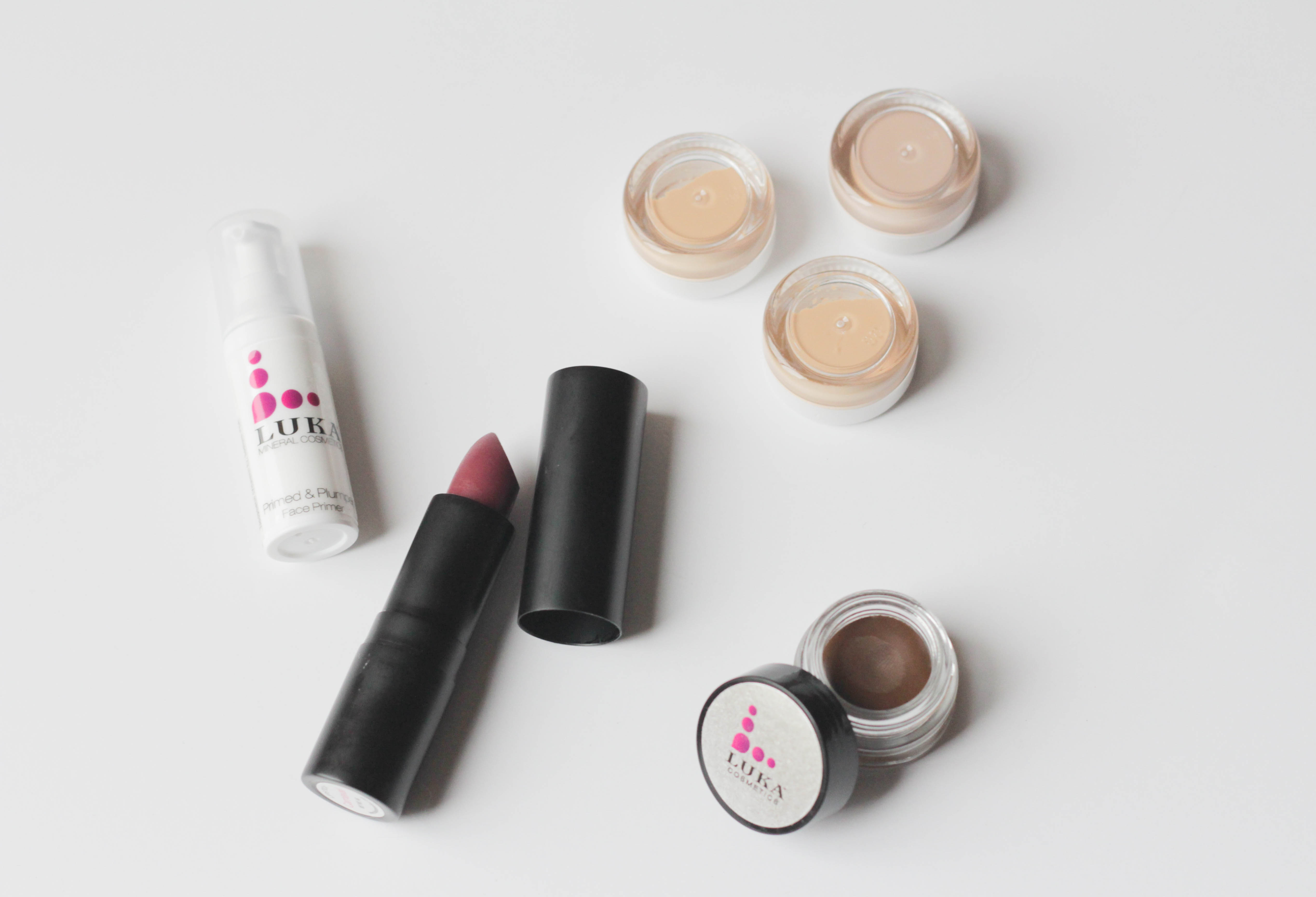 So by now we all know that I cannot get enough makeup in my life. I mean, I just love it. From lipsticks, to eyeshadows, foundations, concealers, blush and more…I think it's so fun! And as a makeup artist, a green beauty blogger and makeup fanatic, it's always exciting to discover new green cosmetic companies! Ones really striving to create safer, green makeup that works just as great as the conventional brands.
Welcome my new friends Luka Cosmetics! An all natural, organic makeup line created by a make-up artist herself! Below is a bit on the company, and founder/creator: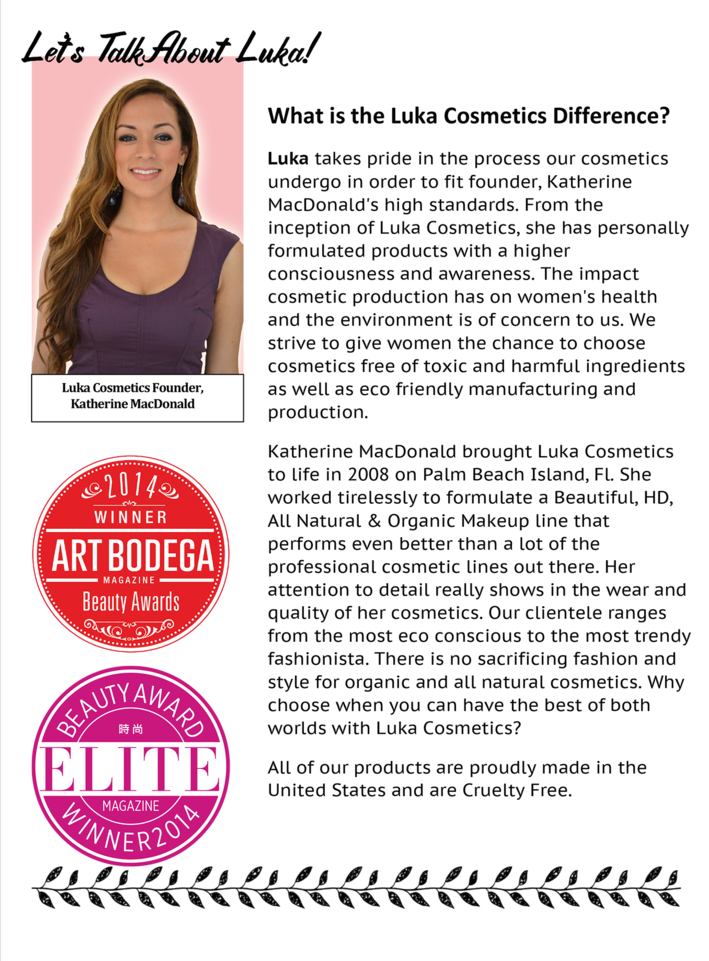 Luka Cosmetics (LC) was so kind to send me some products to try out and review. So let's get right into a couple of my favourites!
Arch and Angle Brow Tint: If you're a fan of Eco Brow's Defining Wax, then this is going to be right up your alley! This product colours, defines, and enhances brows. I use it to fill in my brows, with feather-like strokes (using an angled brow brush)! The forumala is long-lasting and water-resistant – as it is wax based, so it glides on easily and effortlessly AND it sets your brows too! Another plus? It comes in 6 different shades – mine is Ginger (go figure! Ha) so you'll be sure to find a shade suitable for you!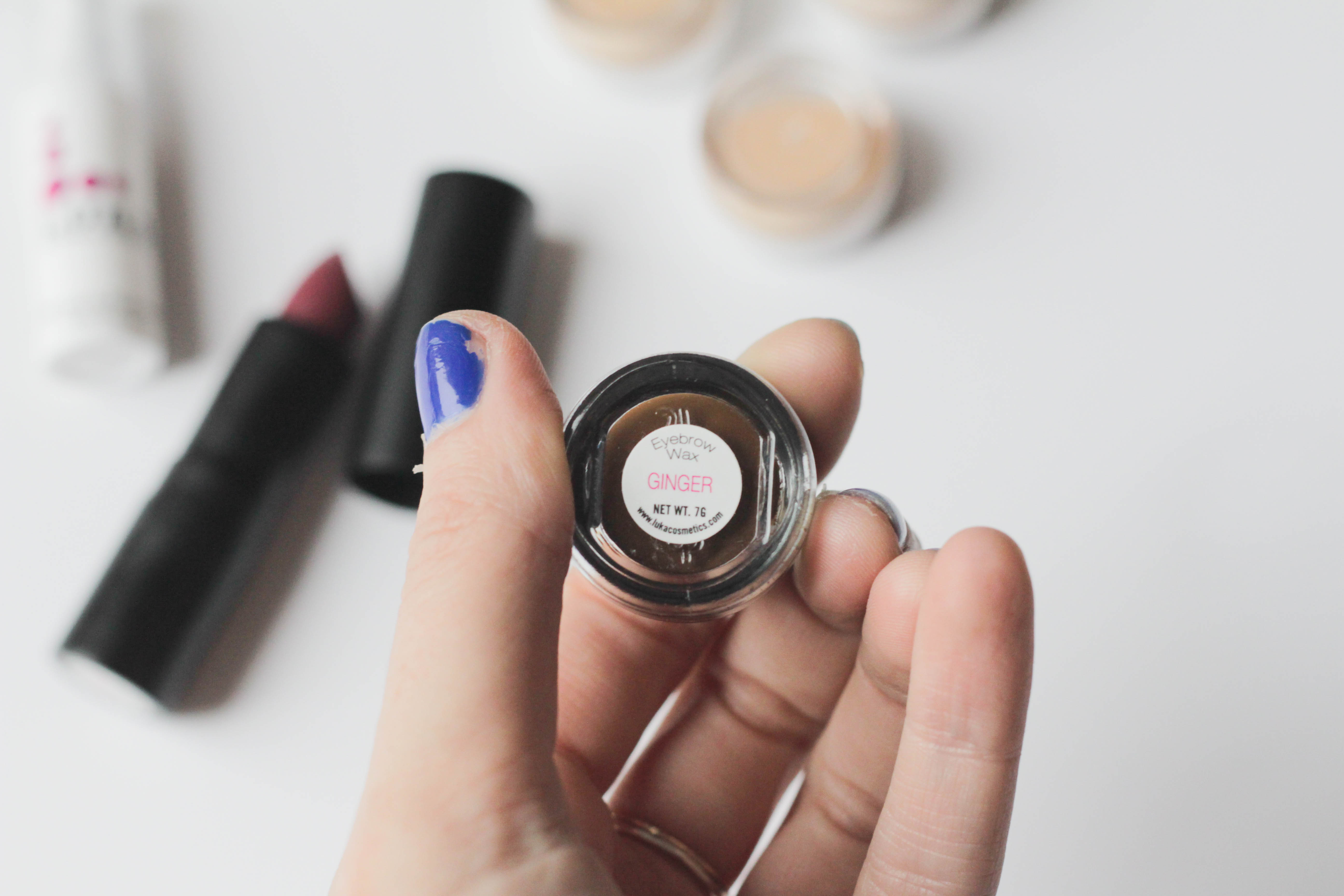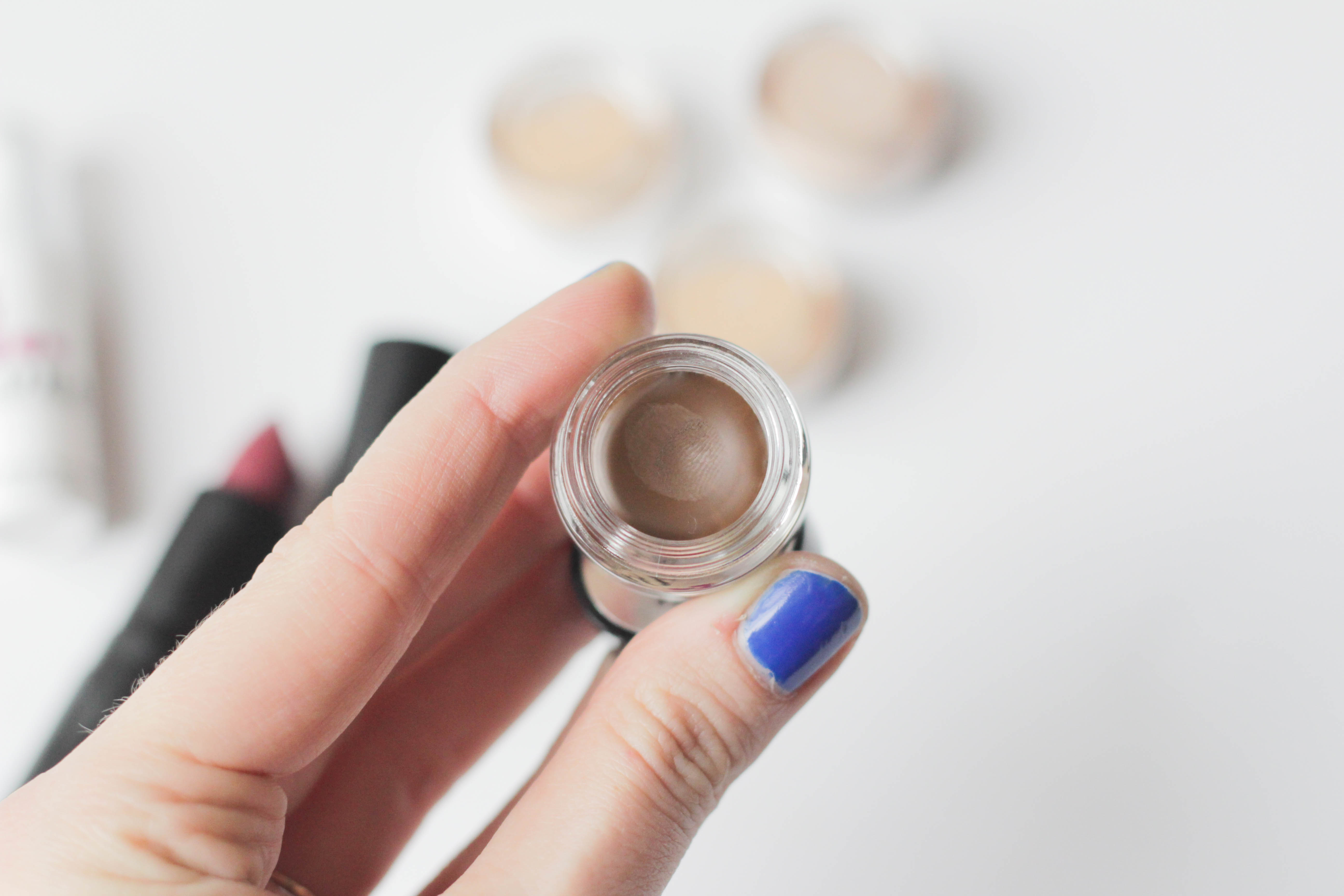 ---
Next we have their Vulux Organic Lipstick in Carnaval! This colour is gorgeous! It's a beautiful creamy, deep plum..perfect for almost any complexion. The formula is amazing! So creamy, very full coverage, extremely hydrating, and very, VERY long lasting. I wore this one day from 11am til about 5pm – drank and ate a bit – and even though it wore off just a bit, it still had a beautiful colour/stain left on my lips! One of my pet-peeves is lipstick feathering, but with this formula, you won't deal with that! In fact, this lipstick actually improves the condition of your lips. Some the ingredients include: Shea Butter, Jojoba Oil, and Sunflower Seed Oil. It's also Animal Cruelty Free, Paraben Free and Silicone Free.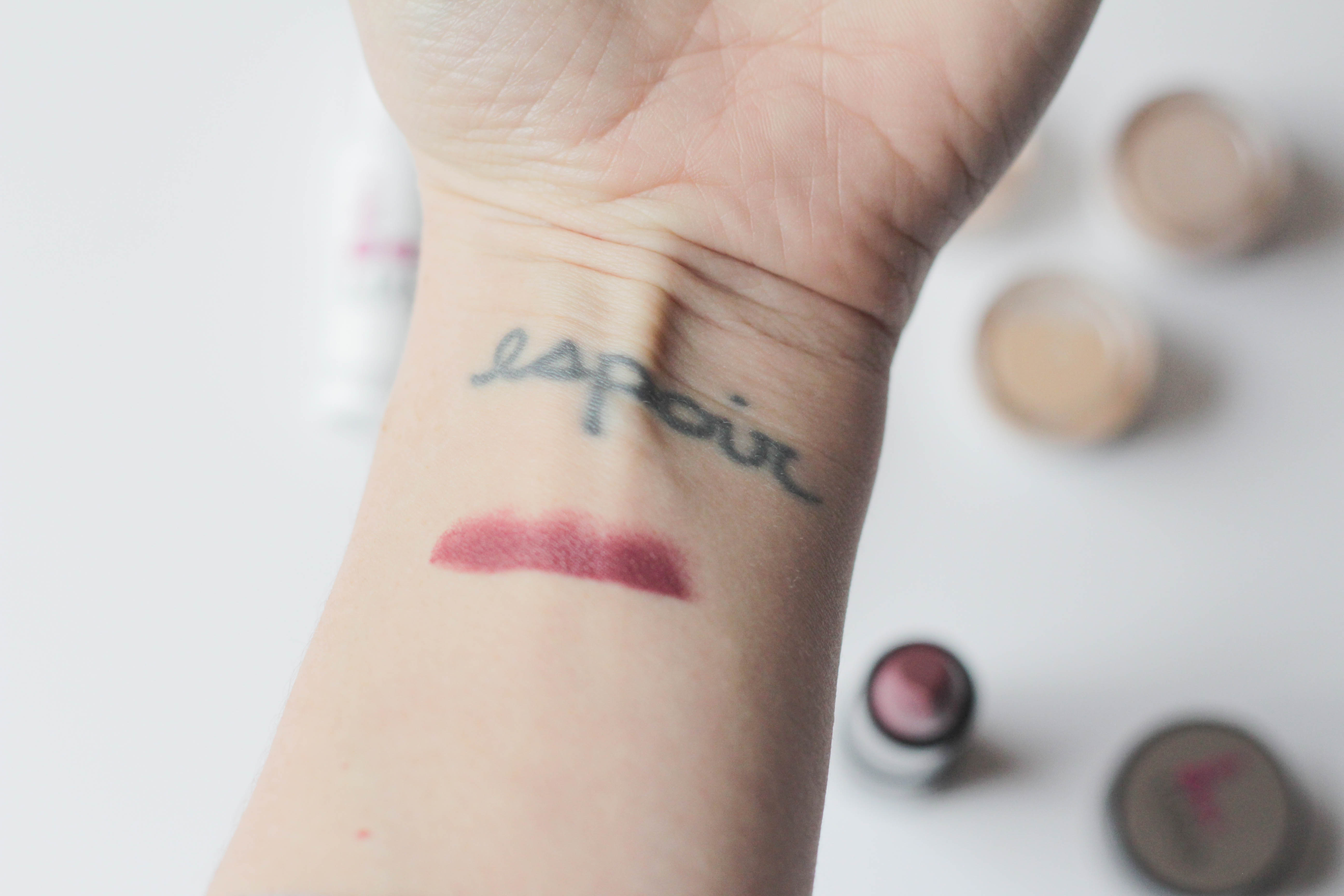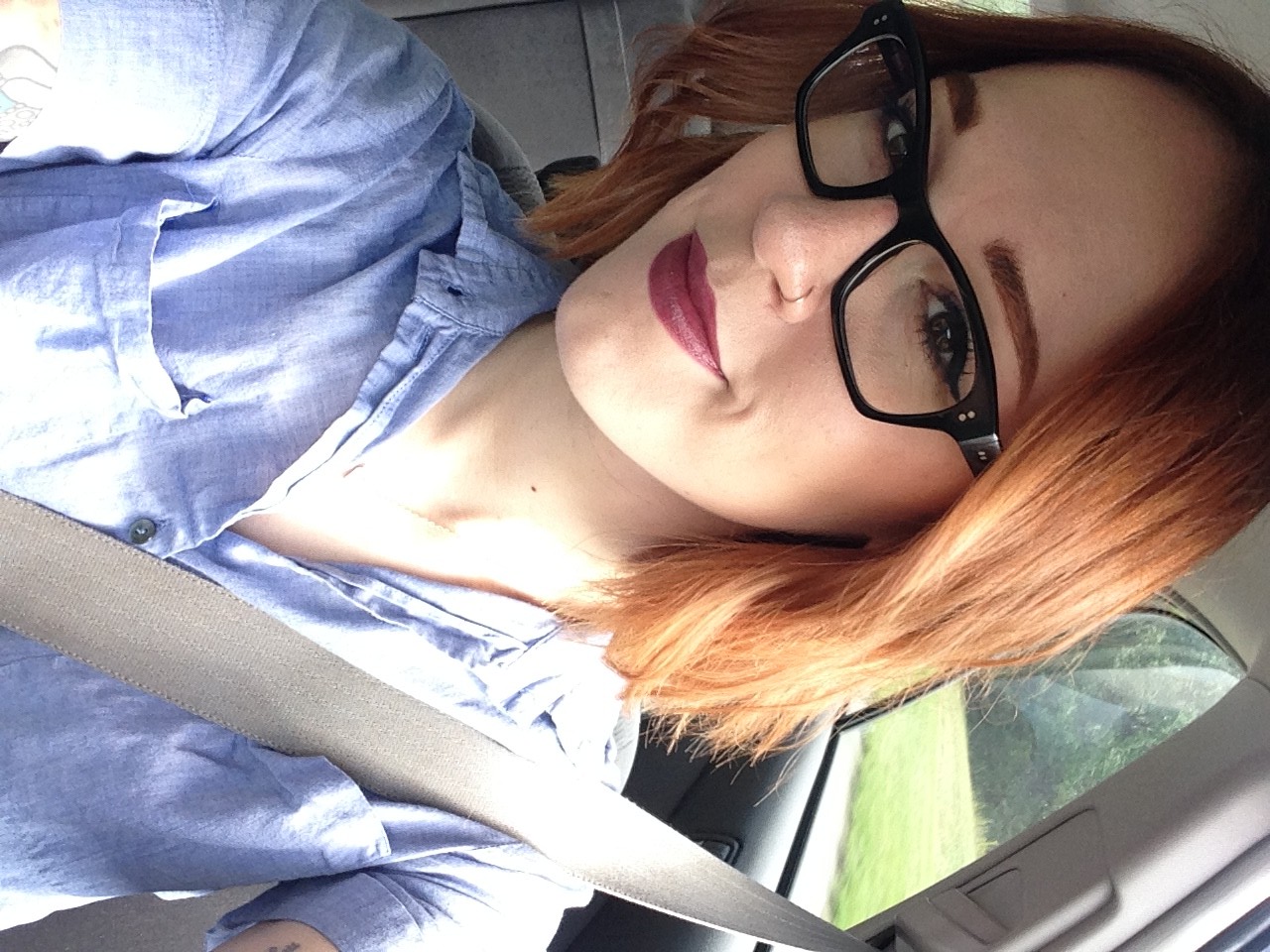 ---
Last but certainly not least, LC also included in their products sent to me, their Nearly Naked Tinted Moisturizer and their Hide & Heal Camouflage Makeup in samples to see which matched/worked for me the best. The Hide & Heal unfortunately wasn't light enough for my pale skin, but was told it is great and can be used as a foundation or concealer! It's full coverage while being lightweight; and a little goes a long way.
They also sent me their Organic Primed & Plumped Face Primer which is their number 1 seller. I can totally see why! It creates the perfect base for foundation, while treating your skin with some really great, high quality ingredients such as Organic Aloe, Rosehip Seed oil, Green Tea & Resveratrol. It is silicone free, and to apply, all you need is one pump to fingertips or foundation brush. Then, just apply it evenly all over your face. Let it set for about 15 seconds, then proceed with your normal makeup routine!
---
There you have it! Some pretty awesome cosmetics – and organic, non-toxic and totally versatile! ALSO…if you've come this far…you get to take 15% off your entire purchase with the code "HULLOSAM15" at checkout! **Side-note: they also offer Free Standard Shipping with any purchase $50 or over. Standard shipping rate for any purchase under $50 is only $6.95.**
If you'd like to check out more of Lukas Cosmetics, you can do so by checking out the links below:
Instagram: @lukacosmetics
Facebook: https://www.facebook.com/lukacosmetics
Twitter: @LukaCosmetics
xo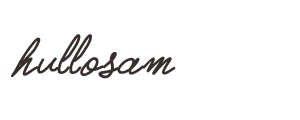 ---
Love this song by Ed Prosek – California.
[soundcloud url="https://api.soundcloud.com/tracks/78510716″ params="color=ff5500&auto_play=false&hide_related=false&show_comments=true&show_user=true&show_reposts=false" width="100%" height="166″ iframe="true" /]