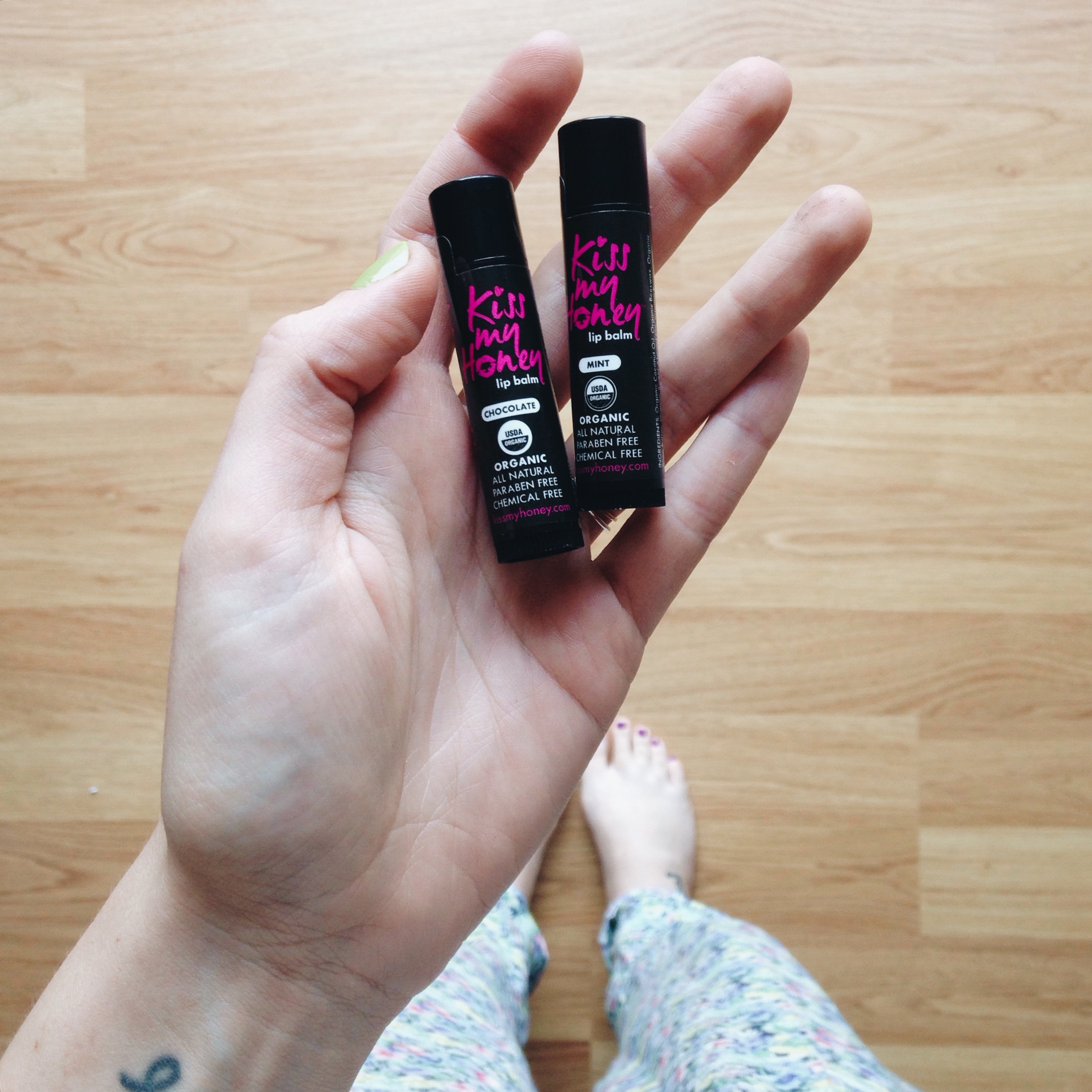 Welcome back, friends!
I trust you all had a wonderful Easter weekend and spent some time with family/friends!
I wanted to introduce to you, and do a quick review on what you see right up there in that there photograph (I actually wrote that like I was reading that with a twang…). Kiss My Honey Lip Balm! My new obsession as far as lip balms are concerned. I have been wearing it on my lips now for a few days and notice a MEGA difference. No gimmicks here, folks. I don't play around with lip stuff. I am a stickler for a good balm, mainly cus my lips can get so dry and goodness, it gets so annoying…but these two balms are just bliss! The ingredients are preservative free, chemical free, and paraben free. Not to mention their two flavours, Chocolate and Mint, are great.
So, let's talk about the ingredients in these balms (specifically the Chocolate balm) for a hot minute!  They're comprised of organic beeswax, organic coconut oil, organic unrefined Shea butter, vitamin E Grapefruit seed extract, organic sweet almond oil, organic peppermint essential oil (for mint flavored) and 100% chocolate flavor oil (chocolate flavored lip balm). Let me tell you what…I want chocolate every time I pop open that Chocolate lip balm lid. It smells THAT great.
The consistency of these balms is smooth, almost velvety like. It doesn't have ANY stickiness whatsoever – which occurs often with some natural balms that use honey – and I LOVE THAT. Both Chocolate and Mint balms are colourless – which I prefer (for lipstick over it purposes). They just glide on over your lips with ease, leaving them feeling soft and "kissable" (haha) for forever! Even hours after the first fresh coat, my lips are so soft. It's a nice change from all the crappy balms that just dry out, or have too much fragrance in them…including parabens and other non-quality ingredients. That being said, I can put the lip balm on before my lipstick of choice and it isn't greasy or sticky, so the lipstick just glides on top of it with no issue at all and my lips look moisturized and softer. Who wouldn't want that?!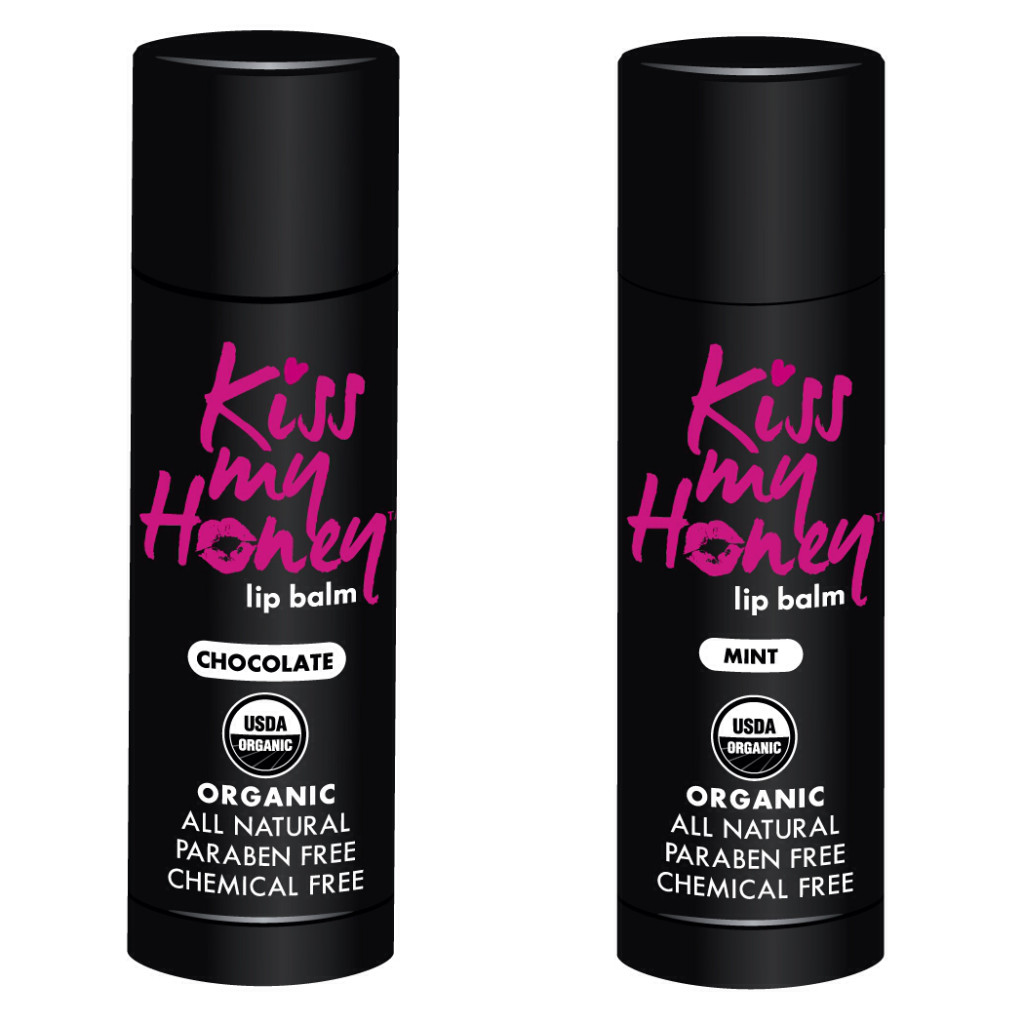 I have made up my mind recently that I am going to slowly transition my everyday cosmetics, beauty and body products – including all my daily makeup – from toxic to organic, natural, makeup. These balms are a great start! Baby steps, ladies. No need to rush. In fact, here's a great blog post by the wonderful Amanda over at Organic Bunny about "How To Switch From Toxic Makeup to Natural Makeup". I learned a lot, and will continue to keep on keepin' on with this!
That's all for today, folks! Thanks for reading, I hope these posts encourage, inspire, motivate, excite you, and all the other great verbs. If you'd like to purchase these balms, and find out more regarding Kiss My Honey lip products, you may do so HERE, as well as check out their Facebook, Instagram, Twitter and blog!
And last – but certainly not least – here's a little somethin' somethin' for ya music-heads (like myself). It has Honey in the track title…so, naturally, I had to. Plus, Joseph Arthur is wonderful. Like a quiet, restful nap on a Sunday afternoon. Enjoy!
[soundcloud url="https://api.soundcloud.com/tracks/121281630″ params="color=ff5500&auto_play=false&hide_related=false&show_comments=true&show_user=true&show_reposts=false" width="100%" height="166″ iframe="true" /]
xo